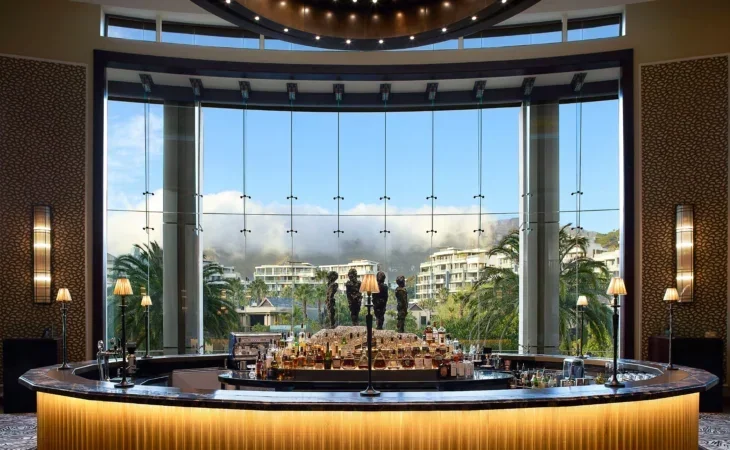 Tucked right in the heart of Cape Town, on the gorgeous V&A Waterfront with panoramic views that stretch across to Table Mountain, One&Only Cape Town is an unmissable enclave of urban serenity that already boasts some of the grandest accommodation across South Africa.
And with its extensive redesign unveiled – a refurbishment that includes all 133 rooms and suites, as well as the entrance lobby, the Vista Bar and Lounge, and a thorough remodel of the landscaping – the new design is a fresh and vibrant spin on ultra-luxurious accommodation.
Lest we present it as just modernity for the sake of modernity, however. The newly updated resort takes inspiration from all avenues of the local landscape, already one of the world's most beautiful regions; think shapes, textures and colors pulled from both city and region, from the topography of Table Mountain to the city's own vivid urban mythology.
[See also: The 9 Best Restaurants in Cape Town] 
"This is an incredibly exciting project for the One&Only Cape Town team and a testament to our confidence in the positive future direction of South African tourism," says Anne Scott, general manager of One&Only Cape Town. "We've proudly incorporated local suppliers and artisans to create something magical – paying homage to African culture while retaining the innate One&Only ultra-luxury ethos."
So, what can we expect? In short: a lot. The interiors of the guest rooms boast warm lighting and earthy colors, using fabric inspired by traditional Northern African mud cloth to create an authentically African welcome. This is reflected throughout; the living spaces blend together a palette of deep browns and warm earth tones with authentic African patterns and imagery.
And throughout the building, expect a delicate blend of metals and minerals, ultimately culminating in a sensual meeting of modern and tradition, incorporating strands of life from the Cape Kelp Forest, exquisite African patterns and works by local artists. Keep an eye out for the works of Johanny Twala, whose structural ink line mountain contour drawings of Lions Head, Signal Hill and Table Mountain feature in the Marina Rise suits, and Claude Chandler, whose Table Mountain-inspired artworks feature in the lounges.
Through close collaboration with local artists and artisans, One&Only has unveiled a property of unrivaled beauty and authenticity in its reflection of its setting. This is Africa in a fresh and nuanced way, in the most exceptional of locations, and the most admirable of unions: still ultra-luxurious, still uber-modern, all whilst boasting pride in its local community and its wider environment.