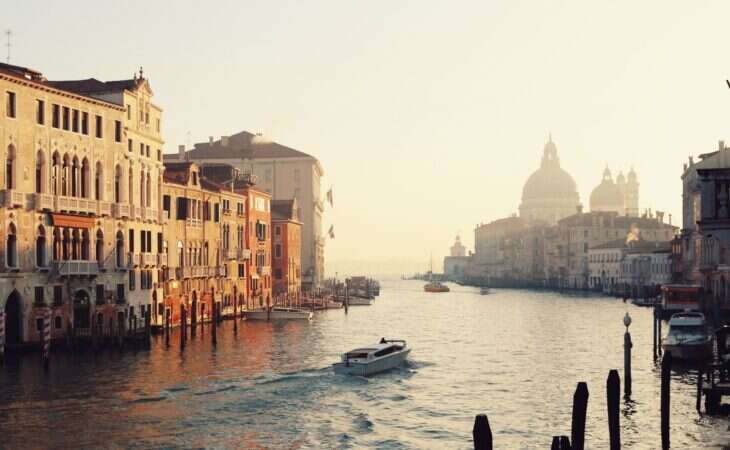 Long time sovereigns of timeless travel, the Orient Express brand has signed an agreement with Italian group Arsenale S.p.A to open its second Italian hotel in one of Venice's most storied properties, Palazzo Dona Giovannelli.
The Palazzo is steeped in Venetian history, and adorned with centuries worth of Italian glamor and intrigue. Set to open in 2024, it was first built in 1400 by famed architect Fileppo Calendario, who is, perhaps, best known for designing Venice's Doge's Palace. Famous lodgers include the Duke of Urbino, the 15th century Italian nobleman whose murder by poisoning is said to have inspired William Shakespeare himself.
An 18th century renovation ushered the Palazzo into a different era, this time by the acclaimed Giovanni Battista Meduna. His legacy is unavoidable in the Palazzo through the eternal romanticism imbued across his features, which include the masterful neo-Gothic staircase and the marble carved entrance.
[See also: Life Aboard the Timeless Venice Simplon-Orient-Express]
Today, the Palazzo is both an ode to Venice's heritage and a celebration of the Floating City. Passengers on the Orient Express La Dolce Vita train will be able to disembark directly at the Venice Santa Lucia Station, where the Orient Express Venice Hotel, as it is to be called, is reachable by both foot and boat.
Boasting 45 rooms and suites, all overlooking the city's gardens and canals, the Palazzo is "a unique encounter between two icons: the legendary luxury brand and the Palazzo Dona Giovannelli," says acclaimed architect Aline Asmar d'Amman, who has been selected by Orient Express and Arsenale S.p.A to design and decorate the space. "The landmark building is anchored in eternity."
D'Amman's portfolio is as impressive as it is vast. Believing that beauty adds to "the poetic soul of the world", she has previously taken on the art direction of hotels including the Hotel de Crillon, restaurants such as the Le Jules Verne, and has even previously collaborated with Karl Lagerfeld.
With an emphasis on creating results that connect past and future, and bridges culture across continents, last April saw Lebanon-born d'Amman unveil the architectural scenography of the Lebanese Pavilion at the Venice Biennale of Art.
"Inspired by her multicultural background, passion for Venice and unique poetic language, Aline Asmar d'Amman will sublimate the design of one of the most charismatic palaces in the world," announced Stephen Alden, CEO of Orient Express.