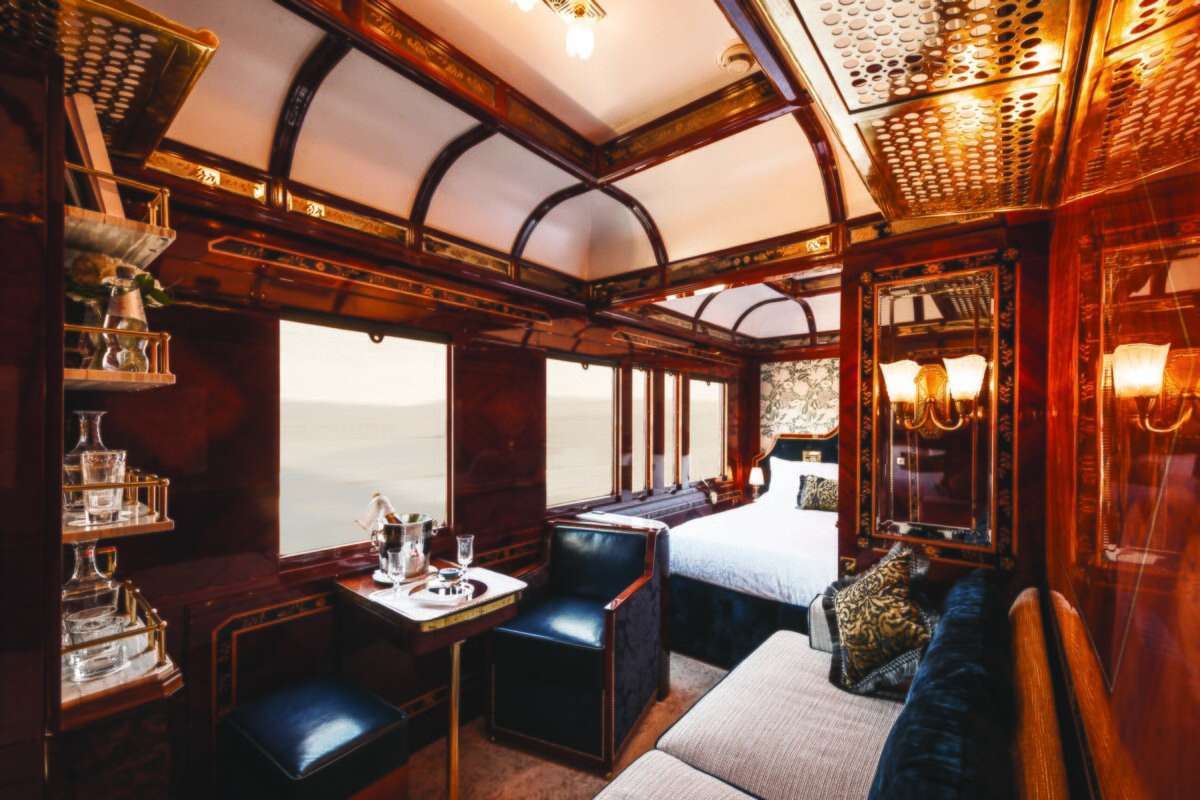 The Venice Simplon-Orient-Express. The name alone suggests luxury, adventure, intrigue. And, for the literary minded, occasional murder! It's a once-in-a-lifetime experience for a reason: It's appeared in so many films, posters and novels that its name has become almost mythical, almost legendary.
Even before the pandemic hit, we were all rediscovering the luxury of slow travel — what it means to travel less and choose our journeys more carefully, so they mean more to us and, ultimately, help preserve the planet. Travel at its heart has always been about culture and adventure, about escapism into a world far away from ours…. It's everything the great big train to somewhere is all about.
I have always loved the rhythmic sway of a train. Lost in thought, gazing out those huge windows framing the ever-changing view. But most of all, train journeys are the nexus of nostalgia and old-world glamour, a place for reflection and intrigue. They take us back to a time of easy, slow living, where maximalist grandeur and the art of enjoying yourself at a sedate pace reign supreme.
Every story has a beginning, and my jaunt along the tracks begins with a toast to the glory days of the past for a night of total Hollywoodesque glamour at the Hotel Cipriani, A Belmond Hotel. Discreet, prim and proper, the celebrity haunt still retains its status as one of Venice's best. Sweeping pool views, Murano-trimmed interiors complete with doty antiques and stylish artworks, Michelin-starred dining and glitzy suites oozing perfection.
Though not in the city's labyrinthine center, it offers the best of both worlds from its exclusive spot at the eastern end of Giudecca Island. Think breezy views over St Mark's Square from terraces that take privacy and exclusivity to another level. Plus, dancing the night away in a Bellini-induced haze before setting off the next morning for Paris makes for an even more Gatsby-esque experience.
[See also: Belmond Promotes Slow Travel with New Train Itineraries]
Having escaped the dregs of a possibly mighty hangover, the next morning we get up and head for a boat that whisks us off to Santa Lucia station to board the iconic train. As we step on, the grace of the 1920s cabins instantly feels ridiculously special. As we enter our cabin for the night, the mood is immediately set with rich shades from a royal palette — dark mahogany, naval blues, loud reds, summer-ready greens; the kaleidoscope of details is endless.
From all corners, beautifully polished wood, intricate marquetry, plush fabrics and Art Deco antiques wow, along with a plump window-facing sofa, ready for those famous panoramas. But it's the new Venice Simplon-Orient-Express grand suites that impress the most. Unapologetic opulence best sums them up, with all three taking up an entire carriage each. Inspired by the cities they are named after (Paris, Venice, Istanbul), the details are obvious. Spacious en suites are headlined by Wimberly Interiors to "reflect the spirit of each city whilst staying true to the original 1920s Art Deco design," the GM gleefully explains.
Yes, it's all lovely, we agree, especially the private bathrooms with showers, swanky double beds and blousy living area complete with underfloor heating; yet, it's the free-flowing champagne on tap that really gets the party going — served by the suite's small army of blue-and-gold- draped carriage masters, of course.
As expected, service is old school: bowing heads, formal (but friendly) and reserved greetings, and 'an anything goes, anything you want' sort of mantra. Once we settle in, the train eventually rolls out of Venezia and we begin our journey towards Paris, with a quick stop in Verona. As the landscape changed from cities to small towns, then lakes and finally our first glimpse of the mighty Dolomites, the world of the Orient Express starts to take center stage.
[See also: Belmond Commits to Sustainable Future with EarthCheck]
Mammoth plains begin to branch out into the glacier-topped, alpine-flecked mountains of avalanche country; crystal-clear rivers snake their way up into the mouths of turquoise and emerald-green lakes; snow-topped mountain fortresses crown the moody clouds; and, if you know where to look, powerful waterfalls plunge into merciless pluming cascades. It's all visually too delicious.
Taking in all that scenery works up a serious appetite. Lunch and dinner on board are served in dining cars (Côte d'Azur with its stunning Lalique glass and the beautifully romantic L'Oriental), the lovely little spaces where you'll spend most of your day outside your cabin. Dressing in your finest is non-negotiable (I mixed Huntsman with a bit of Armani and Tom Ford) and mandatory, so it's best to go all out when you are packing.
Cuisine is posh and grand. The menu, designed by executive chef Igor Maccagnan, features an array of fresh and seasonal ingredients from across the continent, from rich fish to caviar and tender meats. It's modern European meets Asia meets the camp, buzzing flavors of Italy (if we have to mash it all up in one sentence). Varied, let's say, but palate-pleasing to a T.
Post-feast, head for the bar car. The party goes on until the last guest is standing or the piano maestro simply can't take it anymore. Cocktails are slick and sleek (the Negronis, especially) and the vibe so infectious, your toes (and your tushes) will be left wiggling all the way back to your carriages.
What to bring
The train look
The train calls for a glam dress code, so go all-out dapper with one of Savile Row's finest tailors, the impeccably slick Huntsman. A favorite among London's elite and the royals, custom-made numbers feature personalized and tailored jackets, shirts and trousers guaranteed to make you look the part while you play an intense game of 'Whodunnit' aboard the Orient Express.
The casual look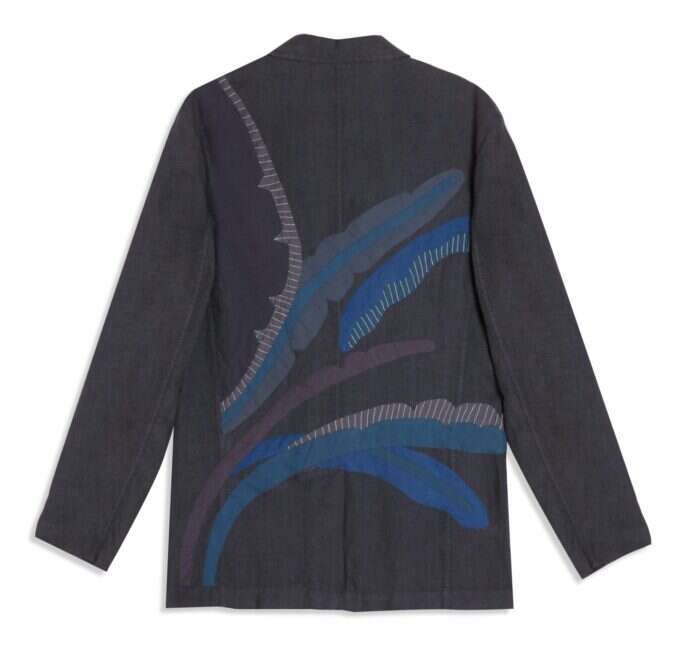 Louis Barthélemy, of Hermès, Ferragamo and Dior, has teamed up with Emporio Sirenuse to exclusively design limited-edition blazers in homage to the legendary namesake hotel's Instagram-famous banana trees. Headlining part of the limited-edition capsule collection, Barthélemy has blitzed all shades of the fruit across the blazer fashioned from the finest Italian linens out there. It's fun, a little different — and will make you stand out from the crowd.
The scent
If you are going to Italy, you might as well smell the part. Tom Ford perfectly captures the scent of 'The Boot' with this breezy cool spritz that oozes all the fresh aromas of the Riviera. It's a classic cologne, so expect crisp citrus, floral and amber notes, guaranteed to leave a long-lasting impression — on your skin, and on others, too.
The case
Made from unbreakable, anodized aluminum with brushed finishes, Away's fleet of beautiful silver suitcases are perfect for travelers who don't want to worry about damage to their personal belongings while on the road. Opt for their spacious The Large suitcase, which not only holds most of your wardrobe, but its exterior also ensures that your clothes will arrive in pristine condition, too.
Venice Simplon-Orient-Express Grand Suites from $15,655 per person. Contact reservations.uk@belmond.com, belmond.com
This article appears in the 29 Nov 2021 issue of the New Statesman, Winter 2021/22