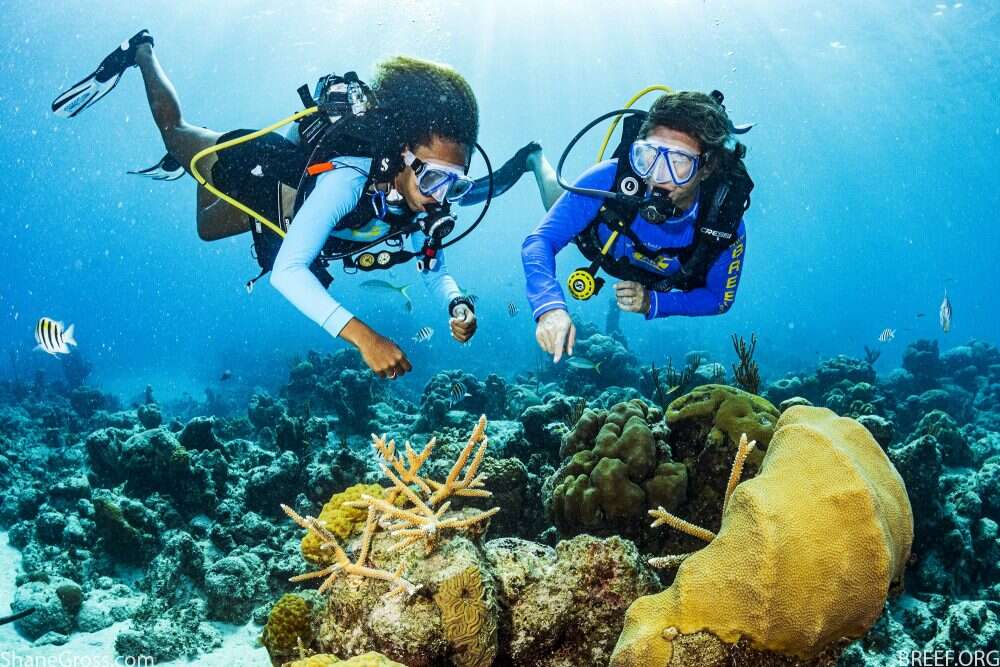 Located on the white sands of Nassau's Cable Beach, Rosewood Baha Mar has launched a new series of marine life conservation programs with the local NGO Breef.
The partnership has led to the creation of the Citizen Science Program, which allows guests to complete a three-hour dive course experience and visit the underwater Sculpture Garden and near-shore reefs. The Sculpture Garden hosts "Ocean Atlas", the world's largest underwater sculpture, and is used by Breef as an "underwater classroom" to explore art and conservation.
Near the end of the educational snorkeling tour, guests will actively participate in the coral reef's restoration by planting and adopting their own coral fragment. Breef will monitor the growth and health of the baby coral.
[See also: Owning and Living on Your Own Private Island]
With Rosewood Baha Mar x Breef, guests will also have the opportunity to help combat plastic pollution by participating in a beach clean up. All collected cans and bottles will be recycled by the non-profit organization Cans4Kids that raises funds for local schools and youth organizations.
Through these different programs and initiatives, guests at the Rosewood Baha Mar hotel will discover Bahamian treasures while contributing to the protection and conservation of the local environment.
About Rosewood Baha Mar
The luxury resort is known for its 230 rooms, suites and villas, awash in a serene coastal palette of sand, sky and crystal blue and elegantly accessorized with Bahamian art and décor.
Rosewood Baha Mar includes two resort pools, a fitness center, a spa, five restaurants and bars, exclusive access to the beach and complete access to Baha Mar's extensive amenities which include, among others, a golf course and tennis facilities. In addition to that, the luxury resort is conveniently located at a 15-minute drive from the city center and the international airport of Nassau. Committed to eco-friendly operations, the hotel offers treatments with sustainable local ingredients at the Rosewood Spa and has partnered up with a local non-profit organization called Breef to organize educational programs for guests.
About Breef
The Bahamas Reef Environment Educational Foundation (Breef) is a non-profit organization founded in 1993 by the late Sir Nicholas Nuttall to address growing concerns on the state of the Bahamas' marine environment. From providing on-the-ground instruction for Bahamians to be stewards of the environment, to actively restoring reef habitat and representing the region internationally, Breef has a successful multi-pronged approach to protecting the marine environment. To fulfill its vision, the organization focuses on grass-roots programs in education, outreach, research and policy, which together impact all Bahamian stakeholders, as well as visitors.
[See also: A Luxury Guide to the Bahamas]