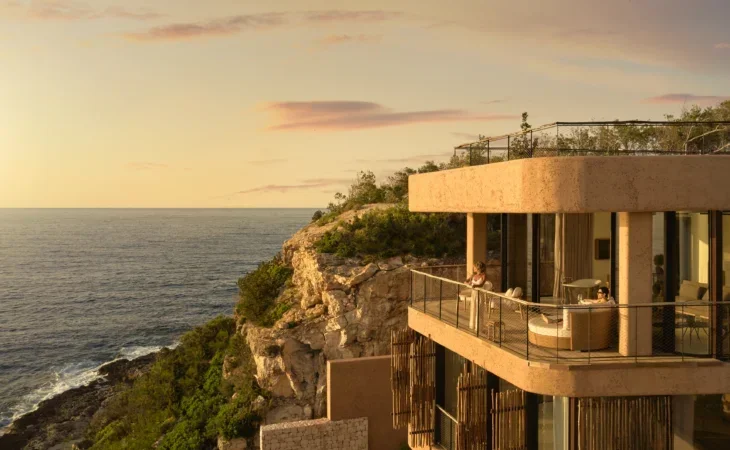 Already as dazzling in beauty as it is growingly iconic, Six Senses Ibiza has just debuted its new collection of 19 Residences and two Mansions. Perfect for families and groups alike, these carefully curated accommodations span from three to ten bedrooms, bringing the resort's collection of rooms to a total of 137.
Tucked away into the heart of the bohemian north, nestled to the point of near camouflage into the rocks that so characterize the vistas of the island, Six Senses Ibiza is already a dreamy resort of luxurious treatments and spectacular services, all whilst boasting unparalleled Balearic sunset views.
And with the resort's new Residences and Mansions – which will also include ensuite bedrooms, an in-villa chef, spa treatments, and more – guests are welcomed to stay and "celebrate life with their tribe", as the resort's press office so gloriously puts it.
To further assert their attention to detail and their commitment to not only the luxury experience but Ibiza itself, each villa is accompanied by a personal Guest Experience Maker, available on demand to assist in matters both within the villa and across the island.
"Ibiza has always been about coming together and celebrating life," says general manager David Arraya. "Our new multi-bedroom villas invite guests to spend quality time with friends and family in a private setting while also enjoying a unique community and vibe here in the magical north of the island."
Designed by architect and Six Senses owner Jonathan Leitersdorf, the Residences were built with comfort, luxury, and accessibility as a priority, with the intention of not compromising on aesthetic and glamour. Rather, the Residences take full advantage of the infinite sunrises and sunsets and the unobstructed sea views to create a space that incorporates sustainable, natural materials for an end result that mirrors that of a traditional finca aesthetic.
All spaces are, naturally, absolutely gorgeous, and selecting a Residence or Mansion is a difficult task, if not a pleasurable one. We're partial to the Cliffhanger Residence, which boasts a 15-meter private infinity pool and uninterrupted views across the bay, from its floor-to-ceiling windows.
What else can guests look forward to? Aside from the aforementioned services, guests are also given total access to the resort's wider range of amenities and programming, including the daily schedule of yoga Pilates, fitness, kayaking and cliff jumping, alongside a fitness center, the resort's acclaimed three restaurants, and the beloved Six Senses Spa.