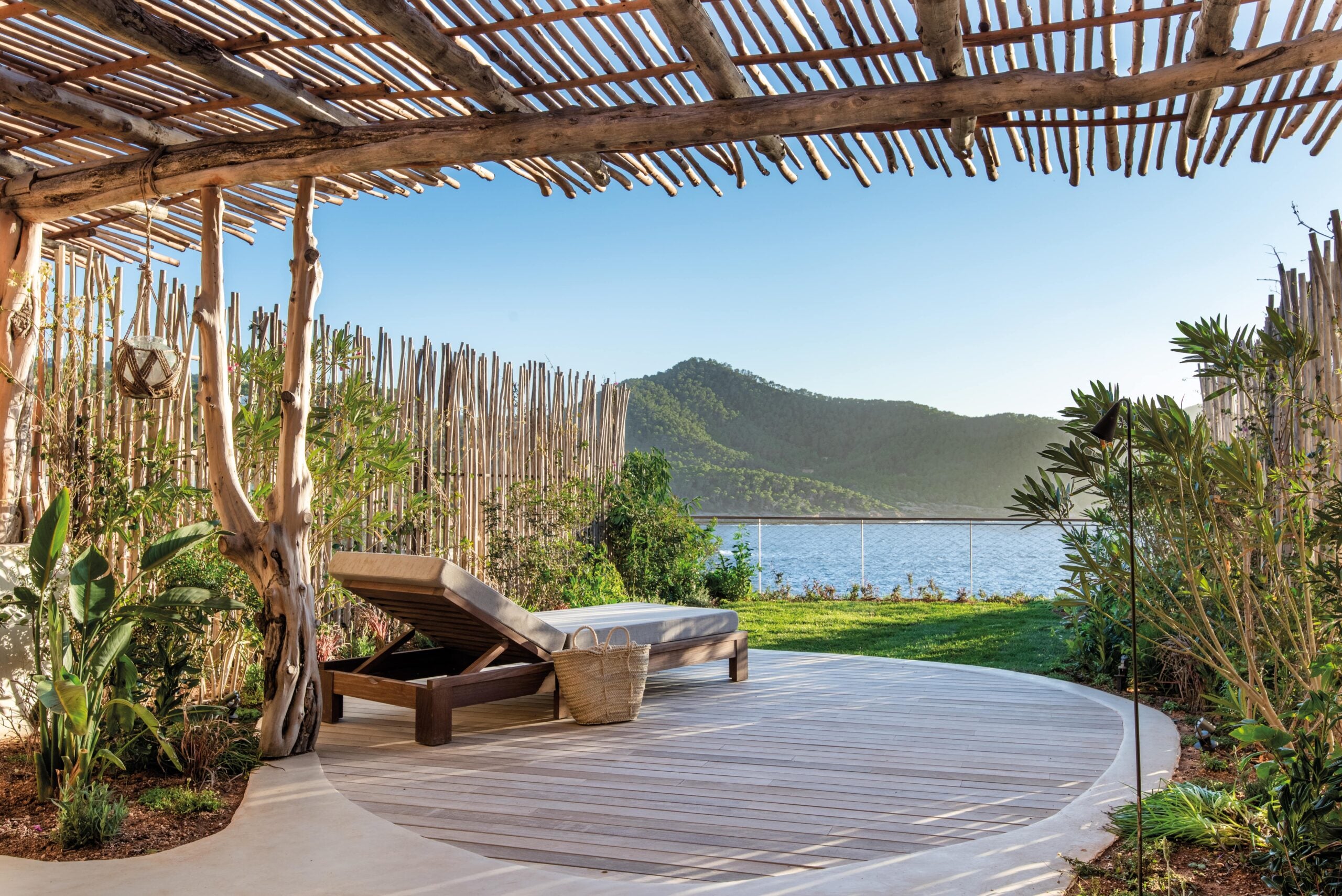 Penned for opening in July this year, the all-new Six Senses Ibiza is set to deliver an elevated level of sustainable luxury to a lesser-known side of the white island.
Found at the northern tip of the island overlooking the stunning Xarraca bay, the resort is a world away from the lively party region in the south and offers the laidback atmosphere that the bohemian north has become known for. Spread across over 430,500 sq ft, the entire site has been designed to exude a village-like feel that truly captures the authentic Mediterranean spirit.
In respect of the precious surrounding and wider landscape, utmost care is taken in every aspect of Six Senses Ibiza to limit its environmental impact – from its construction through to its everyday operations. Regarded as the first sustainable BREEAM certified resort on the island, the property is built using renewable materials, and makes smart use of the land's topography to ensure an environmentally-friendly build, as is standard across at Six Senses destinations.
The hotel will also be partnered with the Ibiza Preservation Fund, which it will work with directly to help preserve Ibiza and Formentera's beauty and natural value, both on land and at sea.
[See also: Earth Day: The Luxury Hotels and Resorts Going Green]
Sleep
Six Senses Ibiza will offer 116 well-appointed guest accommodations across a 20-acre site, including multi-room suites and villa residences, all of which blend seamlessly with the contours of the Xarraca bay. Each accommodation offers a distinct unique charm, making identifying the top suite no easy task; however, the expansive Cave Royale makes for a pretty special choice.
Designed to emulate a hidden coastal cave tucked in the rockface, the beachfront Cave Royale accommodation offers 2,077 sq ft of indoor space, as well as a generous 1,291 sq ft outdoor terrace complete with hot tub, full bar, dining area and living space. Back indoors guests will find an oversized bed, walk-in shower and tub and a grand piano. The pièce de resistance, however, comes in the form of a secret door leading to the adjoining recording studio which Cave Royale guests can visit whenever musical inspiration strikes.
For a more permanent base on the island, opt for one of the Village Residences, which offer space for ten guests across five bedrooms, as well as a private garden with swimming pool, garage and priority in-room service, as well as panoramic views across the Mediterranean Ocean.
Dine
At the helm of Six Senses Ibiza's culinary program is world-renowned Israeli chef Eyal Shani of the celebrated Miznon restaurant chain. Shani's curated menus will continue with the Six Senses group's established commitment to fresh, seasonable, organic and nutritious produce, which together form the Eat With Six Senses guiding principles.
As his first European outpost, the culinary offering at the hotel will also showcase chef Shani's distinctive style – most notably, his fervent passion for vegetables (the title of 'King of the Cauliflower' has been used on more than one occasion) via a veg-heavy menu featuring produce grown at Six Senses Ibiza's nearby farm.
The resort's signature dining venues include the Farmers' Market with its long, communal tables, The Orchard, The Piazza, Farmacy Bar and the Live Cave, which will serve shorefront tapas and sharing dishes. Guests can also enjoy a series of cooking classes for a more immersive look at Shani's distinguished cuisine.
[See also: Inside the New Eco-Conscious Six Senses Botanique]
Explore
Although Ibiza has garnered a (well deserved) reputation as a party island, its rustic northern half tells a different story – and Six Senses Ibiza is on a mission to prove it with its range of spiritual, community-led activities, all held within the village-like resort.
Unlike many of the resorts on the island, Six Senses will be open year-round; during the summer season, the focus will be on long, relaxed days lounging by the pool, with the nighttime calendar filled with moonlight culinary delights and pop-up experiences. During the winter season, the focus shifts to restorative and immersive multi-day wellness retreats.
Music also makes up a key element of Six Senses Ibiza's offering. Situated directly on the shorefront, the resort's Beach Caves are set to become a welcome (if decidedly more relaxed) addition to Ibiza's famous music scene, with both local and international musicians and artists already preparing to grace the stage.
Artistically inclined guests will delight in wandering through the resort's galleries, featuring works by Magnum photographers that have been thoughtfully curated to reflect the Ibizan way of life. For days when a little internal calm and thoughtfulness is required, guests can also retreat to the beautiful on-site library.
In case music, food, arts and culture weren't enough to fulfill your Ibizan break, the resort is also home to an all-new retail concept. Curated by renowned fashion editors Daniela Agnelli and Tiffanie Darke, Agora will be part shopping destination, part education and part entertainment, and will be focused on sharing the importance of sustainable fashion via four main principles of reduce, recycle, rent and restore.
Relax
As with all destinations in the group, the Ibiza Six Senses Spa is a destination in itself. Using an intuitive mix of science-led methodology and human awareness, the resort's wellness program is centered around the individual needs of each guest. A range of beauty, health and fitness treatments are on offer, all of which will be delivered by industry experts.
Spread across nearly 13,000 sq ft the expansive facilities include single and couple's treatment rooms, a steam room, a hammam and a state-of-the-art fitness center, as well as a café and juice bar. Outside, guests will also find a yoga deck and rooftop boxing ring, as well as massage catacombs with direct access to the nearby organic gardens, where ingredients for the spa botanicals are grown.
In addition to the permanent wellness programming, the Six Senses Spa will also host a rotating calendar of guest practitioners who will be delivering the very latest in innovative and pioneering treatments.
From €1,080 (approx. $1,297) per night based on two people sharing.
[See also: The Most Luxurious Eco-Friendly Hotels]