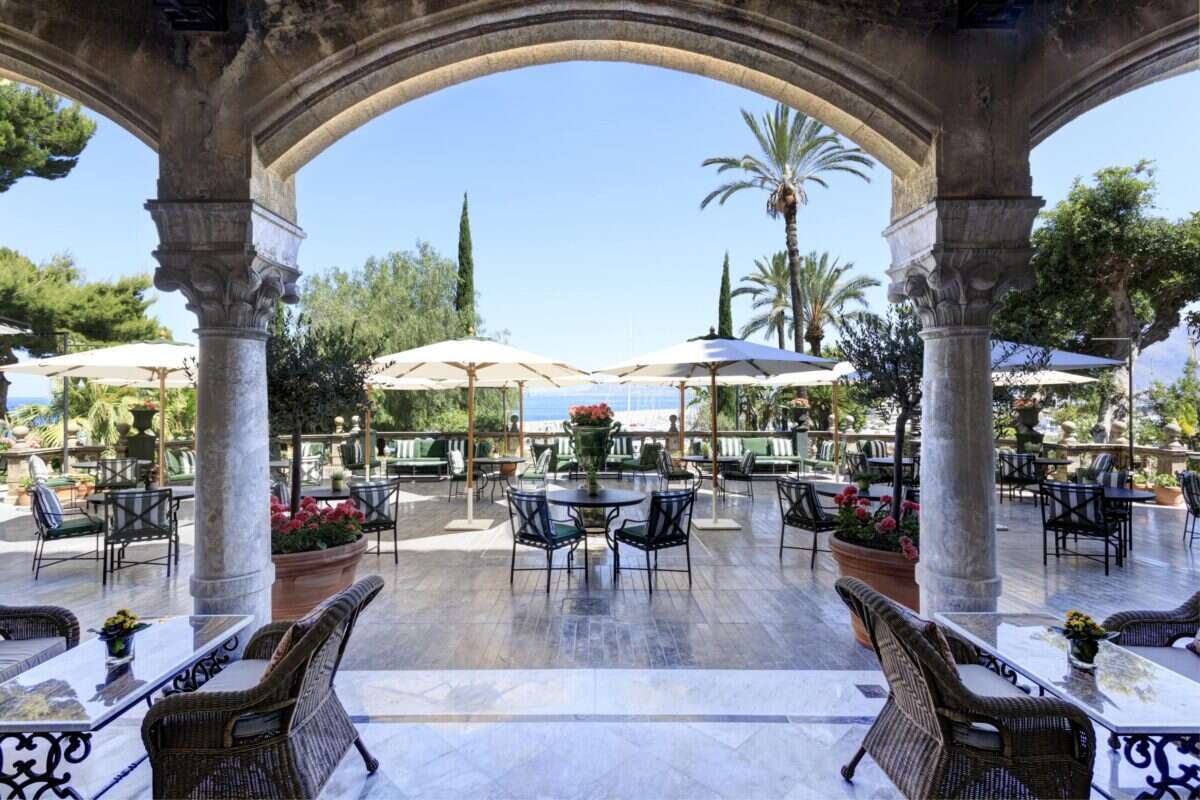 Palermo tends to fly under a lot of radars. As the capital of the Mediterranean's largest island, with its compelling cross-cultural history, it should perhaps generate a greater allure than it does. The "M" word, though, can cast a dark shadow.
The city's association with the mafia is reaffirmed immediately on arrival at Falcone Borsellino Airport, named after two crusading judges, murdered in 1992. A memorial on the drive into the city marks the spot where a 50-foot crater opened up after the bombing of Giovanni Falcone's car.
That brazen act of barbarity and the backlash it provoked, marked an inflection point in Palermo's modern-day development as Palermitanos gradually began regenerating the lifeblood that for decades had been drained from their city. A phenomenon no more exemplified than with the return of the Teatro Massimo (featured in Godfather III), the third-largest opera house in Europe after Paris and Vienna, when it debuted in 1897.
[See also: The Most Beautiful Wineries to Visit in Italy]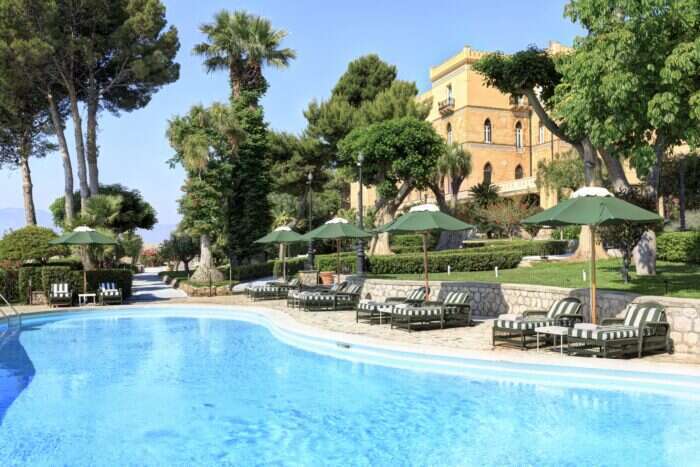 Its totemic return following 25 years of corruption-induced stasis in time for its centenary, is now buttressed by the reintroduction of another previous pillar of the cityscape: Villa Igiea.
Effectively Palermo's grand hotel, Villa Igiea was the place to see and be seen; a magnet for celebrities, royalty, and heads of state. Unveiled in 1899 by the Florio family whose interests embraced virtually every aspect of Sicilian social and commercial endeavor, their dynastic dominance throughout the Belle Epoque conferred on Villa Igiea, an enduring mythical presence.
The Florios, once described by the New York Times as "the merchant princes of Europe", suffered a rapid decline in their fortunes, however.  As with Teatro Massimo, by the latter part of the 20th century, Villa Igiea, which had long since slipped from their grasp, languished in considerable disrepair.
In 2019, Rocco Forte Hotels incorporated the property into their international emporium of exclusive hospitality and assumed the daunting task of guiding Palermo's disheveled grand dame toward a 21st century renaissance.
Stay
Villa Igiea sits on the edge of the city overlooking a chic marina. With spectacular views across the Gulf of Palermo to the mountains languidly changing color in the distance, it's close enough to the mayhem of the city center, yet far enough away to serve as a sanctuary of exclusivity.
The meticulous $35m restoration, navigating both the pandemic and an intense heritage oversight, delivers a property that more than reflects its past glories. It is the grand hotel. It is reborn.
One hundred and twenty rooms that had hosted an unceasing stream of celebrity from The Kaiser to Claudia Cardinale, who stayed there while filming The Leopard with Burt Lancaster, are reconfigured into 100, all enveloped by a restrained yet refined opulence.
Large, beautifully restored spaces such as the expansive Salon, the scene of exotic gala balls, the exquisite double-height Art Nouveau Sala Basile, and original features such as the voluminous guest cloakrooms and walnut grand staircase, contribute to an all-pervasive aura of timeless grandeur.
Wellness, in the form of the spa hidden in the gardens, is overseen by Sir Rocco's daughter, Irene Forte. She heads up an award-winning skincare brand using plant-based products from the organic farm at RFH's other Sicilian property, Verdura Resort.
The Florio restaurant, with majestic floor-to-ceiling windows, is eased back into its original Louis XVI Hall, whilst the Igiea Terrazza Bar unfolds out onto a spectacular setting overlooking the Tyrrhenian Sea. Much here, including the property's castellated blush-colored exterior, and its palm and hibiscus stuffed gardens, remains as it was. Belle Epoque time travelers would have little trouble recognizing where they'd landed.
Design
The architect who transformed this formerly private residence into one of Southern Europe's most coveted hotels, Ernesto Basile, was also responsible for Teatro Massimo. A revered exponent of Italian Art Nouveau, Villa Igiea, named after the daughter of Ignazio Florio and his aristocratic wife, the society beauty Franca, embodies some of Basile's finest work. Not least in the Sala Basile with its fabulous frescoes, which served as inspiration for the hotel's color palette, and its exquisite Art Nouveau glass ceiling light running the length of the room.
Olga Polizzi, Rocco Forte's sister and director of design, in collaboration with designers Paolo Moschino and Philip Vergeylen, oversaw a restoration whose need to preserve the original, whilst melding it with a chic contemporary, was challenging. In keeping with RFH's extensive ESG initiatives, ancillary work was kept as local as possible, with a specialist family firm near Palermo manufacturing those majolica tiles and mosaics that couldn't be restored.
The highly regarded Design Lab at San Patrignano meanwhile, a drug rehabilitation community near Rimini (and subject of a recent Netflix documentary), created some exceptional wallpapers. With Verdura Resort already generating solar energy, a photovoltaic system capable of assuaging Villa Igiea's heritage concerns, is also being assessed.
The end result is stunning. Restored Art Nouveau features are skilfully melded with flourishes of contemporary design brilliance, in a style statement that manages to be both conservative and quirky; stolidly safe yet also seductively sumptuous.
Dine
The expansive light-flooded Florio restaurant exudes a restrained elegance reminiscent of an Edwardian palm court. With its air of dignified self-assurance, it's clearly destined to become one of Palermo's most distinguished dining rooms, and as with so much else here, is all very Grand Hotel.
Early diners may be fortunate enough to encounter one of the most exalted practitioners of the Italian culinary arts; Fulvio Pierangelini. Once christened "the food whisperer" for his ability to conjure gastronomic magic from the most mundane of ingredients, this enigmatic super-chef, with his head of unruly curls wrapped around a pair of sunglasses like an aging rockstar, is RFH's creative director of food. His two-Michelin-starred Tuscan restaurant, Gambero Rosso, had long-attained cult status, when, after 28 years, he suddenly abandoned it in 2008.
Rocco Forte, however, was quick to harness this self-willed prodigious talent. Pierangelini, who hadn't stepped on a plane for 30 years, now flits around the world overseeing RFH restaurants. As he molds the Florio into the exemplary dining experience that he will surely create there, it's whispered that the food whisperer is currently to be found inside its kitchens.
Explore
Villa Igiea's location facilitates easy access to the airport as well as road trips out into the rest of the island, so guests arriving by car aren't required to enter the motorized gladiatorial arena that is downtown Palermo. There's also a regular shuttle service to the city center.
Rough-around-the-edges Palermo, more invaded than any other Mediterranean city, with its unedifying reputation, throws up a captivating collage of eclectic interests. Raucous markets redolent of an Arab souk, serve up delicious Palermo street food, whilst the "Addiopizzo" (goodbye extortion payment) movement offers a walking tour quite like no other, guiding guests around town explaining its notorious Cosa Nostra connections and meeting shopkeepers who refuse to pay the once-ubiquitous "pizzo".
The Capella Palatina, a stunning remnant of the once sprawling Palazzo Reale, the palace complex of the Norman kings, might not command the wider recognition of the Alhambra Palace but is every bit as mesmerizing, and once inside, will definitely command the attention. Its jaw-dropping amalgamation of Byzantine, Islamic and Romanesque styles reflect the multicultural medieval world that once prevailed here.
The streets outside, unlike other Mediterranean cities, neutered by decades of mass tourism, retain a refreshing authenticity. To the outsider, it looks like it can't decide whether it wants to be Turin or Tunis. The reality, of course, is that it's uniquely Palermo. And now it has its uniquely fabulous grand hotel back.
Villa Igiea reopens March 17. Rooms from €460 ($500), suites from €620 ($675). Contact reservations.villaigiea@roccoforte.com, +39 091 631 2111, roccofortehotels.com
[See also: Inside the New Hotel Castello di Reschio in Umbria, Italy]