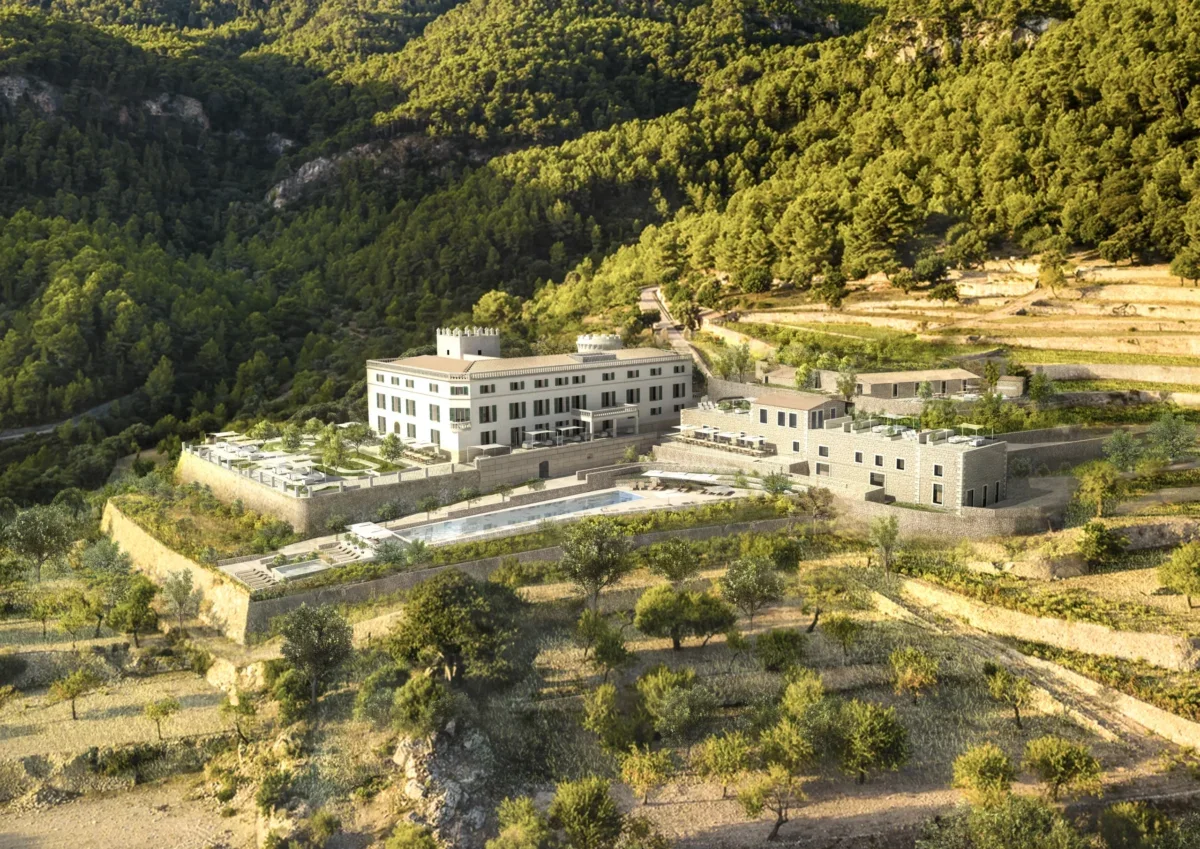 Richard Branson's collection of exclusive retreats – Virgin Limited Edition – is set to open a boutique hotel in the Serra de Tramuntana region of Mallorca. The property, which is currently under construction, will be located within the 810-acre Son Bunyola estate on the island's stunning northwest coast.
Slated to open in the summer of 2023, the hotel will see the restoration of a Finca building dating back to the 15th century and the surrounding landscape. Construction of the new hotel began last June, and the utmost care is being taken to meticulously preserve and restore all of the property's original features using traditional, locally sourced materials.
"Celebrating and preserving the heritage of this important Mallorcan landmark has been at the very forefront of our restoration work throughout and thanks to the fantastic work of Gras Architects, the Finca has been very much designed to enhance the incredible natural surroundings it is blessed with," said managing director of Virgin Limited Edition, Joe Brown.
[See more: The Best Restaurants in Mallorca]
Nestled among tranquil citrus, almond and olive groves, the new property will feature just 28 rooms and suites set across the Finca and several annexe buildings. The most extravagant abodes are the two Tower Suites, one of which will be located within a historic medieval defense tower. Interiors come from Mallorcan-based studio, Rialto Living, which has carved out an impressive reputation for its stylish residential designs.
At the heart of the design is a commitment to sustainability. Measures put in place to ensure the hotel has a minimal impact on the environment include a biomass boiler powered by recycled wood chippings, upgraded thermal insulation, a system to collect water which is then reused for irrigation, and hot water pre-heated using energy collected from the air conditioning and refrigeration cooling systems.
The new hotel will sit within the Son Bunyola estate, comprised of three stunning villas – Sa Terre Roja, Sa Punta de S'Aguila and Son Balguaret – which can be hired together for exclusive use.
Guests won't need to leave the sprawling estate if they don't want to – Virgin Limited Edition's Son Bunyola hotel will be joined by two gourmet restaurants, lounges, several outdoor terraces for dining al fresco and a swimming pool with breathtaking views of the Mallorcan countryside. However, for those that do venture further afield, there is plenty to do. Designated a UNESCO world heritage site in 2011, the Serra de Tramuntana region is home to the biggest mountain range of the Balaeric Islands with hundreds of idyllic hiking trails to explore.
[See more: The Most Extravagant Islands Suites in the World]