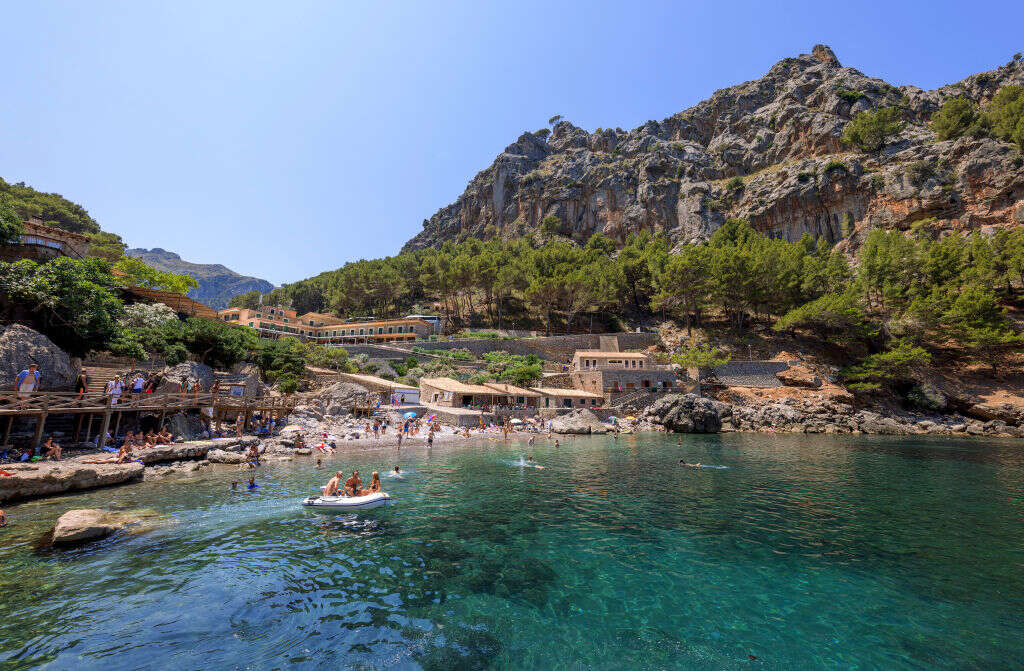 With its golden sandy beaches, striking mountains and pretty hillside towns, Mallorca has long been a much-loved vacation destination. But, in recent years, the largest of Spain's Balearic Islands has also been quietly carving out a reputation for hosting some of the best restaurants on the planet.
Talented chefs are serving up gourmet dishes that elevate the island's bounty of beautiful Mediterranean produce and ultra-fresh seafood to dizzying new heights. Of course, the hard work hasn't gone unnoticed. Today, Mallorca is home to nine Michelin star eateries – most of which are found in the historic town of Palma.
With so much choice, deciding where to begin your culinary adventure can feel overwhelming. To help, Elite Traveler has rounded up the best restaurants in Mallorca that you won't forget in a hurry.
[See more: A Guide to All Three-Michelin-Star Restaurants in Spain]
VORO
View this post on Instagram
Kicking off our list of the best restaurants in Mallorca is two-Michelin star VORO, located in the picturesque coastal town of Canyamel. Taking its name from the Latin word for 'devour' the eatery certainly lives up to expectations. There's no need to worry about style over substance here: expect utterly delicious dishes that will have you scraping every last morsel from your plate.
Helmed by renowned chef Alvaro Salazar (voted Mallorca's best chef in 2018) you're in safe hands at VORO. There are two constantly evolving tasting menus to choose from (Voro and Devoro), both of which are bursting with the island's fresh, seasonal ingredients. Highlights from the 22-course Voro offering include the indulgent Iberic glazed lobster served with its own 'gazpachuelo' and radish, and the soft-braised veal on a bed of beetroot and aromatic herbs.
Andreu Genestra
View this post on Instagram
Next, we head to Capdepera – a tiny village on the east coast of the island. Here, within a small country house hotel surrounded by idyllic olive groves, you'll find the restaurant of Andreu Genestra. Awarded a Michelin star in 2015, as well as a green star for his impressive dedication to sustainability, the talented chef creates modern, locally inspired dishes using plenty of ingredients homegrown at the organic market garden.
The leafy outdoor terrace boasts stunning views of Capdepera Castle – the perfect setting to watch the sunset while sampling Genestra's gourmet culinary creations. There are two tasting menus to choose from which change on a monthly basis and a wonderful selection of national cheeses and wines.
Marc Fosh
View this post on Instagram
Our list of the best restaurants in Mallorca would not be complete without mentioning Marc Fosh. Located in the center of Palma within the beautiful 17th-century Hotel Convent de la Missio, the stylish eatery serves authentic Mediterranean dishes with a modern twist.
The talented chef behind the restaurant is Marc Fosh – the first British chef to scoop a Michelin star on Spanish soil. Each of the meticulously designed tasting menus features quality local produce from across the Balaeric Islands. Highlights include the local langoustine with bouillabaisse, broad beans, clementine and bergamot, and the decadent textures of dark chocolate with coffee and passion fruit. There's also an extensive wine list with a focus on the very best artisanal growers.
Adrian Quetglas
View this post on Instagram
Also in Palma, you'll find Adrian Quetglas – an intimate bistro-style eatery in the heart of the city. The innovative chef behind the eponymous restaurant was born in Buenos Aires and grew up enjoying traditional Mallorjan cooking with his father and grandparents.
After a decade honing his skills in some of the most prestigious kitchens in Paris, London and Moscow, Quetglas set up shop in Palma in 2015 and was awarded a Michelin star for his efforts the following year. The delicate dishes are inspired by his international experience and grounded in vibrant Mediterranean flavors.
Standout dishes from the seven-course tasting menu include turbot with fennel oyster pil-pil style and air of roasted apple, and black pork with a spiced nuts base, currant demi-glace and pickled cauliflower.
Bens d'Avall
View this post on Instagram
Last but by no means least on our list of the best restaurants in Mallorca is Bens d'Avall. Perched atop a cliff near Soller, a charming town on the northwest coast of the island, the rustic eatery is the place to go if you're looking for a meal with a view.
Father and son duo, Benet and Jaume Vincens, create beautifully plated dishes that are a celebration of Mallorcan cuisine. In 2020, the restaurant was awarded a much-deserved Michelin star, 49 years after Benet Vincen's grandmother first opened the kitchen. The family has demonstrated an impressive commitment to sustainability over the years, recycling 100% of waste and supplying the restaurant with water from their own spring and fresh produce from the on-site vegetable garden.
Dishes to look out for include succulent roasted loin with artichoke and fresh herbs, and the artisanal seafood broth served with pillowy saffron gnocchi.
[See more: The 9 Best Restaurants in Barcelona]