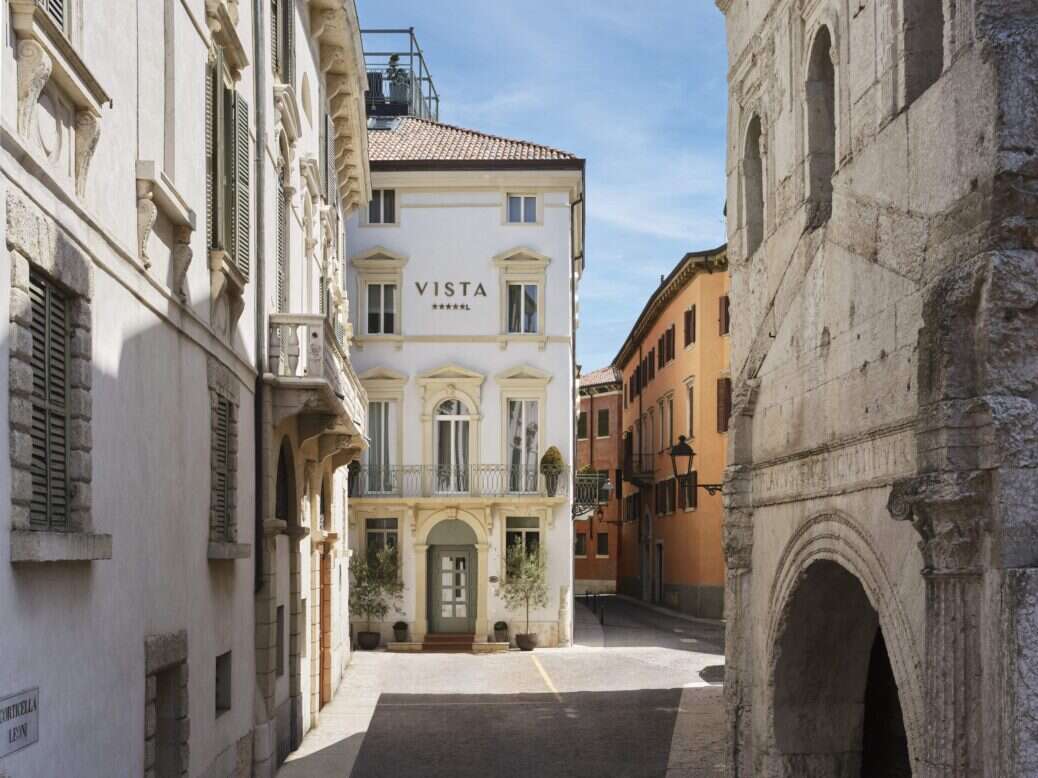 In fair Verona where we lay our scene – the opening lines to Shakespeare's Romeo and Juliet underscore the intrinsic connection between the world's most famous love story and the city where it was set. And the scene in Verona, no less fair today than it was in the 16th century, is currently the focus of rapt attention – the hospitality scene, that is – following the recent unveiling of the unapologetically opulent Vista Palazzo Verona.
As a jewel of the Veneto, just over an hour by train from Venice (aka Overtourism Central) and Milan's airports not much further away, this mesmerizing outpost of timeless Italian allure, has no shortage of interest. As a city-break, not least for Romeo's keen to set Juliet's swooning under the spell of what is, even without the bards' interventions, a relentlessly romantic city, it's difficult to find a box it doesn't tick. Surprisingly for such a perennial honeypot of human fascination, though, hotel offerings haven't created much of a buzz – until now.
Vista Palazzo Verona, housed in a 19th-century former mansion in the historic center, is clearly intent on raising the bar for luxury hospitality in the city. Its DNA derives from another northern Italian city, Como, at the foot of the famous lake, where Bianca Passera heads up a family business that's successfully operated hotels and restaurants in the city for over a century. Whilst Lake Como's palatial grand hotels and celebrity boltholes are well known, Como itself was lacking a five-star presence until Bianca unveiled Vista Palazzo Lago di Como, to great acclaim in 2018. The Verona property is effectively a repurposing of that successful design template.
Stay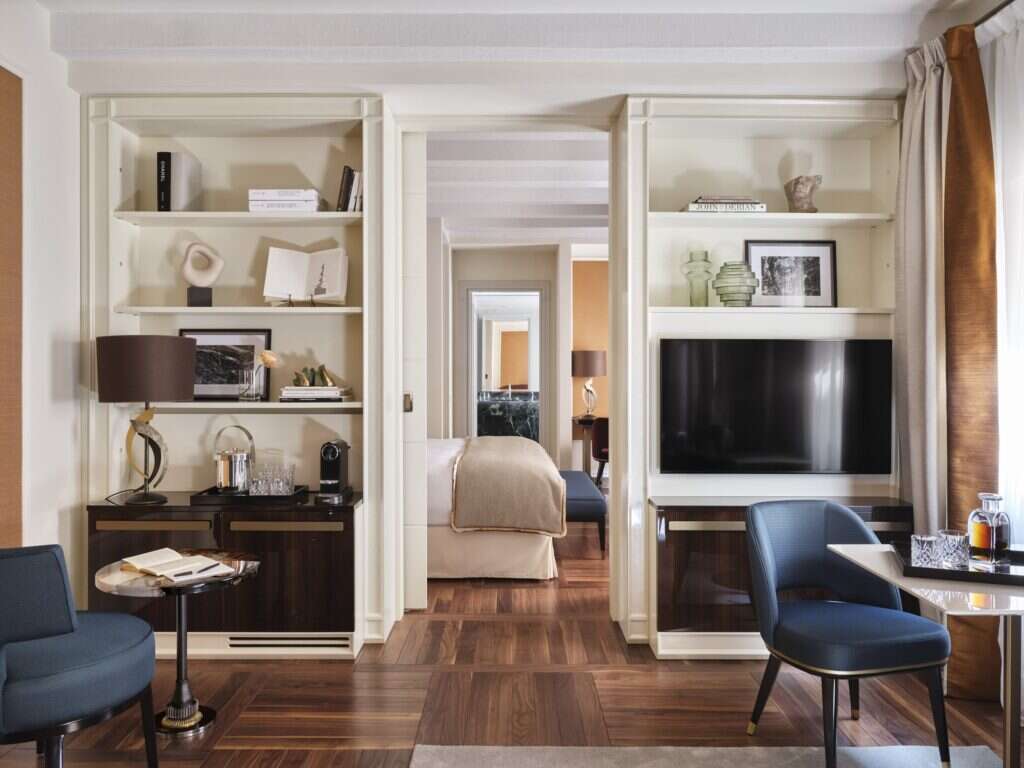 In the centre of Verona, the pedestrian is king. The location of Vista Palazzo tucked up a quaint cobbled side street next to the remnants of an old Roman gateway, is slightly removed from the beating heart of everything, yet still a short walk away. Transfers and taxis, however, are permitted to pull right up to the property. With just 13 suites and three rooms overseen by Resident Manager, Chiara Russo, chic and charming in equal measure, a seductively warm and welcoming atmosphere propels the hotel incontrovertibly into that category labelled "small but perfectly formed".
The top floor of the building houses the restaurant leading to a spectacularly sited rooftop bar delivering superlative 360' views. The basement, meanwhile, is entirely given over to a carefully crafted spa, incorporating the only hotel pool in town. Admittedly it's not huge and functions more as a complement to the spa's other offerings, but it's a very welcome sight after a hot day pounding the streets. Incorporating a steam room, sauna, hydromassage, and ice shower, along with a 500 sq ft private spa within a spa, all supported by a full complement of treatments, this secret sanctuary of pampering positions wellness as a core facility.
Design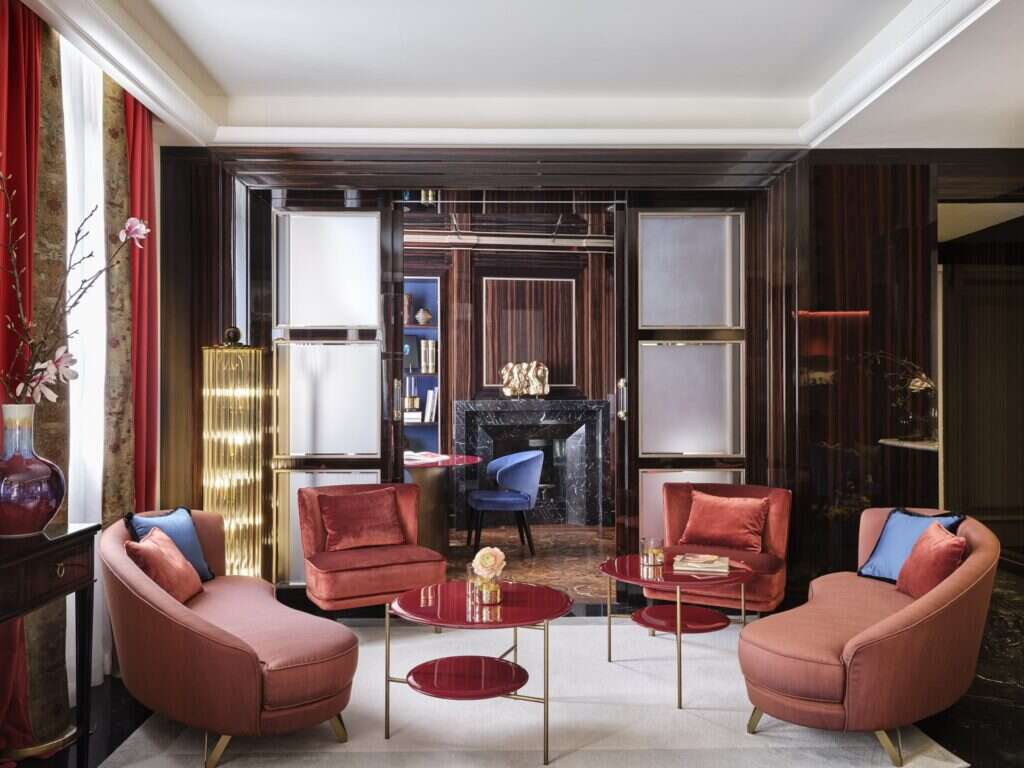 It's not long inside this little pearl of a property before the realisation takes hold, that virtually everything in there is extrapolated from that legendary Italian genius for design and fashion. It's part hotel, and part homage to this long-standing pre-eminence in designing pretty much anything from cars to clothes to wine glasses and furniture. Products rendered so desirable that wallets are emptied on the spot with fatalistic resignation.
Many of these demi-gods of the design universe are, of course, based right there, in and around Milan. Bianca Passera, a former director of the silk museum in Como, where the silk industry was based in the 19th and 20th centuries, is clearly plugged into this creative cultural legacy and keen to reflect it in her hotels.
As with the Como property, the redesign was overseen by veteran Milanese architect Maurizio Maggi. He has elaborated a tableau composed of deep rich colours interlaced with natural woods and stunning Italian marble work, sourced from eight different Italian quarries. The walnut parquet panels are handmade and decorated with resin by Alchimia Italia, whilst sofas and chairs are by the highly revered Baxter, which may sound English, but are quintessentially Italian, and also from Como.
Dedar, responsible for much of the textiles and wallpapers, with showrooms on New York's 3rd Avenue, and London's Chelsea Harbour, are out in the countryside between Milan and Como. And so it goes, with room linen from Rivolta Carmignani, hand-made glass appliques from Marchetti Illuminazione, and dinnerware from Ginori –  an unceasing rollcall of Italian design supremacy. If the devil is in the detail, there's been some seriously devilish activity going on here!
Dine
Constraints of space, together with the hawk-like heritage oversight of a city comprised largely of historical buildings, no doubt, presented problems for Maurizio Maggi. A kitchen on the ground floor with Sottovoce restaurant on the top floor is a compromise derived from such challenges, but crucially, it all functions seamlessly.
Under the experienced tutelage of chef Fabio Aceti, whose culinary backstory embraces the kitchens of the Roux Brothers in London, a creative and accomplished gastronomy is presented with great flair. Dishes like wild boar Bottoni – pasta shaped like big buttons, with morels and buffalo mozzarella, or tartare of smoked arctic char, from the Italian Alpine lakes, accompanied by a raspberry carpione, a local speciality vinegar-based salad for presenting freshwater fish, confirm an accomplished hand presiding over the kitchen.
The rooftop bar serves as an elegant escape within which to nurture a negroni or cradle a digestivo as the sun sinks spectacularly over the pantiled panorama of the city's rooftops. Breakfasts can also be taken up there. With hints of music and snippets of Italian banter seeping out from behind the shutters of neighboring buildings, and wafting across the morning cappuccino, a more endearing way to begin the day is difficult to conceive.
Explore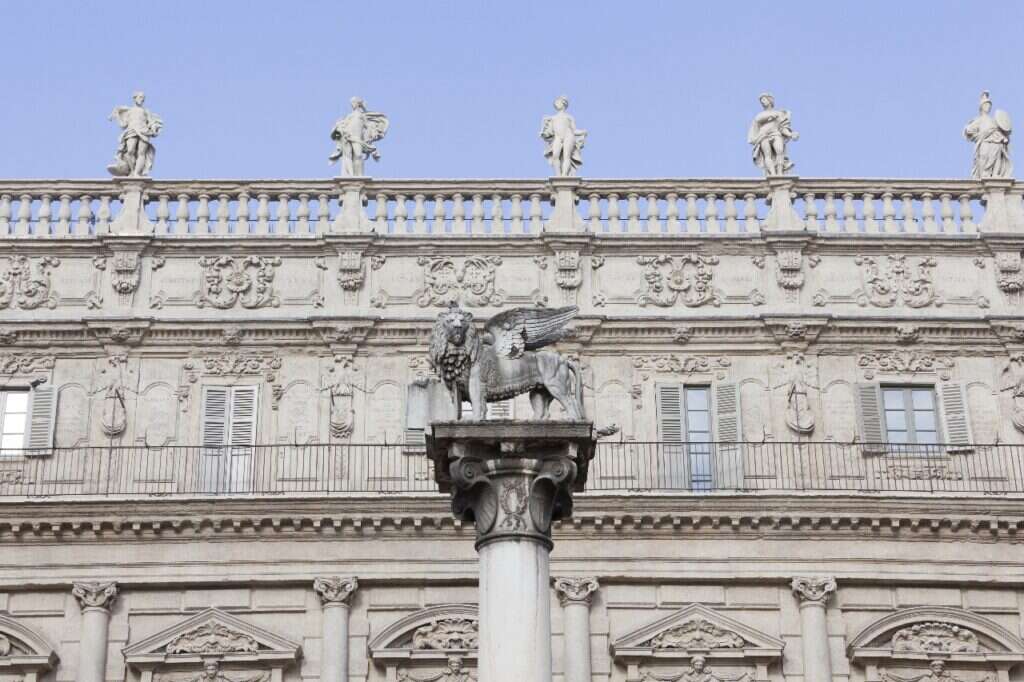 With Venice so accessible, the vineyards of Valpolicella and Soave right next door, and Lake Garda just 20 minutes away, the possibilities for exploration within the surrounding region are manifold. The magic of the city itself though is more than capable of commandeering the attention.
Throughout the Summer, the world-renowned Verona Opera Festival stages 50 days of performances in the Verona Arena, the amphitheater constructed in 30 A.D. Established on the centenary of Verdi's birth in 1913, and famously challenging for the singers who perform to audiences of 20,000, it's effectively the largest opera house in the world, and a 10-minute walk from Vista Palazzo.
The entire cityscape is replete with ancient churches, hidden courtyards of breath-taking beauty, and centuries-old squares, time-worn and weathered into imperfect perfection – a never-ending film set, which is, in fact, how the other main attraction, Juliet's Balcony, came about.
In 1935, director, George Cukor, despatched scenographers to Verona to scout locations for his upcoming movie, at the time, the most expensive Shakespearean adaptation to date. They were disappointed not to find a balcony despite Shakespeare's text never mentioning one. With the enthusiastic participation of the propaganda minister, Mussolini's son-in-law, however, they stuck one up there anyway, enabling Leslie Howard to woo Norma Shearer in true Hollywood style. The balcony has exerted an unstoppable fascination over visitors ever since.
In tandem with Bianca Passera's statement of stylish intent for the city's hotels, an equally significant development within Verona's already rich cultural legacy has just been inaugurated. Perhaps the most atmospheric of all Verona's squares is the Piazza delle Erbe, five minutes stroll from Vista Palazzo, at the end of which sits the most notable 17th-century palace in the city – the majestic and imposing Palazzo Maffei. Originally the home of the all-powerful Maffei family, and latterly a bank, it's now restored and repurposed into a wonderful museum, one so engaging that even habitual museo-phobes will enjoy.
Acquired by Veronese entrepreneur, Luigi Carlon, to house his life-long eclectic collection of artworks, which, whilst emphasizing Verona's art history, also ranges from Greco-Roman to modern installations, and incorporates works from Picasso, Warhol, Magritte and Canova. Over 500 pieces were masterfully curated by Gabriella Belli, director of Venice's municipal museums, in an impressive juxtaposition of classical and contemporary.
So Shakespeare's city of star-crossed love steps out into the post-pandemic world brandishing not only a wonderful new cultural center but also a strikingly opulent addition to its hotel scene. Fair Verona seems set fair, indeed.
Contact info@vistapalazzoverona.com, +39 045 1117 0880, verona.vistapalazzo.com