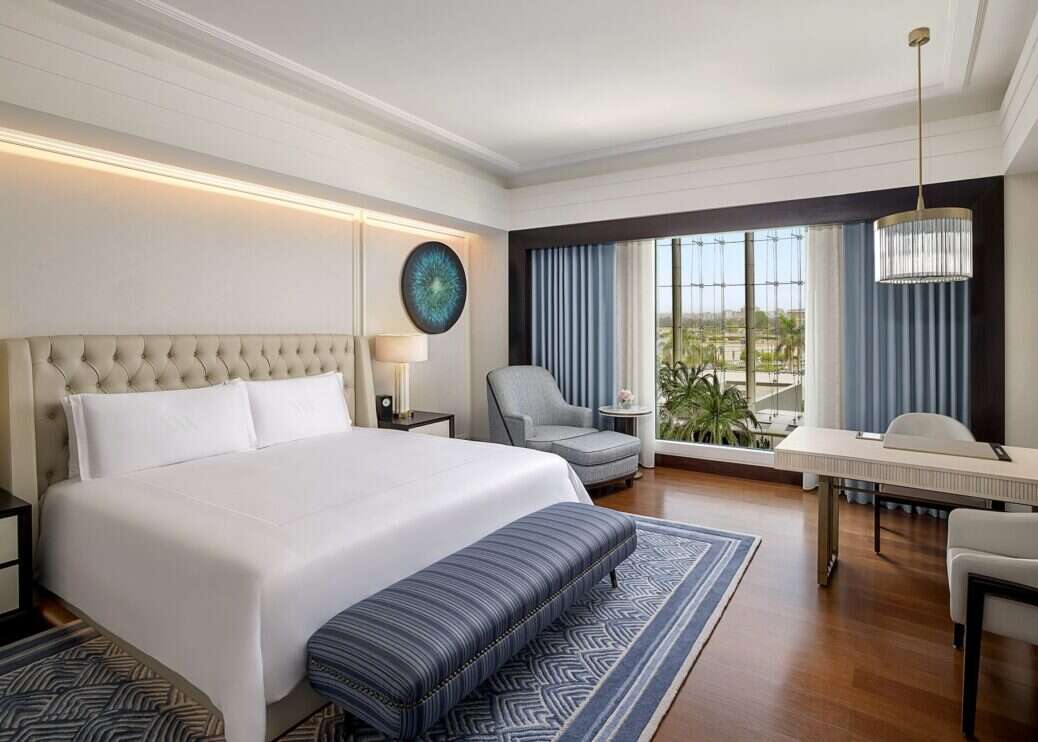 As tourism in Egypt continues to soar, it feels like hardly a month goes by without another luxury hotel putting down roots. Waldorf Astoria is the latest brand to make its debut in Cairo, choosing the ancient city of Heliopolis as the destination for its newest outpost.
Situated close to Egypt's main presidential palace, the hotel is the perfect spot from which to explore the historic city. Waldorf Astoria brought in London-based Adrian Barboza Design to craft the stunning interiors, which nod to the property's incredible surroundings.
Stepping foot inside, guests are greeted by a glass-walled lobby in the shape of the Pharaonic god, Ra, and the brand's signature Waldorf Astoria clock displaying the time with two rings of flowing water inspired by the River Nile.
[See also: Dino Michael on the Future of Waldorf Astoria New York]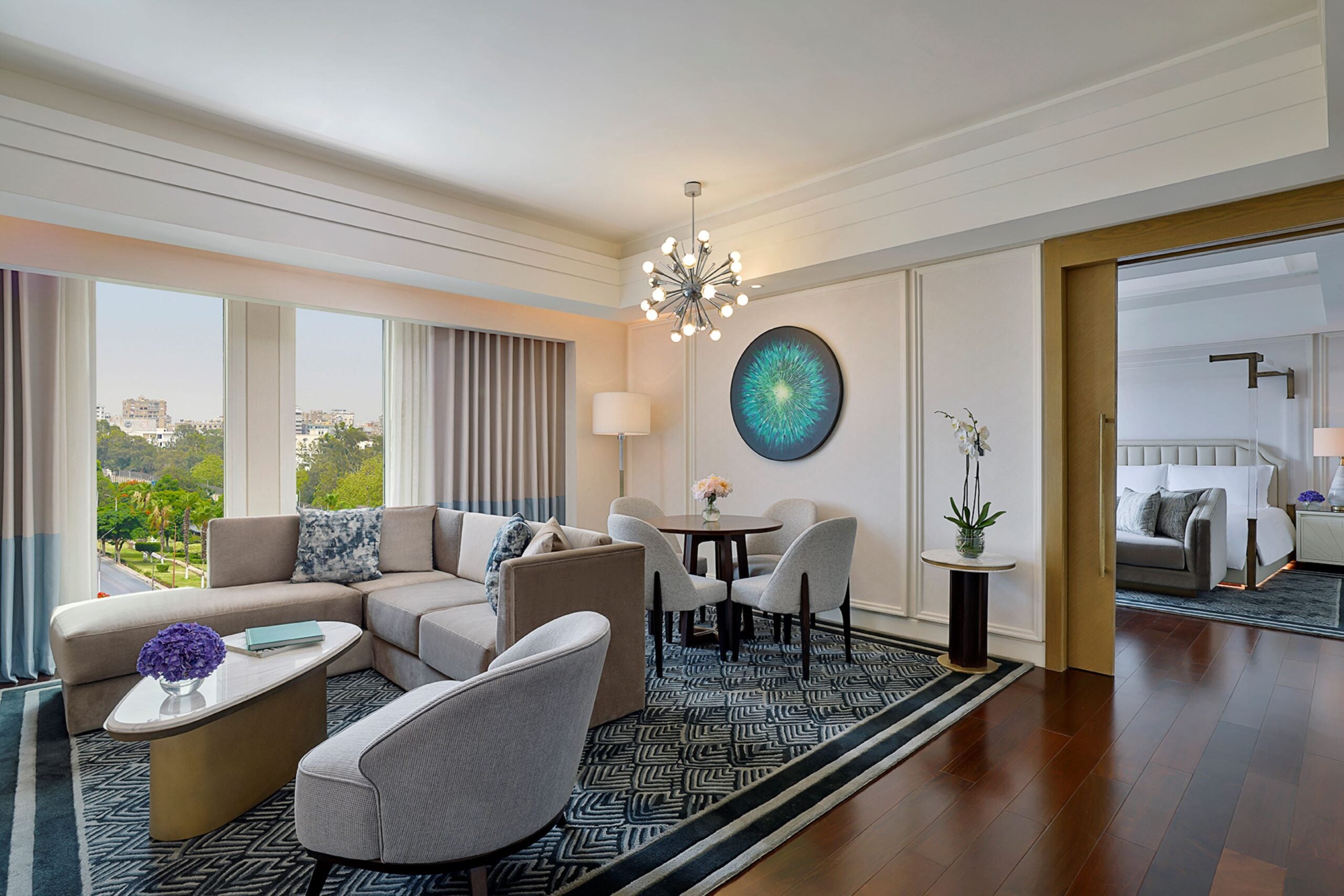 The hotel boasts 252 elegant rooms and suites decorated in calming shades of blue and green. Expect beautiful hand-painted ceramics, plush velvet fabrics, and soft woven rugs; this is effortless luxury without sacrificing comfort. Consider booking one of the Rosetta rooms for access to the hotel's exclusive club with complimentary drinks and snacks throughout the day.
As for dining, the hotel's signature restaurant – Brasserie Ayda – serves vibrant Mediterranean fare, while Peacock Alley is the place to go for cocktails and Egyptian mezze dishes. Later in the evening head to Bar Raa for live music and sharing bites, or to Le Jardin Pool Bar for more cocktails.
And when it comes to relaxing, Waldorf Astoria Heliopolis will be opening an expansive spa offering traditional Hammam scrub experiences and Psammo Therapy (hot sand therapy which was a tradition of the ancient Egyptians).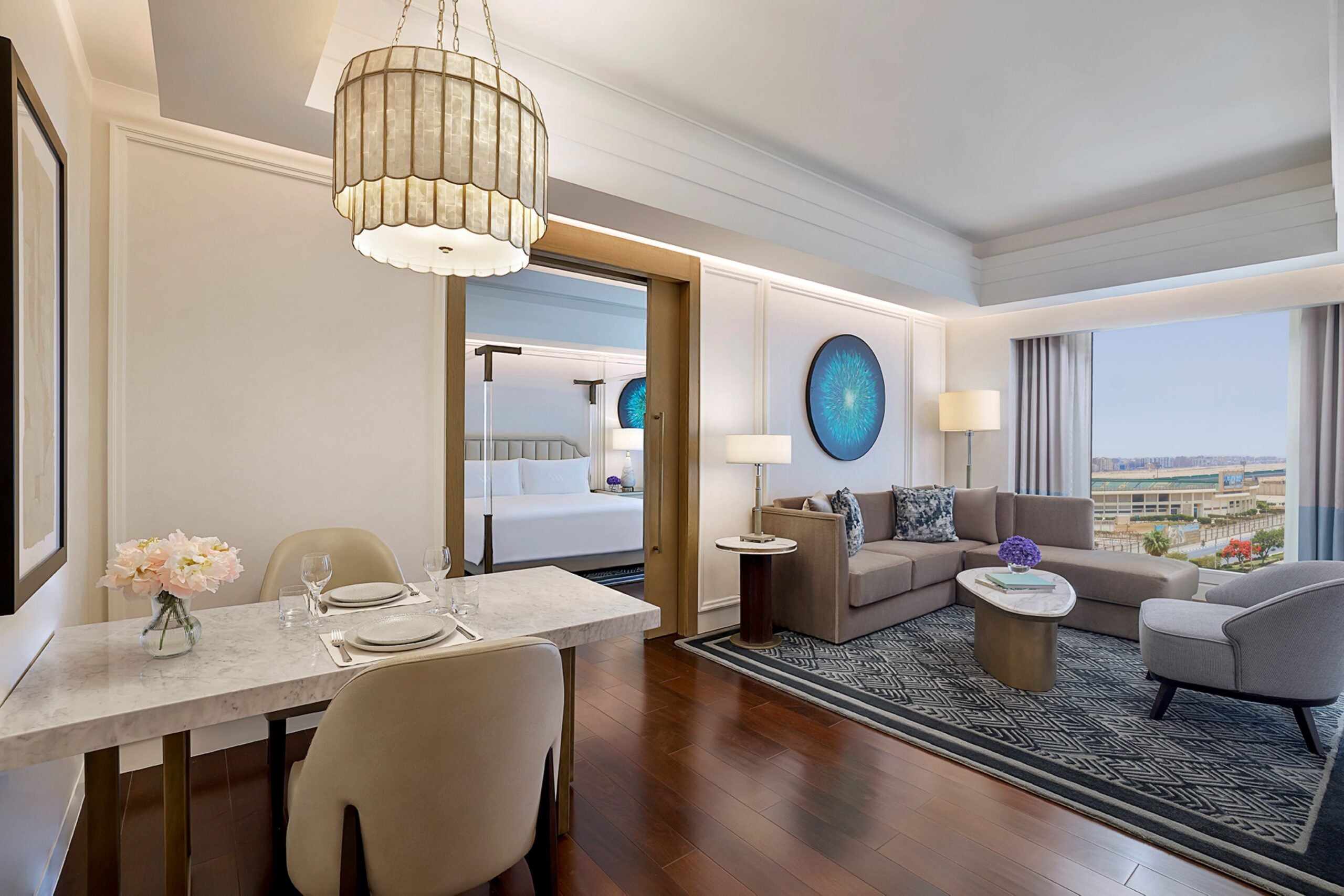 "As the first Waldorf Astoria property to debut in Egypt, Waldorf Astoria Cairo Heliopolis signals Hilton's commitment to expanding our luxury portfolio to the world's most sought-after destinations," commented Dino Michael, senior vice president and global head, Hilton Luxury Brands.
"Our personal, elegant service and timeless environments are at the heart of every hotel, and we look forward to delivering unforgettable experiences to our guests in Egypt."
[See also: Tour the Pyramids with a Personal Egyptologist]