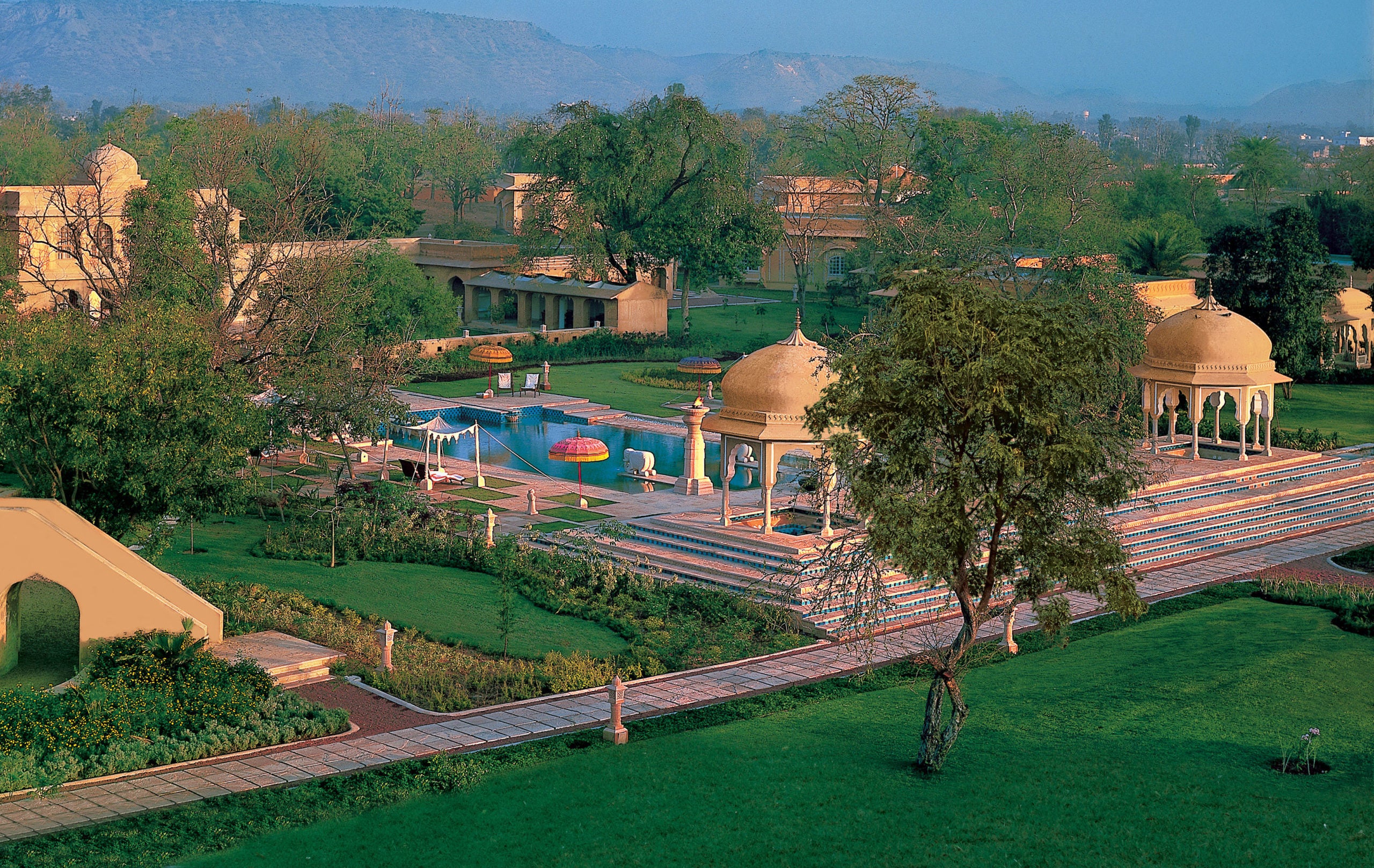 Just outside Jaipur's hectic city center lies a tranquil oasis: The Oberoi Rajvilas. The resort covers 32 perfectly manicured acres filled with stunning Indian architecture, including a 280-year-old temple, a pool with elephant sculptures and charming fringed umbrellas, dozens of strutting peacocks, grand suites and luxury tents. Wherever you go, you are greeted by Oberoi's famously warm, attentive and hospitable staff. You won't have to lift a finger during your stay; they will already have anticipated your needs.
Stay
Kohinoor Villa
– Size 11,377 sq ft – Nightly rate from $15,000
You will feel like a maharaja the second you set foot in the opulent Kohinoor Villa. It covers a staggering 11,377 sq ft and has two bedrooms, an enormous private pool with al fresco dining pavilion, personal butler service and a separate villa with a lounge-dining space. It is decorated in an understated and contemporary Indian style, but there's still plenty of glamour and charming, hand-painted details, and the villa offers complete privacy. If you're looking for a more whimsical accommodation, book the Royal Tent, which is actually two tents — one master suite, one living area — and has a private outdoor garden.
Relax
The Oberoi Spa honors India's rich wellness heritage, offering a wide range of treatments in an absolutely serene environment. It's located next to the pool, making it the perfect way to refresh after a day in the hot sun. Indulge in the Rejuvenate package, which will treat you from head to toe with traditional ingredients and techniques. Begin with a massage using a warm poultice with Indian herbs and oil, which will help your therapist soothe sore muscles on a deeper level. Next, there's an utterly relaxing Indian foot massage. End the treatment with a signature facial, and you'll be positively glowing.
Taste
There are two restaurants on property: the international Surya Mahal and the Indian Raj Mahal. At the all-day Surya Mahal, you can choose from classic Indian dishes, including street food that is safe to eat, as well as pasta, burgers, pizzas and Asian dishes. Raj Mahal highlights traditional Indian cuisine and offers the rare opportunity to sample obscure dishes from remote parts of the country. (Consider yourself warned, spicy here means very, very spicy, but you can order dishes to your comfort level.) Dining outside under the stars, listening to live music and watching an incredible Indian dancer are experiences you'll never forget.
Special Tip
Oberoi Rajvilas is a perfect home base for adventures in the Pink City. Have the concierge set you up with a private driver and expert guide, and you can explore the region's history and culture. Amber Fort, City Palace and Hawa Mahal are not to be missed. And of course, there's the shopping. From handwoven rugs and leather sandals to block-print clothing and high-quality teas, authentic presents to bring home are easy to find around the area. But perhaps the most traditional purchase in Jaipur would be jewelry, so head to the Gem Palace. And if you don't have time to get to the historic boutique, they will bring a selection of jewelry to the hotel for you to peruse.
Contact
Ankush Mahajan, general manager, ankush.mahajan@oberoihotels.com, +91 114 1268 0101, oberoihotels.com