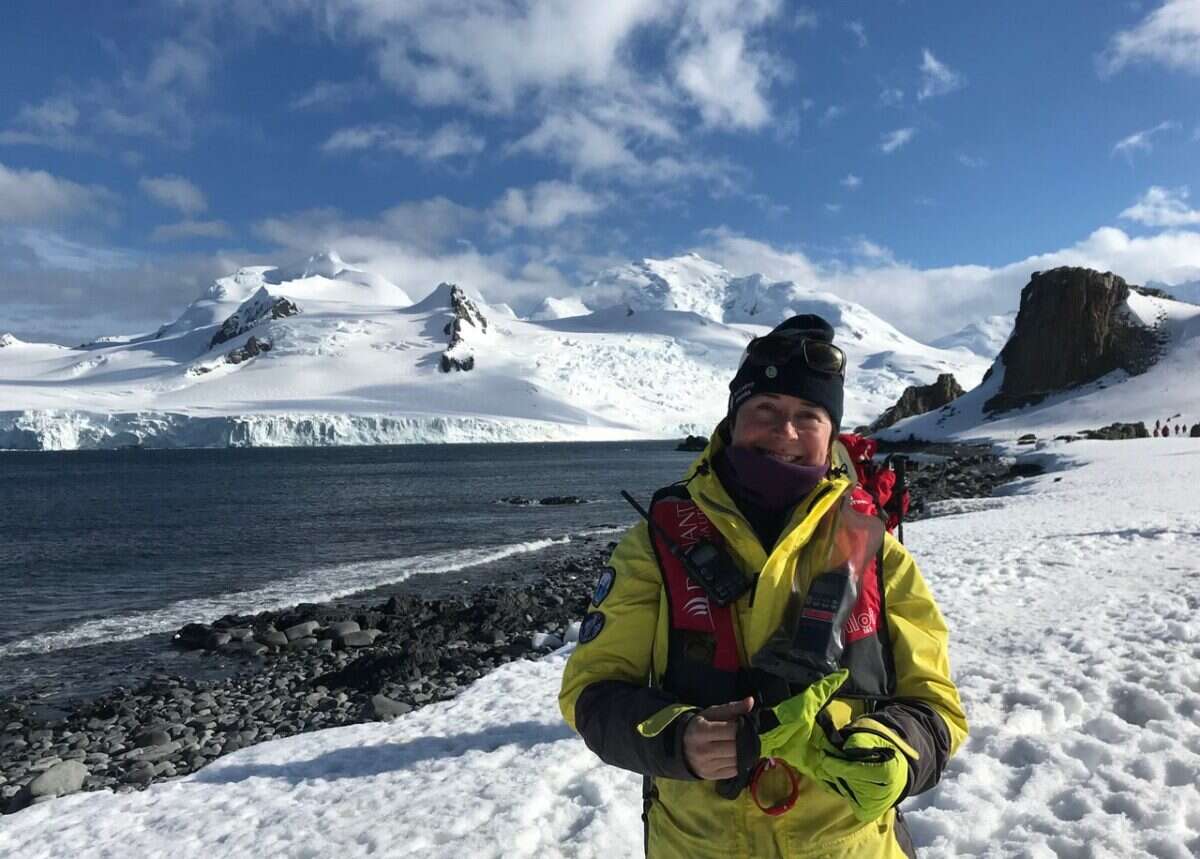 An expedition leader for Ponant, Florence Kuyper divides her time between the Netherlands and her second home, Antarctica. After a long career in social affairs, a voyage to the polar region in 2004 sparked a long-term love affair with the icy terrain. When she's not working, you can often find her enjoying two of her favorite pleasures: A cappuccino and one of the most remarkable landscapes on the planet. We spoke to Florence, who has just set out on Ponant's new ship Le Commandant Charcot for the season.
The first thing I do is…
Look outside. When I'm on board a Ponant ship, I immediately look outside for two reasons: Firstly, I love the polar regions, so what's better than waking up and looking at that beauty? I sometimes don't even want to go to sleep in the evening because I don't want to miss a second of it. That's how beautiful it is.
Secondly, I always look to see what the weather is like. Is there ice, wind, swell, snow, fog, or is it a beautiful sunny morning in paradise? In short, I'm assessing the outside conditions, because they will determine if I can maintain my initial plan or if I should make an adjustment to the planned activities.
[See more: Elite Traveler Reveals Top Adventures for 2022]
You can often find me…
Outside — I ideally spend most of the day either on the ice, on land or in the Zodiac. When the ship's in the ice or in calm waters, we're with the whole expedition team outside on the decks to talk with our guests, to explain where we are or what animals we're seeing. But I'm always working, from early morning to late evening. It's very intense for me and my team. That's also why you can only do this if you're really passionate and driven. I love these regions, and I love sharing them with our guests.
The job is quite technical, but to lead a team and organize 200 guests is also very much a matter of human affinity. Luckily I can do both, and I enjoy both. When I'm not working, I'm typically back home in the Netherlands. I always miss my bicycle (we Dutch are known for that) when I'm on the ship so once I'm at home, I take my bike and disappear into the forests.
My work is…
Busy. I open my eyes (usually at 5:30am) and look outside, and I'm switched on! From there onwards it's just one big 16-hour roller coaster: Organizing and adjusting the plan for the day, going out with my team to set up the activities, heading on outings with our guests, coming back on board, and starting organizing again. In the meantime, my team does recaps and lectures, and I prepare the briefing for the activities of the following day. We also organize citizen science activities on and off the ship with our guests.
While we're sailing, we watch out for wildlife, and if we see whales or bears we invite all guests to observe from the outside decks. For me and my team, the days are filled from beginning to end. We are super-flexible on a daily basis because, in these regions, nature decides — full stop. I come up with a plan, but nature has the final say… and in all humility, nature usually has something better to offer!
I am usually wearing…
A lot of layers. On cold and windy days I look like the Michelin Man. With the expedition team, we often spend six hours outside without the option to warm up on board, so we need to be prepared. But we also visit the polar regions in the summer season, so we can also have quite nice weather.
For me, it's nice when there is hardly any wind and a bit of sunshine. Our guests can even, when they're active, get hot. Imagine that! The most difficult bit is the hands and feet. You can't really put on many layers of socks or gloves so yes, I have to be honest, my team and I do get cold every so often. But we're tough!
We have gala evenings on board and everybody dresses up. All crew and passengers put on their fancy clothes and high heels and look stunning. I remember once in the Arctic we were all dressed up in our evening dresses when the Northern Lights were announced. That is such a spectacular phenomenon and not to be missed. So we all abandoned the cocktails and went outside, lightly dressed with a glass of champagne in hand, to watch the sky go magical! Unforgettable.
I always find time to…
On board I have no time for hobbies. And, to be honest, the polar regions are my passion; that is even better than a hobby. I retreat to a quiet place where I can 'have' the landscape, the ice, the lights, just to myself, by myself. This is how I reload my battery. Along with a very small but very necessary item: A cappuccino!
What is something you would tell your younger self?
People have to listen to themselves. Younger people are better at that because they are not yet trapped in all sorts of choices they've made. Lots of our guests say that they enjoy the enthusiasm that shines from the expedition team; it's a very contagious energy and it inspires. Personally, I have always liked adventure. In my previous life where I managed big social innovation projects, I was adventurous in a different way.
I drastically switched when the opportunity was there, knowing that choosing is losing. Everything comes at a price. So I gave up all certainties I had, financially, professionally and privately. I had no idea what it would bring me but I knew that the elements 'adventure,' 'outdoor' and 'polar regions' were deeply felt passions and thus going to be a winning combination. That was 10 years ago. I'm still doing this, and I'm still smiling a big smile! So, to cut it short: Do what you love, even if it costs you, because you will gain more.
Ponant's The Ross Sea expedition ventures as close to the South Pole as possible aboard the new Le Commandant Charcot. On this 26-day adventure, you will visit some of the most isolated regions of the globe and encounter some of the rarest marine wildlife.
From $32,810 per person. Contact reservation@ponant.com, +44 808 234 3802, ponant.com
[See more: Exploring Antarctica with White Desert's Robyn Woodhead]
This article appears in the 04 Mar 2022 issue of the New Statesman, Spring 2022