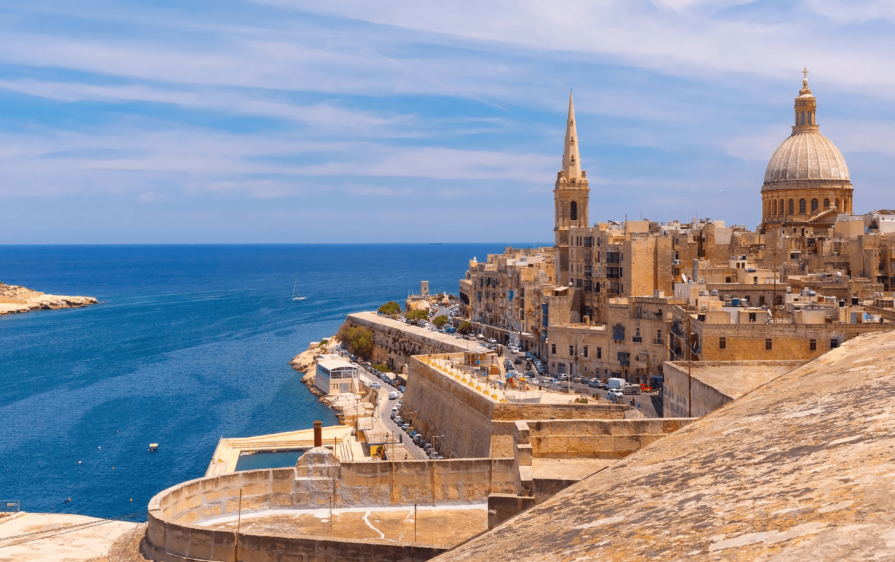 It turns out Malta has been misrepresented. It's true that it's almost always sunny — locals bask under more than 300 blue-sky days each year — and it's still tremendously good value, but this tiny Mediterranean nation (comprising the main island of Malta and its more spiritual, serene sister island Gozo) is so much more than a budget-holiday mainstay.
Discerning travelers started to take a second glance at this overlooked destination after Michelin threw a slew of stars at its restaurants, and years-in-the-making luxury hotel Iniala Harbour House finally opened its doors.
They liked what they saw. Beyond the bastions of dainty Valletta (incontestably one of Europe's most charming capitals), the country is crammed with architectural marvels and dramatic natural wonders: From millennia-old temples and the most extravagant Renaissance-era churches, to its towering coastal cliffs and Comino island's radiant Blue Lagoon, whose temperate shallow waters gleam the most brilliant Maldivian hues. The country's humble footprint means everything is within relatively easy reach, too.
What to do in Malta
Hagar Qim Temples
A megalithic complex that predates the pyramids at Giza, this archeological treasure is the best-preserved of Malta's prehistoric sites. By a cliff face, the structure incorporates a series of chambers (the roof long ago collapsed). An adjacent museum makes some sense of the setting, though this is a Maltese marvel that will always be shrouded in mystery.
EYOS Expeditions
Its strategic position between Europe and Africa also means that Malta's waters teem with shipwrecks, from the luxury steam yacht HMY Aegusa (felled in 1916) to the British submarine HMS Olympus. Intrepid-adventure specialist EYOS Expeditions can arrange once-in-a-lifetime access to these sites, alongside various other underwater wonders, aboard a U-Boat Navigator submersible capable of dives up to 1,000 meters deep.
Gozo by tuk-tuk
Gozo's tranquility isn't tarnished by these increasingly popular tuk-tuk safaris: The all-electric vehicles traverse this tiny island without making a sound. Fun customized tours might explore Victoria's picturesque citadel, ornate churches, traditional villages and dramatic cliff tops dressed with scraggy tufts of wildflowers.
St John's Co-Cathedral
One of Europe's most glorious and grandiose cathedrals, this 16th-century Baroque beauty features a riot of rich golds on all sides and a series of intricately detailed marble tombstones underfoot. There's so much to take in here, but don't miss a visit to the Oratory. The out-of-the-way annex houses The Beheading of Saint John the Baptist, a 1608 painting considered one of Caravaggio's most significant works.
Superyacht sailing
With the island a bridge between Italy, Spain, France, Montenegro and Greece, superyachters are increasingly gravitating to Malta as a sailing destination. The recently launched Carblu Malta provides charters through these waters, with use of the 135-ft Lady in Blue coming in at about $16,800 per day or $84,400 per week.
[See also: The Quietest Greek Islands to Visit This Year]
Where to stay in Malta
Iniala Harbour House
It's good to have goals in life, and nobody could claim the team behind Iniala Harbour House lacks ambition: Not content with this period property being recognized as Malta's most luxurious hotel, they wanted it to be known as one of the best in Europe. They got off to a good start by securing a peerless location in tiny Valletta, with the hotel occupying four caramel-colored townhouses that date from the 1600s and overlook the superyachts grandstanding in the shimmering waters of the Grand Harbour.
Inside, Turkey's Autoban design studio has gone all out to create compelling interiors. Original features are juxtaposed with modern artworks; furniture is bespoke; the hyper-modern 24-hour gym features vaulted ceilings; a sophisticated subterranean spa is an especially popular retreat during the blistering heat of high summer.
With every room unique, accommodation options vary significantly too, though most guests are won over by the two-bedroom Gallarija Grand Harbour View Residence — a sprawling, double-height space with a custom-made, glass-fronted Maltese balcony and private kitchen facilities where Iniala's chefs can cater spontaneous in-suite parties.
For a restorative pick-me-up the next morning, guests can always order the Full Brexit, a nod to the former colony's long-standing connections with Britain and the property's playful take on the traditional Full English.
From $3,388 per night. Contact Kyle Pace Cumbo, sales manager, kyle@iniala.com, +35 621 661 111, inialamalta.com
Xara Palace
The only hotel within the towering walls of Malta's sleepy former capital of Mdina, this converted 17th-century palazzo occupies one of the most coveted perches in the country. Ringed by cobbled alleyways and neighbored by an ancient Benedictine convent, the hilltop Relais & Châteaux property is among the most beautiful buildings found within the so-called 'Silent City.'
On a clear day from its roof terrace, cocktail-sipping guests can admire views that stretch beyond the shoreline and across the Mediterranean all the way to Sicily. Family-run and with an appropriately old-school sensibility, this hotel has an intimacy and cordiality that is perhaps attributable to its small inventory.
With only 17 rooms, the team makes a special effort to get to know guests. Those rooms vary greatly, with the odd modern embellishment (perhaps a freestanding bathtub in gleaming silver or a private terrace with open-air Jacuzzi) placed alongside original features, grand old paintings and sundry other antiquities. Popular with families, the duplex Presidential Suite is a homey aerie with balcony, six-person dining table and handsome high ceilings.
Couples with something to celebrate should reserve a table at Michelin-starred de Mondion, where exemplary modern Mediterranean dishes feature exceptional precision and are unfailingly delicious. (For something more casual, ground-level Trattoria AD 1530 serves pizzas and pastas on the edge of a tranquil piazza.)
From $556 per night. Contact Nicola Paris, hotel director, nicky@xaracollection.com, +35 621 450 560, xarapalace.com.mt
The Phoenicia
With the hotel's grounds abutting Valletta's 16th-century bastions, The Phoenicia is minutes from everything the capital offers while providing significantly more space and more expansive facilities than any hotel in the area.
Shaded by orange and olive trees, its surprisingly lush gardens flourish with blazes of brightly colored blooms that are hardy enough to withstand arid summers (think oleander, callistemon and lantana). Outside, you can also find an infinity pool that overlooks Marsamxett Harbour and the surrounding cityscape.
Coupled with all that is an impressive social history; prior to Iniala's arrival, this was the number-one choice for visiting dignitaries and celebrities (and lots of them do visit given Malta's thriving film industry) — back in the 1940s, Maltese residents Princess Elizabeth and Prince Charles often danced in the hotel's Grand Ballroom.
Among The Phoenicia's various bars and restaurants are the classically minded Mediterranean restaurant Phoenix and the Palm Court Lounge, famed for its old-school afternoon tea. But the best views of all are those enjoyed from the Panorama Luxury Suite, which overlooks Valletta, multiple harbors and the 17th-century fortified town of Floriana.
From $1,026 per night. Contact Yanica Vella Nwoba, reservations manager, yanica.vella@phoeniciamalta.com, +35 621 225 241, phoeniciamalta.com
Kempinski Hotel San Lawrenz
Towards the isolated western edge of go-slow Gozo, the Kempinski is a sprawling hideaway so well-equipped that some guests might stay for a week without ever leaving the property. There are two floodlit tennis courts, two squash courts, three pools, endless gardens and a cosseting spa staffed with specialists in Ayurvedic therapies.
To make the most of Malta's warm weather, dine at any of the Kempinski's three restaurants — all three have generous terraces, ideal for enjoying languid alfresco meals on sultry evenings. The varied 137-key inventory means the adaptable hotel attracts multigenerational bookings, groups of friends and the occasional wedding party, as well as couples and families.
Take full advantage of Gozo's Mediterranean climate in the generous Three-bedroom Apartment, which features a south-facing wraparound terrace of over 700 sq ft that offers direct access to the pools. Inside, you will find a fully equipped kitchen that resort chefs can use to cater in-house soirees.
While one of the surrounding area's most famed attractions is no more — a natural stone arch that extended from the shoreline, the Azure Window collapsed into the sea in 2017 — the dramatic marine conservation area of Dwejra, with its salt pans and well regarded dive sites, waits for whichever Kempinski guests might eventually feel compelled to explore beyond the resort's doors.
From $702 per night. Contact Deryk Sacco, assistant director of sales, deryk.sacco@kempinski.com, +35 622 115 250, kempinski.com
[See also: A Green Guide to a Luxury Long Weekend in Monaco]
Restaurants in Malta
Ion – The Harbour
Occupying Iniala Harbour House's top floor, ION – The Harbour attracted curious locals upon its opening with the promise of up-market fine dining and peerless views of the golden-stoned Grand Harbour. Gourmands from all over Europe swiftly followed when the restaurant won a Michelin star just six months later.
If anything, standards have improved further under new chef Alex Dilling (previously of The Connaught and The Greenhouse in London). His menu makes inventive use of Malta's fresh-as-can-be seafood (expect the likes of line-caught lampuki with smoked cream and dill), and his efforts in the kitchen are complemented by a passionate sommelier who has compiled one of Malta's most considered and impressive wine lists.
Hammett's Macina
The only thing I regret about my visit to Hammett's Macina is that I didn't order a second serving of the tahini fondant with chocolate ice cream (I just stopped typing this sentence so I could yet again reminisce about the best dessert I've eaten in the last year).
There are other reasons to visit this casual, welcoming waterside restaurant, however: The menu more generally offers beautifully presented, indulgently nourishing and unwaveringly delicious modern Mediterranean dishes, such as the most tender lamb imaginable served with polenta, rosemary, parmesan, caramalized butter and ras el hanout.
Under Grain
In the basement of Valletta's Rosselli hotel, Michelin-starred Under Grain is a hearty and handsome space, with interiors and a service concept inspired by the craftsmanship and precision of tailoring (a cluster of tailors once worked on the street surrounding the restaurant); look out for charming touches such as bills presented on pin cushions.
As for the menu, it's anchored in Mediterranean sensibilities but incorporates occasional French and Asian influences. Try the 'fish du jour' glazed with brown butter dashi, local snails à la 'grenobloise' and a Marsala emulsion, and finish with the chef's signature dessert: a baked white chocolate cheesecake with passionfruit sorbet.
Beefbar Malta
A new addition to the Beefbar brand that found fame as a beach club in Monaco, Beefbar Malta's glitzy seaside hangout is indicative of Malta's more explicit pursuit of moneyed travelers. It isn't all style and no substance, however.
Served generously, the food is delicious and not just for meat maniacs: Alongside gargantuan burgers, there's sprightly sea bass ceviche, steamed ginger sea bream and a decadent signature chocolate soufflé. Afterwards guests can lounge poolside with jeroboams of Miraval rosé.
[See also: A Luxury Guide to a Long Weekend on The Amalfi Coast]
This article appears in the 04 Mar 2022 issue of the New Statesman, Spring 2022