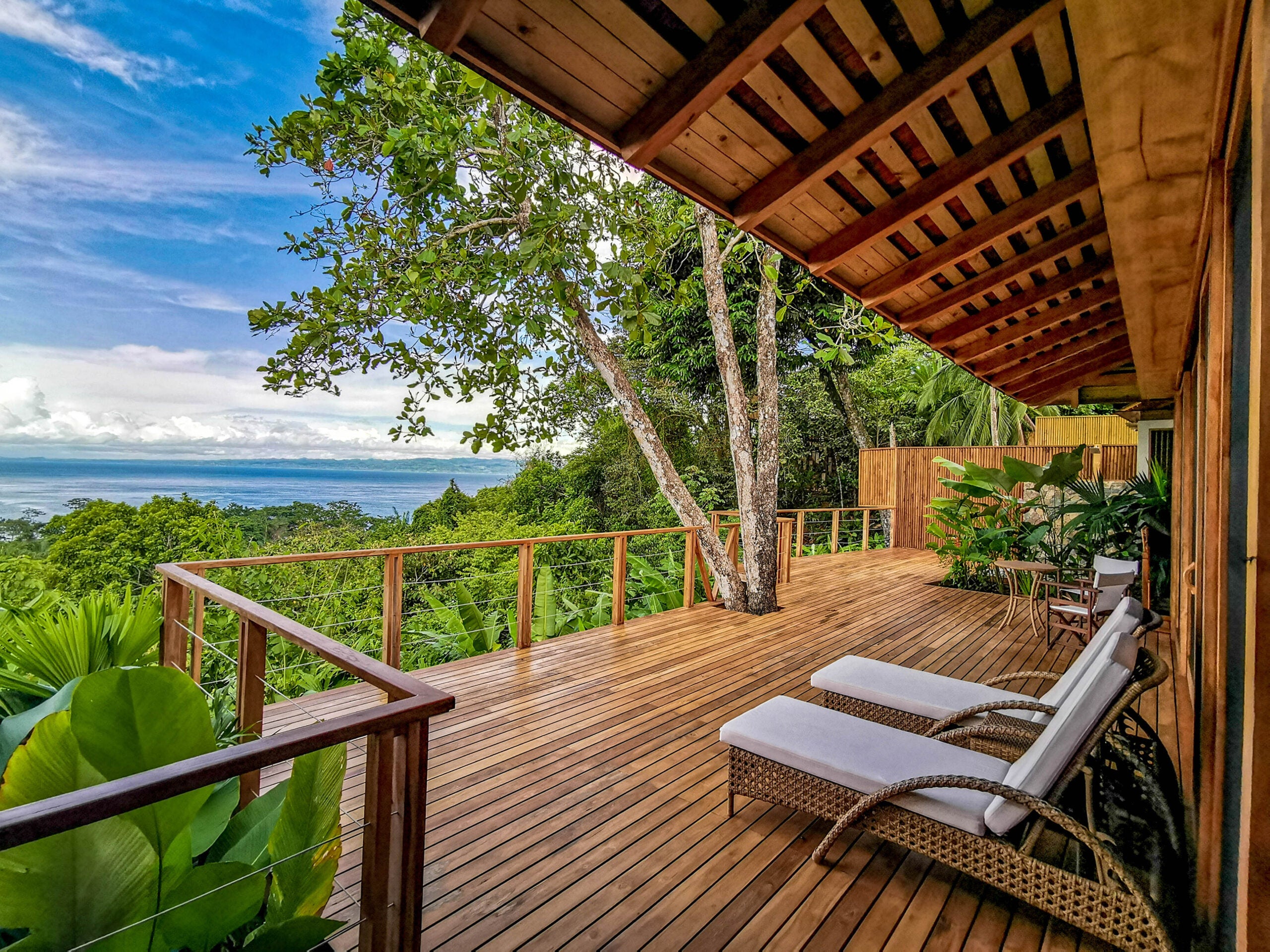 With 2020 changing vacations as we know them, now is undoubtedly the time to reconnect with nature. Travel restrictions throughout the year left many stuck in urban landscapes, meaning that now it is allowed, the urge to encounter the natural world is greater than ever – and what better way to do so than on a luxury wildlife vacation?
The emergence of luxury wildlife trips allow travelers to witness the wonders of the natural world and it's many animal species, without compromise. From safari-style expeditions in Africa through to ultra-luxe glamping in Montana, adventure is guaranteed, with the assurance of seclusion, distance and privacy being major added bonuses.
Our top picks of luxury wildlife vacations around the world combine unrivaled natural excursions, including bear spotting, horseback riding and wild swimming, with the lavish amenities and home comforts expected in five-star hotels, promising a once-in-a-lifetime experience.
Asian Wildlife Vacations
Gaya Island Resort, Borneo
Set within a marine park, Gaya Island Resort is dedicated to embarking on a conservation program that preserves the beauty of Borneo's natural environment, as well as protects the wildlife that also calls this stunning part of the world home. The park is home to its own Marine Centre which rehabilitates sick and injured turtles, as well as providing a controlled environment for damaged corals to recover under the watchful guidance of the center's resident marine biologist.
When not embarking on a journey of marine education, guests can explore the lush rainforests and protected mangroves that surround the resort. Home to Asia's largest rainforest, Borneo has over 1,500 types of animal species, many of which are native and cannot be found elsewhere. Gaya Island Resort's '7 Wonders of Gaya' experience invites guests to witness these animals – including long-nosed monkeys, flying squirrels and bearded pigs – in their natural habitats, as well as learn about how we can protect their future through conservation.
Gaya Island Resorts offers a variety of rooms, but those seeking the height of luxury will be delighted to opt for the Suria Suite. Occupying 2020sq ft over two floors, the Suria Suite boasts an outdoor bathtub with unrivaled views across the ocean landscape. Guests can also enjoy a variety of authentic spa experiences, with each treatment taking inspiration from the natural world.
Suria Suite from $830 per night.
South American Wildlife Vacations
Lapa Rios, Costa Rica
Nestled in the remote rainforests of Costa Rica's Osa Peninsula with a commitment to sustainability and eco-travel, Lapa Rios promises a once in a lifetime vacation. Combining the immersive experience of rainforest living, with the home comforts and modern amenities that travelers have come to expect, Lapa Rios is the ultimate luxury wildlife hotel.
Situated in 1,000 acres of private reserve, Lapa Rios offers a number of on-property tours, including starfish walks, rainforest hikes and nighttime wildlife spotting. Although the on-property tours are easily enough to fill an itinerary, those hoping to explore further afield can embark on the off-property activities, which includes Golfo Dulce dolphin watching and mangrove kayaking.  All of the carefully curated wildlife tours are led by the reserve's resident naturalist guides and designed to ensure the preservation of the Osa Peninsula's rich biodiversity.
Despite the remote location, Lapa Rios doesn't compromise when it comes to luxury accommodation. The reserve's Lapas Villas are perched above the forest canopy, with sweeping views across the trees out to the ocean. Take the opportunity to submerge yourself in the villa's private plunge pool whilst enjoying the orchestra of animal calls surrounding you – a truly unique experience.
Lapas Villas start at $790 per night, with a recommended minimum stay of 4 nights.
Anavilhanas Jungle Lodge, Brazil
Located in the heart of the Brazilian Amazon, Anavilhanas Jungle Lodge offers a variety of wildlife programs, with an itinerary dependent on the length of your stay. Guests staying for a full six-day program will get to experience the most varied of Amazonian wildlife adventures, including a boat tour into the Anavilhanas National Park to search for native pink dolphins and fish for piranha.
Accommodation at the lodge combines luxury standards with immersive rainforest living. Guests staying in the Panoramic Bungalows can wake up to unrivaled views out of floor-to-ceiling windows across the canopies of the Amazon, as well as indulge in a hot soak after a long day of exploring.
Aside from offering luxury wildlife vacations, Anavilhanas Jungle Lodge also plays a valuable part in the conservation of the local area and is committed to sustainability. The tours on offer follow the strict guidelines of Conscious Tourism, and are intended to educate guests whilst causing the minimum of environmental impact. The hotel and its staff also work closely with the local community, recognizing that education is the most valuable form of social transformation.
Six-day experiences in Panoramic Bungalows from $1,800 per person.
European Wildlife Vacations
Killiehuntly Farmhouse and Cottages, Scotland
https://www.instagram.com/p/CBicERhBGcI/
Scotland is revered for its wild, remote landscapes – and at Killiehuntly Farmhouse and Cottages, you're right in the heart of it. Set in its own 4,000-acre Highland estate within the Cairngorms National Park, Killiehuntly is a working farm with many of the ingredients in the all-inclusive dining sourced right on the doorstep. The four daily meals are whipped up by the resident chef, who will work with your preferences to curate a bespoke menu.
Inside, guests will find Scandi-inspired interiors, with a minimal yet inviting aesthetic – think warm, open fires with cool, gray furnishings and stripped bare floorboards. Although during usual times rooms at the Farmhouse can be booked individually, at present Killiehuntly are only offering full hire at each of their properties – however, this only serves to add to the unrivaled sense of complete seclusion.
The wildlife opportunities are aplenty at Killiehuntly (as you would expect with any remote Scottish lodgings), with forests, lochs and mountains all on your doorstep. Guests can enjoy pony riding, salmon and trout fishing, wild swimming and much more, with Killiehuntly's knowledgeable staff on hand to arrange bespoke outings to ensure you get the most out of this varied and unique part of the world.
African Wildlife Vacations
Sabi Sabi Private Game Reserve, South Africa
Powered by the belief that the safari experience begins the moment you wake, not just when out on a jeep, Sabi Sabi Private Game Reserve promises a vacation like no other. With four lavish un-fenced lodges situated a stone's throw from the reserve's precious water sources, guests are often lucky enough to encounter wildlife from the comfort of their own room – without ever disrupting the animals.
Home to a wide variety of Africa's native wildlife, including elephants, rhinos and lions, the area is particularly known for its frequent leopard spottings, with Sabi Sabi boasting a number of resident leopards. Integrated within the Greater Kruger National Park, Sabi Sabi offers two safari expeditions each day, giving you the chance to witness majestic wild animals in their natural habitats. Guests can begin the day with a morning safari trip, when the bush is beginning to come to life, as well as head out on an evening adventure, when nocturnal animals are preparing for their nighttime hunt.
Accommodation at Sabi Sabi is impressively luxurious, with all four lodges offering an authentic African safari experience without ever compromising on comfort. Designed to seamlessly blend into their surroundings, the rooms feature eclectic decor and authentic furnishing, as well as a range of indulgent amenities including plunge pools and private terraces.
Sabi Sabi is committed to sustainability, so all of their lodges and excursions are designed to preserve and protect the African wilderness, as well as the animals that call it home, whilst continuing to offer unrivaled luxury safari experiences.
Deluxe suites from $1,200 per person per night.
Arctic Wildlife Vacations
Arctic TreeHouse Hotel, Finland
Situated on the outer fringes of the Arctic Circle, the award-winning Arctic TreeHouse Hotel combines unforgettable wildlife experiences with stunningly luxurious accommodations to create a completely unique vacation.
The hotel's rooms are made up of a collection of striking stand-alone suites nestled into the tree, with floor-to-ceiling windows that overlook the jaw-dropping Finnish landscapes. However, it is the ArcticScene Executive Suites that are undoubtedly the hotel's crowning jewel. In addition to the sublime views that come as standard, the executive suites boast private spa facilities, including a luxurious bathtub and sauna, and a secluded terrace with a warming log fire.
However, whilse the rooms are beautiful, it is the immersive wildlife experiences that will truly inject some magic into your stay. Staff are on-hand to help create bespoke excursions, including reindeer meetings, husky-pulled sled rides and, if you're lucky, aurora borealis sightings, making for a truly authentic Arctic experience.
Executive suites from $1,000 per night.
North American Wildlife Vacations
Paws Up Montana Resort
Paws Up Montana Resort sits in the middle of an expansive 37,000-acre working cattle ranch, promising one of the most authentic wildlife experiences North America has to offer – with an added touch of luxury.
With 100-miles of nearby trails, 10-miles of Blackfoot River and sprawling forest lands, the wildlife and adventure opportunities at Paws Up are unmatched. A few highlights from the impressive activity list are horseback riding, nature hiking, cattle herding, dogsledding and fly-fishing – the options really are endless.
The more adventurous guests can choose to fully immerse themselves in ranch living with an exclusive glamping experience. Described as "nature served on a silver platter", Paws Up's glamping offering includes six luxurious safari-style tents, kitted out with all the amenities needed for a comfortable stay, with views out to the atmospheric Montana countryside. Of course, for those not quite ready to fully "rough it", Paws Up also offers a variety of luxury lodges, complete with four solid walls.
Luxury lodges from $1,300 per night, with a two-night minimum stay.
Clayoquot Wilderness Retreat
Experience the ultimate luxury wildlife vacation at Clayoquot Wilderness Retreat, tucked in a remote corner of Canada's Pacific coast. Based in the UNESCO-designated Clayoquot Sound Biosphere Reserve, Clayoquot Retreat works closely with Ahousaht First Nation to ensure that every experience is tailored to guarantee sustainability.
Guests are promised an extensive itinerary of one-off, eco-friendly activities, all guided by qualified wilderness guides. Choose from intimate whale and bear watching experiences, rock climbing, fishing expeditions and horse riding trips, amongst a whole host of other adventures. Clayoquot also boasts incredible spa and wellness opportunities that invite guests to become at one with nature, including open-air saunas, waterfront yoga and forest meditation, amongst a full spa menu.
The safari-style accommodation offers guests the height of luxurious living. Spaciously arranged across the forest, on the waters' edge and atop the hillside, each tent is completely unique and kitted with the amenities you'd expect in the most exclusive of five-star resorts, including rich furnishings, tasteful décor and premium bedding.
En suite tents from $1,300 per night, with a three-night minimum stay.