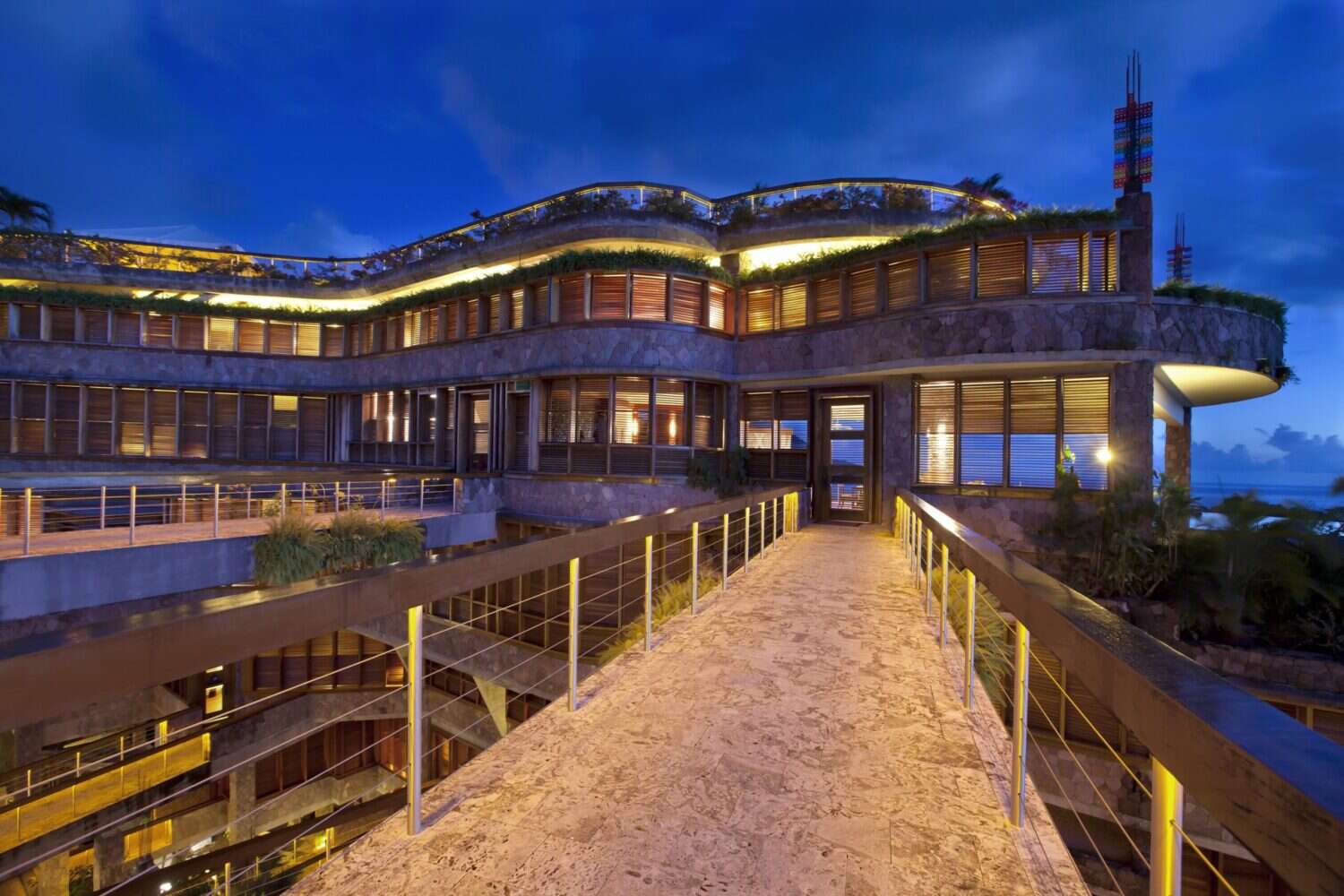 Anse Chastanet and Jade Mountain are some of the finest resorts in the Caribbean — the embodiment of biophilic architecture, working in harmony with the tropical rainforest without compromising on five-star luxury. In fact, Anse Chastanet is one of the first eco-resorts in the world. For founder/owner Nick Troubetzkoy, the resorts are the crown of his life's work.
The first thing I do is…I start my day with a triple espresso, having finally moved from using an old-fashioned filter coffee system to an illy espresso machine. Most mornings, I like to spend some time studying various online magazines and websites, as well as browsing the latest news, most notably, the New York Times website.
Meetings (many of which have now moved online to Zoom) take up much of my day-to-day life; these
are mostly related to the operation of Anse Chastanet and Jade Mountain, including architectural planning and future development. Given the current climate and the pandemic, on a typical workday, you'd mostly find me at my home office. However, my wife and I do like to make regular appearances at the resort to meet with managers, staff and guests.
[See also: A Day in the Life of Interior Designer Stephen Sills]
In my downtime, I have a lot of interests — design, architecture and the fine arts. I'm forever on the
lookout for interesting books, both fiction and nonfiction. I prefer to read printed versions, but will
happily read a good thriller on my tablet! I also recently bought a large collection of Taschen books, which cover a number of interesting topics. I've always appreciated good photography and the way these coffee-table books are laid out.
You can often find me… The pandemic aside, when I'm not in St Lucia you could easily find me roaming the streets of New York or London. If I'm not exploring the city looking at architecture and artwork, I might be enjoying an ice-cold rosé in one of the many fabulous beach clubs of St Tropez.
I am usually wearing… In the Caribbean climate, I try to keep cool by wearing natural materials — things like cotton and linen. And nothing beats a pair of Birkenstocks. I have also been a Rolex fan ever since I bought my first Daytona for $600 in Martinique many decades ago. However, my favorite watch in my collection is my Patek Philippe 5711.
I always find time to… Even though my wife and I have been together for decades, one of the traditions that we have kept up over the years that we really enjoy is having lunch together every day. It's a nice routine, where we can catch up with each other and disagree on many different topics — before compromising on finding a way forward!
I am most proud of… Celebrating all things local, supporting the local St Lucian communities and building in harmony with nature were always at the forefront of my mind when I was designing and building both Anse Chastanet and Jade Mountain. It was important that our mantra throughout was local, local, local.
For Jade Mountain in particular, I wanted to create a cornucopia of organic architecture, which you will understand when you see the shape of the building. It was imperative to me that we created this complex, creative structure using the rich palette of indigenous materials that were lying on our doorstep. For example, excavated rock was recycled within the structure; local tropical hardwoods were used for pillars and walls; the floors are made with locally quarried limestone, which is naturally slip-resistant.
We are always thinking about ways to make sure that Anse Chastanet and Jade Mountain are as environmentally conscious as possible. Our latest way of achieving this was joining the Global Tourism
Plastics Initiative in 2020 — we've committed to eliminating the use of all unnecessary plastics by 2025, swapping single-use plastic products for products made with recyclable materials.
I would tell my younger self… It may seem obvious, but the fundamental pieces of advice I would give my younger self — and anyone, really — are: Stay fit, eat healthily, take risks from time to time and travel as much as possible.
[See also: Fairmont's Andrew Steele: 'Sustainability is Not a Choice']
This article appears in the 29 Nov 2021 issue of the New Statesman, Winter 2021/22