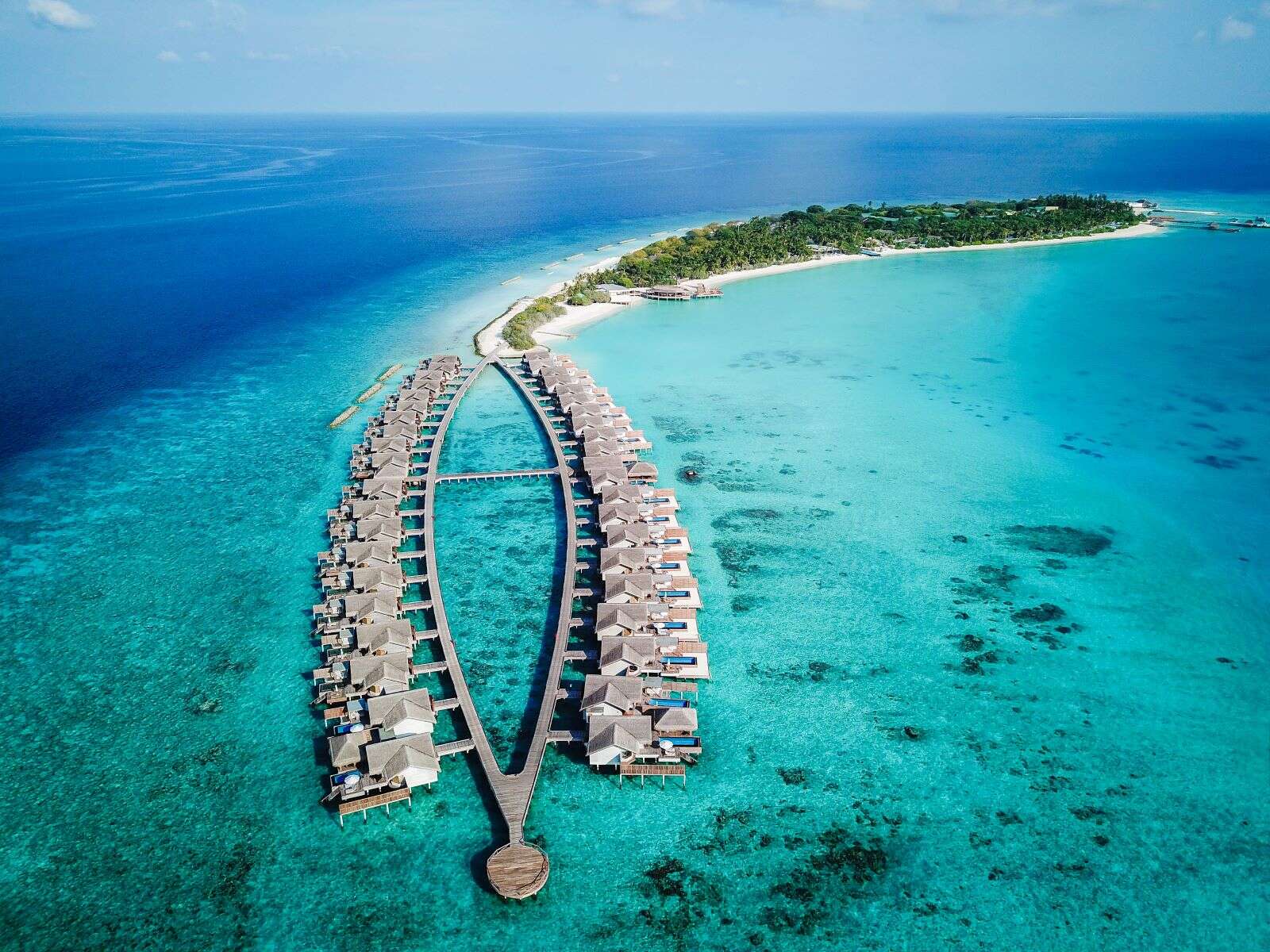 Looking at the CV of Andrew Steele, the general manager at Fairmont Maldives, takes you on a luxury trip to all corners of Southeast Asia. First came the Shangri La in China and Hong Kong, then the Mandarin Oriental in Thailand, before the Australian-born GM took over as group managing director at Potato Head Bali. 
So what, you might ask? What makes Steele different from any other successful hospitality chief? That's where the 6ft 3 self-confessed optimist differs. In each role, he left a string of environmental and conservation victories in his wake; from launching a successful campaign to end the sale of shark-fin soup at the Shangri-La group to working with local fishermen in Borneo to provide turtle-safe nets. The biggest yet however is transforming Potato Head Bali into the first carbon-neutral resort in Indonesia and opening the first zero-waste restaurant in the region. 
It's no surprise that Fairmont — a hotel group that has been praised for its commitment to sustainability long before it became an industry buzz world — came calling at the start of 2020, placing Steele in charge of its breathtaking 120-villa private island resort of Fairmont Maldives Sirru Fen Fushi. 
Nestled within the turquoise waters of the Shaviyani Atoll, the "secret water island" as its dubbed by the locals features a 1,480-acre lagoon teeming with marine life. Acutely aware of his responsibility to protect this pristine ecosystem, Steele had big plans when he started the job in January 2020. But we all know what happened next. 
However, he is not the type of person to let a global pandemic scupper his plans: "We were only slowed down for six months last year and the Maldives was one of the first countries to reopen to tourism. It was challenging but incredibly rewarding as we were able to have a better understanding of the environment and the traditional sustainable practices during the slow down," he says.
Steele remained on the island until July 2020, before returning home to Indonesia where he is now based. "I got the ability to spend some time with our Maldivian team giving me the chance to immerse myself in the traditional lifestyle which was super fun," he said. "I got to do things like night snorkeling and hunting lobsters (sustainably of course) on the outer ring. I was incredibly lucky." 
[See also: Blue Safari's Keith Rose-Innes on the Might of Eco-Tourism]
He is now picking up where he left off all those months ago. Backed by the Fairmont Maldives resident marine biologist Sam Dixon and a team of local marine-life experts and partners, Steele is on a mission to not only protect the precious surrounding waters but to transform the Fairmont into the Maldives' first carbon-neutral resort. And despite a near-complete global shutdown, he's already halfway there. 
"We set up our solar power system last year with a 1,040 kWp plant to drastically reduce our use of diesel fuel in our generators." Mains power is not an option in the Maldives with the nation reliant on diesel generators he explains.
"Phase two of the plan is going to take another 12 months to complete. As we've maximized all of our available land for solar, we are now looking to install another 1,500 kWh plant and that will be on floating panels in the lagoon. That will make us the largest user of solar power in the Maldives with around 10% of all the solar production in the entire country produced at the Fairmont." 
What does that actually translate to, you might wonder? "At the peak time when we're 100% full, we'll be able to run the resort for anywhere between 9.5-12 hours on 100% solar," he explains. "That's a huge part of reducing our footprint. If you think 1 kWh saves a Coke can of diesel, we'll save around 170 round-trip flights to the UK a day in carbon emissions."
Despite the progress, Steele is under no illusion of the challenge he faces: "It's not a solution that is going to happen overnight. Being 100% carbon neutral, having done it with Potato Head, is very difficult and it's not something that takes a year. It's a journey."
The other side of reaching this ambitious goal is education, explains Steele. The GM at the Fairmont Maldives is keen to bring the local community on board and has re-commenced pre-covid-19 plans to roll out a three-tier environmental education program in schools. "It's about raising awareness on global warming. Considering we live on islands that are on average only 1-1.5m above sea level and everyone is burning diesel which is melting the polar caps and rising sea levels – that seems a bit futile," he says. 
An innovative solution that Steele has brought with him from Potato Head Bali is the 'Eco Lab' which he is in the process of setting up at the luxury Fairmont resort. "It's such a great educator not just for our guests, but the local island schools and the local communities. It enables us to recycle all of our plastic waste, as well as that washed up, and use it to create a variety of items. School children will be able to [transform plastic waste] into something really cool. We've got molds to make clipboards, chairs and bricks and building materials, all out of the plastic they can collect." 
He also has plans for guests to quite literally take all of the garbage they produce on the island home with them — in the shape of a turtle."We've got a mold of a turtle and all of the rubbish that you consume on the island is going to be put back on every piece of luggage you have as a turtle-shaped luggage tag," he says. 
Away from dry land within the ocean waters, the team at the Fairmont Maldives, led by Steele, has also been busy setting up everything from sustainable fishing partnerships with local fishermen and an expansive coral restoration project. to a host of marine conservation initiatives. "We work together with the Manta Trust to record and document all our manta rays that reside and migrate along our house reef. We also work with the Oliver Ridley Project to monitor our resident and migrating turtle population. This has led us to develop the Turtle Ranger project and later this year we plan to extend it to our local island school program." 
The GM puts his passion for the environment down to his life on the road: "[I'm] incredibly fortunate that I grew up traveling and being a global gypsy. I've lived and worked in 15 different countries and when you see [enviromental] devastation it's so heartbreaking. I believe we all, regardless of our lines of work, have a personal and professional obligation to leave the planet in a better condition than when we inherited it. Sustainability has never been a choice for me."
When it comes to global consciousness, however, Steele thinks change is afoot. "People are starting to genuinely care and have a much better understanding of what's important," says the GM. He also credits the pandemic with giving the planet a chance to heal: "I came back from two weeks in Komodo which is my favorite place in Indonesia. The reef and ecosystem are in amazing condition. I've been diving there for 30 years and it's as good as it's ever been.
"One year of reduced travel and impact on the environment and the wildlife has bounced back. It gives me a huge amount of hope that when we do work together with the environment and mother nature, it can return. It's something that we only have a finite amount of time to achieve. I think we've got 10 years to be frank and if we don't make this change in the next decade, I think there [will be] irreversible damage."
Despite his urgency, Steele remains optimistic: "I hope that in the recovery seen with a year of no travel is an inspiration for all of us to travel with responsibility and accountability, mindful that we can restore and maintain the precious balance of our coexistence with the environment."  
[See also: Inside the New Ritz-Carlton Maldives, Fari Islands]