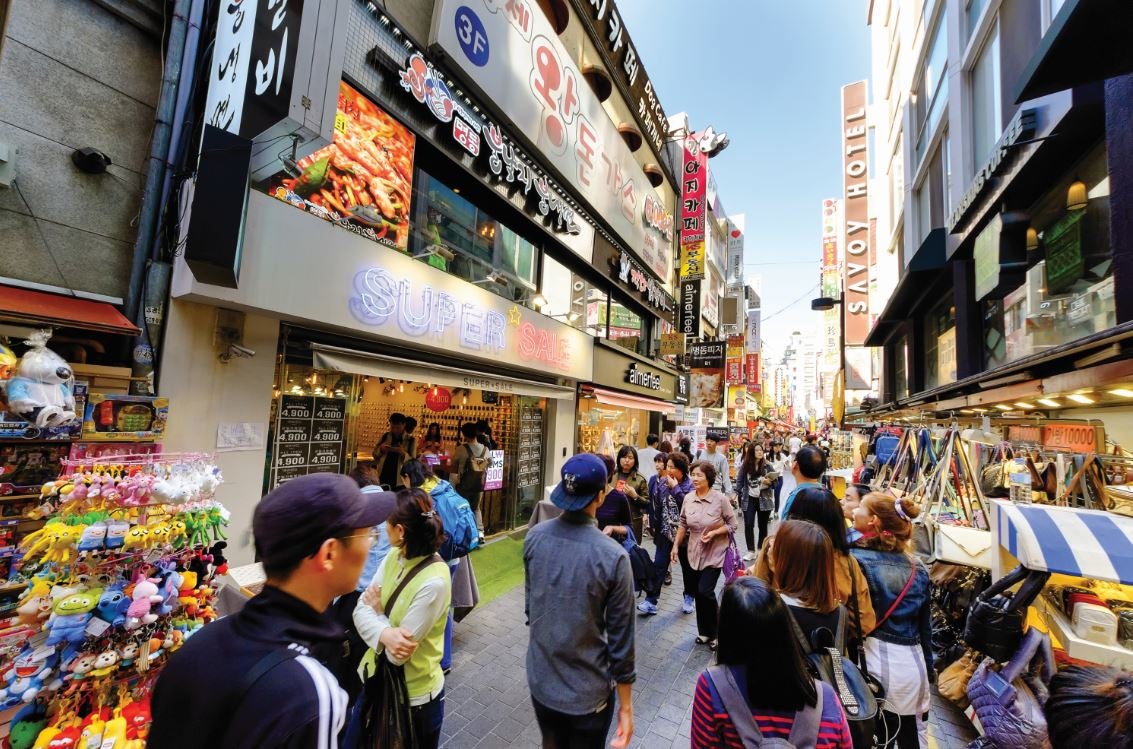 By Minty Clinch
This story originally appeared in the January/February 2018 issue of Elite Traveler.
As a commercial dynamo, Seoul has few equals, but only recently has it emerged to take its rightful place on the world tourist stage. Nowadays it is cutting-edge, with a prestigious biannual fashion week established in 2015 and a vibrant pop culture pioneered by boy band Bigbang's iconic lead singer, G-Dragon. The contrast between yesteryear's image of suited businessmen intent on electronics profits and the stylistic and cultural anarchy of today's youth could scarcely be sharper. With the Pyeongchang Winter Olympics starting in February 2018, the time to check Seoul out is now.
Out on the Town
Seoul nightlife is hot, hot, hot, with megaclubs that rock through the night, but there are also bars to suit all tastes. Hermits with a reading habit should check into the inner sanctum at the Chaeg Bar in the Yeonhui-dong university district, a bookshop/cocktail hideaway that caters to groups of no more than three. Its motto is "keep calm and drink a book," an instruction easy to obey as the menu matches the length of your reading material to the right measure of alcohol.
Moving toward brighter lights, head for Mmm Records, a recently opened analog music shop with 80,000 vinyl albums for sale. The rooftop terrace serves grapefruit beer, egg coffee and Vietnamese bánh mì sandwiches, with outstanding views of the Namsan foothills and the Han River unimpeded by high-rise buildings.
Seoul's rooftops come alive at dusk. My Sky is an edgy showcase for contemporary artwork, ranging from pearl-inlaid chests to large black-and-white portraits. Eat barley risotto made with squid ink on a terrace that divides attention between the quaint houses below and the flashy purple and pink neon of the Seoul Tower landmark across the void.
Make reservations at the top clubs in sophisticated Gangnam, bearing in mind that you'll be on your own before midnight. Leading contenders Octagon and Syndrome have VIP balconies overlooking the action.
What to See
Any voyage of discovery starts at the Gyeongbokgung Palace, the flagship of Seoul imperial life since it was built in 1395, three years after the establishment of the Joseon empire that would last for five centuries. The changing of the guard takes place hourly between 10am and 4pm in a whirlwind of ancient ceremonial ritual. The palace visit includes the throne hall, living quarters and gardens and the National Palace Museum of Korea. Bukchon Hanok Village, a short walk away, offers a welcome break in a traditional wooden hanok teahouse.
The National Museum of Korea, established in 1945 when Japan's colonial occupation ended, is a shrine to art and culture through the ages. One of the most comprehensive in Asia, it attracts 20 million visitors a year. For a contrasting perspective, head for the Dongdaemun Design Plaza, a sinuously curved neofuturistic urban development created by the late British-Iraqi architect Zaha Hadid. A cultural hub with cafes and restaurants, it is especially loved for its round-the-clock designer shopping.
Take Three/// Restaurants
GAON
Sit low Korean style, but dine high in one of two three-starred restaurants in South Korea's inaugural 2017 Michelin Guide. Owned by a food, liquor and ceramics conglomerate, it is a heritage restaurant focusing on national specialties in traditional surroundings. The food is served in bespoke ceramic vessels and the sake list is mouth-watering.
+82 254 598 45, gaonkr.com
JUNGSIK
Proprietor Jung Sik Yim has a Michelin star for his revolutionary approach to locavore treats. The grand master of Korean molecular preparation offers a tantalizing menu. Standouts include sea urchin bibimbap, octopus aioli, gimbap seaweed rolls and fried yellow croaker fish.
+82 251 746 54, jungsik.kr
POOM
Owner-chef Noah Young Hee won his first Michelin star for his noble-class cooking with a modern twist. Inspired by the Joseon Dynasty, he presents dishes with simple elegance. The magnificent city views from Namsan Mountain are a bonus.
+82 277 790 07, poomseoul.com
Restaurant image: Jungsik
TOP SUITES
PRESIDENTIAL SUITE Grand Hyatt
This sprawling seven-room penthouse features sensational 360-degree views over the city skyline. Formal decor and potted palm trees provide a home away from home for the British Royal family. The pièce de résistance is the elaborate Italian marble bathroom, with an elevated Jacuzzi and super jet shower room. An outdoor pool and ice rink offer dynamic on-site action.
$7,600 per night. Contact Rebson Laurente, reservations manager, sea.reservations@hyatt.com, +82 2797 1234, seoul.grand.hyatt.com
ROYAL SUITE Plaza Hotel
During the recent renovation, Italian interior designer Guido Ciompi moved away from the emotional rigidity of contemporary business hotels to create a boutique ambiance in a high-rise building. The Royal Suite combines the elegance of European palaces with the subtle blue, terra-cotta and gold of East Asia. The hotel's restaurant, Taoyuen, serves authentic Chinese cuisine in a modern setting.
$9,050 per night. Contact Jiwon Hwang, reservations manager, reservation@hotel.plaza.com, +82 277 122 00, hoteltheplaza.com
ROYAL SUITE Lotte Hotel
At 4,950 sq ft, the Royal Suite is one of the largest in town. The colors are soothingly neutral, with natural wood doors between rooms. Its remarkable bathroom is equipped like a mini jjimjilbang (Korean bath house). With a Jacuzzi whirlpool, private dry sauna, jet surround bathtub, rainfall shower and organic loofah, it can be hard to leave. The Lotte duty-free mall next door may ease the pain.
$18,500 per night. Contact Inja Chun, head manager, rsvhotel.seoul@lotte.net, +82 277 110 00, lottehotelseoul.com
NORTH AND SOUTH WING PRESIDENTIAL SUITES Shilla Hotel
This institution is set in a 25-acre park with a sweeping driveway, golf driving range and its own helipad in the center of the city. The South Wing is a Western interpretation of Korean traditional luxury, while the North Wing is French Empire. Pastel button-tufted chairs set off a white grand piano in this magnet for the likes of Bill Gates and Brad Pitt.
$13,000 per night. Contact Kyungsook Kim, reservations manager, shilla.reserve@samsung.com, +82 223 331 31, +1 800 745 8883, shilla.net