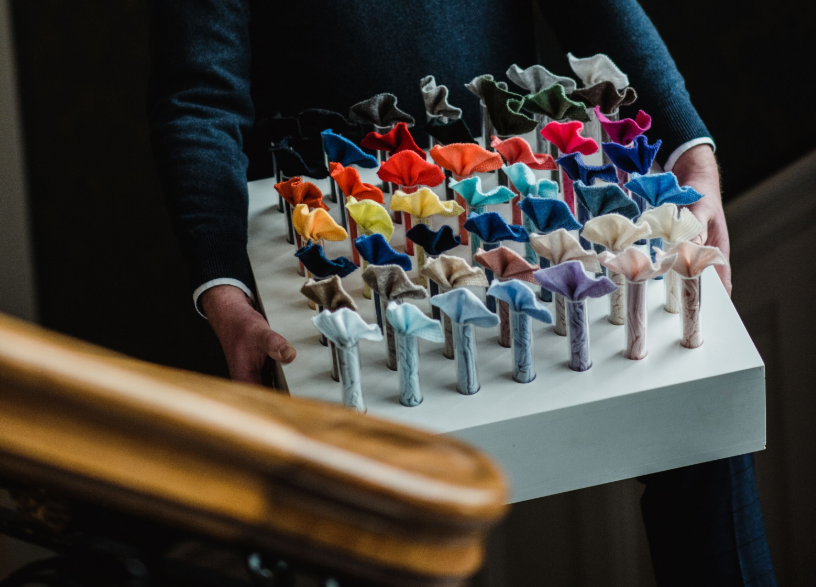 The Balmoral, a Rocco Forte Hotel in Edinburgh, Scotland recently introduced The Balmoral Cashmere Butler. However, this butler isn't just for anyone. Only guests of the recently renovated Scone & Crombie Suite (the hotel's largest and most opulent suite) will get a chance to have bespoke cashmere pieces made for them during their stay.
The Balmoral Cashmere Butler service is helmed by one of Scotland's most renowned cashmere experts, Derek Umpherston of Hawico Scotland. He is the store manager of Hawico's flagship Edinburgh store and was enlisted by the hotel to personally curate the selection of cashmere gifts, including wraps, hats and gloves, among others. First, Umpherston brings a bespoke cashmere 'paint box' to your suite to feel the material and see the current color offerings (there are 25). For guests that don't have time to come to the store, he can have your choice of gift in the color you prefer couriered to the suite. If it's a bespoke piece you're after, Umpherston will personally welcome you to the store and hand-pick a piece with you. It's here you can also have the brand make something bespoke for you.
"I am particularly keen to explain the many operations involved in how our products are created, from design to sourcing the finest yarns to perfecting the ultimate cashmere," Umpherston told Elite Traveler exclusively. "I take great pride in helping clients find the perfect style and fit of garments. This can always be achieved thanks to our signature "Create Your Own" special-order service, where any of our knitted garments can be ordered in one of our 49 unique paint box colors."
If you want to learn more about the process of making this fine cashmere, book The Balmorals Tartan and Cashmere Trail. All of Hawico's cashmere is made in Scottish Borders town of Hawick (the region is known for producing tartan, tweed and cashmere).  You will receive a guided private tour of the mill and meet the craftsmen responsible for all of this beautiful material.
Scone & Crombie Suite fro $5,200 per night. roccofortehotels.com