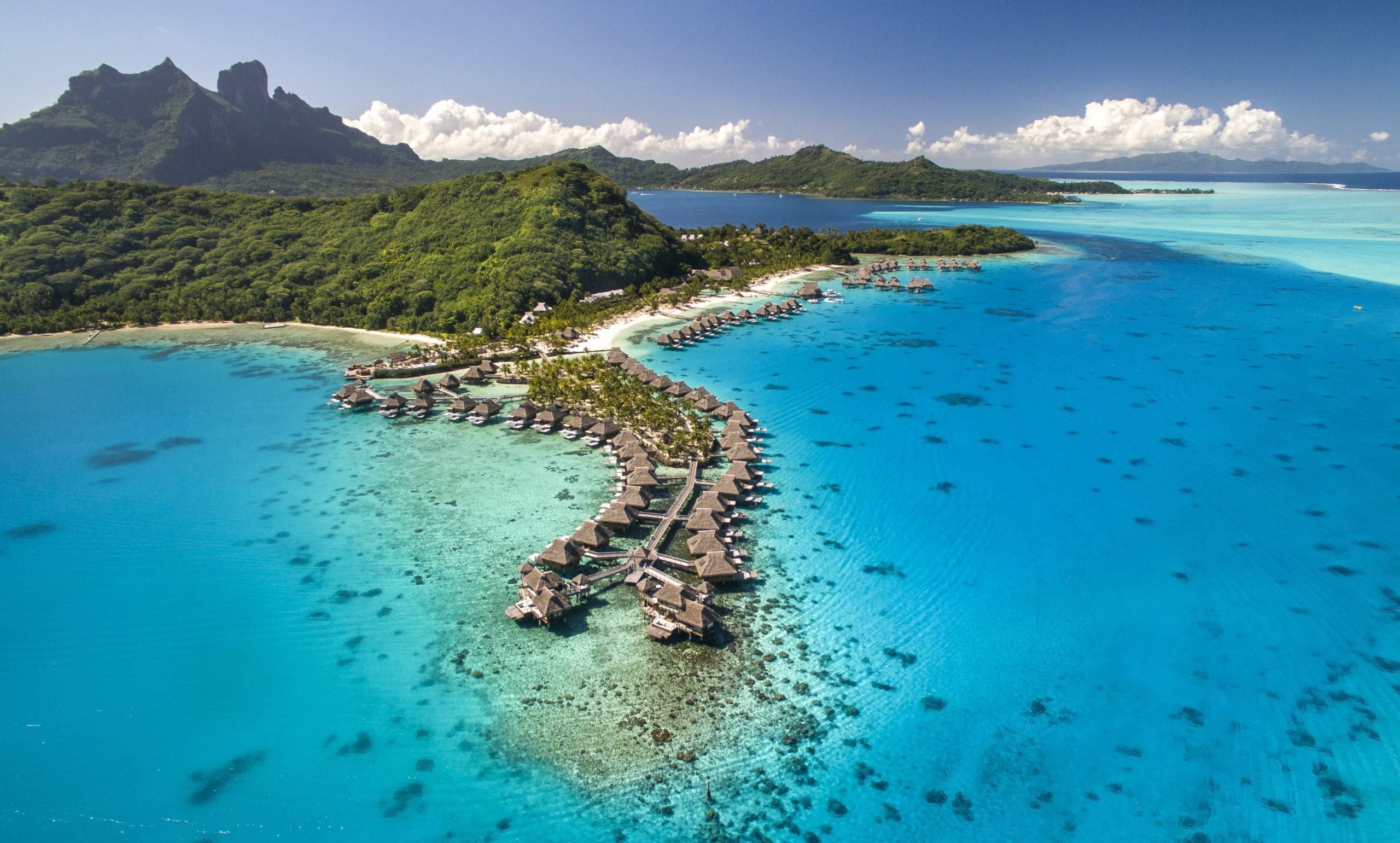 More than any other destination, this luxury French Polynesia guide proves that fantasy can become reality. Under France's dominion, the island nation brandishes Gallic savoir faire (think: peerless service, stellar wines and top-notch cuisine). But, it never leaves its Oceania-style, barefoot chic far behind. Home to affable denizens proud to share their 3,000-year-old culture, French Polynesia comprises five archipelagos with 118 distinctive, variously sized islands and islets, set halfway between Australia and California.
It's the picture-perfect paradise of your dreams. Just ask Marlon Brando, who came to these Pacific islands to film Mutiny on the Bounty, and never really went home again. Amid seas the same painted blues of Van Gogh's skies and David Hockney's swimming pools, this magical place has sugary, black- and pink-sand beaches, craggy volcanoes, unoccupied atolls perfect for romantic picnics and thatched-roof bungalows that float above its gentle lagoons.
To best experience its wonders, go island hopping. From its showpiece gem, Bora Bora, to Taha'a, known for vanilla production; Moorea, a hiker's mecca; Tikehau with its pink-sand beaches; and Brando's own exclusive enclave on Tetiaroa, French Polynesia offers mana (healing energy) at every turn.
[See also: A Luxury Weekend Guide to Turks & Caicos]
Where to stay
A honeymooner's favorite, Bora Bora means 'created by the gods' in an ancient Tahitian dialect. Famous for diving and snorkeling adventures, overwater bungalows and a romantic spirit, this island is jaw-droppingly beautiful. Upon arrival, expect to cruise to your hotel's boat dock by water transfer.
Conrad Bora Bora Nui
Presidential Villa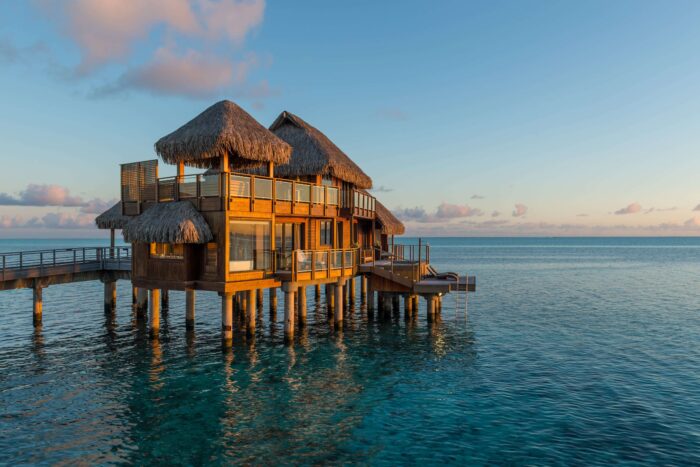 Even in Bora Bora, some spots are better than others. The Conrad, which debuted in 2017, attests to that. On a white-sand beach in Bora Bora, tucked in a private cove on Motu To'opua, a tiny islet, the hotel flaunts the only unobstructed sunset views on the island. Suites range from sites on the lagoon to beachside enclaves ideal for families. Six restaurants, shark swimming, hiking activities, and a hilltop spa add to the allure. Choose a two-story Presidential Villa, with access to a shuttle boat for reaching the Conrad's private isle. It comes with three terraces, an infinity pool and butler service.
From $5,000 per night. Contact Stuart de San Nicolas, general manager, stuart.desannicolas@conradhotels.com, +689 4060 3300, conradhotels.com
The St Regis Bora Bora
Royal Estate Three-bedroom Villa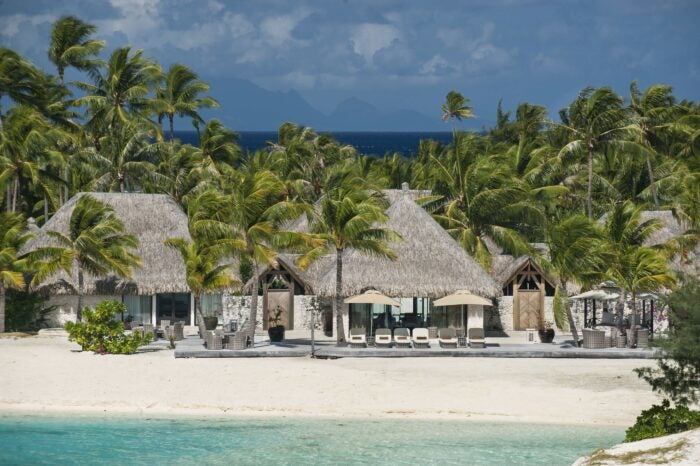 Celebrated for its immense over-water villas, the biggest in the South Pacific, this haven sprawls across so many acres that it offers butler-chauffeured golf cart rides and complimentary bikes for guests to get from one attraction to the next. Boasting the island's most storied restaurant, Lagoon by Jean-Georges, plus three other eateries, The St Regis gets high marks for its spa, set on a private island, and its Lagoonarium, an exclusive marine sanctuary. Families will find ample space in the Royal Estate Three-bedroom Villa, a 13,000-sq-ft sanctum that opens to its own private beach.
From $17,000 per night. Contact Richard Schilling, general manager, richard.schilling@stregis.com, +689 4060 7888, stregis.com
Four Seasons Bora Bora
Three-bedroom Beachfront Villa Estate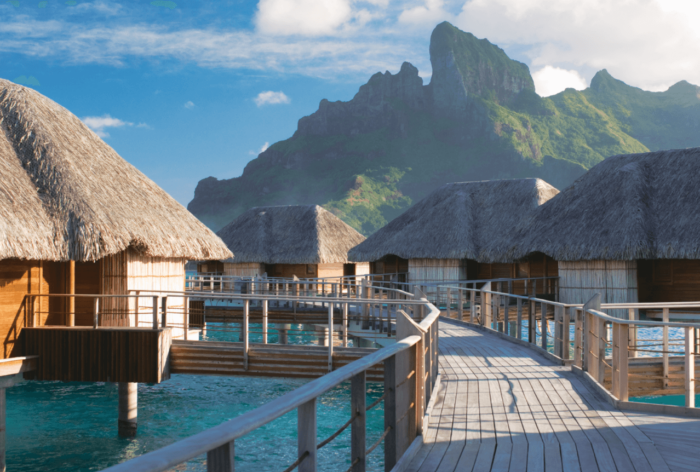 A cocoon of unsurpassed coddling, this globally hailed retreat has been recently refreshed, adding a cadre of sumptuous, Tahitian-style overwater bungalow suites, complete with plunge pools, to its repertoire. Beachfront villa estates welcome guests yearning for more privacy. Enjoy breakfast delivery by canoe, a private party island, four alfresco restaurants and one of the world's most beautiful infinity pools. Bring siblings to share the Three-bedroom Beachfront Villa Estate for a tony family reunion. Set on its own beach, the villa features an expansive outdoor living space.
From $14,700 per night. Contact Diego Stembert, general manager, diego.stembert@fourseasons.com, +689 4060 3130, fourseasons.com
InterContinental Bora Bora Resort Thalasso Spa
Brando Suite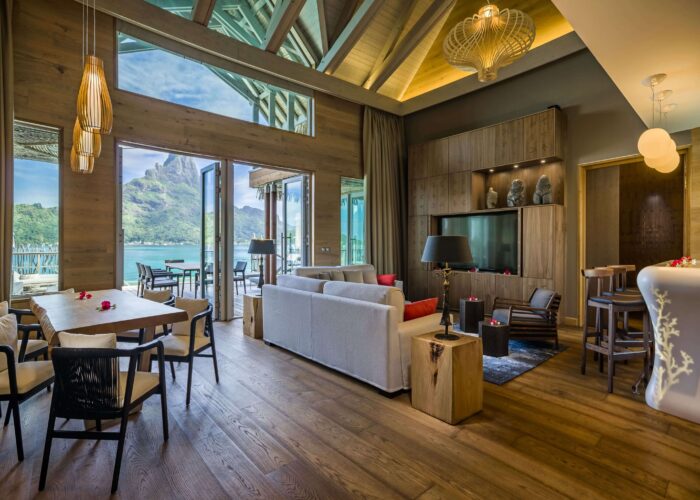 A mirage amid myriad tones of shimmering blue, this overwater-cottage hotel features 88 elegant, roomy suites generously spaced along piers that extend across the lagoon. Revel in a see-through floor under the coffee table that lets you see marine creatures go about their fishy business, or jump off the bi-level deck into the lagoon, snorkel in hand. A world-class spa, tempting pool and three restaurants beckon. For ideal lagoon views and room for a crowd, opt for one of the four stylish Brando Suites positioned at the end of the piers. Measuring 3,400 sq ft, they have kitchenettes and are butler-served.
From $3,600 per night. Contact Olivia Foubert, reservations manager, gsc.boraboraspa@ihg.com, +689 4060 7600, ihg.com
The Brando
Brando Residence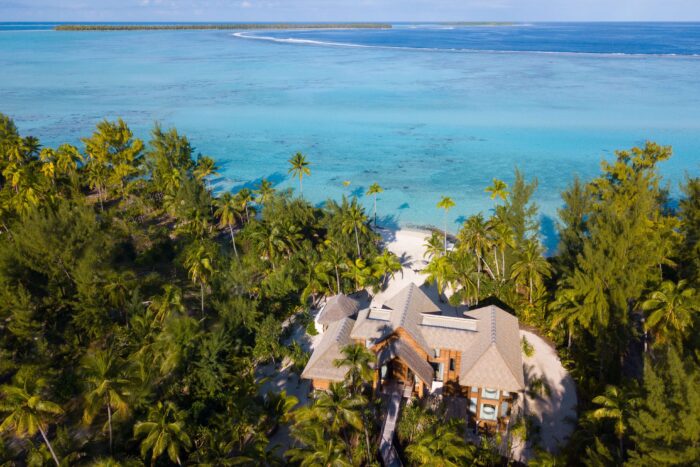 It's like a movie set — only not overbuilt and full of stereotypes. The Brando, in fact, might be the most authentic luxury hotel on Earth. Just as Marlon Brando himself envisioned it, his island embodies simplicity and ease. He sought to keep Tetiaroa pristine and untrammeled. Today, with just 35 thatched, beachfront villas, it achieves that goal. As a bonus, its devoted eco-conscious efforts have garnered LEED Platinum Certification. With an unhurried vibe meant to prompt a peaceful vacation pace, The Brando advocates doing as little as possible. Belly up to Bob's Bar, a nostalgic tiki outpost, or dine at the resort's newest teppanyaki restaurant, Nami. For ultimate seclusion, book the three-bedroom Brando Residences, complete with a chef and butler, and isolated from the main resort.
From $10,735 per night. Contact Cindy Grigaut, reservations manager, reservation@thebrando.com, +689 4086 6300, thebrando.com
Tikehau Pearl Beach Resort
Overwater Bungalow
Slow down on Tikehau, a remote island whose name means 'seeking peace.' Guaranteed repose happens at Tikehau Pearl Beach Resort, located a plane ride away from Papeete's Fa'a'ā International Airport, and just a 15-minute boat ride from Tikehau's tiny main village. Unspoiled, with pink- and white-sand beaches edged by a coral reef, the diminutive hotel occupies its own tranquil motu, boasting just 37 suites. For the most exclusive experience, enjoy one of the Pearl's nine capacious overwater bungalows.
From $806 per night. Contact Heirare Marea, VIP reservations manager, reservations@pearlresortsoftahiti.com, +689 4096 2300, tikehaupearlbeachresort.com
Le Taha'a Island Resort & Spa
Royal Pool Beach Villa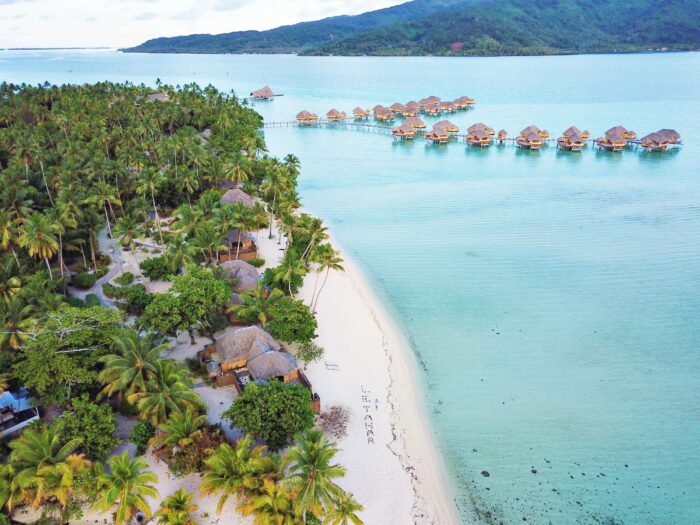 Just the Vanilla Island's ice cream aroma can answer your gastronomic call. But add in the gourmet picnics, dinners and cooking classes at Le Taha'a Island Resort & Spa, a Relais & Châteaux property, and foodies will be sated on every level. Besides relaxing in your suite's plunge pool, the spa's coconut-milk whirlpool or the hotel's gin-clear lagoon, activities abound at Taha'a: Visit a rum distillery, vanilla gardens or pearl farms. Soak in your outdoor tub at the Royal Pool Beach Villa, a two-bedroom accommodation with a large enclosed garden, commodious deck and shaded gazebo.
From $2,340 per night. Contact Laurent Campi, general manager, reservations@pearlresortsoftahiti.com, +689 4060 8400, letahaa.com
Windstar & Paul Gauguin Cruises
Wind Spirit & Paul Gauguin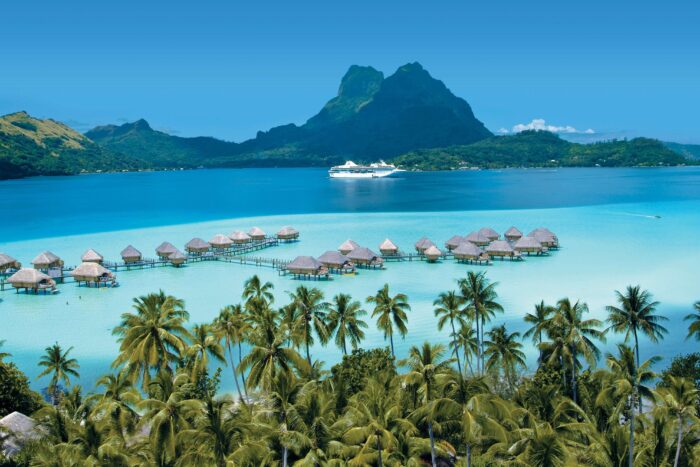 If you're hoping to see all of the islands, there's no reason you can't take a luxury cruise instead of booking a lush hotel or resort. Board Windstar's Wind Spirit, a motorized vessel with four masts and nostalgic, authentic sails. Its smaller size enables the boat to stop in rare places — such as Fakarava, a Unesco Biosphere Reserve. Seven- and 10-day cruises sail year round. And when you voyage on the five-star MS Paul Gauguin (below), you won't miss a single gorgeous view, whether it's from your balconied room or the many spacious lounge areas on board. Staffed by locals, from dive masters to storytellers, the ship embodies the spirit of Tahiti.
windstarcruises.com, pgcruises.com
Photos: Adam Bruzzone, Andre Klotz, Romeo Balancourt, Tim Mckenna, Tahiti Zoom, Wim Lippens, John Russo.
[See also: A Luxury Guide to a Long Weekend on The Amalfi Coast]
What to do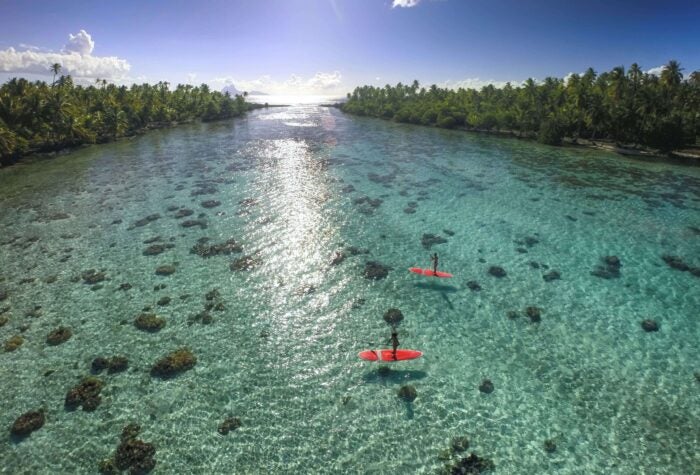 If you can tear yourself away from your luxurious hotel, there's plenty to see and do throughout the islands. On Bora Bora, head out on a tour with Moana Adventure Tours. They are experts of their vast lagoon and can take you to explore by jet ski, ATV and private luxury boat.
Eat your way through Moorea with local chef Heimata Hall. Nosh on full-day excursions that serve up local and street food-style delicacies in a variety of formats. Between bites, be sure to swim with giant humpback whales and their calves in the wild — it's one of the few places in the world where you can do so.
French Polynesia is home to the largest shark sanctuary in the world, and its marine ecosystem is the most abundant and healthy. In Tikehau, follow shark conservationist and champion free diver Denis Grosmaire on his nature-loving jaunts: spear fishing, tiger shark diving and swimming with the manta rays. On Rangiroa, immerse yourself at Tiputa Pass, a legendary dive and snorkeling point renowned for hammerhead sharks, dolphins and manta rays. Yacht services, private boats and personal instructors are available with Top Dive. For a more relaxing day, explore the breathtaking lagoon of Taha'a and Raiatea on a private catamaran with Dream Yacht Charter (best as a multiple-day sailing tour that can also include Bora Bora).
Hang ten — or at least watch. Join Tahiti Boat Excursion & Surf's guide extraordinaire, Matahi Wasna, on an excursion to the famed surf break of Teahupoo, where local surfers tackle the world's most intense waves. A gourmet lunch, set in a far-flung lagoon, is the grand finale.
Where to eat
Le Lotus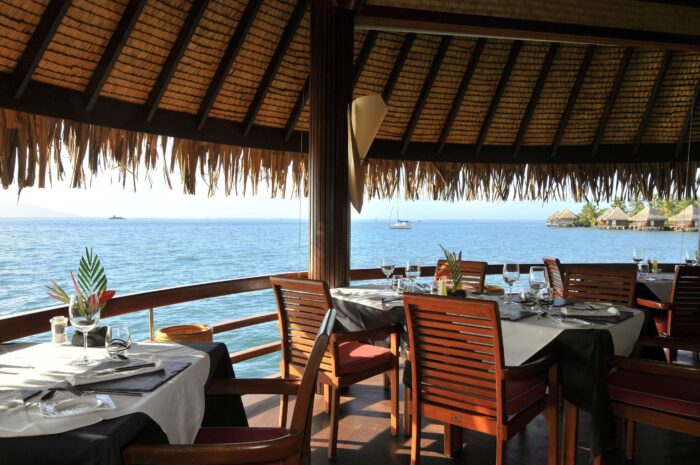 Most visitors to French Polynesia spend at least one night in Papeete, either upon arrival or return. Eat well at Le Lotus, located at the InterContinental Tahiti. As the only restaurant on the island of Tahiti in partnership with a chef from a two-Michelin-starred restaurant, it serves a gustatory gamut from pan-fried pomfret with plantain to foie gras.
Lording over Maita Beach on Bora Bora, chef and owner Damien Rinaldi-Dovio, who trained under legendary French chef Paul Bocuse, dishes up the elegance of Paris in an intimate island setting. Expect daily menus of multiple, French-intoned courses, each paired with the finest wine
and champagne.
In the heart of Papeete, French flair is fused with Tahitian ingredients at this romantic, 24-year-old restaurant, now in a new setting. Expect to swoon over scallops and mahi mahi infused with Tahitian vanilla from the island of Taha'a, tuna with black sesame, crab ravioli — even escargots — from chef Jean Charles.