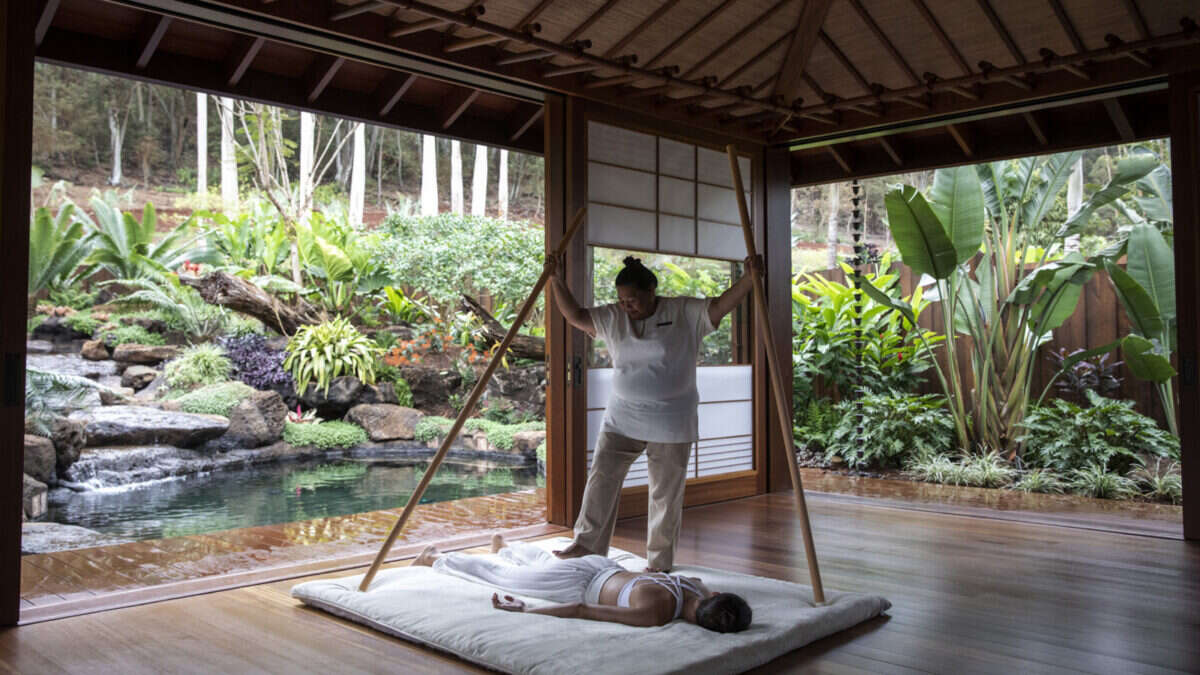 Stepping inside your own private spa hale at Sensei Lanai, A Four Seasons Resort, it is impossible not to feel a sense of peace and tranquility. Surrounded by lush tropical greenery, sculpture gardens and lotus-filled ponds, the secluded havens are the perfect setting to unwind and relax.
Taking architectural inspiration from Japan, the 10 standalone spa buildings feature rich teak panels and large sliding doors that bathe the interiors with light and enable guests to fully immerse themselves in the stunning natural environment.
Once inside, the minimalist aesthetic belies the extensive array of spa facilities at your fingertips. Each of the spacious 1,000-sq-ft hale (the Hawaiian word for home) feature two oversized treatment tables, an infrared sauna, steam room, outdoor soaking pool, rain shower and Japanese Ofuro tub. Two of the hale feature an additional Watsu pool for guests seeking relaxing aquatic bodywork treatments.
To ensure the utmost privacy, each hale has a separate changing area, bathroom and cozy lounging area. And if you are feeling peckish, healthy gourmet snacks are available without having to step foot outside.
[See also: Sensei by Nobu at Sensei Lanai, A Four Seasons Resort]
Guests are invited to craft a personal spa itinerary during their stay at Sensei Lanai, A Four Seasons Resort, choosing from an array of 120- to 150-minute Featured Experiences. Each session draws on the Sensei Way philosophy developed by the resort's co-founder, renowned author and physician Dr David Agus. His evidence-led approach to wellness focuses on three core paths: movement, nourishment and rest.
Movement Experiences are particularly well suited for those looking to work on their mobility. During the invigorating two-hour Aquatic Bodywork session, guests float in the hale pool while a dedicated therapist assists with a series of stretches that combine joint mobilization, massage and shiatsu. Or, for those eager to help their body find a more comfortable resting state while tackling pesky aches and pains, opt for the Thai session which aids the targeted release of connective tissue through deep compression and stretching.
[See also: Inside Sensei Lanai, A Four Season Resort's Sculpture Garden]
Nourishment comes in the form of the Massage and Body Wrap Experience. The indulgent two-and-a-half-hour session combines active breathwork with a full-body warm candle oil massage, gentle cleansing face massage and warm body wrap. And for those looking for complete and utter relaxation, the Rest Massage and Bath is a must. Guided breathing exercises are followed by a bespoke full-body massage, deep scalp massage and finally a soothing soak in the Ofuro tub.
The star of the show has to be the Thermal Body Mapping and Massage Experience, which elevates the resort's already impressive level of personalization. From the comfort of your hale, a specially trained technician uses exclusive Sensei-developed thermographic technology to create a visual map of your body, revealing specific areas of pain and muscle tightness. Drawing on these insights, your practitioner will carry out a tailor-made massage targeted to your needs, leaving you feeling completely rested and rejuvenated.
[See also: Discover the Magic of Sensei Lanai, A Four Seasons Resort]