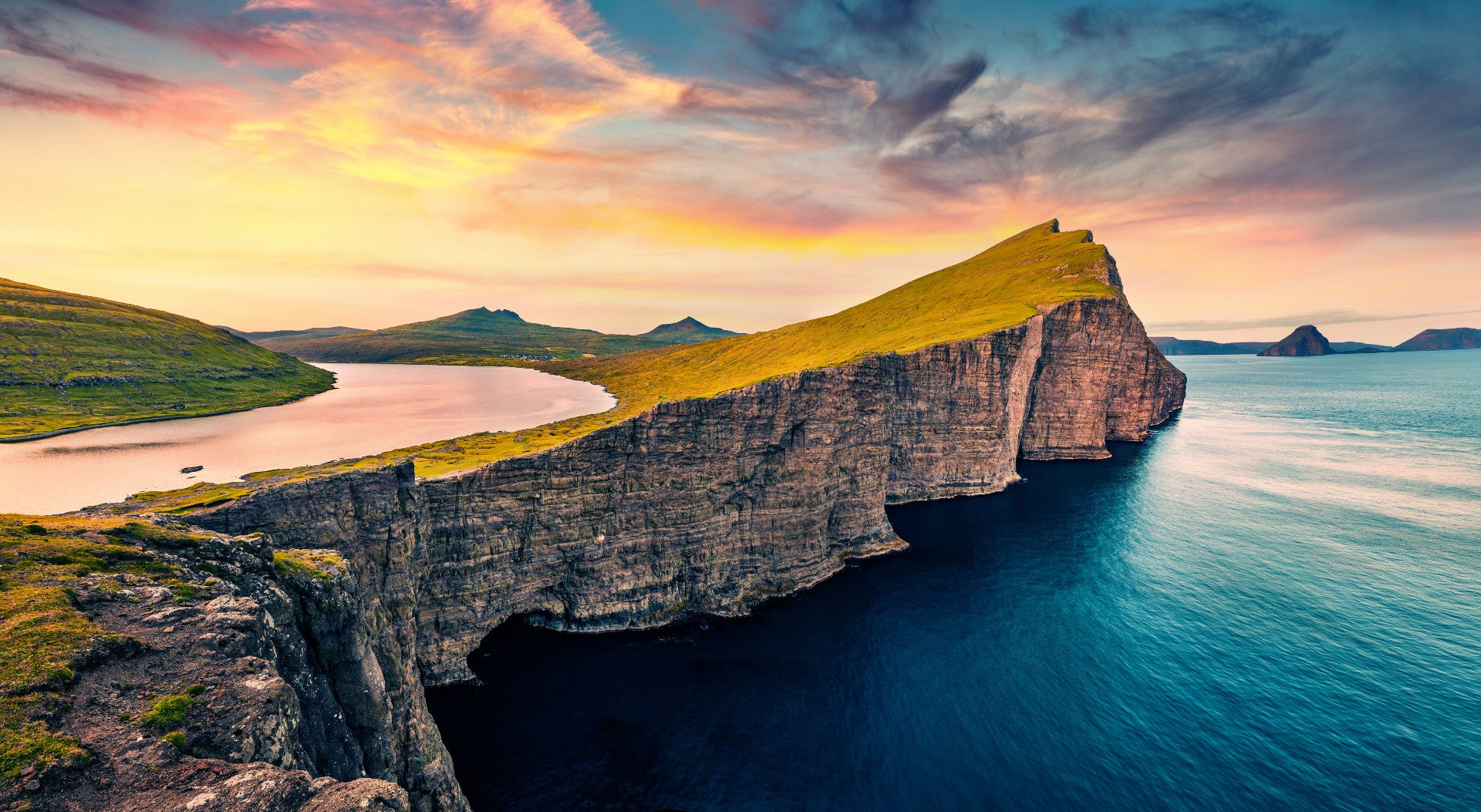 Whether it's the ability to travel in comfort and style, the heightened safety aspect, the faster speeds, or flying in a plane created with your individual needs in mind, there are a multitude of reasons why flying privately is preferable to traveling on a commercial airline. Another large advantage that traveling by private jet has over commercial flights is that it is often easier for smaller, private aircraft to reach certain destinations; many exclusive locations, including mountain resorts and private islands, simply cannot accommodate larger aircraft. To inspire your next getaway, we've chosen a collection of our favorite private jet destinations, where the pampering and relaxation can start from the moment you're in the sky.
St Barths
The vibrant, exotic Caribbean island of Saint Barthelemy (St Barths) is one of the destinations of choice for the world's most elite and influential individuals. It has a variety of luxury hotels and options for villa rentals, high-end shopping, and some of the world's finest dining options — including the renowned Gourmet Festival, where a collection of celebrated French chefs travel over to spend a week on the island. Well known for its intense runaway, St Barth's Gustaff III Airport only allows specific aircraft to land or take off. Flying by private jet is the easiest way to access the island; otherwise, it would require a boat or shuttle plane.
Laucala Island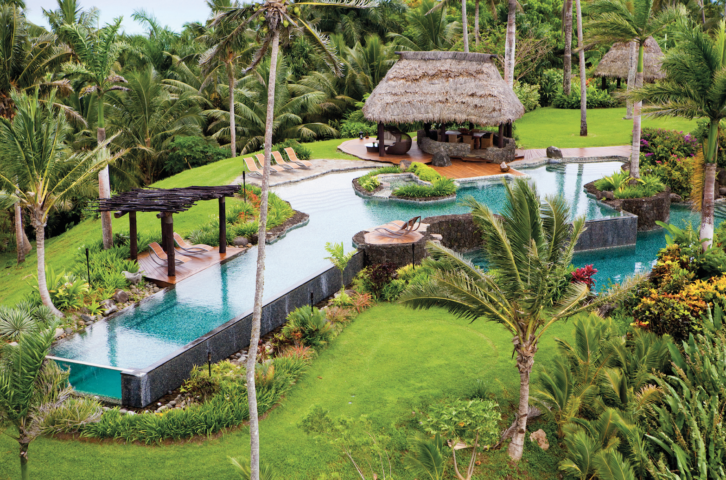 One of a triplet of small islands in Fiji, Laucala is both a privately owned island and an exclusive resort. There are only 25 villas on the island, each of which has been designed as an elegant version of a traditional Fijian dwelling. The resort is located on the island's north coast, and covers 4.5 sq km of the 14 sq km landmass — the rest of Laucala is an unspoiled wilderness, home to some of Fiji's rarest birds and animals. Laucala Island has its own private airport; guests can opt to arrive there by being transferred from Nadi International Airport, in the resort's King Air B200. However, to arrive in true style, private aircraft are also permitted to land, as long as the jet has a maximum of 88,000 lbs MTOW (maximum take-off weight).
[See more: The 10 Fastest Private Jets in the World]
Easter Island
One of the world's most fascinating UNESCO world heritage sites, Easter Island is a special territory deep in the Pacific Ocean, best known for its monumental statues called moai. These were created by the early Rapa Nui people, and there are nearly 1,000 of them scattered across the island. Whether you're an adventurer hoping to dive in the surrounding waters, a history-lover excited by the ancient artifacts, or a foodie looking for authentic cuisine, there is something here for everyone. Easter Island isn't the easiest place to reach, however. Usually, travelers to Easter Island have to overnight in Santiago first; but by flying privately, this can be by-passed and planes can be chartered from several locations direct to the island.
Bhutan
Known as the 'last great Himalayan Kingdom', Bhutan has a strong traditional Buddhist culture but has also opened up to international guests. Visit its legendary monasteries, including Taktshang Goemba, near the Paro valley. Sitting at 2,225 meters above sea level, the town of Paro is surrounded by the Himalayas; flying here, you might be able to see Mount Everest on the journey — and you will also want to be confident in your pilot, as Paro International Airport has one of the world's most dangerous landings, bringing passengers very close to the mountain tops as the plane descends. Those arriving into Bhutan from certain countries often need to stop into India first and get a permit for entry, which can take up to ten days. Fly privately, however, and you can fly direct, with the permit being secured on your behalf.
Telluride
Neighboring Aspen in northwest Colorado, Telluride is an exclusive ski town that cannot be reached by commercial flights. The nearest major airport, Montrose Regional, is a 90-minute car ride away. Choose to fly privately, and you can skip this car journey, landing instead in Telluride Regional Airport. The ski town has around 300 days of sunshine per year and has more than 2,000 skiable acres for all abilities – with no lift lines. Smaller than Aspen, it is less crowded while still having a range of accommodation, dining, and shopping options. The town also has a range of activities, events, and festivals taking place during the rest of the year, including hiking, cycling, and horse-back riding.
The Peloponnese
Featuring a plethora of ancient cultural riches and beautiful Mediterranean landscapes, the Peloponnese is a peninsula to the south of mainland Greece. Whether your preference is lounging on a golden beach or discovering countless ancient historical sites, including Olympia (where the Olympic Games were born) and the best persevered of all the Greek theaters, the region has something to offer for all interests. In the heart of the Peloponnese, at the highest point of Porto Heli, lies an exclusive collection of Amanzoe villas. Each features a private swimming pool and spacious living and dining areas. Traveling by private jet is the perfect way to reach the villas and start your Greek holiday — simply touch down in Athens and take an exciting Amanzoe-branded Heli ride to the resort, landing right outside your villa door.
[See also: Private Jet Interior Designers You Need to Know]
Velaa Private Island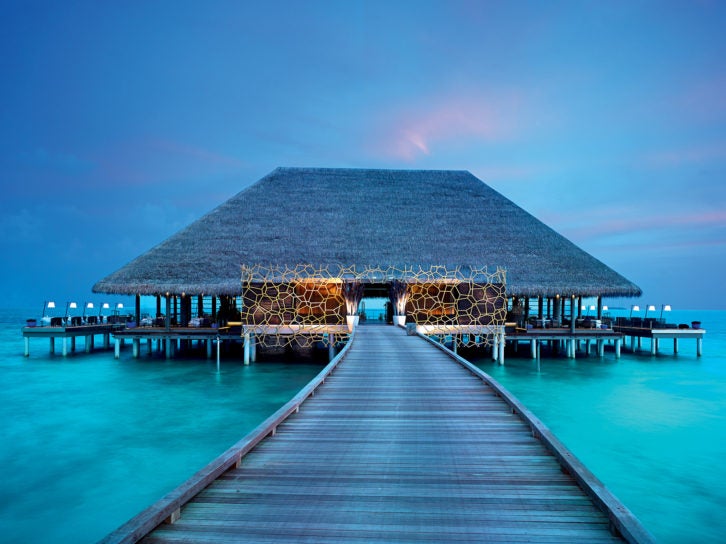 Part of the constellation of islands that form the Noonu Atoll in the Maldives, Velaa Private Island is an exclusive resort that offers a variety of ultra-luxe facilities and amenities, creating unforgettable experiences for its guests. The resort can be reached by plane or boat, but has also recently partnered with global jet provider VistaJet, becoming part of its Safe Havens Collection. This allows guests to book with VistaJet and travel to Velaa Private Island in the safety and comfort of their own private jet. Once on the island, guests have access to a private yacht, the on-site semi-submarine, the world-class Velaa Spa, and a range of villa options – including an overwater residence only accessible by boat.
Faroe Islands
Set in Europe within the Arctic Circle, the 18 major islands of the Faroes has 800 miles of coastline, dramatic and awe-inspiring landscapes – and are one of the best places in the world to view the Northern Lights. Characterized by deep fjords and tall mountains, the scenery is the biggest draw. There is a unique blend of traditional and modern cultures, and this Nordic nation has a population of only 50,000. The Faroe Islands are perfect for adventurers and nature lovers — but there are enough modern amenities, including a great food scene, for everyone to find something they are interested in. Another difficult-to-reach destination, the best way to visit the Faroe Islands is by private jet. You can fly directly into Varga Airport and skip the hassle of transfers or slow-moving ferries.
St Moritz
Situated high in the Swiss Alps, this cosmopolitan resort is one of the most famous holiday destinations in the world; previous visitors include the Swedish Royal Family, Audrey Hepburn, and Andy Warhol. Starting with a reputation as a luxurious spa town thanks to its healing mineral springs, St Moritz's prestige has grown over the years. The town now features a collection of award-winning restaurants, high-end shopping options, grand hotels, and enough prestigious galleries to rival major international cities, including London. St Moritz also has one of Europe's highest airports: Samedan Airport, which sits at an altitude of 1,707 meters and is 15 minutes away from town. Its short runway can only accommodate private aircraft, which means flying by private jet is the quickest and easiest way to arrive at St Moritz — otherwise, it's a three-hour car journey from the closest commercial airport, in Zurich.