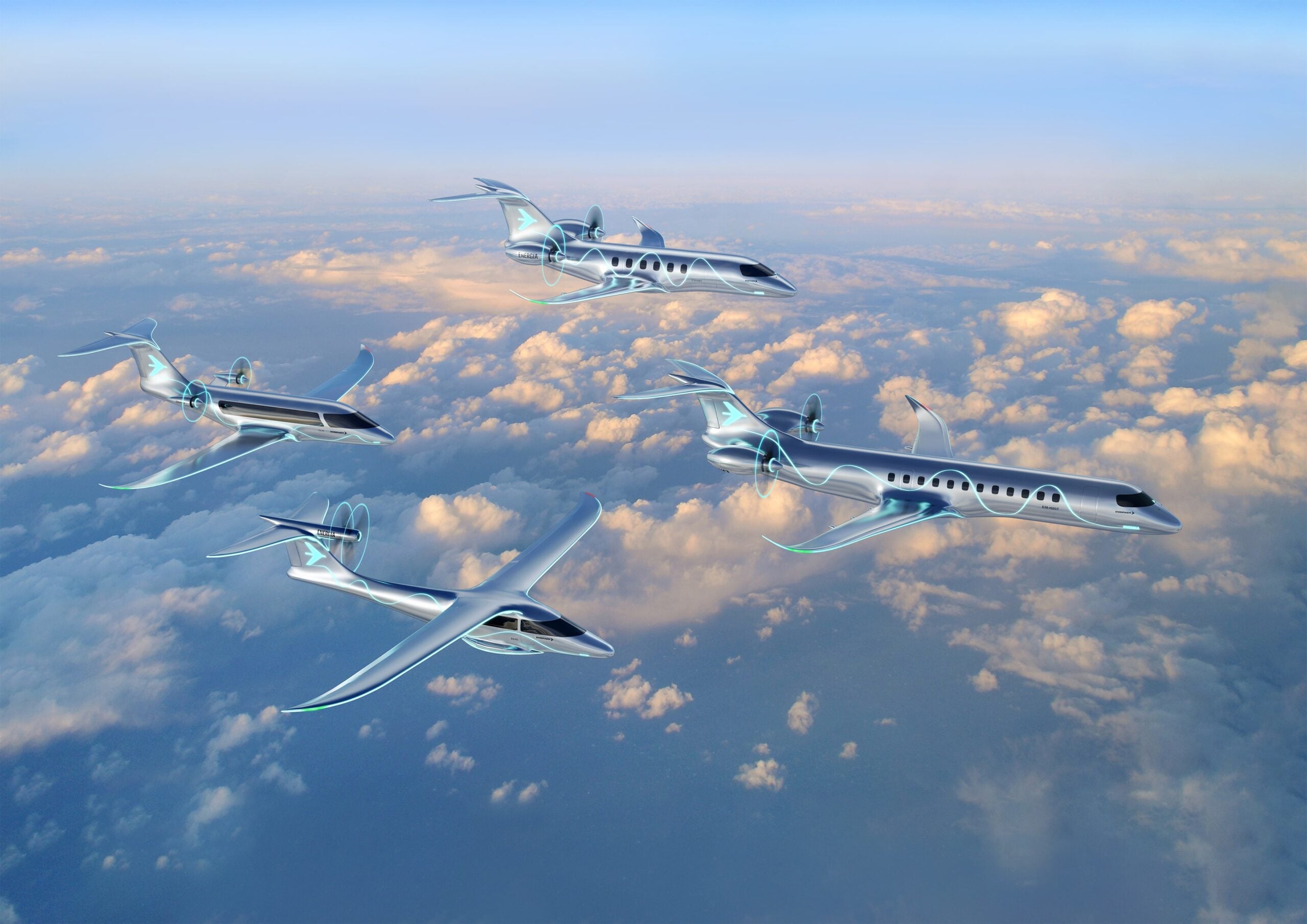 Jet manufacturer Embraer has announced the launch of a series of new aircraft concepts that together will form the Energia Family. In an experiment in sustainability, each of the concepts will utilize a different type of next-generation propulsion technology as part of its bid to achieve net-zero carbon emissions by 2050.
The Energia Family will be launched with four concept jets. The first, which could enter into service as early as 2030, is the nine-seater Energia Hybrid (E9-HE), which will be capable of reducing carbon emissions by up to 90% via an electric-hybrid engine.
Testing the limits of fully electric aviation is the Energia Electric (E9-FE), which will utilize fully electric propulsion via aft contra-rotating propellers for emission-free flying. The concept will offer space for nine passengers, putting it in a similar capacity category to the Embraer Phenom. As promising as this concept sounds, it's estimated that the technology won't be available until 2035.
[See also: Michael Amalfitano Aims for a Green Future With Embraer]
Also technically viable by 2035 is the 19-seat Energia H2 Fuel Cell (E19-H2FC), which will feature rear-mounted propellers powered by swappable hydrogen-electric batteries for emission-free flying. Completing the Embraer Energia family will be the Energia H2 Gas Turbine (E50-H2GT) which, with 35-50 seats, is the largest of the four. The E50-H2GT will be powered by hydrogen or sustainable aviation fuel (SAF)/JetA turbine propulsion for up to 100% reduction in emission, with technology readiness estimated for 2040.
Each concept will be evaluated for its technical and commercial viability and emission-saving properties, before potentially being introduced into service as and when the technologies become available.
"We see our role as a developer of novel technologies to help the industry achieve its sustainability targets," says Embraer's senior VP of engineering, Luis Carlos Affonso. "There's no easy or single solution in getting to net zero. New technologies and their supporting infrastructure will come online over time."
[See also: The Most Exciting Private Jet Concepts]
"We're working right now to refine the first airplane concepts, the ones that can start reducing emissions sooner rather than later. Small aircraft are ideal on which to test and proove new propulsion technologies so that they can be scaled up to larger aircraft. That's why our Energia family is such an important platform," he continues.
The Energia Family joins a host of other advances within Embraer's Sustainability in Action initiative, including the adoption of SAF, which comes with a commitment to a fully SAF-compatible fleet by 2030.
embraercommercialaviationsustainability.com