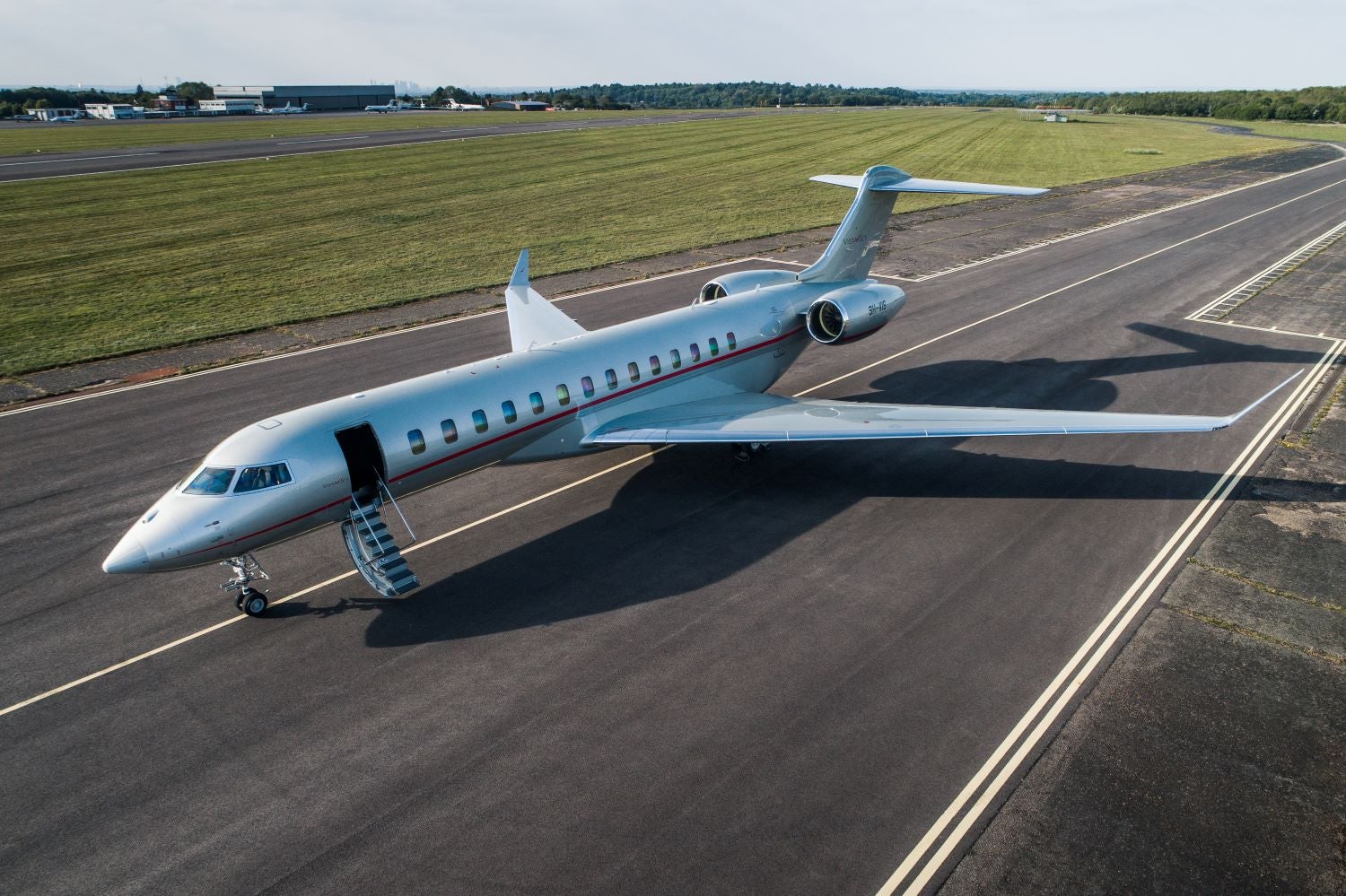 International business aviation firm VistaJet was the first to fly passengers faster and further than ever before when it took delivery of the game-changing Bombardier Global 7500 earlier this year. 
As the largest and longest-range business jet currently in service, the Global 7500 possesses an impressive top range of 7,500 nm allowing VistaJet passengers non-stop travel between global cities such as LA to Hong Kong and New York to Beijing. It is also going to get you there quicker than any of its rivals, offering a record-breaking top speed of Mach 0.925.
Not only is VistaJet currently the only private aviation firm in the world to possess the $75m Global 7500, it has not one but four in its fleet. And this is set to grow to 13 by the end of next year.  
"We originally had an order in for this aircraft in 2013, and at that stage it was just a drawing," Ian Moore, VistaJet's chief commercial officer tells Elite Traveler.  "We knew from the trends that we'd seen from 2010 onwards that the world was getting more connected and that the Global 6000s that we were bringing into our fleet were becoming more and more popular. We thought the Global 7500 was the perfect aircraft."
VistaJet's hunch paid off. With private jet popularity soaring throughout 2021, its fleet of Global 7500s are already clocking up the miles. "It's been an incredibly popular aircraft straight away,"  says Moore. "Even with around 60% of the world still being severely restricted [due to Covid-19 travel restrictions], we have all four aircrafts set to produce a run rate of 1,400 hours per year. To give you an idea, most private jet aircraft fly at about 350 hours per year."
So what can passengers expect on board VistaJet's Global 7500? Elite Traveler was amongst the first inside.
The first thing that will strike any frequent business jet passenger is the Global 7500's sense of light and space. With a ceiling height of 6ft 3 and a width of 8ft,  the cabin is both taller and wider than the Global 6000 and has at least an extra 10ft in length. Each jet can comfortably seat 14 passengers and offers sleeping positions for eight.
VistaJet's Global 7500's are divided into four distinct living areas which include a private bedroom and a dedicated crew rest area. Each area is adorned in a neutral yet sophisticated color palette, illuminated by the jet's ultra-large windows.
Boasting the largest galley in private aviation, the Global 7500 is perfectly equipped for an elevated dining experience whether it be a business lunch or a family dinner. Within the club suite, a concealed six-person pull-out dining table can be set to enjoy VistaJet's fresh menu, developed by world-leading chefs. 
Next to the club is the entertainment suite which features a three-place divan and flatscreen television. This in turn leads to the private bedroom towards the rear of the jet which includes an en-suite bathroom. 
The jet also offers a host of innovative features such as first-of-a-kind Nuage seats with a floating base and a cabin altitude of 4,500 ft which will help to limit the effects of jetlag.
Innovation can also be found under the hood with two GE passport engines built to ensure minimal cabin noise and lower emissions. "[The engines] are around 8% more efficient than the Bombardier Global 6000," says Moore. 
Sustainability remains a key focus for VistaJet since it announced its Sustainability in Aviation pledge at the World Economic Forum in Davos last year. As well as offering a  carbon offsetting program, which saw 80% of VistaJet's members opt-in within three months of launching, the firm also announced a partnership with SkyNRG – the global leader in sustainable aviation fuel (SAF).
Moore sees SAF as crucial to aviation's future: "Having new and fuel-efficient aircraft has helped but SAF is really the answer for our industry until new technology comes along," he says.
Earlier this year, VistaJet announced its commitment to become carbon neutral by 2025–25 years ahead of current industry goals set by the International Air Transport Association. "We're really trying to shake up the industry. [Cutting emissions] is our industry's responsibility and we want to take a lead in that."
[See also: Embraer Presents Energia Family Concept Aircrafts]