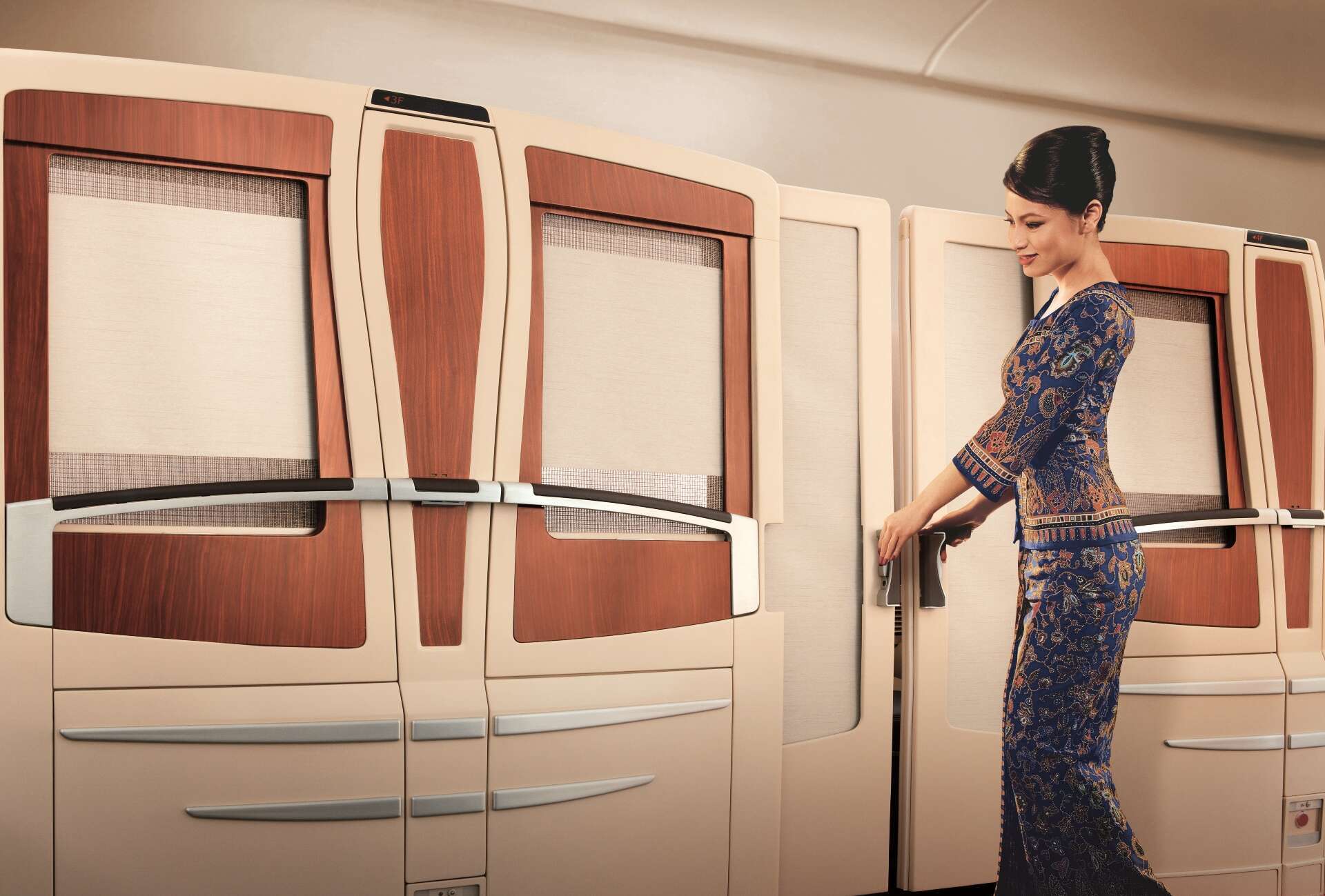 While there are several contenders for the best first-class airlines, when it comes to flight experience and luxury onboard a commercial aircraft, Singapore Airlines Suite Class is arguably the best in the world. Originally introduced by the airline in 2008, the arrival of the Singapore Airlines Suite Class coincided with the first commercial Airbus A380.
However, the Suite Class has recently received extensive re-imagining, making it the pinnacle of first-class flight experience. Unveiled at the end of 2017, the new Singapore Airlines Suite Class entered service onboard five of the new Singapore Airlines A380s in the same year. Retrofit work to update the existing 14 aircraft with the new cabin structure began shortly after, continuing until the end of last year.
What's New?
Compared to the previous version of Suite Class, which featured 12 private suites, the new Singapore Airlines Suite Class has become even more exclusive – with only six suites available on board in a 1-1 pattern, with the aisle in the middle of the plane. The spacious suites (measuring around 50 sq ft) have been designed by Pierrejean Design Studio; they are tucked within the front cabin of the A380's upper deck, further enhancing the feeling of privacy.
Each of the suites has been finished with the highest attention to detail, including an artistic sliding door that guarantees privacy and seclusion whenever you request it.  The main feature of the suite is a plush leather armchair, which has been upholstered in fine leather by world-renown Italian furniture specialist, Poltrona Frau.
Fully adjustable and reclinable, the armchair can accommodate a range of movements that are configured using the electronic control side panel. The chair has a swivel capacity of 135-270 degrees and a recline of up to 45 degrees, providing flexibility and the freedom to change positions depending on your needs.
The Singapore Airlines suites are also furnished with a separate full-flat bed that stows away, which is created by staff as part of the full turn-down service. Simply request that the bed is made, take your time preparing for sleep – including changing into the pajamas provided, made for Singapore Airlines by Lalique – and return to your suite where a crisp, well-made bed is waiting for you.
For couples traveling together, the partition that separates the first two suites of each aisle (1A – 2A and 1F – 2F) can be lowered; the only time it must be up is during take-off and landing. At all other times, the partition can be lowered to further enlarge the suites and allow couples to see and speak to each other. By lowering the partition, the two single beds can also be transformed into a double bed.
[See more: Twenty for 20: Iconic Jets of the Past and Future]
Amenities
Everything has been designed to fit perfectly within the space, creating a sense of intimacy and making fliers feel welcome. For example, the 32-inch full HD monitor can swivel to accommodate different viewing angles, depending on if you are seated or in bed. The monitor can be paired with noise-canceling Bang & Olufsen headphones to create the highest quality viewing environment, complete with an enhanced KrisWorld entertainment system featuring the latest blockbusters, TV series and music collections.
Traveling in Singapore Airlines Suite Class means traveling in wall-to-wall comfort; whether it's the hand-tufted carpets or the feature wall with mood lighting, everything has been crafted by a world-class team to create the most comfortable and hassle-free flight environment. The luxurious suite is so large there are also several storage spaces, including a full-sized personal wardrobe, a leather-lined amenity box and a customized handbag stowage compartment.
Also within the Suite Class cabin are two lavatories for Suite guests' exclusive use. Both are stylishly furnished and larger than the average commercial airline lavatory, with enough room to comfortably change an outfit. One of them features its own sit-down vanity counter with a range of products, making it ideal for touching up your hair or makeup before landing.
[See also: The 10 Best Hotel Suites in Singapore]
Service
Singapore Airlines is highly regarded worldwide for the impeccable service on all its flights, but nowhere is this more on display than in the Suite Class. Guests are warmly welcomed on board by staff and offered the finest champagne– including Dom Perignon and Krug – as standard refreshment. Long haul flights usually include snacks and two main meals with several courses; these are served within your suite on a personal dining table that appears from a hidden side panel.
Served on bone china tableware from Wedgewood atop crisp white linen, the meals in Suite Class feel akin to fine dining in the world's top restaurants. The exceptional inflight menu features dishes from around the world – making the most of Singapore Airlines' international reputation – and meals that can be tailored to your dietary requirements. For those who wish to pre-order their meal, there is also a 'Book the Cook' service on offer in Suite Class, which allows you to choose a main course inspired by the airline's International Culinary Panel.
Locations
Singapore Airlines Suite Class is found on the airlines' fleet of 19 Airbus A380s, which travel to a range of destinations. Some of the most common flights include Singapore to Sydney, London Heathrow, Los Angeles (with a stopover in Tokyo) and New York (with a stopover in Frankfurt). Tickets for Suite Class can cost between $7,000 and $12,000 each way. Please note, Singapore Airlines is currently operating a reduced flight network due to Covid-19.
Whatever your destination, when flying with Singapore Airlines you can also volunteer to offset the carbon emissions created by your journey. Last month, the Singapore Airlines Group (SIA) launched a carbon offset program that enables customers – across both its passenger and cargo airlines – to offset their carbon emissions through dedicated microsites. The offset contributions go to a range of environmental projects, including protecting Indonesian forests and supporting renewable solar energy projects in India.
[See also: Elite Traveler Reveals Top Jets in the World Database]