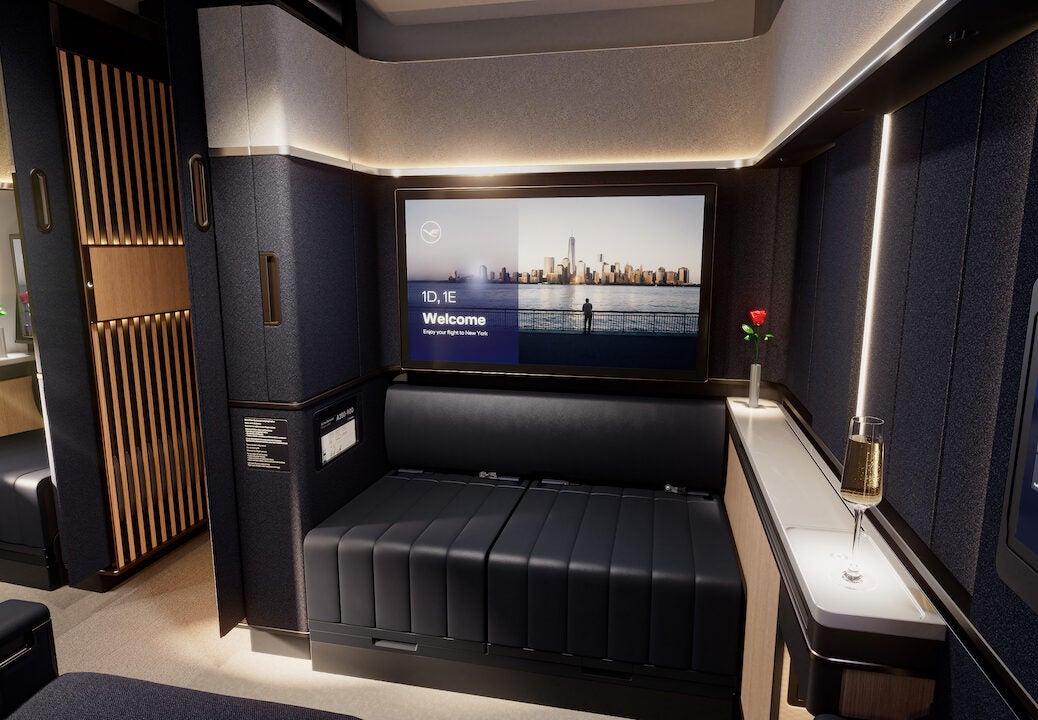 This article contains affiliate links. See our Privacy Policy for more information.
Private jets may be more popular than ever before, but the best commercial airlines are fighting hard for their share of the HNW market by improving their offering for passengers in first class. Many of the biggest airlines have invested huge sums to bring their airplanes into the modern era, transforming first class and business class into something akin to flying private.
Elevating the experience even further, many of these airlines' first class offerings begin way before take off with complimentary chauffeur services, premium lounge access and even private check-in ensuring that any potential stress is mitigated.
From fully private suites to onboard cocktail bars, these operators have gone above and beyond to ensure the in-flight experience is as smooth as possible. But with so much choice, separating the best first class airlines from the ordinary can be tricky. To help, we've rounded up our favorites.
[See also: Victor and Neste Make Sustainable Aviation Fuel More Accessible Than Ever]
Qatar Airways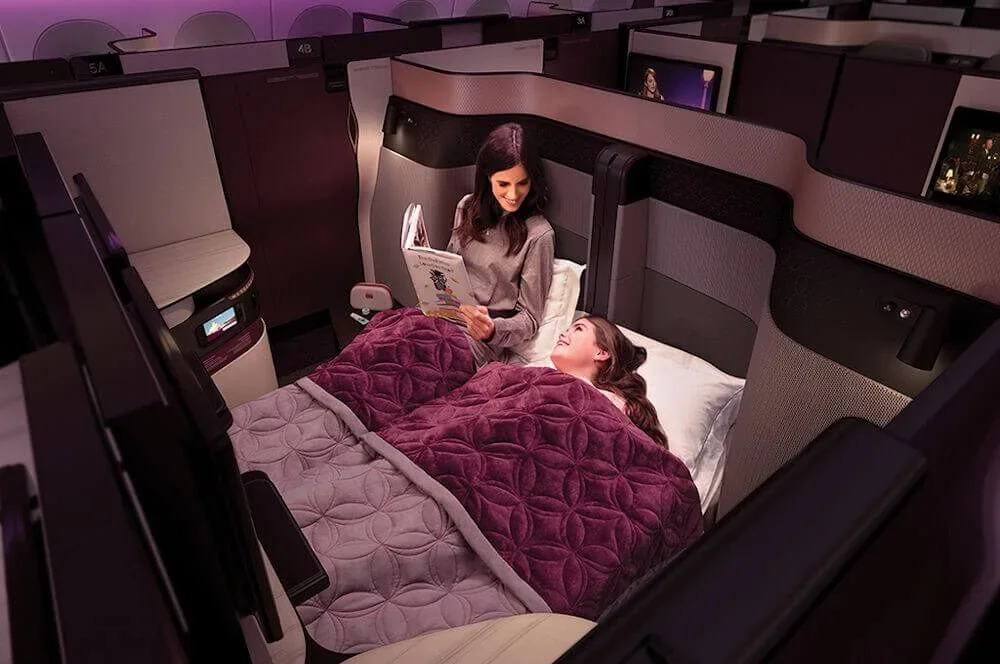 Qatar Airway's renowned first class offering is widely regarded as one of the best in the industry. Found only on the double-decker A380 and the smaller 777, the airline's most premium service is designed to be adaptable to fit individual flyers' needs, with the option to transform the spacious seats into either a workspace, complete with WiFi and power point, or a relaxation zone with a fully lie-flat bed.
Amenities are plentiful, with everything from a comprehensive entertainment system to signature welcome kits complete with products from the likes of Diptyque and The White Company. The onboard food offering is top of the range too, with a signature caviar service, an on-demand à la carte menu and extensive wine spirits selection.
Lufthansa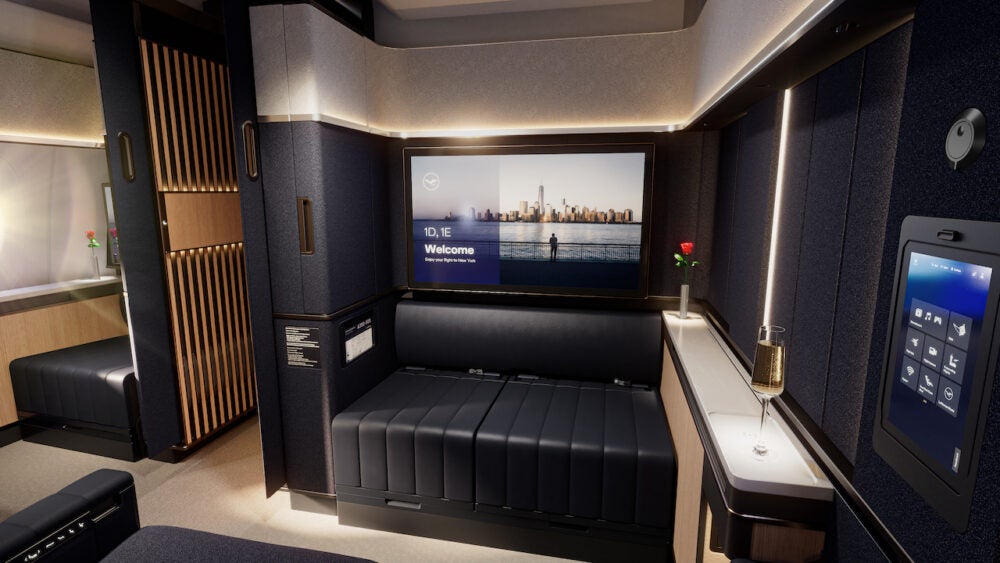 Lufthansa recently announced a complete overhaul of its first class service, which is set to debut in 2024. This will include an incredible Suite Plus room, complete with a double bed and fully closable door. While individual suites are nothing new at this level, Lufthansa's global reach means first class customers will have more choice when flying ultra-long-haul. Touted as a "private room above the clouds", the Suite Plus offers ceiling-high walls and an entertainment system that can be integrated with your smartphone.
Dining service will also be elevated, with guests able to choose when their gourmet meal is served. The suite comes complete with a large dining table, so this too can be taken in privacy. The seating, temperature, lighting and entertainment systems can be controlled with a dedicated tablet, giving passengers autonomy over their environment from start to finish.
This overhaul comes as part of the $2.6bn Allegris program, which will see improvements to every passenger class across its fleet.
American Airlines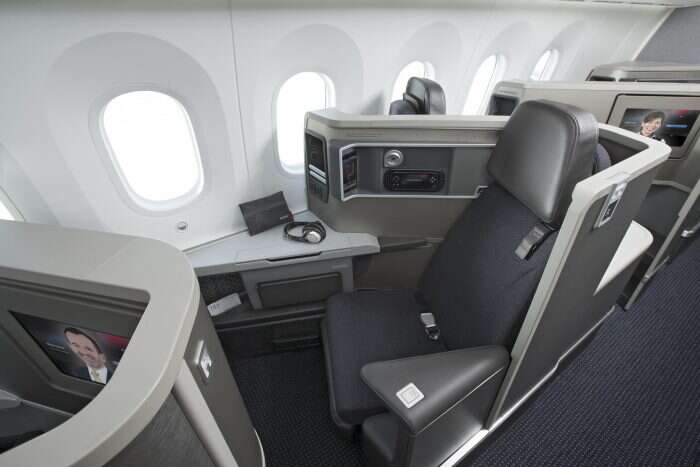 Flying to over 70 different countries worldwide, as well as a variety of domestic destinations, American Airlines is always in the running when booking travel for your next trip. Luckily, its first class provisions are top-notch in the Flagship First cabin. Available on all Boeing 777-300 aircraft, the Flagship Suite Seat is fully reclinable and has guaranteed aisle access, with amenities and services engineered to fulfill every comfort. 
American Airlines has partnered with the James Beard Foundation to ensure that the in-flight menu has been designed and approved by a team of professional chefs, with example dining options including Artichoke ravioli and dark chocolate budino. An excellent ground experience will also maximize ease of travel and movement, even during long-haul international flights. The Flagship First check-in and lounge (available in certain cities) provides fine dining, personalized service, a premium cocktail bar and wine table, as well as the opportunity for guests to have a shower and refresh before the next part of their journey. 
[See more: Twenty For 20: Iconic Jets of the Past and Future]
Delta Airlines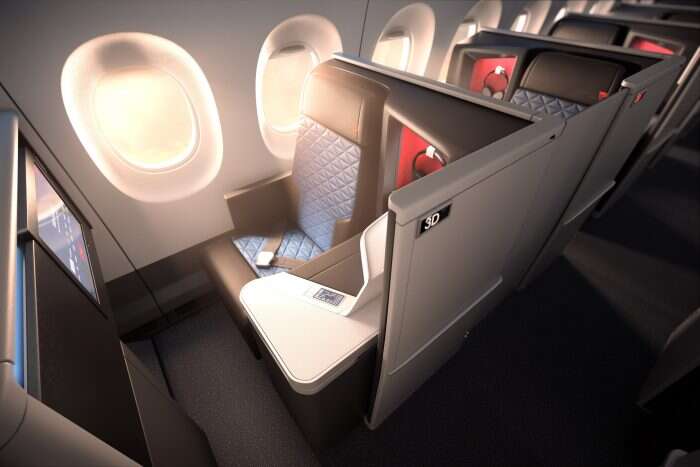 Like American Airlines, Delta Airlines is a legacy carrier. As one of the more established commercial airlines, it is therefore typical and expected that it delivers a higher quality service than other companies, and the Delta One provision does not disappoint. Although the 180° flat-bed seats are found on all its normal models in first-class, the A350 and A339 flights now include the Delta One Suite, with full-height doors and dividers to allow for total privacy even in the company of fellow fliers. 
The Delta Sky Club gives guests airport lounge access and Sky Priority accelerated check-in. It is notable that Delta has its own master sommelier, Andrea Robinson, who is in charge of curating the wine and spirits selection at the lounge bar (as well as the in-flight options). Regional wines are also promoted alongside the seasonal, local ingredients presented by the dining options. In this way, Delta One allows you to connect with a country's cuisine and style before your feet even touch the ground. 
British Airways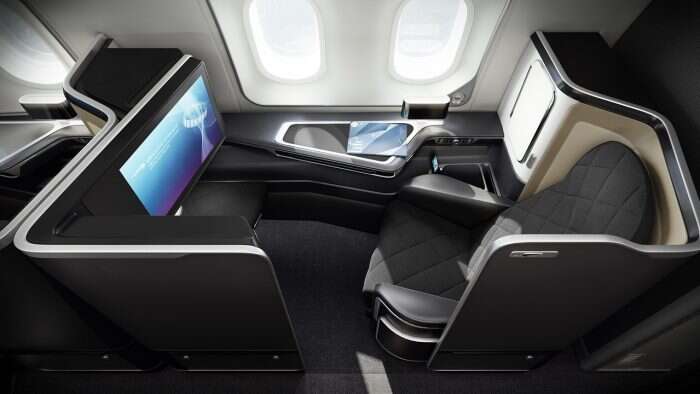 This esteemed carrier connects UK and US soil. If you'd like to enjoy a British afternoon tea before your arrival in London, the British Airways First Class dining and amenities options leave nothing to be desired on the 787-9 Dreamliner. With only eight seats compared to the usual 14, guests have plenty of space to stretch their legs and relax during the flight, or watch the latest movies and TV programs on the wide personal screen.
Even the 'his & hers' amenity bags are designed to reflect British tastes, provided by luxury skincare brand Elemis. Its a la carte 'dine anytime' menu includes canapes and signature dishes, such as Pan-fried stone bass and aged Herefordshire beef, served with contemporary crockery and heritage crystal glassware. Exclusive lounges are dotted across several key destinations, most famously the Concorde Rooms found at London Heathrow and New York JFK. Tastefully decorated and thoughtfully assembled, this lounge offers private cabanas and a contemporary business suite, enabling your travel between these two metropolitan hubs to be as stress-free and enjoyable as possible.  
Hawaiian Air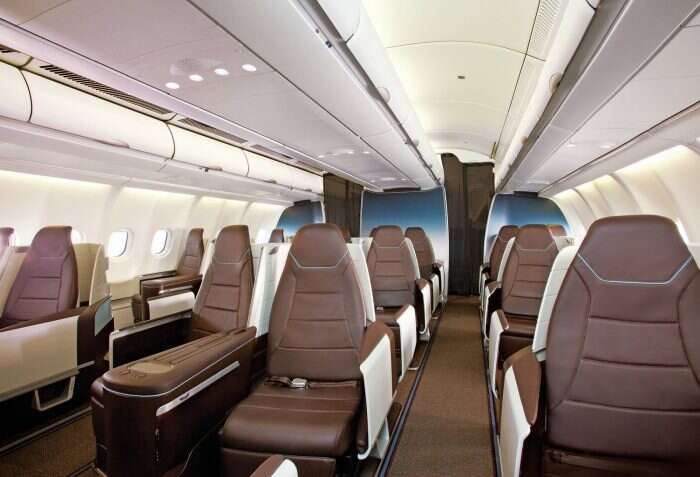 The team at Hawaiian Airlines describes their first-class cabins as the first taste of island life. Looking at the services on offer and the nature of the airplane's hardware, that certainly seems to be the case. A menu prepared by chef Dell Valdez offers guests world-class cuisine with island flavors and ingredients – the mainland to Hawaii flights in particular showcase dishes such as Chicken shisomboca with soy yuzu capers and fried rice, and Portabello mushroom napoleon with tomato and lilikoi gastrique. Hawaii-made spirits and wines are selected by master sommelier Chuck Furuya. 
There is also a clear emphasis on service motivated by warmth and hospitality. From the moment you leave the first class Plumeria Lounge on the ground and step onto the plane, guests will understand the Hawaiian hospitality concept of Aloha. Another nice touch is the real life recordings of the island's native bird song and nature sounds that are provided as a sleep aid. It's the little details that truly elevate this first class experience.
[See also: This Hawaiian Villa Brings Paradise to Your Fingertips]
Emirates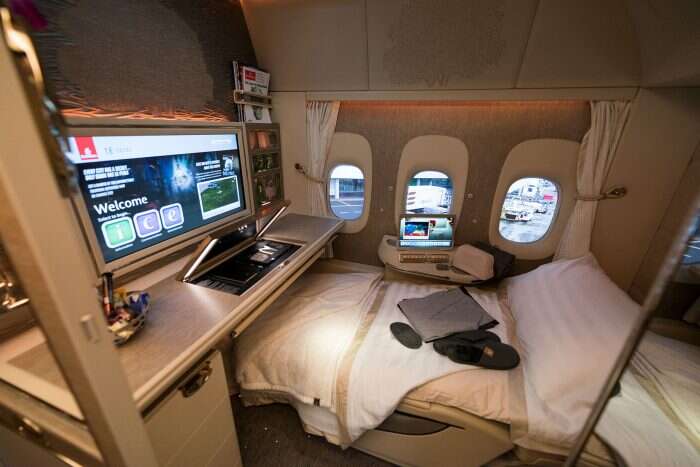 For an airline whose economy class already feels premium, it should come as no surprise that the UAE flagship airline won the World's Best First Class 2020 Traveller's Choice award. Once the door slides closed, the A380 Airbus's reclining seat becomes your own private suite, complete with ambient lighting and a cinematic personal screen. The only downside of the on-board shower spa and cocktail lounge is that once the plane touches down, you won't want to leave.
Say goodbye to strict dining schedules, as its a la carte dining system can be ordered at any point during the journey (provided that there is no turbulence, of course) and an extensive selection of wines and spirits are available to sample throughout the flight. Notable examples include a Chivas Regal 18 Year Old Scotch whisky and Dom Pérignon 2008 champagne. 
Etihad
A smaller carrier than Emirates, Etihad has gone with a boutique approach to commercial flying. This has allowed it to get creative with its cabin design, and its A380 Airbus is complete with two 'Apartments' and 'The Residence', a mini-apartment in the sky with three separate living areas. 
With a double bed and a separate sitting area, as well as a private bathroom, guests staying in The Residence will have a private butler service, bespoke menus arranged before the flight, and exclusive rooms within the airport lounge. The Etihad First Lounge is equipped with a fitness room, feature bar, clothes pressing service and shower facilities, a VIP room, and a dedicated host service for refreshments.
[See more: Airbus ACJ320neo: Inside the $110m 'Suite in the Sky']
United Airlines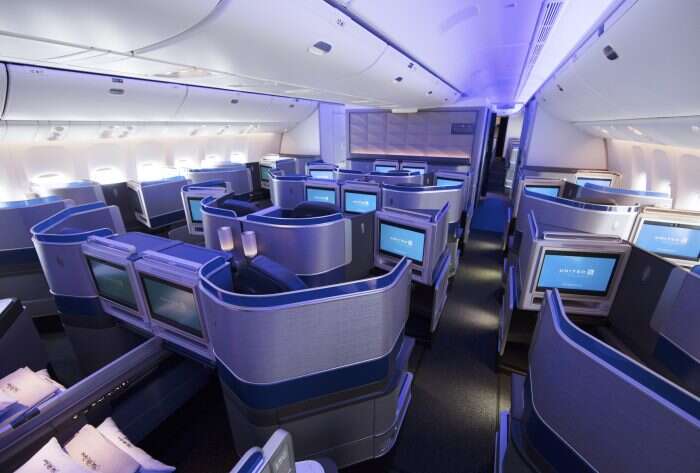 Another famous international carrier, the United Airlines first class experience allows guests to travel comfortably to domestic destinations and beyond. Its premium seating features stylish two-tone leather seats and granite cocktail tables, but comfort is not forgotten, and all seats come equipped with six-way adjustable and padded articulating cushions.  
Through partnering with The Trotter Project, United's executive chefs Gerry McLoughlin and Gerry Gulli have designed a fine dining menu that can be stunningly executed even at maximum altitude. The master sommelier, Doug Frost, works with the dining team to find the perfect wine pairings for the on-board cuisine.
Singapore Airlines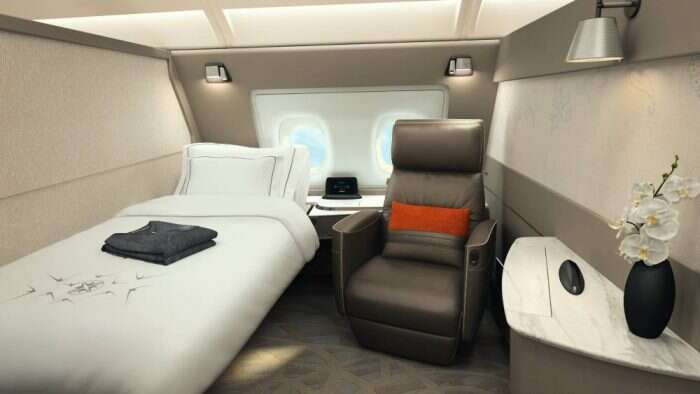 When it comes to first class travel, Singapore Airlines is undoubtedly the star of the show. Like Etihad, the international airline is also embracing the opportunity for guests to travel privately. They even have an option for a divider between the rooms to be lowered, creating a double suite for those traveling in a pair. Exclusively available on the Airbus A380–800 aircraft, the Singapore Airline Suites creates such a cozy and personal experience that one may well feel as though they are traveling on their own private jet. 
Designed by French luxury yacht designer Jean-Jacques Coste,  the suites are kitted out with full-swivel chairs and a separate bed, finished in cream and brown and accented with ultra-leather padded compartments to recreate the feeling of a luxury hotel.
Of course, anyone who has flown with Singapore Airlines before will know that this comfort and luxury extends to the service and amenities. Its 'Book the Cook' service allows guests to reserve meals 24 hours before you fly, and there will be a choice of fine dining creations hand-selected by international culinary panels, all served on Wedgwood bone china tableware.
[See more: The 10 Best Hotel Suites in Singapore]
Cathay Pacific 
Last but by no means least on our list of the best first class airlines in the world is Cathay Pacific. The flag carrier of Hong Kong flies to over 60 countries and 200 destinations across the planet. As the airline's main travel hub, Hong Kong International Airport boasts the most impressive of the stunning first class lounges, The Wing. Here, you can relax in a private cabana complete with a day bed, rain shower and bath before stopping for a bite to eat at the gourmet restaurant.
When you fly first class with Cathay Pacific you won't have to lift a finger from the moment you step foot on the plane. The airline has thought of everything to ensure you have a comfortable flight from the selection of ethical organic toiletries to the BOSE noise-canceling headsets.
Passengers are treated to their very own ultra-exclusive private suite featuring a seat that transforms into a spacious fully flat bed topped with a comfy mattress, selection of soft pillows and 600-thread count bed linen.
As for dining, expect an array of culinary delights throughout the flight. The varied menu champions sustainable producers while elevating traditional Hong Kong flavors to dizzying new heights. Highlights include the Braised abalone with flower shiitake and choy sum-layered bean curd, and the indulgent Grilled beef tenderloin with a thyme jus, buttery French beans with sesame seeds and sweet potato puree. Of course, there's also an extensive selection of top vintage champagnes to choose from, all served with pillowy blinis topped with caviar, chives and crème fraiche.