When one considers the first flight of the Wright Brothers traveled just 120 ft, it's important to remember that those who have contributed to the future growth of aviation may not have enjoyed the commercial success they deserved. Moreover, their accomplishments may not be clear in the immediate years. Looking back at the past two decades since the launch of Elite Traveler – and forward to new business aircraft still in the launch stages – we've highlighted 20 of the best private jets that have changed or may change the way you fly, even if not all of them got off the ground.
[See also: The Ultimate Guide to Flying Privately]
Bombardier Challenger 300/350
Described by one industry insider as "the triple seven of private jets," according to Amstat, there are close to 800 of Bombardier's Challenger 300/350 aircraft (pictured above) in service. Like the Boeing 777, it's also a workhorse. It has range, capacity and comfort. It can fly 3,200 nm nonstop, making it ideal for connecting the US East and West Coasts, plus for trips to the Hawaiian Islands. It can seat up to 10, although it is typically configured for eight passengers with two sets of facing club seats or nine passengers with a three-seat divan. With a cabin height of 6 ft, it provides a convivial environment to fly family and friends, entertain clients, or get some work done with associates. The roomy galley makes it popular with corporate flight attendants. Perhaps proof of its popularity – 20 years after the first flight – is that it flies for NetJets, Flexjet and Vista Global's VistaJet and XOJET. One of the few things these rivals agree on.
Cirrus Vision SF50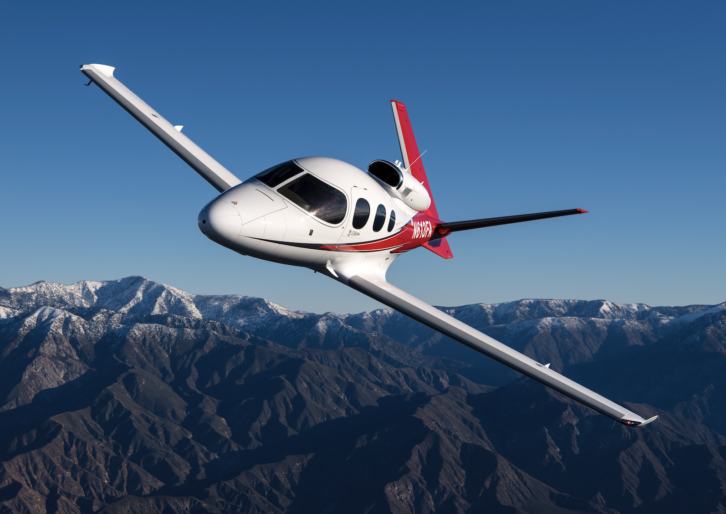 Where first-generation personal jets like the Eclipse failed, Cirrus' Vision SF50 seems ready to fly. According to the General Aircraft Manufacturers Association, over the past three years, it has been the most delivered private jet. Of course, with a retail price tag under $3m, one Bombardier Global will buy you more than a dozen SF50s. With more than 28 configurations and a range of over 1,000 nm, owner-pilots can hop between business locations and then take the family to the lake house on the weekend. Its patented Safe Return systems will auto-land this very light jet with the touch of a button if the pilot becomes incapacitated. The large windows provide spectacular views. Its forward-facing seats mean not having to play footsie. The cabin design offers plenty of shoulder space and headroom when seated, and the seats provide an ergonomic design, with thoughtful pull-out tray tables and plenty of places to store small items. If VeriJet has its way, you will see more Vision Jets. The air taxi operator plans to expand its current Florida service area to California, Canada, the Northeastern US and Europe with over 130 of the small jets.
[See also: The Top Private Jets in the World Right Now]
Textron Aviation Cessna Citation Latitude
"Easy to fly like smaller Citations, with big jet performance," says one expert who has broad experience on the subject. You can view the Textron Cessna Latitude as a large, midsize jet or entry-level super-midsize type. With a maximum takeoff weight of 30,800 lbs, it's on the cusp of the dividing line. Its flat cabin floor gives 6 ft of headroom, and a low cabin altitude of 5,950 ft will keep you feeling refreshed. The lavatory is spacious and has a large jet feel. It can be configured for seven or eight passengers, and with a range of 2,700 nm, offers a comfortable ride for your continental travels.
Pilatus PC-24
Swiss manufacturer Pilatus took everything that was loved about the PC-12 turboprop and brought it into the twin-jet PC-24. Get closer to your destination: Land and take off from dirt, grass and short runways (under 3,000 ft) that other jets can't access, adding over 20,000 options. Don't worry about fitting large suitcases, dog cages, skis, oversize paintings in frames. Its rear cabin's 4 ft 1 in x 4 ft 3 in cargo door fits a standardized pallet. With four passengers,
you can fly up to 2,000 nm, making it a long-range light jet. With a single pilot, it can carry up to 11 guests. "From your ranch in West Texas to Teterboro, this is a jet you can take on a fishing trip or to a board meeting," says one fan.
Airbus ACJ TwoTwenty
With 785 sq ft of cabin space, it's bigger than the New York City apartment you perhaps shared with a couple of friends when you were fresh out of college. In this adaption of the Airbus A220-100, instead of 120 passengers, you get a VIP airliner environment with up to six different passenger zones. With 12 hours of nonstop flight range and capacity for up to 18 passengers, owners will choose configurations to suit their personal needs, from private bedrooms with space for a king-size bed, private offices and a media room, to dining and lounge areas, and even a shower so you can get right to work (or play) when you land.
Gulfstream G650/G650ER
Gulfstream's clean sheet G650 family created a 'new class' of ultra-long-haul private jets. Its nonstop range can take you from London to Cabo San Lucas, New York to Riyadh, or London to Hong Kong. Its owners include Jeff Bezos, Dwayne Johnson (aka The Rock), New England Patriots owner Robert Kraft, Elon Musk, Steven Spielberg and Oprah Winfrey, according to Private Jet Card Comparisons. You can have yours with up to four distinct living areas, each with separate climate control. Another option is to have the galley and crew rest area either in the airplane's forward or aft. Depending on your preferences, the G650 can sleep up to six in flatbeds. The G650ER is also fast, with a maximum speed of Mach 0.925, holding over 110 speed records.
Embraer Phenom 300E
The top-selling light jet brings not only long range for its category, Conklin & de Decker pegs it at 1,811 nm at full capacity and 2,077 nm with four passengers. Its flexible configuration allows six to eight seats in the passenger cabin, and a belted lavatory seat adds a ninth spot. Most of all, the Phenom 300 reflects the stylings of Embraer's interior design boss, Jay Beever, who has introduced technology and stylings that will remind you of a high-performance automobile or an office fit for a CEO. In other words, the Phenom 300 combines performance and aesthetics that don't typically come to mind when you think of light jet. Perhaps its best endorsement is from fleet operators. NetJets, Flexjet, Nicholas Air, Airshare, and GrandView Aviation have each chosen the Phenom 300 as the light jet option in their jet card and fractional share programs.
[See also: Porsche and Embraer Partner on New Design Collaboration: Duet]
Embraer Praetor 500
Embraer's Praetor mark is an update of its Legacy line; the Praetor 500 replacing the Legacy 450 and the Praetor 600 takes the spot of the Legacy 500. The Praetor 500 brings a stand-up cabin – 6 ft tall – to the midsize category and combines that with the ability to fly coast-to-coast nonstop in the US. If you are thinking globally, its 3,340 nautical mile-range will take you from Singapore to Beijing or Dubai to Bangkok nonstop. What's more, that range will only require a 4,222-ft-long runway. In the cabin, select from options from six to eight seats, including a seven-seat configuration with exclusively club seats that can be converted to fully flat beds.
Embraer Praetor 600
The super-midsize Praetor 600 brings both the sleek stylings that have helped define Embraer's success in business aircraft and the backing of Flexjet, the second-largest provider of fractionally owned jets. The Praetor 600 is at the core of its offerings both in the US and Europe. And why not? Its nonstop range will take you from Sao Paulo to Miami or London to New York. In other words, a super midsize jet with an intercontinental range. The cabin can be configured from eight club seats to 10 seats if you want to face three-seat divans in the rear. Recently, Flexjet CEO Mike Silvestro told Flying magazine, "The Praetor 600, with its unparalleled technology, comfort, and performance, marked by class-leading intercontinental range, rounds out the fleet that will help us to meet every possible need and desire of (customers)."
Learjet Liberty 75
The last of the fabled Learjet line, the Liberty 75 in some ways epitomized the sentiments of critics. The final edition of the premier business jet of the 1960s was merely an update of the platform that flew first more than 25 years ago. For owner Bombardier, it also provided a thorn against the rosy success of its Challenger 350 and Global lines, which have become dominant forces in the super midsize and ultra-long-haul private jet categories. Despite the fact that no new Learjets will be rolling off the production line, Amstat shows over 1,250 of the type still in service. In other words, if you long to fly in the private jet once favored by Frank Sinatra and Arnold Palmer, there are still plenty of opportunities in the charter and used aircraft markets.
Eclipse EA500
The Eclipse Aerospace EA500 may not have been a commercial success, but it opened the industry to think about the potential untapped market of small private jets. According to Amstat, there are nearly 500 of the very light jets still in operation. First delivered in 2006, the Eclipse 500 was supposed to be the backbone of Day Jet, an air taxi operator that envisioned making private jet travel more accessible. The vision of former Microsoft executive Vern Raburn, the aeroplane didn't have a toilet, which speaks to the planned mission of short hops between airports where driving didn't make sense. While neither the EA500 nor 550 lived up to their promises, they certainly influenced the market, which now includes the Embraer Phenom 100, Cessna Citation Mustang, HondaJet, and Cirrus SF50 Vision Jet.
HondaJet HA-420 VLJ
"Having a company like Honda enter the business jet market was a vote of confidence for the industry," says one expert. While there hasn't been a formal announcement, he says that "whatever the smart engineers at Honda Aircraft are cooking up in their new facility" is sure to be exciting. The much-lauded HA-420 VLJ "re-energized the VLJ segment," says another observer. Its maximum cruising altitude of 43,000 ft means you can always find smooth air, and the comfortable cabin wins plaudits from passengers. Last year, the company expanded its global footprint with type certifications in Pakistan and Russia. Its sales and service footprint now reach North America, Europe, Latin America, Southeast Asia, China, the Middle East, India, Japan and Russia. It's also available in fractional shares from Jet It, which provides an option for owner-pilots.
Bombardier Global 7500
The Global 7500 is set to become the flagship of NetJets ultra-long-haul fleet. It will have good company. Rival VistaJet added its first 7500 in 2020 and plans to have as many as a dozen flying by the end of 2021. Its Pũr Air advanced HEPA filter replaces 100% of cabin air in 90 seconds, while sidelining up to 99.99% of allergens, bacteria and viruses. Its range of 7,700 nm at 0.925 cruising speed will let you fly effortlessly from Asia to North America or Europe. It also offers up to four distinct living areas and a separate crew cabin. In addition to private bedrooms, there is a shower option, a media room or private office. Then there's its patented Nuage seat that provides a deep recline and a leg rest that enables you to stretch out, catch up on reading, or take a pleasant snooze without having to fully bed down.
Dassault Falcon 10X
Dassault's Falcon 10X promises to bridge the gap between VIP airliners and large cabin business jets, combining ultra-long-haul range with the most spacious cabin short of Boeing's Business Jet or the Airbus Corporate Jet. The 10X will have a cabin 9 ft 1 in wide and cabin height will be a breakthrough 6 ft 8 in. Its promised range of 7,500 nm will mean nonstop flights from Los Angeles to Sydney or Hong Kong to New York when it enters service in 2025. With four different living areas, there is also an oversized stand-up shower and room for a queen-size bed. With a balanced takeoff length of just 6,000 ft, the Falcon 10X will provide access to airports not accessible by converted airliners, meaning you can get closer to your final destination.
Cessna Citation CJ4 Gen2
The single-pilot certified CJ4 Gen2 brings a range of 2,165 nm and takeoff field length of 3,410 ft, helping stretch the utility of Cessna's light jet line-up. Enhancements go beyond performance. There is a new stair and handrail, making for easy entry and exit. There are also new luxury interiors with accented lighting. There's an optional two-seat couch that offers capacity of up to eight passengers in the main cabin and a total of 10, including a belted lav. Earlier this year Cessna scored its first CJ4 order from a European charter operator via DAL Aviation. Nicolas Trefeil, its managing director, says: "The Citation jets are cost efficient and comfortable. They have very few mechanical hurdles meaning reliable operations. We are also able to receive swift deliveries of spare parts, if needed."
Eve Urban Air Mobility Solutions
It's all about Eve, at least for Flexjet. The second-largest seller of fractionally owned private jets is betting on the Embraer-incubated eVTOL Eve Urban Air Mobility Solutions for its door-to-door strategy that it's hoping will leave rival NetJets – and its customers – stuck in traffic on the way to the airport. With a 200-unit order from Flexjet parent OneSky Flight, Eve is expected to be flying passengers as soon as 2026. While early missions will go between airports and traditional heliports, the vision is to connect you from home or office to airport, saving even more time for your busy schedule.
King Air 360
Wheels Up's founder and CEO Kenny Dichter compares today's King Air to the iconic Jeep. It's a versatile aircraft with a 50-year history ready for diverse business missions. Its access to short fields gets you where you want to be, while the updated interior comforts and state-of-the-art avionics make it perfect for luxurious vacations, flying the family to the lake house or small islands in the Bahamas. The King Air 360 entered service last November, and it's the small touches that will make a difference. For example, side tables are higher, offering users more knee room, there are standard power outlets in addition to UBS charging and there is a fully enclosed toilet in the rear. An ER version extends the range from 1,806 to over 2,500 nm.
Gulfstream G700
The future flagship of Gulfstream Aerospace, if you don't want to buy your own – the price tag is $75m – the good news is Qatar Executive and Flexjet, both launch customers, will be offering the G700 in their jet sharing programs. As of February, five test aircraft accumulated over 1,100 hours of test flights. When it enters service next year, the nonstop range will be up to 7,500 nm. The new cabin is 10 ft longer, enabling five living areas and a queen size bed in the owner's suite. Snooze your way from New York to Beijing and arrive ready to do business with your team in tow. The G700 can sleep up to nine passengers in flat beds.
Dassault Falcon 6X
Dassault's upcoming Falcon 6X has been billed as the first ultra widebody business jet. When it goes into service, it will offer a 6 ft, 6 in cabin height and an 8 ft, 6 in cabin width, with a range of 5,500 nm (think Moscow to Singapore or Los Angeles to Geneva) and a maximum speed of Mach 0.90. Its 30 oversize windows will give you a view from the top. And like other Falcons, it will bring exceptional short runway performance, allowing you to access airports with runways under 3,000 ft. In other words, while your competitors are in the car, you'll be in the boardroom closing another deal.
Aerion AS2
The failure of Aerion's quest to return air travel to supersonic speeds caught many by surprise. With Over $11bn in commitments and orders from both NetJets and Flexjet, Robert Bass inspired us with his nearly two-decade-long commitment to a dream. While the AS2 is now just a collection of intellectual property and computer simulations, the Texas billionaire helped generate interest that spurred a handful of other projects that aim to fly you faster than the speed of sound. What's more, his vision was to do it in a completely carbon-neutral format. For getting us all to dream of something faster, like many of aviation's innovators, Bass deserves our appreciation and gratitude.
Doug Gollan is founder and editor-in-chief of private aviation solutions buyer's guide Private Jet Card Comparisons.