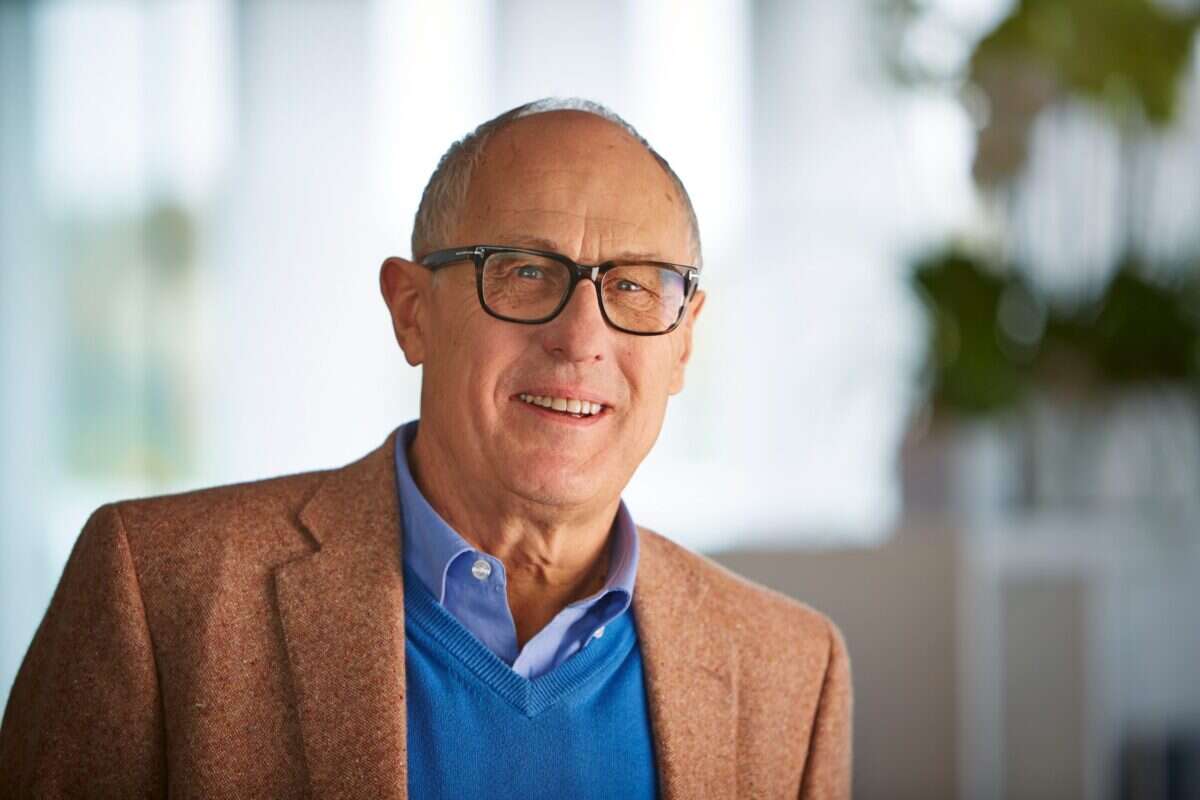 It is perhaps not surprising that Chris Leach has maintained a lifelong obsession with aviation. After all, the founder and chairman of Air Charter Service was born in a converted barracks at the airbase that would go on to become London Stansted Airport.
In 1947, Leach's father Dennis, a former wartime pilot, was flying bombers that had been converted into cargo planes back from Europe when he noticed a stripe of gray in the greenery below.
"He saw this big long concrete runway near the village of Stansted Mountfitchet, circled it, and landed there," says Leach. "His flight engineer had some bolt cutters and broke the padlock to the control tower and hangars. They found this immaculate airfield abandoned by the American air force."
[See also: Sustainable Skies: Jet Companies Making Positive Change]
For Leach, a childhood spent moving between London's airfields left a lasting impression. "When my father got a job at Heathrow, my brother and I used to cycle over to the Queens Building where you were allowed to go up on the roof and plane spot," he recalls. "When I was 12, I remember watching the first Japanese Airlines aircraft land in London in 1961."
While he decided against a life in the cockpit, Leach spent the next 17 years building a successful career working in air cargo chartering. But on returning to the UK from New York in the late 80s, he found himself unexpectedly out of work.
"My wife was pregnant with our second child and we had a mortgage to pay," he says. "There was only one thing I knew which was chartering airplanes so in desperation I went down to the basement, cleared away the toys and started faxing everybody saying 'if you need an aircraft, I'll get you an aircraft.'" From here, Air Charter Service was born.
It wasn't long until Leach was flooded with inquiries. Still struggling to pay the bills, the young family rented their spare room to a university student. "I noticed he was airplane nuts," says Leach. "There was a recession at the time and he couldn't get a placement for his year in business. I remember saying to him 'they probably wouldn't let you work for me in the basement would they?'" He didn't know it then, but his lodger, Justin Bowman, would go on to become the CEO of Air Charter Service.
So how did the fledgling business become the global industry leader it is today? "It crept up on us really," says Leach. Relying on word of mouth, Air Charter Service's burgeoning client list continued to grow. His wife, Tina, took over the bookkeeping and they rented a small office close to home in Kingston Upon Thames.
Today, the company (which charters private jets, helicopters, airliners and cargo aircraft) has over 500 staff with offices in 27 different locations dotted across North America, South America, Europe, Africa, the Middle East and Asia.
[See also: Elite Traveler Reveals Top Jets in the World for 2022]
While Covid-19 has dealt a painful blow to much of the travel industry, Air Charter Service has seen sales of private jet charters soar by 20% above pre-pandemic levels helping the company to secure record revenues of $1.8bn last year.
Leach believes the boom in private aviation is here to stay, even as restrictions ease and health concerns around taking commercial flights subside. Why? Quite simply, he says, once people change their travel habits, it's difficult to go back.
Needless to say, this spike in private jet travel brings with it concerns over rising greenhouse gas emissions. It's an issue Leach is keen to tackle head-on. "You can't have children in your 30s as I have and not be aware of what's happening to the planet," he reflects. "People in positions of power of my age need to acknowledge that to leave our grandchildren a livable blue planet we've got to take action."
Air Charter Service's founder began trying to minimize his company's impact on the environment back in 2007 by offsetting the carbon footprint of his offices. However, it was his close friend Erik Lindbergh – grandson of pioneering aviator Charles Lindbergh – who opened his eyes to the issues at hand.
As a passionate advocate for sustainable aviation, Lindbergh has spent many years developing hybrid-electric propulsion technologies which he believes will power the next generation of aircraft. Inspired by these efforts, Air Charter Service sponsored his work with the Embry-Riddle Aeronautical University to create a prototype electric aircraft – the e-Spirit of St. Louis. "I'm still working with Erik on the project and my logo is on the planes which I'm incredibly proud of," says Leach.
And this isn't the only project he hopes will pave the way to a greener future for aviation. Leach is currently in contact with a UK university to fund a PhD scholar to carry out research into either aviation batteries or electric flight. Where possible, he is also looking to work with providers which use sustainable aviation fuel – a task that is proving difficult.
"We're asking all of our fuelers at all the airports around the world, 'have you got sustainable aviation fuel?'" he says. "The problem is it's not available everywhere, so you come up against the brick wall of the infrastructure."
[See also: The Biggest Private Jet Companies in the World]
Despite these obstacles, Air Charter Service's founder is keen to stress the huge strides the sector has made over his five-decade career. "I was involved in aviation in the 70s when there was an oil crisis and OPEC put the price per barrel up from $7 to $30," he says.
"Since that time, the major engine manufacturers started making more fuel-efficient engines which they've launched every two to three years. It's not a popular thing to say but I'm proud of my industry and the massive greening up of aviation there's been in the last fifty years – not for altruistic purposes but to save costs."
Of course, Leach acknowledges there is more work to be done. "I find the pace of change frustrating, but you've got to be realistic," he says. "Sustainable aviation fuel is one of the answers, moving towards electric flight is another, but at the moment carbon offsetting is the biggest single thing you can do until the technology catches up."
To this end, in February 2020, Air Charter Service partnered with Carbon Trade Xchange to introduce its carbon offsetting scheme, enabling customers to add 0.5% of the booking value to offset their journey.
The money generated goes to a fund that is invested in a range of projects. For example, supplying communities in Southern Africa with fuel-efficient Hestian stoves which cut carbon emissions, reduce exposure to toxic fumes and create local jobs in manufacturing.
Going forward, Leach believes the key to real progress is for everyone in the sector to work together. "Frankly, we need to take the competition out of greening up," he says. "If everyone had to pay a penny a gallon for aviation fuel all around the planet, a fund could be created to invest in projects to bring about real change and we could all move forward at a faster pace because it would be a level playing field. Ultimately, we need industry-wide changes, governmentally induced."
[See also: Air Partner Unveils Ambitious Sustainability Strategy]