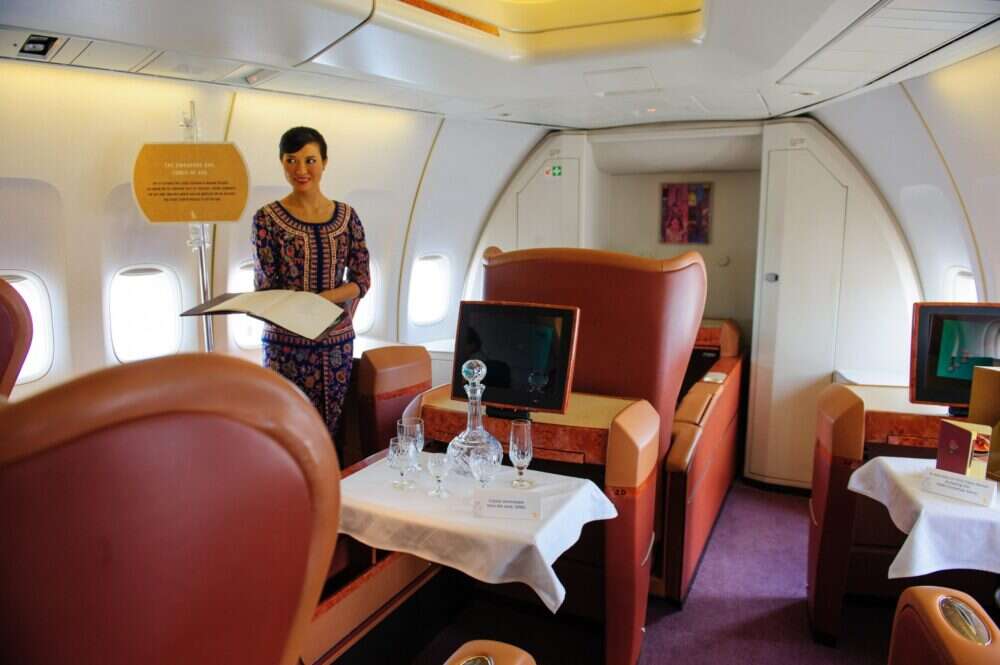 It's been 20 years since the end of the Cold War brought about a dramatic change in aviation, when it opened Russian airspace to foreign airliners, allowing for transpolar routes that connected Asia to the US. In 2001, Continental Airlines flew from New York to Hong Kong, over 8,400 miles, without stopping. Just 10 years later, ultra-long-haul flights fell out of popularity: the financial crisis meant companies were cutting business expenses and general consumer demand was down, to the point that Singapore Airlines stopped running its record-breaking New York to Singapore route.
But recent years have seen a return in popularity for the service, and advances in efficiency make it more economically viable. In the first year of its Perth to London service, Qantas had 94% occupancy and only four cancellations. And the Covid-19 pandemic, experts predict, could bring an unpredicted boom to the ultra-long-haul flight industry.
In 2020, the longest non-stop flight was Newark to Singapore, a distance of over 8,000 miles. In fact, Singapore Airlines broke its own record later that year, when it temporarily swapped Newark for JFK (it plans to restore the Newark route this year).

Linus Benjamin Bauer, founder of consulting firm Bauer Aviation Advisory and a lecturer in Air Transport Management at the City University of London, says in the years running up to Covid-19, a combination of technological advancements and growing demand for interconnectivity between businesses and families, saw ultra-long-haul flights stake a clear segment in the market.
"Ultra long-haul flights have proven to be greater than just a more efficient option for the time-sensitive traveler," Bauer says. "From the customer standpoint, the on-board experience has been heightened, with the prioritization of human factors having become central to an airline's approach."
[See also: Are Private Jets Safer than Commercial Airlines?]
The development of planes such as the Boeing 787 and the Airbus A350, which are smaller and more efficient, made point-to-point flights more viable. The top 10 longest routes (served by 11 airline carriers) use just four different aircraft types.
But what's key to the success of ultra-long-haul, Bauer says, is not just the technological advancement, but the advancement of the market targeted at the premium sector. For those who are already paying significantly more for the fastest, non-stop route, comfort and experience are essential.

This business model led to aircraft carriers reconfiguring their on board seating layout to create more first-class seats. It also inspired the development of the mid-way "Premium Economy" class.
"With ultra-long-haul routes commanding a price premium, airlines operating the services have been increasingly inclined to deploy strategically configured aircraft, with greater proportions of the plane dedicated to Business and Premium Economy cabin seats, which in turn, further distinguishes ultra-long-haul as being an overall premium service," says Bauer.
[See also: The longest range private jets]
Analysis of seat layout on the world's longest flights shows this trend. While the Emirates flights have a more traditional layout, with 80% of the plane dedicated to Economy class, the United flights have opted for a smaller capacity, with just half of its seats in Economy, the rest split between Premium Economy and Business class.
When Singapore Airlines reintroduced its Newark route in 2018, they chose to forgo Economy seating altogether. Although the plane is the same as the one used on its San Francisco route, the Newark flight has only two-thirds as many passengers, all in Premium Economy or Business class.

Experts in the industry, like Bauer, predict that Covid-19 will only strengthen ultra-long-haul's business case. Travelers are likely to want to avoid busy airports and transport hubs for layovers, and continuing international travel restrictions will give point-to-point flights an advantage.
Bauer predicts that countries will establish air travel bubbles between key locations that are ideally suited for ultra-long-haul flights, such as the UK to Australia and the US to Singapore. Ultra-long-haul flights will allow them to bypass countries with restrictions.
"The key selling points of ultra-long-haul projects appear to not only maintain the characteristics necessary to survive the COVID-19 era, but to become increasingly attractive as the industry attempts to return to some new form of normalcy these days," Bauer says.