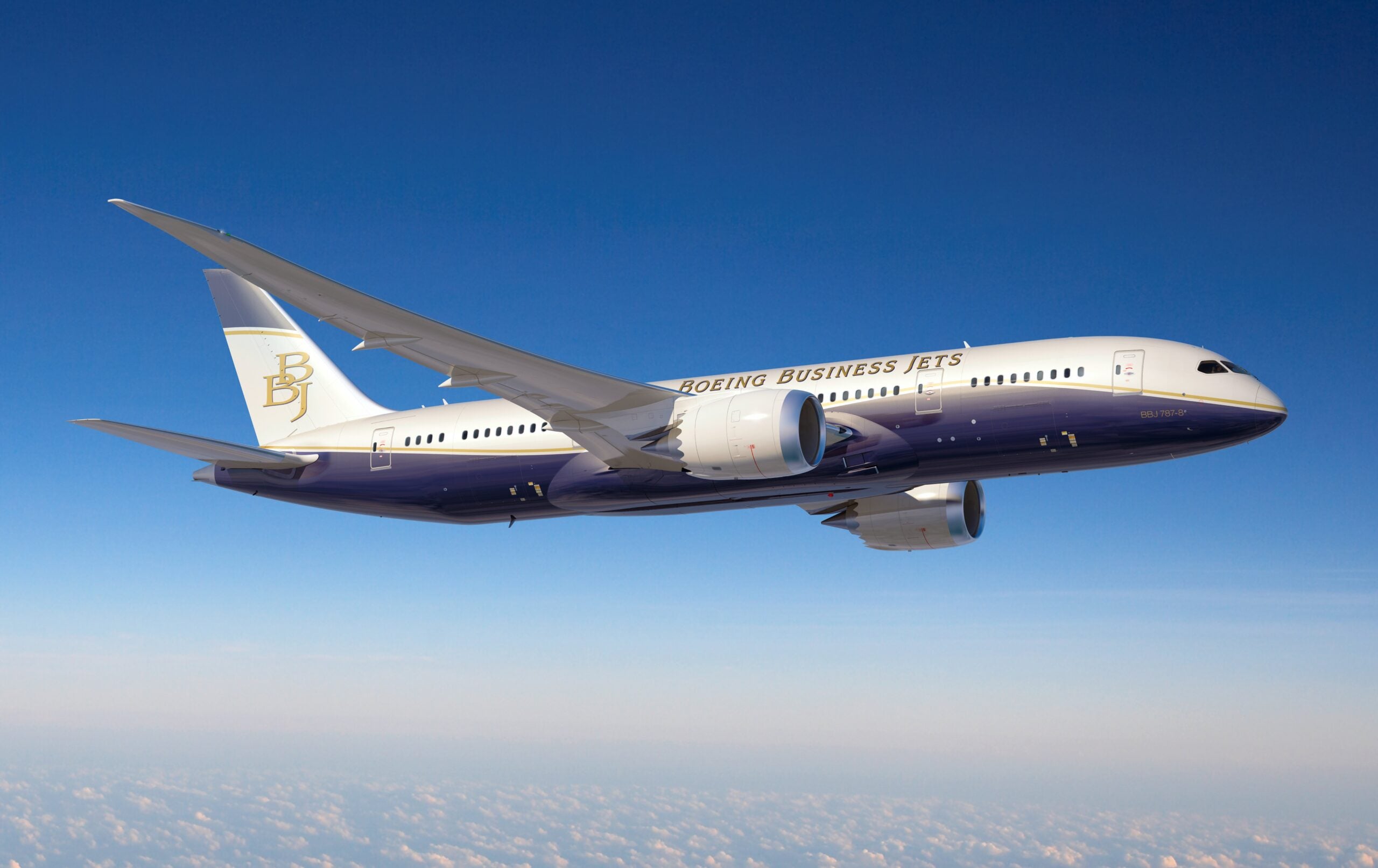 When deciding which jet to charter or buy, there are lots of factors to consider. While comfort, speed and cost are what usually spring to mind, it's vital to also think about range. In fact, the longest range private jets are also the most desirable as you won't have to waste any time stopping to refuel which can significantly cut down total travel time.
Of course, an aircraft's range is affected by an array of factors including weather conditions, wind speed, the number of passengers onboard and fuel capacity.
With so many manufacturers vying for the top spot, we've crunched the numbers and rounded up the planet's longest range private jets, as well as delving into what you can expect onboard these cutting-edge aircraft.
[See also: Sustainable Skies: Jet Companies Making Positive Change]
1. Boeing Business Jet 777X – range 11,645 nm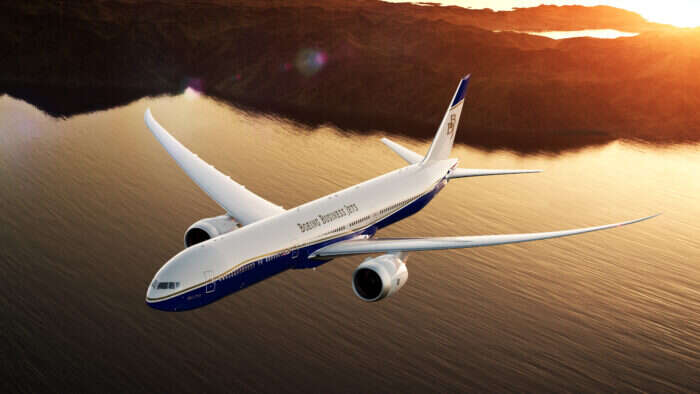 Launched in late 2018, the twin-engine Boeing Business Jet 777X is the longest range private jet right now, completely elevating the range expectations in the private aviation industry. Capable of flying over 11,500 nm before needing to refuel – even with 75 passengers on board – the impressively long range allows the aircraft to fly between any two cities across the world without stopping.
With a 2,356-sq-ft cabin, with a width of 19 ft 7in, the BBJ 777X has scope for virtually unlimited customization, allowing the aircraft to become an extension of your home, rather than just a means of transport. Of course, the superior range and interior comfort warrant a high price point; at around $400 million (not including customization) the BBJ 777X is one of the most expensive private jets on the market.
2. Boeing Business Jet 787 – range 9,945 nm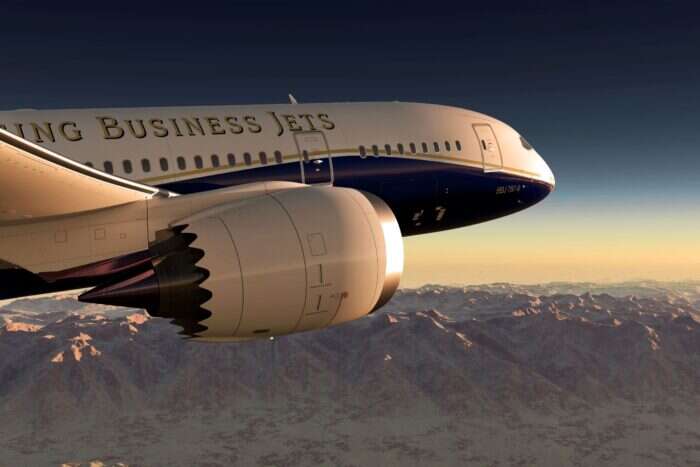 Boeing rules the skies when it comes to long-range private jets, with the second on our list also from the renowned aviation company. Initially designed as a commercial aircraft, the Boeing Dreamliner 787 has been reimagined as a business jet, with an industry-leading range of almost 10,000 nm allowing for extensive non-stop travel.
As you would expect of an aircraft with up to 17 hours flying time, the BBJ 787's interiors are spacious and comfortable, with high domed ceilings and ample lounging space. The airplane has also been configured to pressurize its cabin 2,000ft below its competitors, minimizing jetlag and improving overall onboard comfort, which becomes more important than ever on longer journeys.
[See also: The Biggest Private Jet Companies in the World]
3. Bombardier Global 8000 – range 7,900 nm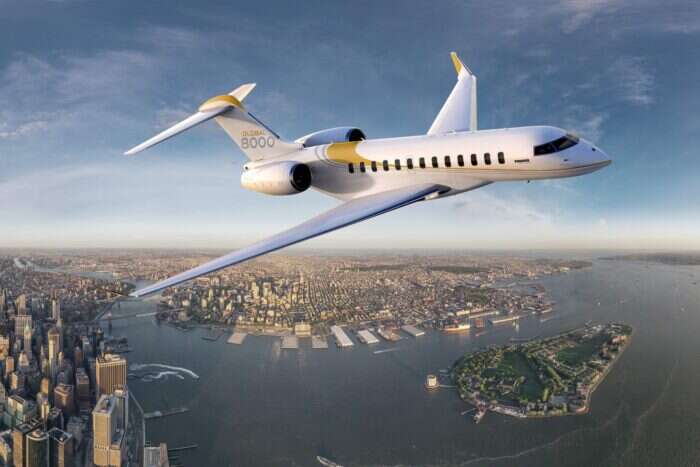 With a range of 7,900 nm and a top speed of Mach 0.925, the Global 8000 is the furthest traveling of Bombardier's business jets, if still lagging behind Boeing's private offerings. With the power to connect the world's major cities, including Hong Kong to New York and Los Angeles to Sydney, passengers on the Global 8000 are privy to a wealth of travel opportunities.
The aircraft has been built with passenger productivity and comfort in mind, as should be the case with any long-range private jet. The Global 8000's interior boasts three individual suites which can be configured to suit individual tastes and requirements, as well as uninterrupted connectivity, ensuring that not a minute of vital working time is lost when traveling across the world. The aircraft's cutting-edge wing design also creates a remarkably smooth ride, adding to onboard comfort.
businessaircraft.bombardier.com
4. Bombardier Global 7500 – range 7,700 nm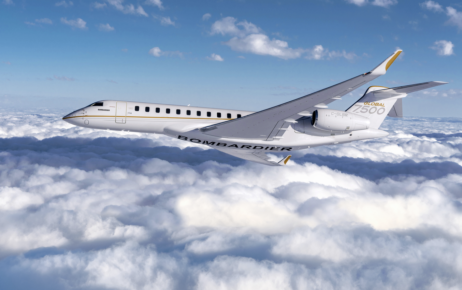 The Bombardier Global 7500 has the capability to travel 7,700 nm non-stop, which at one point was the longest range for any private jet – until Boeing flexed its muscles. This range allows for travel between the world's major city pairings, including Singapore to San Francisco and Miami to Dubai.
While the 7500 only has a mere 200 nm of extra range compared to the next aircraft on our list, the difference in size is what really sets the two long-range private jets apart. The Global 7500's cabin is over 6 ft longer than that of the Gulfstream G650ER which, depending on configuration, could be the difference between an extra office space or a washroom. Although this may seem menial on solid ground, this additional space will make the world of difference when flying non-stop halfway across the globe.
businessaircraft.bombardier.com
[See also: The Most Exciting Private Jet Concepts]
5. Gulfstream G650ER – range 7,500 nm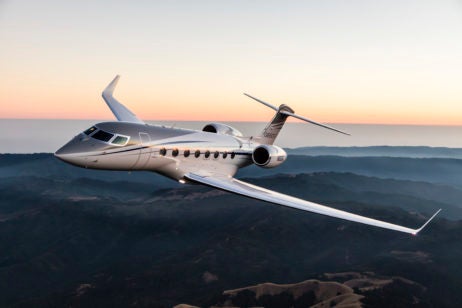 For a significant amount of time, Gulfstream was considered the gold standard when it came to long-range private jets but recent offerings from Bombardier and Boeing have seen the American manufacturer knocked off the top spot.
However, this isn't to say that Gulfstream has been banished from the long-range private aviation conversation altogether. As of late 2020 the Gulfstream G650ER, which features a Rolls-Royce engine, is still among the longest-range private jets on the market, with a maximum distance of 7,500 nm. Also, while not the farthest flying, the G650ER boasts other desirable features that continue to make it a first choice for frequent fliers, including the lowest cabin altitude and largest windows in the business aviation industry.
[See also: Twenty For 20: Iconic Jets of the Past and Future]
6. Dassault Falcon 8X – range 6,450 nm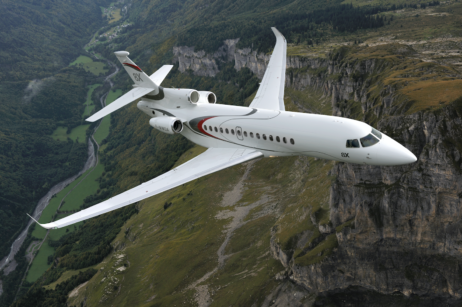 The Falcon 8X is the latest business jet from French aviation brand, Dassault – and, with an extra 500 nm on its predecessor, the furthest flying. In true Dassault fashion, nothing is compromised to make way for the extra distance capability: thanks to overall design enhancements and superior aviation technology, the 8X is equally as fuel-efficient as the 7X.
The other comparable benefits of the Falcon 8X shouldn't be ignored; for example, it's smaller size allows it to take off and land at the world's smaller airports, such as London City, for added convenience. Although at the bottom of our round up of the longest range private jets, we should note that the 8x was initially previewed back in 2017, leaving aviation experts to speculate about when Falcon's next offering can be expected.
[See also: The Best Private Jet Destinations in the World]