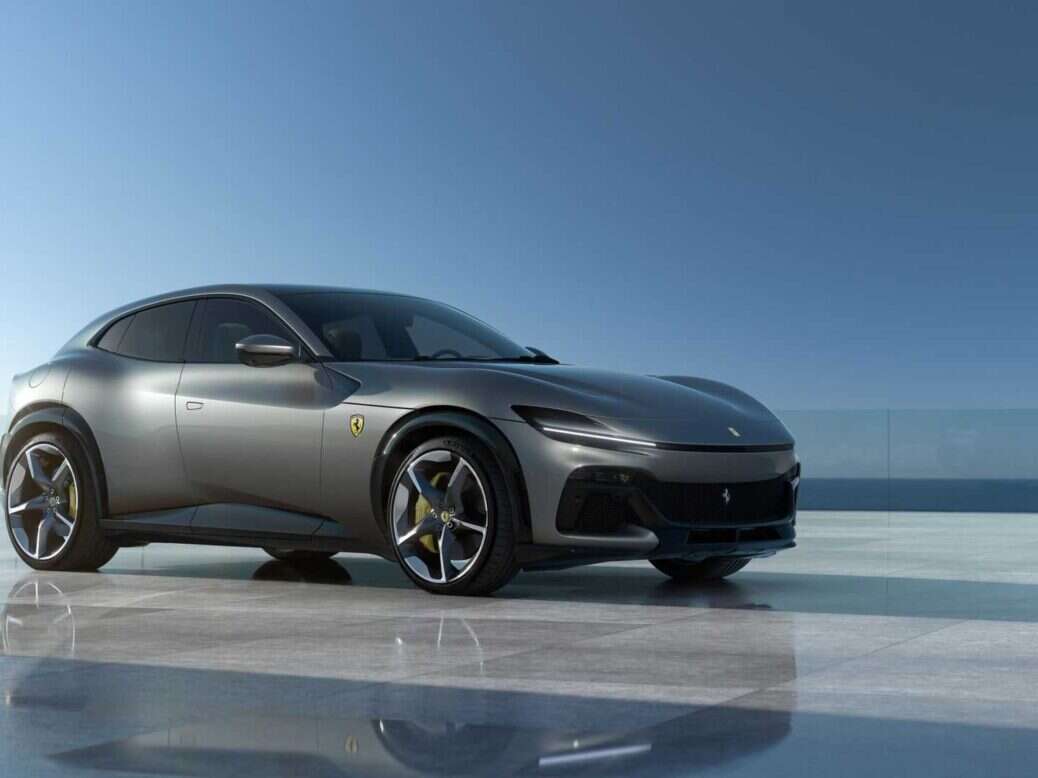 Back in 2015, Ferrari's design boss Flavio Manzoni said "Enzo Ferrari would turn in his grave" if the Italian car manufacturer were ever to build a luxury SUV. Now, however, the company has unveiled the hotly anticipated Purosangue – the first ever four-door, four-seater car in Ferrari's 75-year history.
If it looks like an SUV, drives like an SUV and sounds like an SUV – it may just be an SUV, right? Wrong. According to Ferrari, the gleaming new Purosangue has a "completely different layout and innovative proportions when compared to modern GT archetypes (so-called crossovers and SUVs)".
Instead, the luxury car manufacturer is touting the Purosangue as a sports car. "We're not calling it an SUV. We're not even talking about SUVs" insisted chief executive officer of Ferrari, Benedetto Vigna.
[See also: The Most Impressive SUVs on the Road]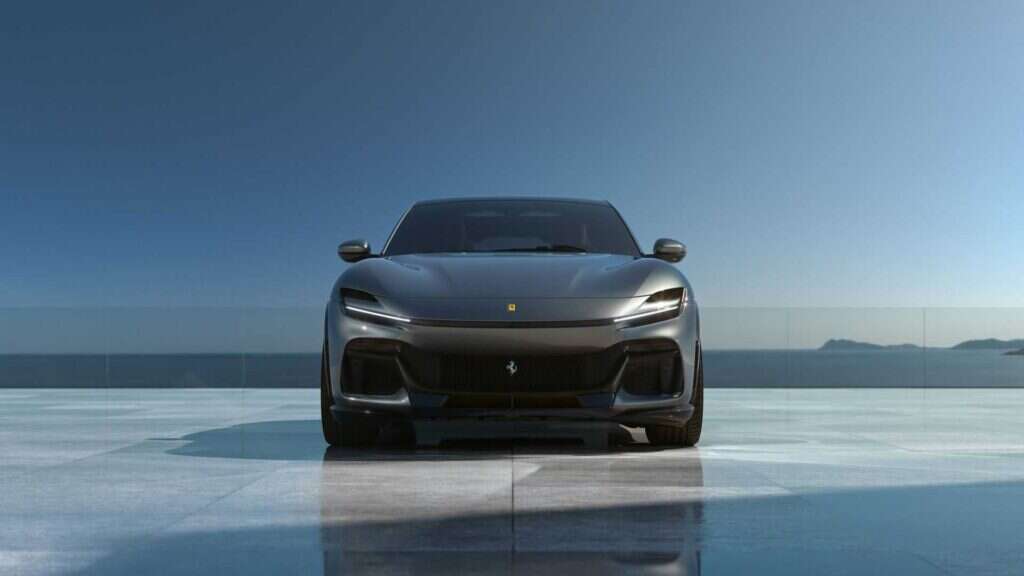 Despite these claims, it's hard to deny the vehicle does – at first glance – appear suspiciously like an SUV, albeit considerably lower to the ground than its rivals. Admittedly, it does have impressive specs that are more akin to a sports car; the Purosangue can hit 62mph in 3.3 seconds. To put things in perspective, that's the same as the Aston Martin DBX 707.
Perhaps most impressive of all, however, is the Purosangue's engine. The car is fitted with a freshly minted 6.5-litre V-12 with a maximum torque of 716 Nm at 6250 rpm. Moreover, it's able to deliver 80% torque even at low revs of just 2,100 rpm, and features independent rear-wheel steering like the 812 Competizione.
You won't find a recycled bodyshell here, either. Rather, Ferrari has designed everything from scratch, creating a brand-new chassis made from high-strength aluminium alloy and topped with a lightweight carbon-fiber roof. This has enabled the luxury car manufacturer to fit the Purosangue with all-new rear-hinged electric back doors and a roomy 473-liter boot.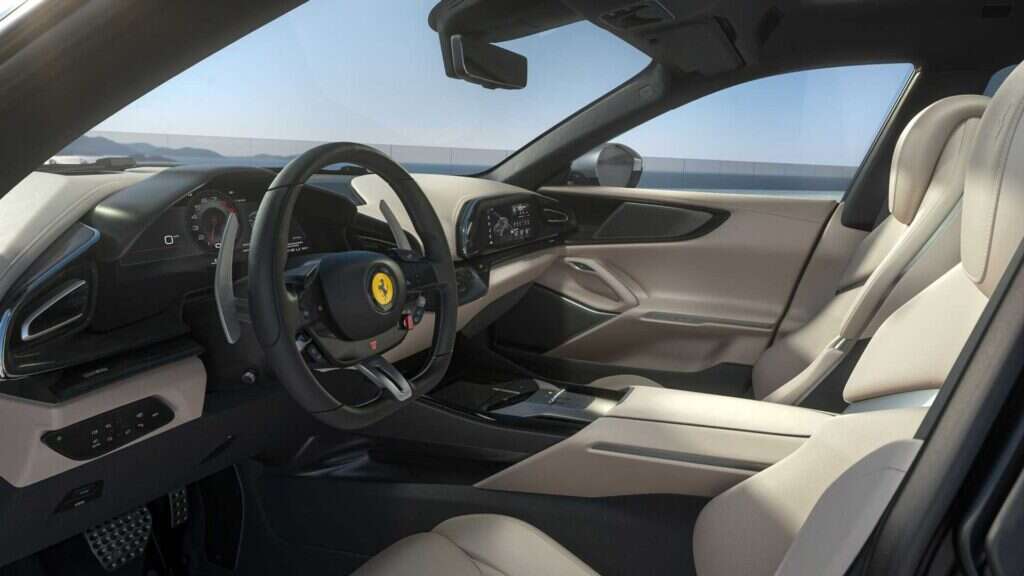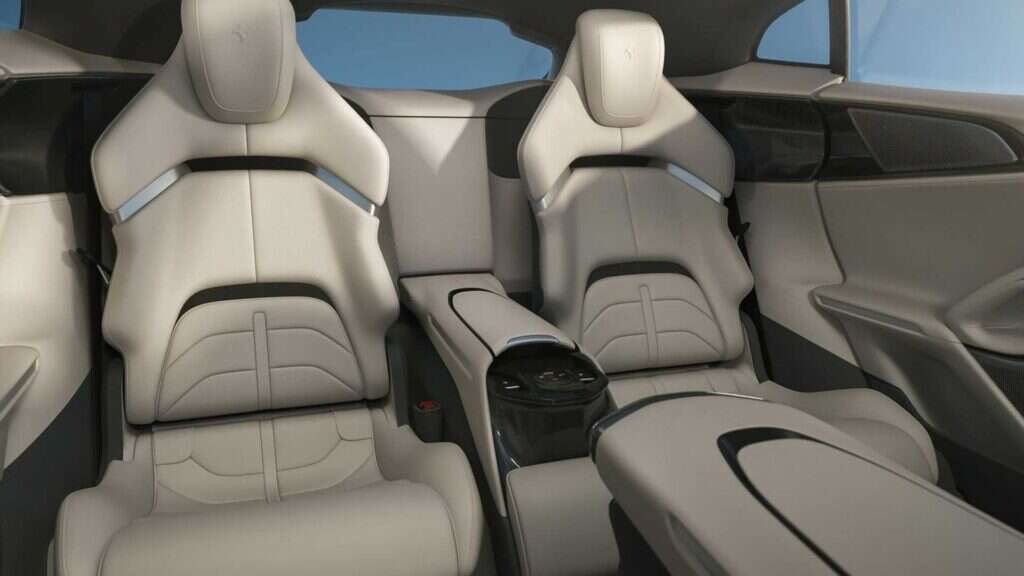 Inside, the spacious cabin features four heated electric seats clad in creamy leather; it's strictly a four-seater so there's no middle seat bench. Keeping the environment in mind, Ferrari has used recycled polyester for the fabric roof-lining while the carpet is made from polyamide made from reclaimed fishing nets. Future owners can also opt for a high-strength fiber floor made from extra durable fabric that is used to make military uniforms.
With prices starting at a cool $390,000, the vehicle will be available in 24 colors including Nero Purosangue (pictured above) which has been developed with special pigments that give off a scarlet glow in the right light.
[See also: The Range Rover Fifth Generation: A Modernized Classic]