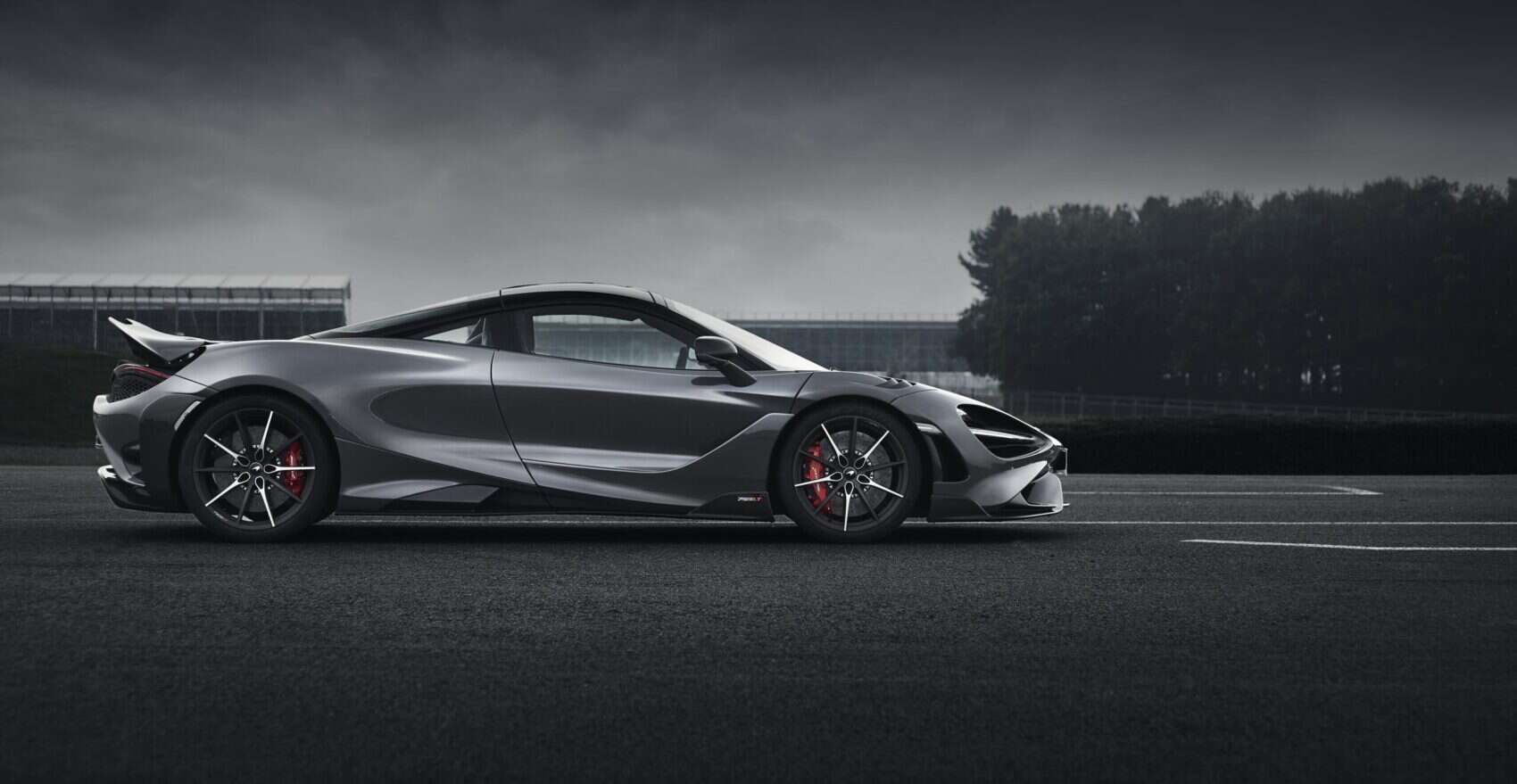 It's been a weird year. Humanity and, consequently, the automotive industry, learned a few things about transportation from the global shutdown. A cadre of the world's governments, which regulate approximately 85% of the light-vehicle market, agreed to ban internal combustion-powered vehicles within the next two decades.
After years of fence-hopping, manufacturers worldwide doubled down on electrification; tens of billions of dollars are now focused on charging infrastructures, supply chains, battery production and sustainable materials. Big electric ambitions, however, continue to square off with freshly arriving but soon-to-be obsolete vehicles.
The conundrum: Responsible and renewable luxury doesn't happen overnight, and it's impossible to be transported in automobiles that have yet to be built. Celebrating the best of what's currently on offer, this year's list of the most luxurious cars in the world examines the evolving tastes of consumers and the adroitness of automakers while commemorating the present moment.
[See also: Twenty For 20: Game-changing Cars of the Past and Future]
Audi RS e-tron GT
It's a curious concept, using a parent company as a kind of master pantry for resources and ideas. But that's exactly what Audi continues to do with VW Group. The RS e-tron GT, Audi's first four-door sports car to enter the e-tron electric portfolio, shares principal engineering with Porsche's Taycan and is built at the same factory where Audi assembles its race cars and R8 supercar.
With any RS, the goal is high—repeatable performance that doesn't overshadow the everyday drivability of the vehicle. The e-tron GT proves no different, pushing 637 hp, resulting in 0-60mph in 3.1 seconds. Audi estimates a range of 232 miles. To overcome the limitations and inevitable anxiety, the 93 kWh battery is 91.5% usable with a 270 kW charge rate that can reach 80% in less than 23 minutes.
[See also: Audi A8 Review: A Sedan Tailored to You]
Straddling comfort with dynamic operation, the e-tron GT comprises a two-speed transmission with dual permanent magnet motors. Available e-torque vectoring+ and rear wheel steering allow for efficiency without sacrificing acceleration. It's possible for 'electrified' to refer to not only a type of vehicle, but the emotion prompted when driving it.
The e-tron GT plays an instrumental role in Audi's global commitment to be net CO2 neutral by 2050 and have 30% of its US model lineup electrified by 2025.
Need to know: Among the lowest rooflines of any Audi, the e-tron GT's standard carbon fiber roof decreases overall curb weight and lowers the vehicle's center of gravity.
Audi RS e-tron GT from $139,900, audiusa.com
Maserati Ghibli Trofeo
Although its Italian brethren triumph in top speed and grab the lion's share of attention for their supercar performance, Maserati continues to build upon its mighty history, both on and off the racetrack. The new Ghibli features a Ferrari-developed, twin-turbocharged 3.8-liter V8. Trofeo is Italian for trophy; the Trofeo badging is also a new addition to the 580 hp Ghibli.
There's a halcyon reverence when enthusiasts speak about Maserati. Ghibli Trofeo bathes in that light; no exterior line is too rigid, no design too outlandish. The front grille features double vertical bars in a black piano finish, drawing the eye up and over the hood and around the body to the new 'boomerang' taillights. Employing 3K injection molding technology, the rear light clusters sport a tricolor lens: black around the edge, red in the middle and clear in the bottom section. Cue the admiration.
At ease on the track, Ghibli's handling characteristics maintain a welcome driver approachability. The Corsa drive mode with launch control enthusiastically responds when releasing the brake—a shot of straight, steamy espresso rather than a gut punch. Sired from race-bred tradition, the double-wishbone skyhook suspension system reduces lateral and longitudinal load transfers, minimizing body roll.
Inside, there's wireless charging, a smartphone mirroring function and full-grain Pieno Fiore natural leather, meant to form a patina and "develop a unique character as it ages," according to the Modena-based brand.
Need to know: Considered to be the first luxury sports sedan, Ghibli Trofeo is the fastest standard production Maserati has ever built for that segment.
Maserati Ghibli Trofeo from $110,240, maseratiusa.com
Lamborghini Huracán STO
The days of cars creating engine and exhaust symphonies are numbered. An EU emissions rule set for 2023 will require particulate filters for gas vehicles. Similar to turbochargers, they quell the energy (read: loudness) hailing from the exhaust. Pair that with the forthcoming 2027 EU regulation lowering vehicle noise limits from 74 dB to 68 dB, and prepare for a deluge of swan songs to the exhaust, beginning with Lamborghini's Huracán STO.
Naturally, STO stands for Super Trofeo Omologata—Raging Bull speak for a road-homologated supercar gleaned from Lamborghini's current racing efforts. The naturally aspirated (meaning no super or turbo chargers of any kind, just an old-fashioned giant engine) V10 produces 640 hp and a cornucopia of sounds. It's not dazzlingly quick off the line, but that's not the entire point. Lamborghini thrives in visceral responses.
[See also: Luxury Hotel Brands Driving EV Charging Forward]
The STO whines and whinnies, gurgles and grunts, spits and sizzles. Sound-deadening between occupants and the 7-speed, dual-clutch transmission, doesn't really exist. Nor should it. There's a reason the three driving modes, STO, Trofeo and Pioggia, are named Anima. From digging into mountain road turns to clocking impressive lap times on the track, it's likely the STO will be heard long before it's seen.
Need to know: New trim and a titanium roll bar with four-point seatbelts suggest this supercar is best suited for a track's worth of predictable pavement.
Lamborghini Huracán STO from $327,838, lamborghini.com
Ram 1500 TRX
Besides physically transporting passengers, vehicles should evoke merriment and allow for improbable pursuits. Enter TRX. With a 702 hp, 6.2-liter supercharged HEMI V8, fording limit of 32 inches of water and tow capacity of 8,100 pounds, it's understandable why the brand deems the Ram 1500 TRX "the apex predator of the truck world."
Designed exclusively for TRX, the 2.5-inch BILSTEIN Black Hawk e2 adaptive shocks with three zones of progressive bottom-out control, including dual electronic proportional valves that perpetually adjust damping force and work in tandem with nitrogen-charged remote reservoirs—all that is to say the suspension can handle anything on the highway and most everything off-road.
[See also: Bugatti Joins Forces with Electric Car Leader Rimac]
Single-digit MPGs should be expected, as TRX runs primarily in full-time 4WD. This is especially true when selecting Baja mode, which retains the engine within the powerband while relaxing the traction and stability control systems. That allows the truck to rotate, a bonus when drifting on loose rock or handling uneven surfaces. When tires are reinflated after rock crawling, the truck honks to notify users when each tire has reached its ideal pressure.
Inside, the 900-watt, 19-speaker Harmon Kardon audio system delights, as does the all-new heads-up display unit, which can show up to five different content areas at once.
Need to know: With 15-inch front brakes, the largest in the segment, and over 100 active and passive safety and security features, consider Ram 1500 TRX responsible off-roading.
Ram 1500 TRX from $70,325, ramtrucks.com
Porsche 911 Turbo S Cabriolet
The 911 bloodline began in 1963 with a Ferry Porsche-designed coupe based off of his father Ferdinand's ambitious ideas. It's now in its eighth generation, and the immediate recognition of the oval headlights, slick-backed body and robust rear remains phenomenal.
The 911 Turbo S Cabriolet offers 590 lb-ft of torque from 2,500 to 4,000 rpm (read: maximum torque perpetually at the ready, not just in overboost like on previous models). With a top speed of 205 mph and wider tires to boost traction and handling, Porsche's statement-making stats are buttressed by five decades of model-specific refinement.
A well-appointed cabin includes 18-way adjustable sport seats and a remarkably intuitive air conditioning system purpose-built for open-top driving that adjusts temperature control and air distribution based on sunlight intensity and weather.
The 911 is absolutely considered the most successful, and arguably most distinguishable sports car model, the reality is Porsche sells three SUVs for every one 911 (or similar sport coupes). EU regulators continue to apply quick-approaching deadlines that threaten this celebrated 640 hp, twin-turbocharged, rear-engine icon. With an ever-growing robust line of hybrids and electric cars at Porsche, rest assured: The 911 will absolutely evolve.
Need to know: A new composite, noise reducing glass weighs roughly eight pounds less. Should one opt in, the mass reduction above the car's shoulder line lowers the car's center of gravity.
911 Turbo S Cabriolet from $219,800, porsche.com
Ferrari Roma
Usually, when describing a Ferrari, designers infuse a healthy dose of racing lore and a story about Enzo Ferrari. With the Roma, phrases like 'from a style point of view,' 'gentleman driver' and 'understated luxury' take pole position.
Adding to the robust lineage of grand touring Berlinettas—picture the 612 Scaglietti, 500 Superfast, even the 250 GT Lusso—the mid-front engined Roma (meaning the engine sits behind the front axle) features a familiar 3.9-liter, twin-turbocharged V8 offering 611 hp and rear wheel drive. Considered a 2+, the rear seats will be most useful for parcels or house pets but add to the classic fastback lines.
[See also: The Technological Craftsmanship Behind the Ferrari F8 Spider]
Roma considers the details. The perfectly rectangular leather and enamel key is given its own space, tucked behind the cupholder in the center console. The dual clutch transmission generates less heat than previous iterations, thus requiring less cooling and allowing for Roma's statement-making composite grille (which, not coincidentally, provides less ventilation). There's no overwhelmingly large start button, just a spot to touch on the steering wheel.
Some may call it crowded, with buttons, knobs, touchpads, paddles, turn signals and the horn. To others, the steering wheel mimics a video game controller. Ferrari calls it the "human factors philosophy"—or, how to provide everything in one place so the driver's eyes stay squarely on the road.
Need to know: Roma integrates the now-required gasoline particulate filter, altering the whirring exhaust notes of the Prancing Horse.
Ferrari Roma from $218,760, ferrari.com
Aston Martin Vantage Roadster
As automakers continue racing to conquer what feels like all of the superlatives, Aston Martin preserves its sense of refinement and effortless beauty. Sure, the Vantage Roadster's 4.0-liter, 503 hp twin-turbo engine gurgles and growls enough to catch the attention of any passersby. But it's the understated design — the uncluttered, iconic grille, subtly arched hood and clean side body that wraps around to a taut tail — that turns a passing glance into a stare.
[See also: Tuck in at the New Aston Martin Residences in Miami]
Specifically tuned for the Roadster, a choice of sport, sport+ and track chassis modes work in concert with sport, sport+ and track powertrain modes retained from its Coupe. There are no wild changes or top-secret additions; instead, there's a V8 that sounds good and feels great underfoot with nine possible driving options. It's rare for a vehicle to age like a fine wine.
Take the Vantage Roadster's fabric roof — refined courtesy of the compact powered Z-fold mechanism, it can be lowered in 6.7 seconds or raised in 6.8 seconds at speeds of up to 31 mph. (Both convenient and thoughtful, should the summer sun or the winter breeze prove unwieldy.) Fear not; the trunk can still fit a full-sized golf bag, a point of pride for the British brand. Conversely, it also easily manages a grocery run or a couple of weekender totes.
Need to know: A drop-top version of its most recognizable silhouette, the Vantage Roadster is a driver-focused sports car.
Aston Martin Vantage Roadster from $147,000, astonmartin.com
Range Rover SVAutobiography Ultimate Edition
Range Rover exemplifies endurance. Eternally encouraging owners to live up to its moniker and 'go beyond,' SVAutobiography Ultimate Edition offers a 557 hp supercharged V8 engine. Optimizing suspension geometry and steering calibration for driver-focused performance, the Ultimate Edition seeks decreased response time with increased agility.
Curated by the commissioning team at Special Vehicle Operations Technical Center, a duo of Ultimate models — standard or long wheelbase form — present a set of steadfast design cues many have come to expect from Range Rover. The front fascia, hood and tailgate remain instantly recognizable, but with a newly formulated satin-finish Orchard Green paintwork, copper exterior detailing and a unique front grill design that falls somewhere between a geometric puzzle and an ocean wave.
[See also: Rolls-Royce Motor Cars CEO Torsten Müller-Ötvös on 'Inspiring Greatness']
The long wheelbase edition introduces power-closing rear doors and reclining, heated and cooled semi-aniline leather back seats with nearly four feet of legroom. The hot stone massage function as well as calf and footrests, refrigerated compartment, and deployable tables create a compelling case for the extended version.
Need to know: Each SVAutobiography Ultimate Edition is hand-finished by the SV Bespoke team at Special Vehicle Operations Technical Center in Ryton-on-Dunsmore, England.
Range Rover SVAutobiography Ultimate Edition from $218,500, landroverusa.com
Jaguar I-Pace HSE
Already established as the first all-electric performance SUV in the luxury segment as well as Jaguar's first electric vehicle, the I-Pace continues to refine. While little has changed when it comes to the stats —at each axle, two Jaguar-designed electric motors inject 394 hp, procuring a range of 234miles from a single charge of its floor-integrated, liquid-cooled 90kWh battery — Jaguar smartly poured its research and development into creating a faster-charging, better-connected and smarter I-Pace.
[See also: The Data Behind the Electric Car Market's Explosive Growth]
The HSE edition introduces enhanced cabin air ionization and Jaguar's new Pivi Pro infotainment system. With self-learning navigation equipped to show the nearest available charging station, including time needed to charge and associated cost, Jaguar aims to simplify and normalize the process. A complimentary 4G data plan accompanies the dual modem embedded SIM, allowing for simultaneous and instant access to weather, map and calendar updates. There's Bluetooth access for two phones at once as well as a new 3D surround camera.
The cabin air ionization program features a filtration system that catches ultrafine particles, including PM2.5 particulates. Bonus: When charging, customers can employ the pre-conditioning system(which optimizes battery temperature) to set the interior air environment and purge the cabin of ultrafine particles before even starting the car.
Jaguar I-Pace HSE from $69,900, jaguarusa.com
Rolls-Royce Boat Tail
A new sunrise predates days at Rolls-Royce. As the Wraith and Dawn ease into retirement, and parent company BMW Group languishes with its electrification program, Rolls-Royce decided to forge a new road on a well-trodden path. While many brands scaled into manufacturers and automakers, driving mass market interests, Rolls-Royce retained the spirit of coachbuilding. It comes as no surprise that it's chosen to return to its roots.
[See also: Smooth Specter: The New Rolls-Royce Ghost]
Introducing Boat Tail, the first of a trio of coachbuilt, commission-driven vehicles. Rolls-Royce intends to build three bodies before retiring the model, never to be built again. Currently in production, the two-seat, open-top Boat Tail roadster with a removable hard top launches the program.
The process is meant to be more collaborative with owners than ever. Selecting wood and fabrics, interior and exterior colors, and a custom-engineered, foldout picnic set, for example, is just the beginning when it comes to the bespoke process. Less about specifications and more about the experience, the triad of Boat Tails will share a common silhouette but feature more of a modular, customizable design, unprecedented at Rolls-Royce.
To begin the bespoke process, contact Cassidy von Seggern at Client Experience at Rolls-Royce Motor Cars Americas, clientservicesna@rolls-roycemotorcarsna.com, +1 201 307 4357, rolls-roycemotorcars.com
Mercedes-AMG E 63 S Wagon
An aluminum plaque bearing the master engine builder's engraved signature graces the engine cover in every Mercedes-AMG E 63 S Wagon. As AMG transformed from a modest tuning shop to heavy performance hitter, minding the details remained paramount.
Underneath that cover, a 4.0-liter V8 biturbo rumbles, courtesy of two exhaust gas turbochargers pumping out 603 hp. Achieving 0-60 mph in 3.4 seconds, this powerful and pragmatic wagon manages fierce acceleration, surprisingly responsive handling, lithe lines and an abundance of cargo space. It's difficult to find a box the E 63 SWagon doesn't check.
[See also: Speaking Clearly: Mercedes-Maybach S580 4Matic]
The 4Matic+ fully variable all-wheel drive system can conquer most roads, be they concrete or dirt. Then there's the icing, arriving in the form of built-in irreverence. Meet DriftMode, where all the power is pushed to the rear wheels and the 4,700-lb wagon shows some teeth. Combined with an optional $3,950 matte paint finish, the Silver Star long roof rockets into present-day bravura, style cues included.
Need to know: The intelligent voice control system accessed through the MBUX infotainment system responds to "Hey Mercedes," can read passengers the weather forecast, and responds to full sentences.
Mercedes-AMG E 63 SWagon from $112,450, mbusa.com
McLaren 765LT
Occasionally a vehicle comes along where singular emotions and reactions become all-encompassing statements. Demanding. Precise. Acute. Abrupt. Unbelievable. McLaren's 765LT (i.e., the number of vehicles made of this Long Tail version of the 720S), holds a top speed of 205mph thanks to a familiar 4.0-liter, twin-turbo V8. Par for the course at McLaren, the British brand slimmed down this 755 hp machine, which weighs in at an astonishingly svelte 2,952 lbs.
Lightweight carbon fiber graces the center tunnel, racing seats, exposed floor, bumper, and front and rear fenders, to name a few. The brake discs and calipers are both repurposed from the Senna and receive Formula 1-inspired, integrated caliper cooling ducts that ensure the brakes work as well as the throttle. The quad barrel titanium exhaust, besides shooting flames, also accounts for a small reduction in weight but is a very serious addition to the symphony of sounds emitted by 765LT.
[See also: The Best Grand Tourers on Sale Right Now: McLaren GT]
Take a moment to examine this supercar. From the rounded nose to the active rear wing, 765LT achieves a ready position envied by many. That's to say, even when parked, the swoops and aerodynamic cut lines ooze speed.
The 765LT is firmly planted within the McLaren family, and the headlights and mirrors allude to other models without distraction, while the mesh rear grill and preposterously low ride height (5mm lower than its 720S sibling) present a clear identity.
Need to know: It's possible to forgo the air conditioning, stereo system, floor carpets and eight other options to shed 171.2 additional lbs in the already lightweight McLaren 765LT, should a race for lightness be critical.
McLaren 765LT from $358,000, cars.mclaren.com