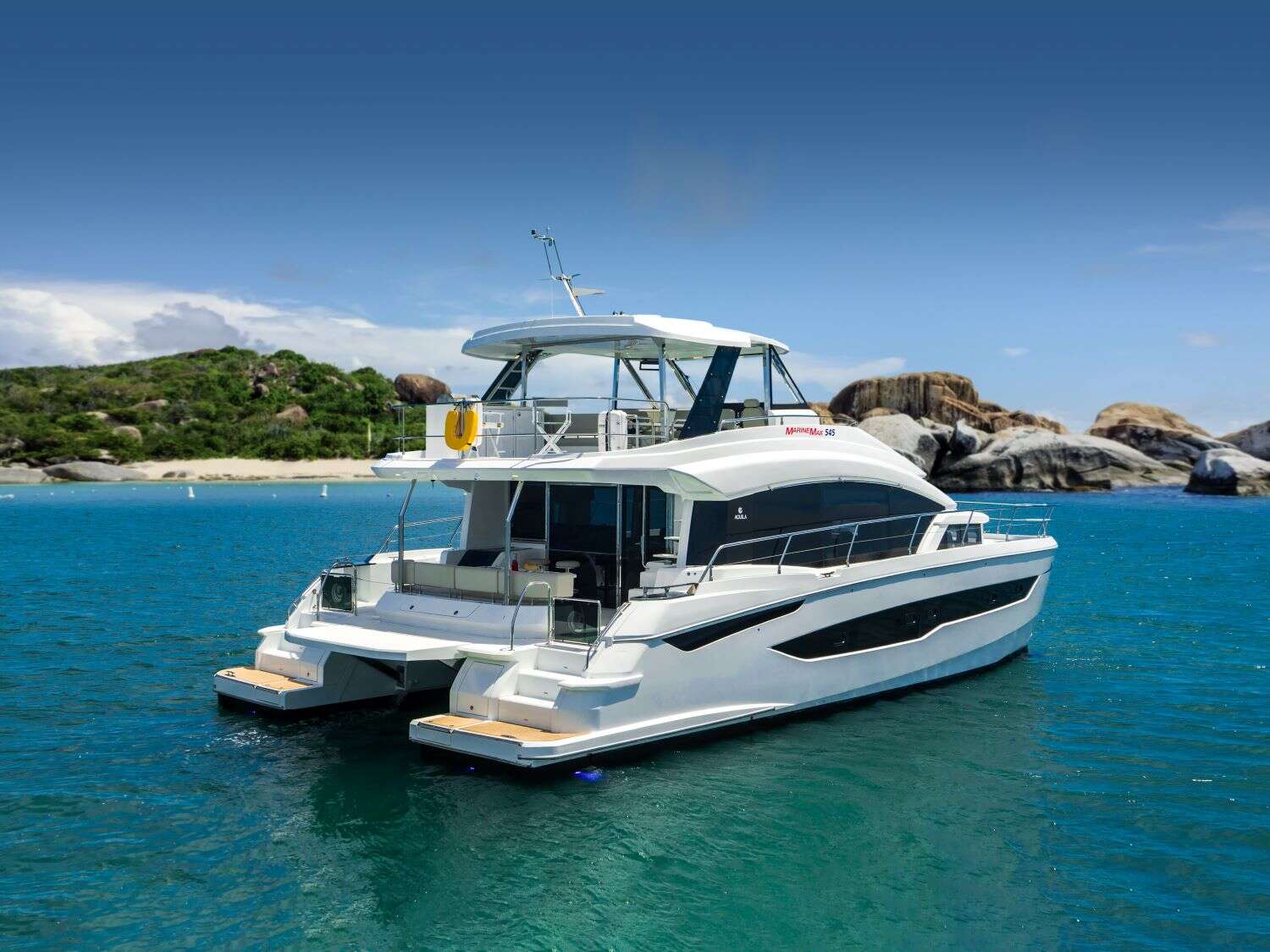 MarineMax Vacations, one of the British Virgin Islands leading powerboat charter firms, recently unveiled its newest addition to coincide with its 10th anniversary: The Aquila 545 Yacht Power Catamaran.
Not satisfied with just one of these elegant vessels, the rapidly expanding firm has purchased five, two of which are available for crewed charter in the pristine turquoise waters of the Caribbean. 
The catamarans, which MarineMax Vacations have named the MarineMax 545, span over 54ft in length and boast accommodation for up to 11 passengers including four passenger cabins and a separate skipper cabin for crew. The most luxurious of all accommodations is the enormous light-filled master stateroom with a king size bed and sweeping panoramic views.
The stylish vessel also features a contemporary open-plan salon, and a spacious and social galley kitchen leading to a chic outdoor bar and aft deck. The roomy flybridge at the top of the MarineMax 545 is partially covered and features a state-of-the-art helm station. It also acts as the perfect spot to unwind, offering guests a sleek canopied outdoor dining area complete with induction barbeque, drinks fridge and icemaker. 
[See also: Twenty for 20: Innovative Yachts of the 21st Century]
With charters setting off from the palm-laden Nanny Cay Marina and Resort on the south side of Tortola, MarineMax Vacations will work with guests to design an itinerary as individual as they are. 
With over 60 paradise islands to explore from the comfort of your own private power catamaran, your personalized getaway onboard the new MarineMax 545 can range from the serene — think unwinding on secluded sun-kissed beach and snorkeling in the clear waters of the famed 18-mile Horseshoe Reef — to the adventurous (scuba diving amongst a historic shipwreck, anyone?) There will also be plenty of time to stop off at the BVI's most coveted bars and restaurants should the mood take you. 
MarineMax Vacations guests can select the level of service and support that is right from them, ranging from bareboat to fully crewed all-inclusive getaways where everything from meals and drinks to navigation is covered by an experienced crew.
Raul Bermudez, vice president of charter and yacht sales, comments: "The carefully selected crews enhance the vacation experience and include professional captains and culinary experts familiar with secret anchorages. The guest experience promises to be remarkable. From expertly prepared menus tailored to specific guest needs to extensive local knowledge and guide services for snorkeling, hiking, or simply unplugging, these crews are top-notch, and we are so excited to introduce them to our loyal, enthusiastic guests."
[See also: How Much Does it Actually Cost to Charter a Yacht?]