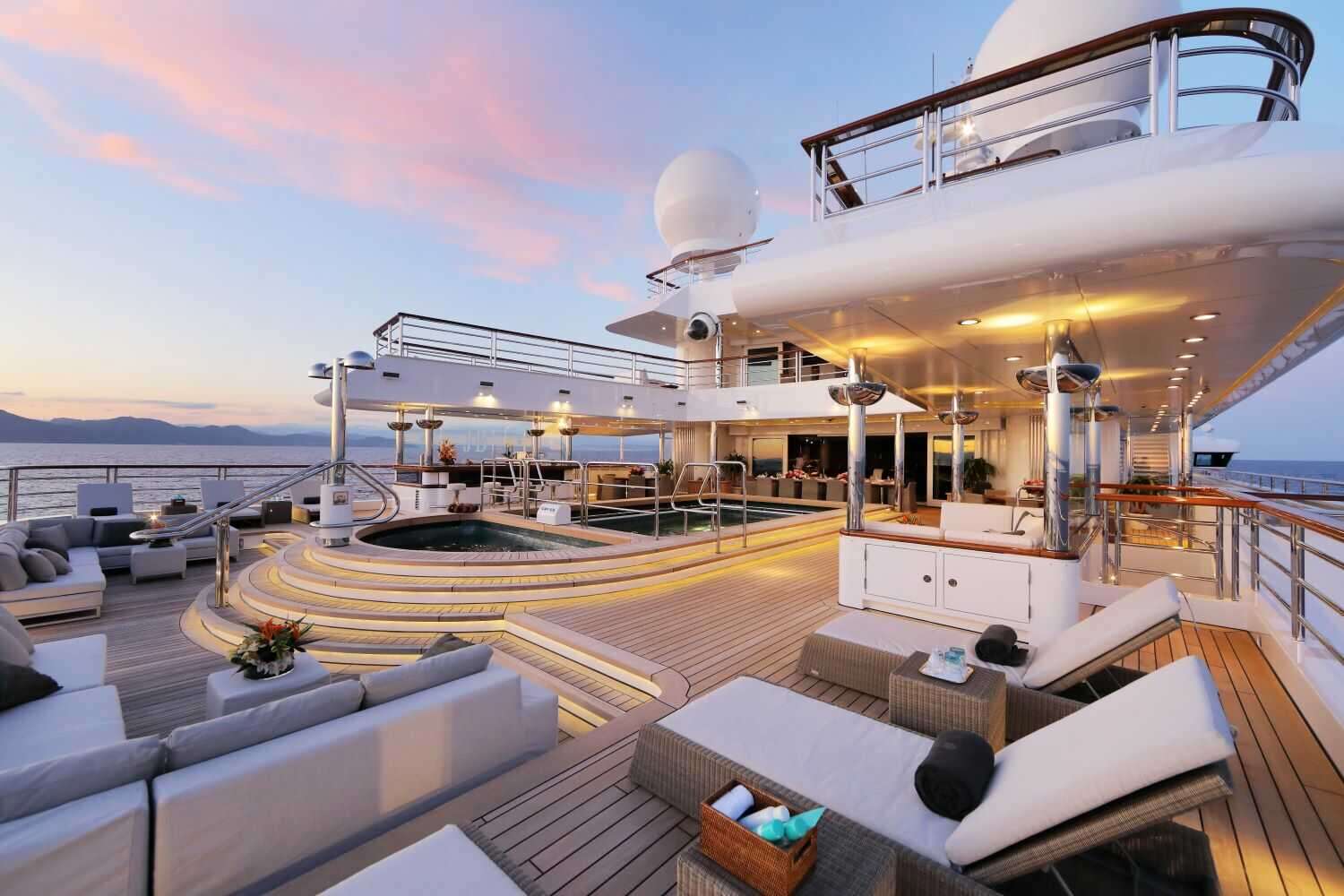 Not many things can match the glamour of yacht travel. The endless opportunities for exploration in the most luxurious of settings, as the wind blows through your hair, sounds even more alluring after a year spent indoors with feet firmly on solid ground. As we emerge from the grips of the pandemic, a private yacht charter could offer adventure seekers the perfect escape away from the crowds. And one of the most common questions amongst novice charterers is 'how much does it actually cost to charter a yacht?'
Here at Elite Traveler, we are answering this question and more as we round up the key costs that anyone planning their first yacht charter needs to take into consideration.
[See also: The World's Most Expensive Yachts for Charter]
What will my yacht charter rate include? 
Most importantly, there are generally two types of yacht charter: an all-inclusive charter and the more common 'plus expenses' charter. As suggested by the name, the cost of an all-inclusive yacht charter will include (almost) everything such as crew, food, drinks, fuel and water sports equipment (though always check as this does vary between charter companies). However, some all-inclusive charters won't include dockage or mooring fees, which can soon add up – but more on that later. 
A 'plus expenses' or 'separated charges' charter is where a base price is charged for the ship and its crew, while everything else is paid for through an 'Advance Provisioning Allowance' (APA) before you step onboard. Prior to a voyage, guests will complete a preference sheet with their likes and dislikes, enabling the chef and service team to stock up on the guest's favorite items. This tends to be the norm on superyacht charters as it allows for a much more tailored experience.
As well as covering food and beverages, an APA will also cover things like fuel and possibly dockage. It is usually charged at around 30% of the yacht's base rate. According to luxury yacht brokers Northorp and Johnson, the average price paid by its customers for a week's 'plus expenses' charter was around $152,000 in 2020, which would mean an APA of around $45,600 – not a small sum, so it's definitely something to be aware of when selecting your vessel. 
A third, less common charter is a 'bareboat' charter. This is a charter without a crew or provisions and only generally favored amongst experienced yachtsmen and women or those who can supply their own crew. 
[See also: How to Charter a Superyacht]
Does size impact how much it will cost to charter a yacht?
The reputation of the crew, the age of the yacht and its design will all influence the price of your charter; however, the single biggest factor that will impact cost is likely to be the size: the bigger the yacht, the more you're likely to pay. 
For example, with leading yacht brokerage Burgess, a week's charter in the Caribbean aboard the 163.3 ft Home starts at $245,000. If you opt for the larger Laurentia, at 180.5 ft, the price starts at $450,000. Both yachts were built in 2017 by leading Dutch shipyard Heesen and have capacity for 12 guests, but there is over $200,000 difference in the price. Naturally, you can also expect a higher APA for a bigger ship. 
Novice charterers might be surprised to learn that a larger yacht doesn't automatically translate into a larger guest capacity. Most superyachts are capped at a 12 guest limit due to International Maritime Organization safety regulations.
Does the type of yacht impact the price?
The answer is yes, but to a lesser extent than size. There's something for everyone when it comes to yachts: classic yachts (built between the 1920s and 1970s) allow you to experience old school glamour of a bygone era, whereas sportfishing yachts are nimble and offer a long-range to get you to the best fishing (or diving) spots.
Sailing yachts are a popular choice amongst boating enthusiasts, but by a long shot, the most popular charter yachts are motor yachts. These are typically what spring to mind when you picture a superyacht and (size-dependent) tend to be the most expensive type of yacht to charter, often being pricier to purchase, maintain and fuel. Explorer yachts are motor yachts designed to cope with the most extreme conditions – if you're planning a luxury superyacht charter to Antarctica, for example, it's likely to be aboard one of these.
Over the past decade, explorer yachts have skyrocketed in popularity amongst intrepid travelers looking for opulent adventure on the seven seas. A week onboard the world's fastest explorer yacht, the 311.68 ft Bold, costs approximately $964,300. This also makes it one of the world's most expensive yachts to charter, in line with what you'll pay for chartering the crème de la crème of the more 'conventional' superyachts typically seen on the French Riviera, like the ultra-glamorous O'Pari. A week's charter onboard the 312 ft O'Pari comes complete with custom artwork and DJ booth costs from $1.1m.
[See also: The Best Luxury Yacht Builders in the World]
Is chartering during certain months more expensive than others?
The time of year will impact your charter price. In yachting, there are two main seasons – summer and winter – and chartering during these peak times will push up the cost. The summer season runs from May to October, with peak rates in July and August. The winter season runs from November to April, with peak rates over the Christmas holidays and into New Year. Location also dictates the price of a charter; for example, Caribbean charters are costlier from December to March whereas Mediterranean charters are at their priciest during the summer months. 
What about expenses, gratuities and other unexpected costs?
Not even a Mediterranean jellyfish has the power to sting an unassuming first-time sailor like end-of-trip expenses. 
As mentioned previously, with 'plus expenses' charters your APA is paid before you set sail. However, a detailed list of outgoings will be kept by the ship and if your expenses surpass the amount of your APA, you will be asked to cover the amount for the remaining charter. Saying this, it does work both ways – any unspent APA will be refunded to you. 
On both all-inclusive and 'plus expenses' charters, crew gratuities are not included in the yacht charter price. If you were happy with the service, the going rate is around 15 to 20% of the charter cost, so do keep this in mind. 
Depending on your charter agreement, docking fees, a charge you pay to keep your yacht in a marina or harbor overnight, may or may not be included in the cost. These can vary greatly depending on the location, time of year and the size of your yacht. Expect to pay the highest docking fees on the Mediterranean during high season with Capri and St Tropez commanding some of the steepest premiums.
Your itinerary can also affect the price, as traveling to places like Antarctica and the Arctic Circle require expensive permits. Certain destinations will also charge tax and VAT, so it is sensible to check with your broker if you're keen on getting a cost breakdown before your trip. 
[See also: The Best Superyachts to Charter This Summer]