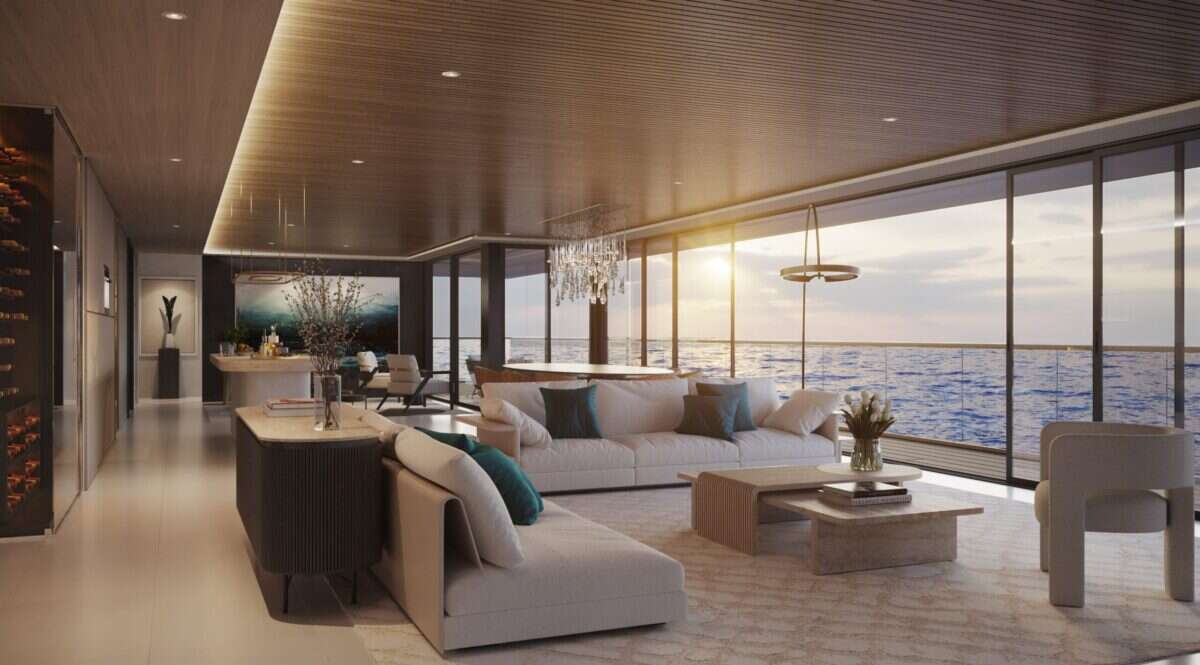 In June, specialist Norwegian shipbuilder, VARD, made waves when it announced plans to build the first-ever residential yacht liner and 'most exclusive address in the world', Somnio. Now renderings of the interiors aboard the gigantic 728-foot superyacht have been unveiled and they certainly don't disappoint.
Slated to set sail in 2024, the impressive vessel will be home to 39 super exclusive condos (starting at a hefty $11.2m) across six decks, currently being offered to a select group of potential buyers on a strictly invitation-only basis.
With a build, design and outfitting budget of close to €500m (approximately $570m), the apartments, which range from 1,900 – 10,300 sq ft, will be anything but ordinary.
Future owners aboard the superyacht Somnio will be given the chance to either bring in their own personal interior decorator or work with one of three prestigious design firms – Tillberg Design of Sweden, Winch Design or Luttenberger Design – over three months to create their dream apartment.
[See also: Superyacht Somnio to Offer Luxury Apartments at Sea]
"We are applying all the combined experience we have from our work within private yachts, effective master planning of large vessels and our deep understanding of residential life at sea," says Fredrik Johansson, executive director at Tillberg Design of Sweden.
"The outcome will be like nothing that exists today; it really will be dream-like. The way the yacht is planned and equipped, and the interior and exterior design, together with the standard of outfitting, will make it as close to living on a private yacht as you can get without buying one of your own."
The expert design teams will be on-hand to assist owners on board the superyacht Somnio with choosing every last detail of their apartment from the layout, materials and furnishings right down to the cutlery, towels, and bedding.
"Drawing upon all of the studio's experience designing the interiors of some of the world's largest yachts, the team at Winch has dreamt up a wonderfully elegant interior that exudes refined sophistication with a neutral yet bold color palette, upon which owners can tailor to their personal tastes," explains Jim Dixon, director of yachts and aviation of Winch Design.
"It's all about understanding the buyer's lifestyle, deconstructing their likes and dislikes to make sure that every element of the design, from the choice of fabrics and lighting to the seating arrangements and bedroom views, provides the best experience possible."
[See also: These are the Yacht Interior Designers to Know]
Commenting on the release of the stunning interior renderings from the three design firms, co-founder of Somnio and former captain of M/V The World, Erik Bredhe said: "Beauty may be found as much on the inside of Somnio as it is on the outside. As the only residential superyacht in the world, we are delighted to work with designers that complement our exacting standards. Our owners will experience only the best, as is befitting of a yacht of this nature."
Interiors have been designed to seamlessly blend indoor and outdoor living throughout the epic vessel so owners can fully immerse themselves in the ultra-luxe superyacht lifestyle.
Each of the design practices will carefully select materials and products that have a lower environmental impact in line with the company's wider commitments to sustainability.
Somnio is being built using the latest clean engine technology and will have advanced equipment on board to conduct scientific research into ocean environments in alliance with Detroit-based Somnio Global (a scientific research and development organization). Other eco-friendly initiatives on board will include the chemical-free treatment of water, reuse of plastics and adoption of renewable energy sources.