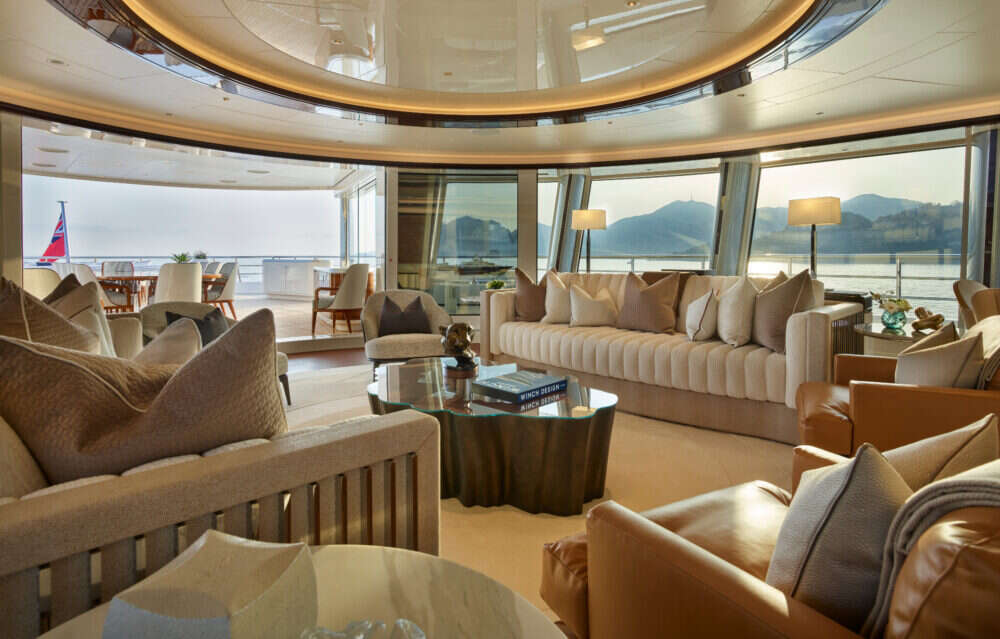 For those seasoned individuals who have experience chartering yachts, visiting friends' yachts, sailing the high seas, or maybe even purchasing their first pre-designed yacht, the next thrill might come from building their own vessel. Although designing your own superyacht is a truly personal experience, it also involves making an overwhelming amount of choices. This is why the first step to building a new superyacht should always be to choose a designer to work with – and there are several yacht interior designers you can choose from.
Whether it's considering how the internal spaces of your yacht will work, what furniture or materials are used, or even working out the external design for your new vessel, collaborating with a designer will make the process of creating your dream superyacht as stress-free and easy as possible. To help, Elite Traveler has created a list of yacht interior (and exterior, in some cases) designers that should be on your radar – and if you're also on the lookout for a new yacht builder, why not discover our list of the best luxury yacht builders in the world?
[See more: How to Design an Amazing Superyacht Interior]
Winch Design
Our list of the best yacht interior designers kicks off with Winch Design. Originally founded by Andrew Winch and his wife Jane in 1986, at the time it was known as Andrew Winch Designs. It was rebranded as Winch Designs in 2015 but has been one of the UK's leading superyacht and private jet design studios for over thirty years. Winch Design's yacht studio is now led by Jim Dixon and the team has created a multitude of extraordinary projects, all of which are highly bespoke and tailored to each client's specific requests.
One of Winch Design's most recent yacht projects was the 260 ft M/Y Excellence, which shipbuilder Abeking & Rasmussen say was its "most challenging project to date". Its owner worked closely with the design studio to create a yacht with interiors inspired by the "Floridian East Cost Deco" style and that felt both personal to him and welcoming to any guest on board. "Excellence was a very exciting project to be involved with and [she] tested the team to their creative limits," says senior partner, Ignacio Oliva-Vele.
[See more: L'Escale: Inside Winch Design's First Resort Project]
Terence Disdale Design
Based in the UK, Terence Disdale Design is one of the yachting industry's most respected design studios. The team works on both the interior and exterior design of some of the world's most incredible yachts, with previous projects including M/Y Eclipse, one of the biggest superyachts in the world. The studio was founded by Terence Disdale, who – despite having no formal training – is one of the most sought-after designers in the industry.
Disdale set up his eponymous studio in 1972 after working for famous designer Jon Bannenberg (Bannenberg's studio was also where Andrew Winch and Tim Heywood learned their craft). Across his extraordinary 40-year career Disdale and his studio have designed over 100 yachts, including more than 50 superyachts. His wide-ranging design style often follows the mantra of 'beach house, not penthouse', with concepts often finding inspiration from the ocean.
Sorgiovanni Designs
Australian yacht designer Sam Sorgiovanni's career began after he studied Industrial Design and found his first position working for shipbuilder Oceanfast. It was thanks to the experience he gained at this renowned shipbuilder that Sorgiovanni decided to set up his own studio, launching Sorgiovanni Designs in 1997 in Fremantle, Western Australia. The studio has also recently opened an office in Monaco in order to expand its design services to Europe.
Sorgiovanni believes it's important to "keep one eye on the past" when designing projects, "in order to avoid making the same mistakes" as before. Previous yacht designs that he has worked on include the 390 ft Amana in collaboration with Oceanco, and the exteriors of the 270 ft Secret. When Sorgiovanni is not working on a particular project, he is also traveling the world to consult on yacht designs for clients, working with a variety of suppliers and shipbuilders.
[
See also: How Much Does It Actually Cost to Charter a Yacht?
]
Zaniz Studio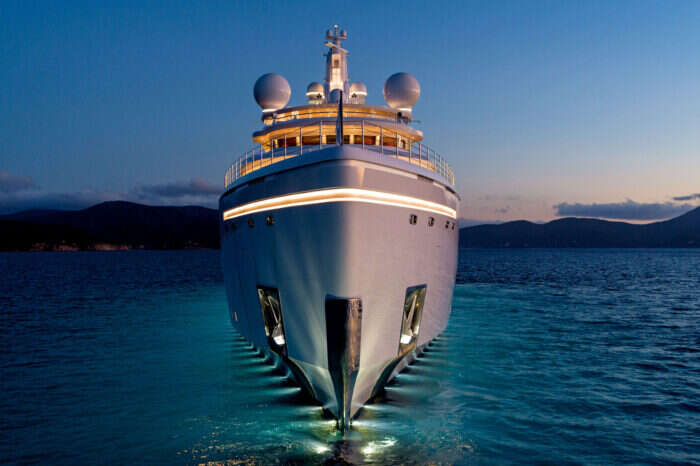 Next up on our list of the best yacht interior designers is Zaniz Studio. The company was founded in New York City by English-American designer Zaniz Jakubowski – who up until recently, had rarely been able to discuss her astounding portfolio of projects due to the NDAs that came with the commissions. The studio has an international reputation for creating iconic and innovative projects, which always have strong attention to detail. As well as designing for both private and commercial yachts, Zaniz Studio works across other industries, including creating theatre sets and residential and commercial interiors.
One of Zaniz Studio's latest projects – and one it was able to share – was the 350 ft superyacht Luminosity, which went on the market last year for over $266 million. The studio was responsible for both the interior and exterior of Luminosity, which was built by Italian shipyard Benetti. What is most interesting is that the team abandoned the typical format of designing the exterior first, followed by the interior; instead, the superyacht has been designed from the inside out.
[See more: The 10 Biggest Superyachts in the World]
Nuvolari Lenard
Well known for its timeless design style, Nuvolari Lenard is one of the largest – and most active – luxury yacht design studios in the world, founded in 1992 by naval architect and mechanical engineer Carlo Nuvolari and stylist Dan Lenard. The studio is based in Italy's island city, Venice, and draws heavy influence from the city for its classic yacht designs, combining strong architectural lines with a deep passion and understanding for the sea. One of its latest projects was the 465 ft Nord (previously called Project Opus).
Not only is Nuvolari Lenard based in Venice, but it also has a renowned Design Center on the outskirts of the city that hosts architects and designers working on a range of tasks. Inside the Design Center is a scale yacht model workshop that gives designers the opportunity to visualize their concepts and research shapes before confirming a final design. The interior design section of the studio's Design Center also features a showroom where clients and designers can discuss fabrics and materials.
[See more: Nuvolari Lenard Reveals Latest Yacht Concept Design]
Patrick Knowles Designs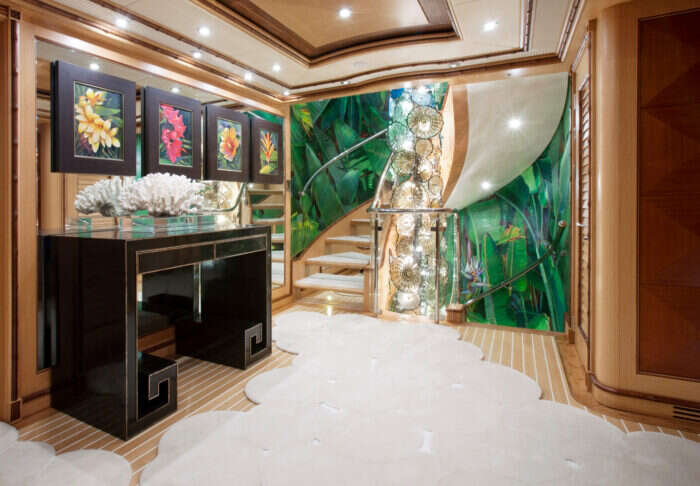 With decades of experience in the marine industry under his belt, Patrick Knowles is one of America's top yacht designers. His studio, Patrick Knowles Designs, specializes in custom megayacht and superyacht interiors, as well as designing for private aircraft. The team at Patrick Knowles Design prides themselves on their creativity and a strong commitment to making sure projects are finished on time, while also exceeding expectations.
One of Patrick Knowles Designs' award-winning projects was a Key West-inspired 206 ft ISA displacement superyacht. The owners requested an interior that felt like a five-star tropical resort; through a design that incorporated vibrant murals of plants and aquatic life, lush fabrics and furnishings, and the use of environmentally friendly, natural materials including bamboo, palm wood and coconut shells, Patrick Knowles delivered. The onboard showcase piece is a 30-foot-tall light fixture constructed from Murano glass that sits within the spiral staircase, joining all three levels.
Tillberg Design of Sweden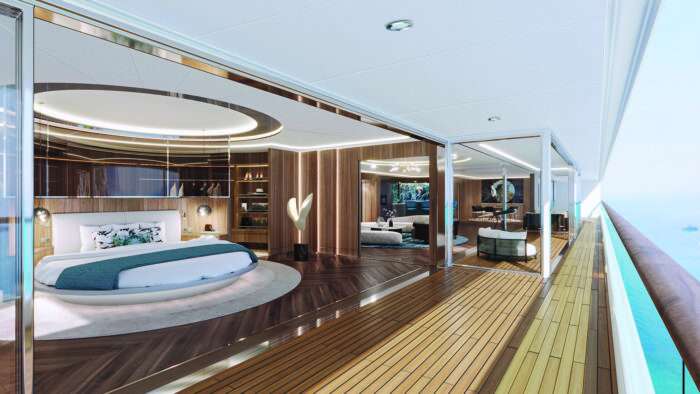 Our list of the most exclusive yacht interior designers would not be complete without mentioning Tillberg Design of Sweden. Founded in 1964 in Höganäs, the practice has been designing timeless Scandinavian-inspired interiors on board some of the world's most luxurious vessels for over five decades.
Known for its meticulous craftsmanship, use of quality materials and expert lighting, when it comes to creating beautiful spaces you're in safe hands with Tillberg Design of Sweden. Perhaps most impressive is the studio's latest project designing the interiors onboard the gigantic 728-foot superyacht Somnio.
The recently released renderings reveal stunning dream-like rooms expertly blending indoor and outdoor spaces. Future owners that are lucky enough to live on the world's first residential yacht liner will be given the opportunity to work with the prestigious design firm over three months to create their dream apartment.
[
See also: Hydrogen Powered Yachts: What to Know
]