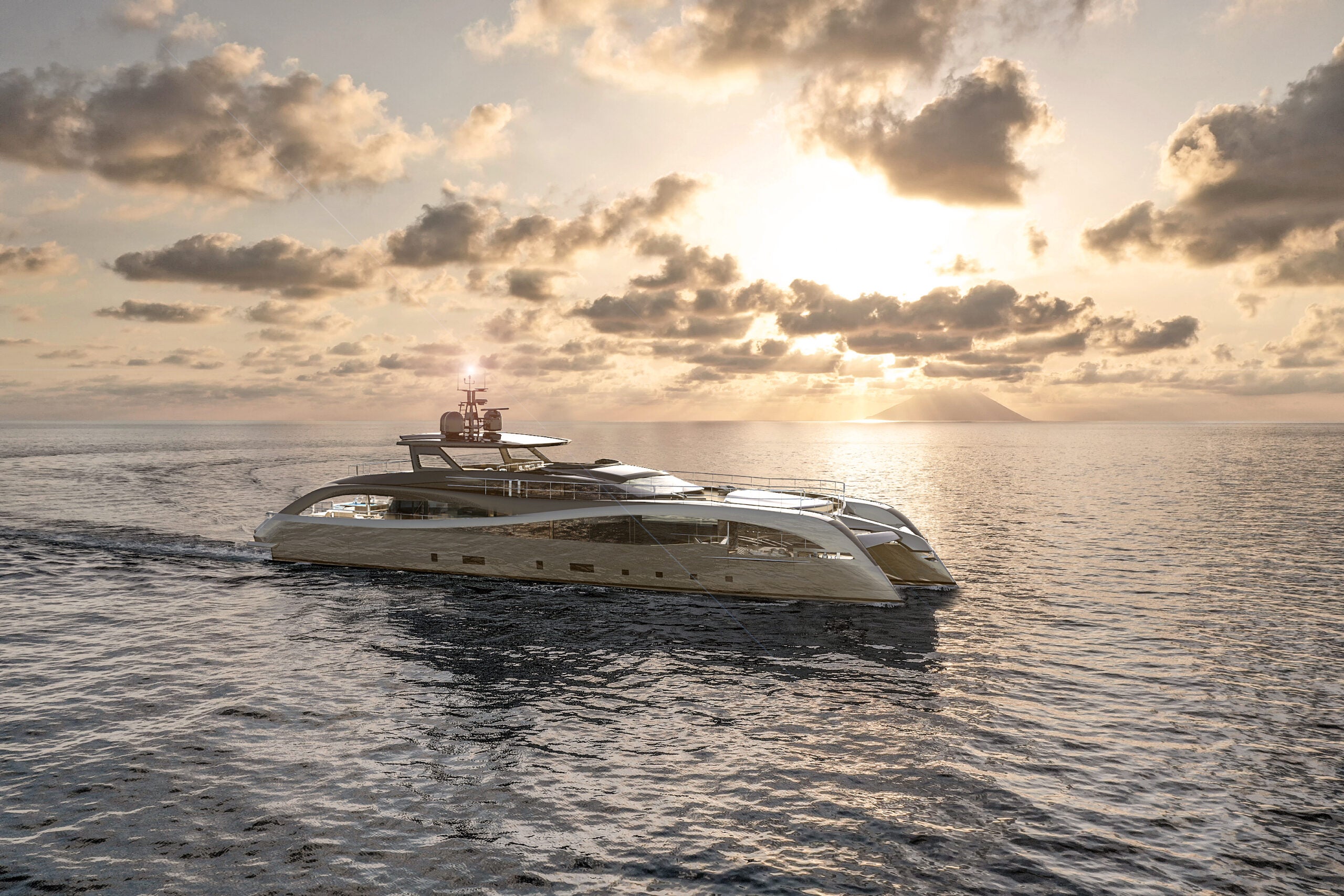 Sleek design and sharp engineering have long been the signature of Rossinavi. Now, the Italian shipbuilder is turning its attention to a more sustainable future, with the revealing of its first-ever fully electric catamaran yacht concept, Sea Cat 40.
Inspired by the energy-storing capabilities of phytoplankton – a type of marine algae – which releases the energy it accumulates during the day as bioluminescent light at night, Sea Cat 40 generates power through the sunlight hours via advanced solar panels that cover the upper deck, which is then transformed into electric energy.
Utilizing a hybrid power approach, smart AI technology allows the 130-ft boat to be programmed to use 80% solar energy, with the remainder coming from diesel-electric support, in order to preserve battery life for longer journeys. Taking this approach would allow Sea Cat 40 to cover 3,850nm at a speed of 8kn, with minimal environmental impact. For shorter journeys, however, she is capable of running on entirely electric energy.
However, Rossinavi has taken Sea Cat's energy-saving capabilities even further. Not only can her propulsion and onboard activities be fully electric, but the energy generated onboard can even be transferred to a mainland home, helping owners minimize their overall carbon footprint.
[See also: Twenty for 20: Innovative Yachts of the 21st Century]
Relying on electric power also serves the dual purpose of protecting ocean habitats, as well as reducing carbon emissions. Underwater noise emissions are known to cause damage to both marine animals and plants but unlike a diesel engine, electric is virtually silent, allowing it to glide through the ocean without a trace. A silent engine will also naturally create a far more relaxing onboard experience.
"The idea is to create a link between nature, electricity and futurism. Supported by the most advanced technologies, Sea Cat 40 is able to offer excellent performance while prioritizing the environment, a real challenge for the future of boating and a milestone for the shipyard," says Federico Rossi, chief operating officer of Rossinavi.
For the catamaran's sleek design, Rossinavi has enlisted the help of Italian naval architect Fulvio De Simoni, who is responsible for Sea Cat's interior and exterior. In keeping with her futuristic technology, the catamaran will have a contemporary interior, characterized by modern lines and open spaces, with five bedrooms including an owner's cabin. Outside, her sharp aluminum hull will reduce the ship's overall weight, limiting her environmental impact even further.