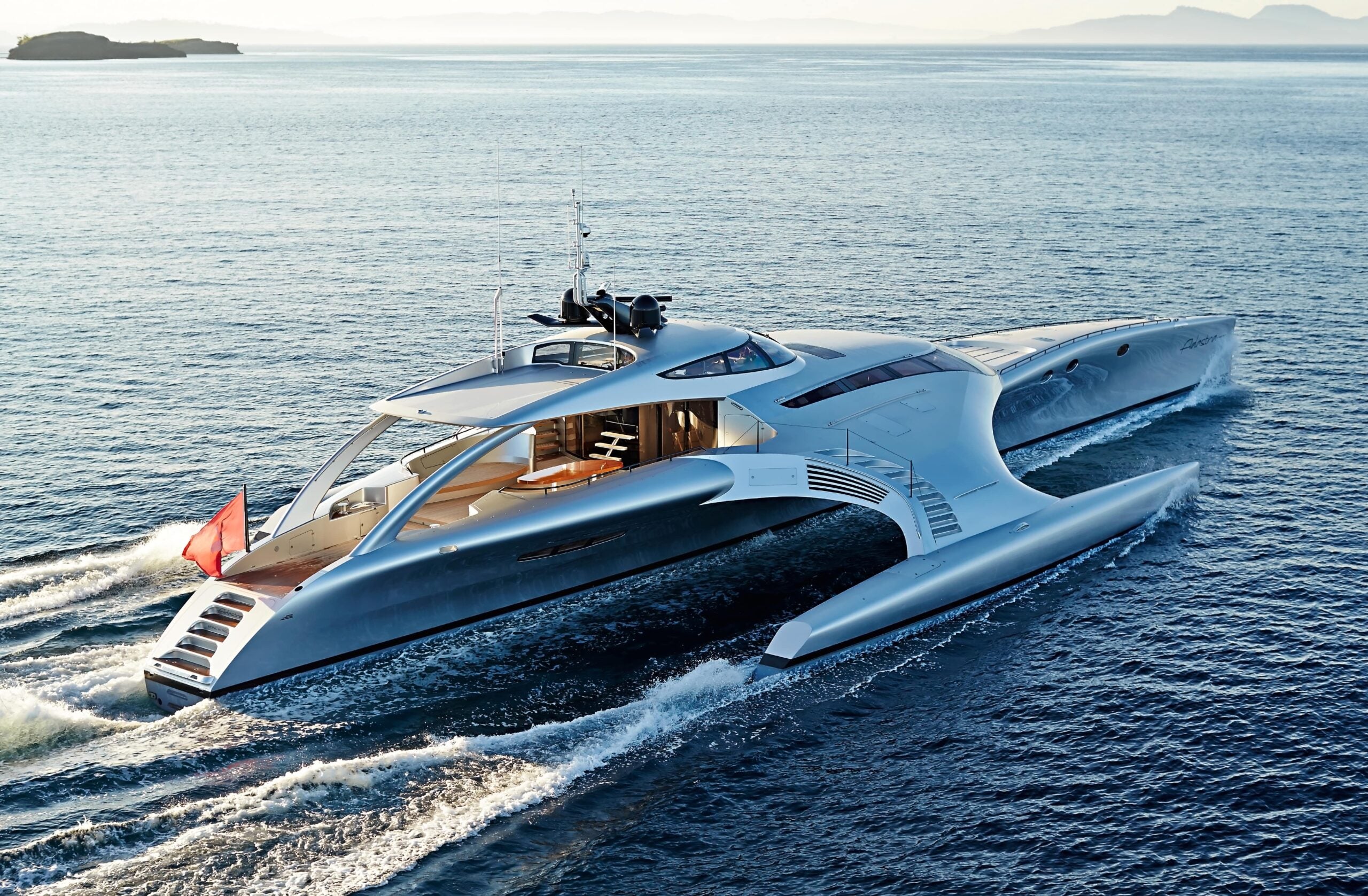 Despite being first launched almost 10 years ago, the Adastra yacht continues to be a marvel. Built by renowned Australian shipbuilders, McConaghy Boats, Adastra's sleek trimaran design has made her one of the world's most recognizable yachts; in fact, her striking stature saw designer John Shuttleworth receive a coveted Neptune award for most innovative design at the 2013 World Superyacht Awards.
At 139.5ft, Adastra is a comfortable fit in the superyacht category. However, to keep her as light as possible, her designers and builders undertook a structural analysis of all of her major components with virtually every element custom built. Her three hulls are made of e-glass and Kevlar foam, while her superstructure is constructed from carbon fiber with a Nomex core. This combination of ultra-lightweight materials and careful design means that she remains impressively light despite her size, weighing in at 52 tons.
This steadfast commitment to a lightweight design has ensured that the Adastra yacht has remarkably low fuel consumption – so much so, in fact, that she is capable of crossing the Atlantic Ocean not once but twice before needing to refuel with a max range of 10,000nm, dramatically reducing her environmental impact. Adastra's lightness also has a significant impact on her speed, with the eye-catching yacht boasting a top speed of 22.5 knots, and an all-weather cruising speed of around 17 knots.
[See also: The Top 10 Explorer Yachts in the World]
The unique vessel was originally custom-built at McConaghy's Chinese shipyard for Hong Kong-based shipping magnate, Anto Marden, who commissioned Adastra as an explorer yacht for himself and his family. And it appears that she has now served Marden's purpose – as of 2019, she has been on the lookout for a new owner to continue her adventure.
Stay
It is not just Adastra's exteriors that are a design marvel. One of the big challenges in building this yacht came from trying to fulfill the owner's brief for a lightweight ship capable of navigating even the most challenging conditions, while still retaining all of the luxury and onboard comforts expected of a yacht of this size.
As we mentioned above, a custom solution was the only way to guarantee this, with a pared-back yet luxurious finish provided by Jepsen Designs – a Hong Kong-based studio with Danish architect Inge Strompf-Jepsen at its helm. Adastra's uber-stylish interiors combine Scandi minimalism with uncompromising practicality: honey-colored wood, cool neutral tones and smooth curved lines flow throughout, with flashes of beachy-blue completing the aesthetic.
[See also: The Yacht Interior Designers You Need to Know]
Panoramic views are provided by domed wraparound windows in the main lounge area, with skylights overhead ensuring an abundance of natural light. The design tricks don't stop there, with the main hull cleverly flared over the water's edge to secure additional onboard room.
Adastra offers space for up to nine guests: her full-width owner's cabin sits in a section of the main hull and is accessed via the saloon, with two additional guest cabins (each containing one double and one single bed), as well as room for a five to six-person crew, found forward of the engine room on the lower decks.
Relax
As a vessel designed for long journeys around the world, plenty of space to relax on board was essential for Adastra. Her 52.5ft beam allows for a spacious saloon which accommodates a stylishly curved lounge area on a slightly raised section at the fore, as well as a central formal dining area.
From the saloon, stairs at the front of the ship lead to a foredeck with a roomy sunbed, where extra protection from the midday heat can come from a retractable awning. The equally appealing aft deck offers further lounging space, as well as a dining and bar area perfect for al-fresco meals, which can be enjoyed no matter the weather thanks to a hard-top cover.
Adastra's plentiful outdoor space can be further extended via the garage door, which folds out to create a diving platform. She also offers additional storage capabilities for not one but two tenders, giving her new owner even more scope for on board adventure.
[See also: Step Inside the Black Pearl Yacht]
Explore
From the very beginning, Adastra was a yacht built for adventure. Although she was initially commissioned for island hopping around Southeast Asia, where her owner has several private islands, she is truly capable of navigating virtually any of the world's oceans. Under Marden's ownership, she has seen many a destination, including the sunny coasts of Europe, the shores of the Caribbean, and everywhere in between.
The Adastra yacht also has an exceptionally shallow draft of just 3.9ft, allowing her to venture into bays and harbors that would be completely off-limits to other ships of her size, making her perfect for isolated island areas. And of course, her remarkably low fuel consumption means she can head into the remotest of regions for extended periods without a worry.
Another of Marden's priorities when commissioning a custom yacht from McConaghy Boats was seaworthiness; a good-looking vessel that couldn't perform in all conditions wouldn't cut it. Adastra's trimaran design makes her impressively stable and comfortable, no matter the weather – Marden has reported heading out into ferocious gales that no other superyacht could handle. However, while she may be able to handle adverse conditions, her multiple sun decks do make agreeable weather the best way to enjoy this magnificent vessel.
Adastra is currently for sale with Burgess Yachts for $10m.