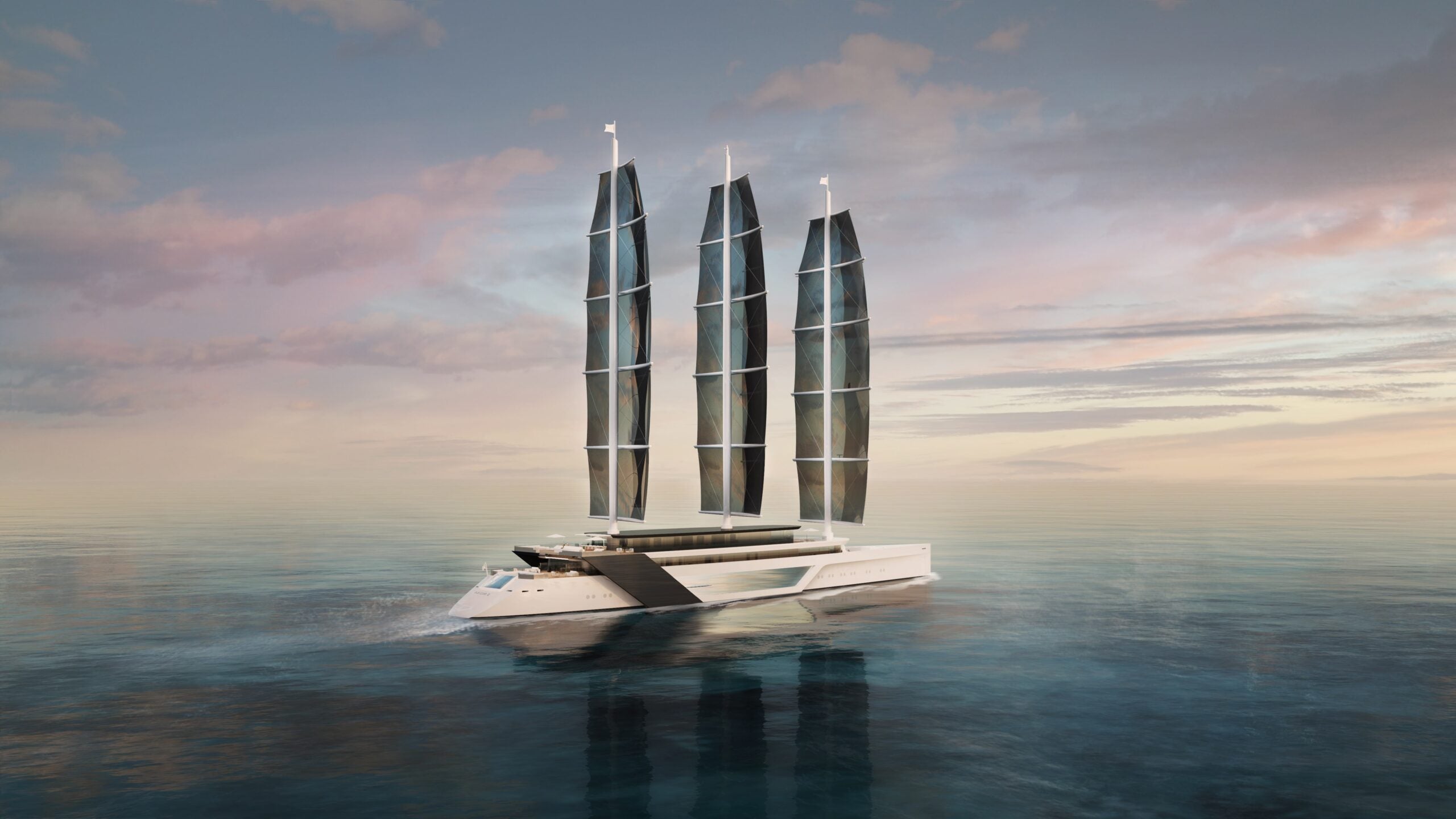 Renowned ship design company Tillberg Design of Sweden (TDoS) recently unveiled its newest project, Aegir 2.0, an ultra-luxurious 265.2-ft sailing yacht with impressive environmental credentials ingrained into her design.
Thanks to her reliance on a combination of hybrid wind-electric propulsion and cutting-edge hydronics, Aegir 2.0 is being hailed as the cleanest superyacht in existence. However, Aegir 2.0's green credentials in no way compromise her performance, with the hybrid propulsion system recharging the batteries while the ship is under sail, resulting in a virtually unlimited range without any fuel consumption.
"Aegir 2.0 is designed to offer unparalleled luxury with the lowest possible environmental footprint," says TDoS partner and yacht director Daniel Nerhagen.
[See also: The Yacht Designers You Need to Know]
The latest reveal from TDoS is an updated version of its earlier vessel, Aegir, which was first released in 2019. A trimaran hull was chosen for the redesign to prevent heeling and accommodate a more spacious deck than is standard on a sailing yacht. Aegir 2.0's generous 61-ft deck space allows for an infinity pool at her stern and a jacuzzi at her fore, with a pool deck offering a primary recreation area for guests.
A seamless indoor-outdoor experience is captured throughout the ship, with the floor-to-ceiling windows encasing the main dining lounge area offering uninterrupted views across the ocean. This attention to detail continues to the upper sky deck area, featuring an open-air viewing platform and bar area. Aegir 2.0 also features fitness facilities, a spa area and ultra-spacious and stylish accommodations for up to 12 guests.
[See also: First Look: Feadship's Eco-Friendly Project 817]
In true Scandinavian style, Aegir 2.0's design marries minimalism with complete functionality. Organic materials and natural light compliment her subtle interior color palette and enhance the ship's elegance, while her exterior is characterized by the striking black wing connecting the deck to the outer pontoons and the sleek, clean lines of her hull.
As featured on the classic sailing yachts of the 1960s, TDoS designed Aegir 2.0 to include an iconic DynaRig. Estimated to be twice as efficient as a standard rig – even on larger yachts such as Aegir 2.0 – the DynaRig is a welcome addition to this super-eco vessel.
While the Aegir 2.0 is set to be one of the greenest vessels on the ocean, TDoS is no stranger to sustainable operations, with a steadfast commitment to pushing innovative methods and materials in order to reduce its environmental footprint.