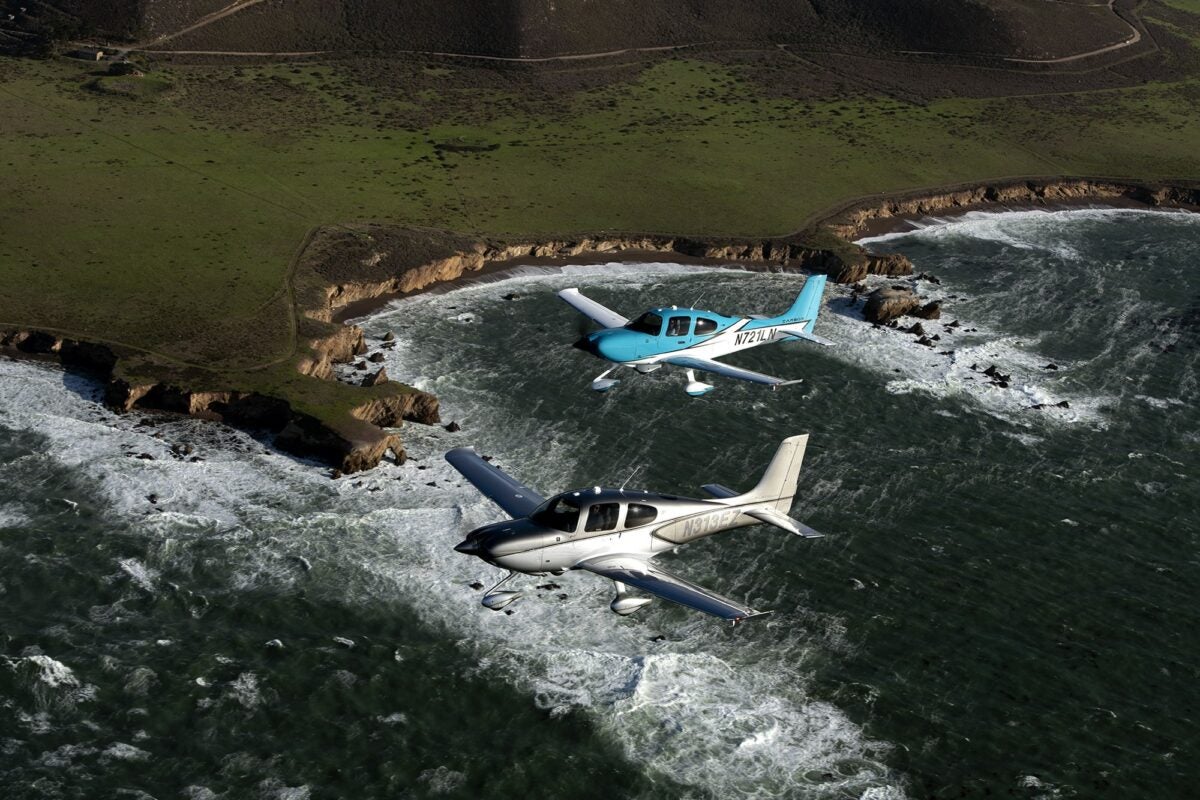 From Alaska to the Caribbean to Southern Europe, the Cirrus Life Adventure Series brings owners and team leaders together for the ultimate flying experience. Debbie and Lenny Shwetz reflect on their standout memories from the trips, future journeys, and the joy to be found within the Cirrus ownership community.
There are some memories that stay with us for the rest of our lives. For Debbie and Lenny Shwetz, flying around the snow-capped peak of Alaska's tallest mountain certainly won't be quickly forgotten.
The moment came when the couple were partaking in a Cirrus Life Adventures Series event – a trip that brings together an intimate group of aircraft owners for a week of extraordinary flying.
Learn more about joining the Cirrus community
Whether you are looking to accelerate your business or enjoy spontaneous adventures.
click here
"It was a clear day, so it was incredible," recalls Debbie. "We were very close to the top of Denali, which we could see covered in snow above the clouds and we were able to take pictures of each other in our planes which was really fun."
"We'd been to Alaska a few years before, to Anchorage," adds Lenny. "But the Alaska experience we had with Cirrus Aircraft was phenomenal because we got to visit the smaller communities and observe the lifestyle of the people who live there. I didn't anticipate just how beautiful it would be."
[See also: Cirrus Community Showcases Power of Aircraft Ownership]
New horizons
Lenny Shwetz had been flying on and off for years, but it wasn't until 2016 that he took the plunge and bought his first plane: a Cirrus SR20. "It started off almost like a hobby, to do something different and challenge myself," he says. "I loved learning to fly and the idea that we would have the flexibility to travel anywhere we wanted."
Exhilarated by their experience of private aviation, the Shwetzes bought the SR20's larger and faster sister model – the SR22 Turbo – the following year. But their Cirrus Aircraft journey didn't stop there. Lenny had his eye on the world's first single-engine personal aircraft which could go even higher, faster and further while using less fuel: the Vision Jet.
With his 70th birthday approaching, Debbie threw her husband a party in Las Vegas. "As a surprise, I secretly organized for the Vision Jet to be presented to Lenny," recalls Debbie. "Cirrus Aircraft did an amazing thing for us: they brought the prototype of the jet to Las Vegas and parked it outside the venue where we were holding the party."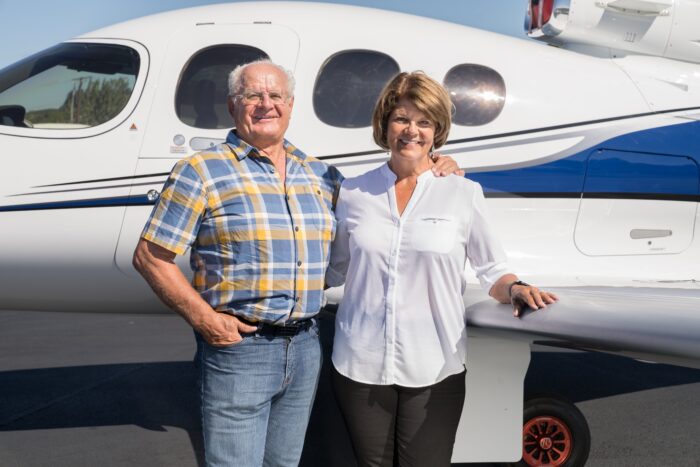 In January, the couple went one step further and bought the G2 Vision Jet, a decision based on the addition of the Safe Return Emergency Autoland by Garmin system that leverages data to autonomously land the plane in case of an emergency.
"I'm not a pilot, but as a passenger I feel really safe," reflects Debbie. "I did my very best to be a good partner in command by taking some classes this summer so as to have enough knowledge to level the plane if I need to and push the Safe Return Autoland button."
Unsurprisingly, operating a Vision Jet requires more training and commitment, but, says Lenny, it also offers "a whole new level of flying" and the hard work definitely paid off.
From the last-minute ice hockey games they regularly attend, to a recent wine-tasting trip to Walla Walla in Washington, the couple enjoy unrivaled flexibility. "It gives you the opportunity to do those little jaunts that you would never normally get the chance to make," says Lenny.
Adventures in the sky
In July last year, the intrepid couple – together with seven other Vision Jet owners – flew into Renton to embark on the Alaskan Cirrus Life Adventures trip, organized in partnership with The Flight Academy, a boutique flight school and aviation adventure travel specialists, founded by former Cirrus instructors in 2002.
Together with members of the Cirrus Aircraft leadership team, the group flew to Homer – a small city on Alaska's Kenai Peninsula. "Along the way, we were flying right next to the mountains and at times above them so we could really get an idea of the lay of the land," recalls Debbie. "It was so incredibly beautiful: the water, mountains, trees and wildlife – we could see it all from our planes and it was fun listening to the chatter from the others on the radio."
On landing, they caught a boat to their accommodation: a beautiful cedar wood lodge. Each evening they sat around the campfire chatting with the rest of the group and drinking cocktails.
The week was packed with a variety of excursions from kayaking out to a glacier and listening to it calve, to taking a float plane out to a lake and watching grizzly bears and their cubs feeding on salmon.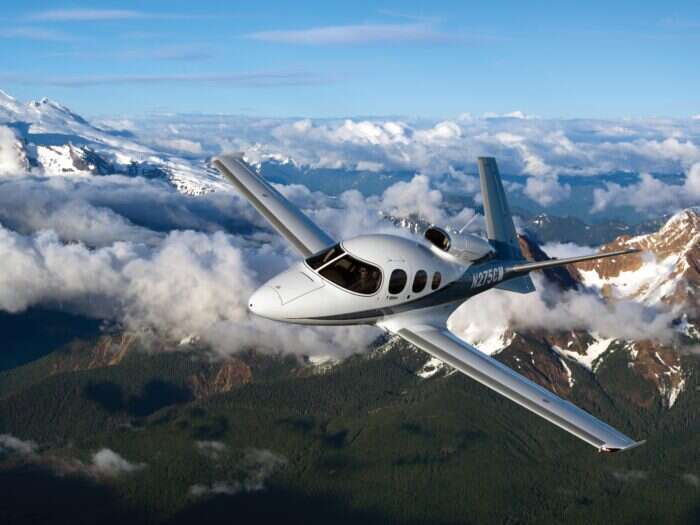 But Debbie's favorite memory from her time in Alaska was the fishing trip. "We did not have one wave," she says. "If we put our hook in the water we caught fish. It was so exciting! And, of course, we were on a little boat so we were just talking to the group and finding out about each other." Afterward, their fresh halibut and salmon were flash-frozen and packaged to take home.
Sitting by the campfire on the final evening, the group promised to meet again – a pact that became a reality when they later flew to Palm Springs for a reunion.
By January, the Shwetzes were setting off on their second Life Adventure with a new group of Cirrus owners – this time to the Caribbean. Meeting in Fort Lauderdale, they flew into Turks and Caicos before arriving at their luxury beachside hotel.
The next five days were a chance to explore the islands, snorkeling at a reef in the clear blue waters, going on bike rides and playing golf in the sun.
"We went swimming with pigs," laughs Debbie. "I'm not going to say it was glamorous, but it was very entertaining and a great memory."
[See also: How Cirrus Helps Buyers Find Their Perfect Aircraft]
The trips were seamlessly organized by The Flight Academy and Cirrus Aircraft teams, with attendants waiting on arrival to refuel the planes at each destination. Ultimately, says Debbie, "we didn't have to think about a thing."
Above all, the couple relished getting to know their travel companions. "It's such a diverse group of people who have worked hard to get to where they are," reflects Lenny. "Learning their stories and sharing information as a pilot was the most interesting part of the trips."
"It's an amazing network and such a welcoming community," adds Debbie. "We've made so many new friends across the country."
At the time of our interview, the couple were soon commencing on their third Cirrus Adventure. Starting in Seattle, they planned to fly to Quebec City and then along the East Coast to Nantucket and Martha's Vineyard. "Hopefully, we'll see the leaves changing from the air, which will be really beautiful," says Debbie. It's another precious memory the couple will share for the rest of their lives.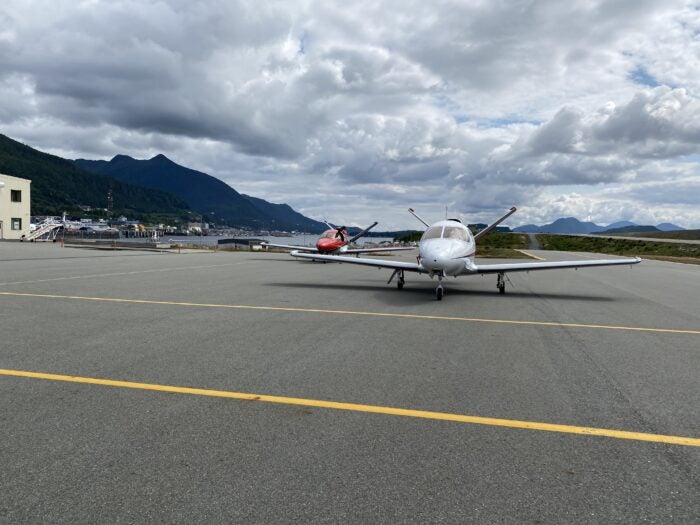 To learn more about joining the Cirrus Life Adventure Series, visit cirrusaircraft.com/adventureseries