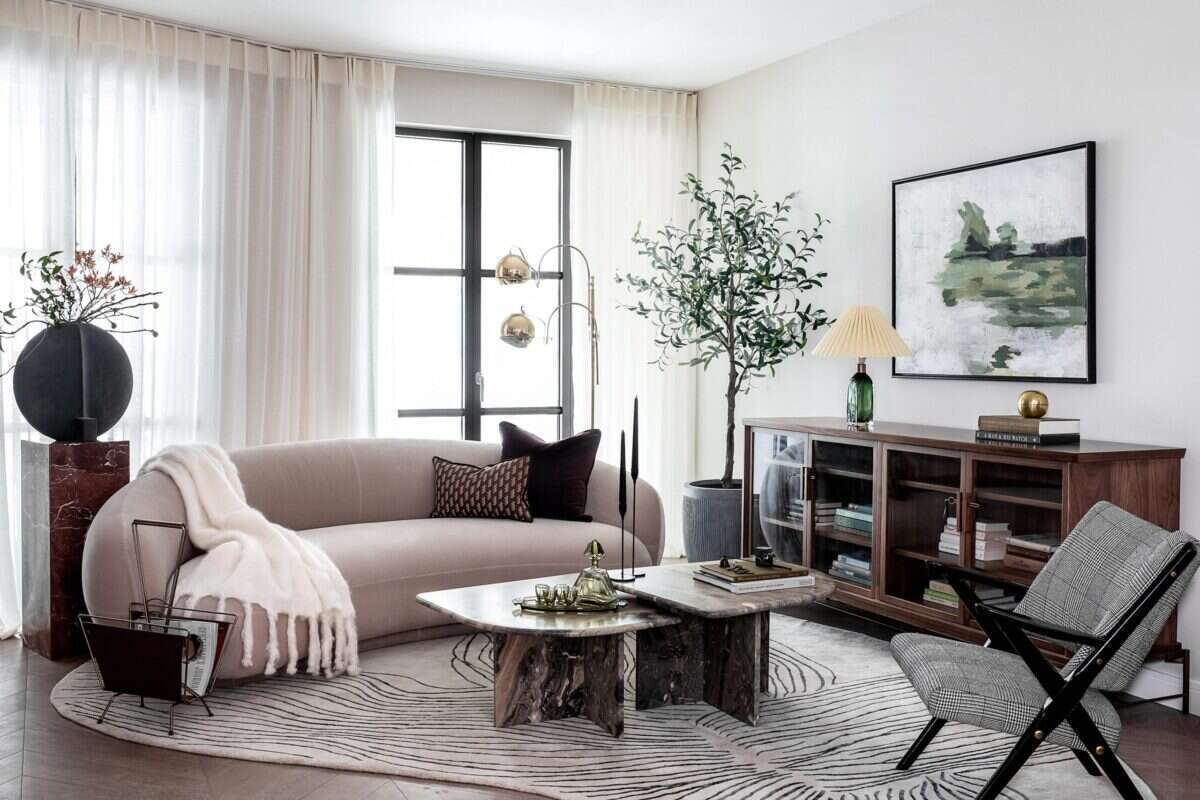 No one can deny that throughout 2021, we were still feeling the aftershocks of the pandemic and the changing landscape that this momentous event created in our lives. However, a new year is on the horizon and with it is a fresh start – a concept many are embracing through the design of their home. We spoke to the experts to find out more about the interior design trends we can expect for 2022, including everything from the desire for 'cottagecore' to the return of bold, maximalist style.
Bright Skies
Dulux's Colour of the Year for 2022 has been revealed as Bright Skies, a light grey-blue that feels fresh, airy and clean. But has Dulux managed to capture the feeling of the moment – and will this color become a trend for the year ahead?
"We find that most of our clients have an affinity to blue in varying tones and it often features in our projects, so I do think it will be popular next year," says Charu Gandhi, the founder and director of luxury interior design studio, Elicyon. "We also feel that this color has a 'Britishness' to it that particularly resonates with our client base."
Ward & Co's creative director, Rosie Ward says: "When used on walls, tones such as Dulux's 'Bright Skies' are popular with clients in warmer climates, helping to echo the external surroundings." However, she argues that "generally, our clients prefer to work with us to develop a color scheme that will age well and look relevant in the years to come, rather than requesting specific on-trend colors."
[See also: Twenty for 20: Iconic Eco Homes of the 21st Century]
Maximalism
Uncertainty and change were the big players of both 2020 and 2021, as the world reacted to the ongoing pandemic. As a result, designers have found that many clients are "feeling the need to seize the day," says co-founder and director of design studio Goddard Littlefair, Jo Littlefair. "Flamboyance, individuality and humor translate into a myriad of maximal decorating schemes. We increasingly seek out the unique and personal aesthetics that speak to our sensibilities."
But how to create this within your own home? "Great fun can be had by pairing an eye-catching wallpaper from the likes of Timorous Beasties or Cole & Son with an equally vibrant rug from Deirdre Dyson or Riviere Rugs; this can be seen as 'busy' but also brings a great sense of cocooning and comfort," suggests Ward. "This twinned with the playful use of mirrors and textured fabrics can fill even the smallest of spaces with joy."
Entertaining spaces
Despite the world opening up, including the travel and hospitality industries, many people are still nervous about the idea of dining out or being surrounded by strangers. As a result, entertaining spaces within the home are becoming more prevalent – especially outdoor spaces where there is an added connection to nature.
"People are using their outdoor spaces more and more for entertaining guests. Exterior fireplaces and fire pits allow people to use their outdoor spaces year-round," mentions Dale Atkinson, founder of interior design studio Rosendale Design. "Of course, lighting and greenery are also key parts of any outdoor design; they allow the space to be used not only year-round but from day through to evening."
But it's not just outdoors that designers are finding they are including entertaining spaces. Clemence Pirajean, co-founder of luxury design house Pirajean Lees, gives the example of a residence the studio is currently working on. "The living space is small but entertaining is very important to the client," Pirajean says. "As a result, we have designed a bespoke extendable dining table which can entertain a larger group but remains compact when not needed so that it is not compromising on space."
[See also: The Most Desirable Property Markets in the World]
Slowing down
Jessica Hanley, the founder of carbon neutral homeware brand Piglet in Bed, has found that many of her clients and customers are now looking to slow down. But what exactly does this mean? "It's about creating a slower, romanticized life for yourself, with comfort and coziness being key," Hanley explains. "For example, we're seeing a huge trend for people using more traditional pour over coffee makers that require time and effort – the process itself is a romantic and enjoyable start to your morning."
Ward agrees. She says: "We are increasingly working with clients who are actively anti-tech and have taken the decision not to integrate all aspects of their home. We expect many to shift from high energy consuming set-ups to a more traditional way of living. Also, as our homes become more multi-functional than ever, the ability to hide our technology and declutter as we navigate our day is essential."
Another element of slowing down and returning to the traditional can be seen in the focus on long lasting bespoke or vintage furniture pieces. "Clients are using design to create a stronger connection with their homes," says Pirajean. "We are increasingly being asked to incorporate bespoke furniture into the design of their spaces. Investing in furniture this way means it will last decades and can become future heirlooms."
[See also: Chelsea Barracks: City Living in Europe's Greenest Development]
Sustainability
Bespoke furniture or finishes can also be part of a sustainable approach to design, which is a trend that has grown every year as more people become aware of the climate crisis. Bergman & Mar, for example, has used sustainable materials and finishes for its latest project – the communal spaces at new London development, 101 on Cleveland.
"The development's front desk is a statement piece that has been handcrafted by Martelo & Mo out of a walnut slab," explains creative director and founder, Petra Arko. "The timber used has been repurposed and sourced from FSC and PEFC-certified UK sawmills. They apply a blocking technique that rectifies knots and flaws, allowing them to use pieces of wood that mainstream companies might have otherwise discarded."
"Our clients are increasingly conscious of their impact on the environment and we are enjoying educating them on how luxury can be achieved ethically and sustainably," agrees Elicyon's Charu Gandhi. "For example, we try to salvage as much as possible to use in the new design or ask the owner if we can auction or donate the parts so that they are reused. I've never had a client say no to this when asked."
[See also: A Day in the Life of Interior Designer Stephen Sills]
Another way of approaching sustainable design includes biophilia – the addition of nature in spaces. The natural world's organic, deep green color palette "is often associated with healing and growth, and we can predict it will continue to influence our interiors," says Anna Czarnowska, creative lead at Morpheus & Co. "We predict that bringing the outside in, the use of natural materials like jute and linen, as well as wide-ranging use of plants, will continue."
However, others would argue that sustainability in design is not just a 'trend' but a way of changing our design habits for the better. "We have a responsibility to keep sustainability at the forefront of our minds," says Dale Atkinson. "We have to find the best ways to incorporate more sustainable elements into our designs. The more we work together in this respect, the more suppliers and manufacturers will look to offer further options."
Modern pastoral
A trend that works hand in hand with sustainability and slow, traditional methods of living is the resurgence of 'modern pastoral' interior schemes and naturally occurring shapes. "Oval and kidney-shaped pieces can help to warm a more contemporary scheme and break up harsher, cleaner lines," says Rosie Ward.
Piglet In Bed's Jessica Hanley, says the rise of 'modern pastoral' interiors is arguably a "reaction to our world becoming increasingly virtual. People are searching for a return to pastoral living as a way to anchor themselves to the idyllic, rural lifestyle of the past."
"We've seen it with the huge influence of 'cottagecore' interiors – the desire to bring natural and more sustainable materials into your home," Hanley continues. "Whether it's replacing your plastic and mass-manufactured dish brush with a wooden one, or opting for 100% linen bedding, those natural textures are hard to replicate in a virtual world."
[See also: Discover Beautiful Homes in the Most Scenic Locations]