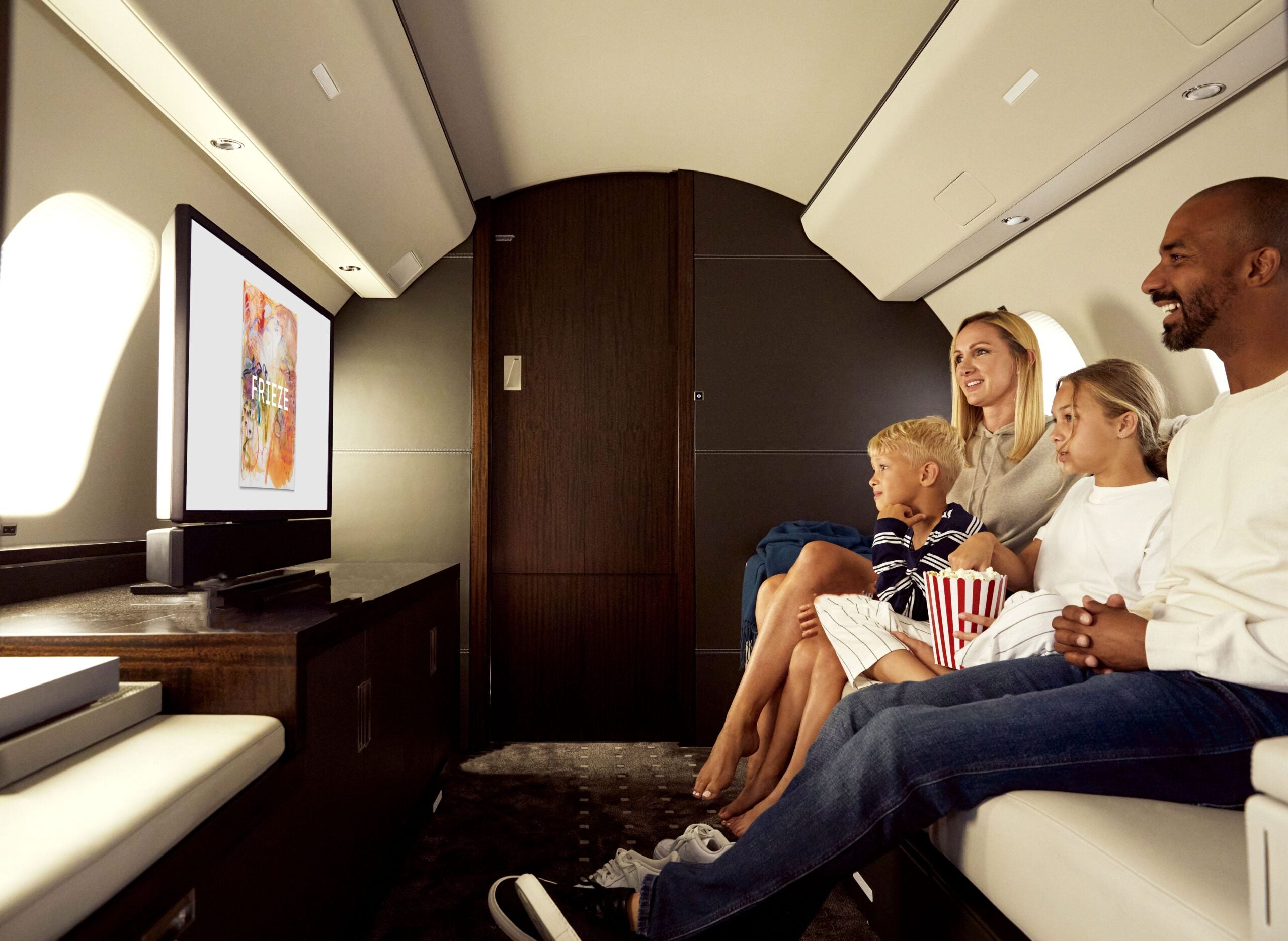 VistaJet has announced an exclusive global partnership with Frieze Art Fairs, offering its members a new way to engage with one of the world's finest art exhibitions. From shining a spotlight on emerging names to previewing the latest work from iconic figures, Frieze is a must for any collector.
As one of the biggest art shows in New York's annual calendar, Frieze 2022 will naturally feature a bursting itinerary, with over 65 galleries exhibiting pieces at The Shed at Hudson Yards. As always, the fair will celebrate the city's unique nature, with this year fittingly focused on creativity and perseverance.
Launched ahead of the New York iteration which opens on May 18, the VistaJet x Frieze Art Fairs alliance gives members unrivaled access via the all-new 'Viewing Room in the Sky.' Hosted onboard VistaJet's iconic silver and red jets, the virtual viewing room allows travelers to access the art on display at Frieze New York at 40,00 ft, from anywhere in the world thanks to cutting-edge technology.
[See also: MoMA Reveals Gallery of Works by Ukrainian-born Artists]
Each in-flight viewing experience is accompanied by a virtual Frieze curator guide who will highlight the must-see pieces and exhibit highlights, giving members an unrivaled opportunity to acquire the best art available.
"We believe this partnership will allow our members to pursue their passion for art in the simplest way – anytime and anywhere," says VistaJet founder and chairman, Thomas Flohr. "Frieze Fairs are ultimately about connecting world-leading international galleries with the most renowned global collectors, and we are excited to create yet another innovative service for our clients through our partners in excellence."
Back on the ground, the collaboration will also give VistaJet members VIP access to the leading international fairs, which will move from New York to Seoul, London and Los Angeles throughout the year.
[See also: Sotheby's Marks Platinum Jubilee with Royal Exhibitions]
Members will also gain entry to exclusive invite-only events hosted by VistaJet at each show, including guided art tours, previews and dinners, each of which offers the opportunity to connect with like-minded art aficionados around the world.
"Frieze is delighted to announce its new VIP partnership with VistaJet and open the door to its members," says Megan Leckie, head of VIP at Frieze Art Fairs. "Debuting on the occasion of Frieze New York 2022, the collaboration will bring the best in contemporary art to VistaJet audiences across the globe, creating yet another incredible way to connect with art."
Frieze New York runs May 18 to 22; The Shed at Hudson Yards, 545 West 30th Street, New York, NY 10001, frieze.com, vistajet.com