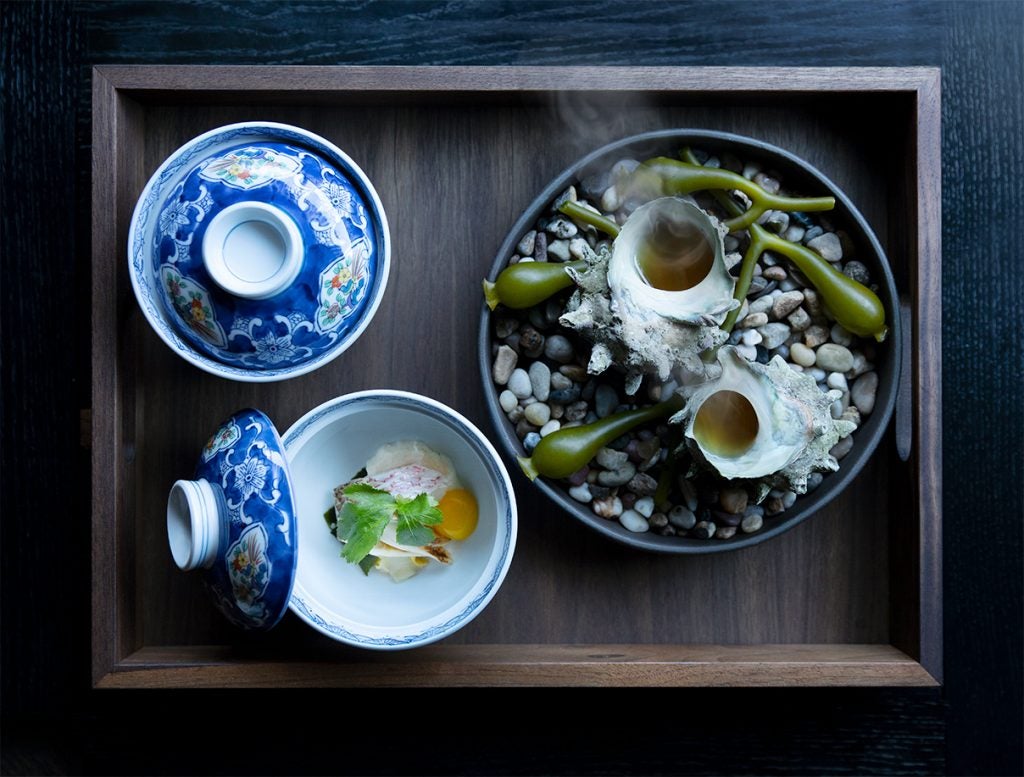 Los Angeles has enthralled visitors for decades with its palm-lined beaches, Hollywood glamour, and exciting artistic spaces. In recent years it has also become known for its swiftly evolving food scene. The combination of cultural diversity and flexible attitudes towards tradition has allowed chefs and restauranteurs to experiment. On top of that, the area's gorgeous weather provides year-round access to sustainable, ultra-fresh ingredients. Read on for Elite Traveler's pick of the five best restaurants in Los Angeles. 
[See also: Top Suites in the World – Presidential Suite, Hotel Bel-Air]
n/naka
At n/naka, everything is done with the utmost care. From the attentive service to the meticulous plating, chef Niki Nakayama and partner Carole Iida-Nakayama have put thought into every detail, allowing diners to simply focus on the dishes in front of them. 
The restaurant's 13-course menu stays true to the spirit of traditional kaiseki, which embraces the celebration of hyper-local, seasonal ingredients in their truest state. But by adhering to this philosophy, the food at n/naka expresses a clear, unique point of view. Through the perfectly balanced application of modern and traditional techniques, everything on the plate, whether its decadent sea urchin or humble produce from the restaurant's organic garden, truly shines.
Ysabel
A mid-century modern retreat amid the bustle of West Hollywood, Ysabel provides modern American cuisine from locally sourced ingredients. The vibe is exceptional. If you're seeking a fun place to people-watch, the restaurant's famous outdoor patio is the perfect place to observe Los Angeles' elite.  
Impeccably dressed guests often stop by to start their evenings or to linger late into the night over inventive craft cocktails. The wine list is also quite extensive. If you're feeling famished, dig into a hearty rotisserie chicken. Then finish the meal on a sweet note with a dessert featuring seasonal fruit from the Santa Monica Farmers Market. For those who want to extend their visit, there's also brunch on the weekends. 
Osteria Mozza
For anyone seeking the thrill of dining out, Osteria Mozza is the place to be. The vibrant atmosphere, friendly staff, and exceptional Italian fare are the ingredients for a perfect evening. At the heart of the restaurant stands a white Carrara marble Mozzarella Bar where guests can watch chefs plate a selection of fresh imported cheeses curated by culinary heavyweight Nancy Silverton. 
Excellent handmade pastas are sure to impress, and secondi like the trout with wax beans and the grilled steak beef tagliata satisfy diners time and time again. Be sure to save room for pastry chef Dahlia Narvaez's exquisite desserts. And if you're hungry for more the next day, head to Silverton's neighboring Pizzeria Mozza for a casual lunch.
Q Sushi 
Located in Westlake Village, Q Sushi offers a modern Japanese dining experience in a comfortable yet stylish setting. Guests can enjoy their meal at the sushi bar, in one of the restaurant's heated patio cabanas, or a private room. Takeout and curbside pickup are also available. 
With a wide range of innovative rolls alongside more traditional sashimi, sushi is definitely the star of the menu. However, there is also a respectable selection of grilled robata items, Kobe beef dishes, and other inventive entrees. Additionally, the restaurant's extensive array of beverages on offer will ensure you can have a drink that pairs well with whatever piques your interest. 
Vespertine
Before the pandemic, Vespertine challenged the world's notion of fine dining. Set in a glass box surrounded by an undulating grid of red steel, each meal was a progressive experience that engaged all the senses and sought to escape every culinary frame of reference. 
When restaurants were forced to shutter, chef Jordan Kahn kept Vespertine up and running by translating his otherworldly concept into a takeout-friendly format. While Kahn's original intention was to uproot, his takeout options connect. Past menus include a Cuban feast inspired by Kahn's grandmother and a Southern supper in collaboration with chef Sean Brock.  
If you're craving more of Kahn's cuisine, try his breakfast and lunch spot Destroyer, which has its own inventive menu and provides a complimentary daytime pairing to Vespertine.