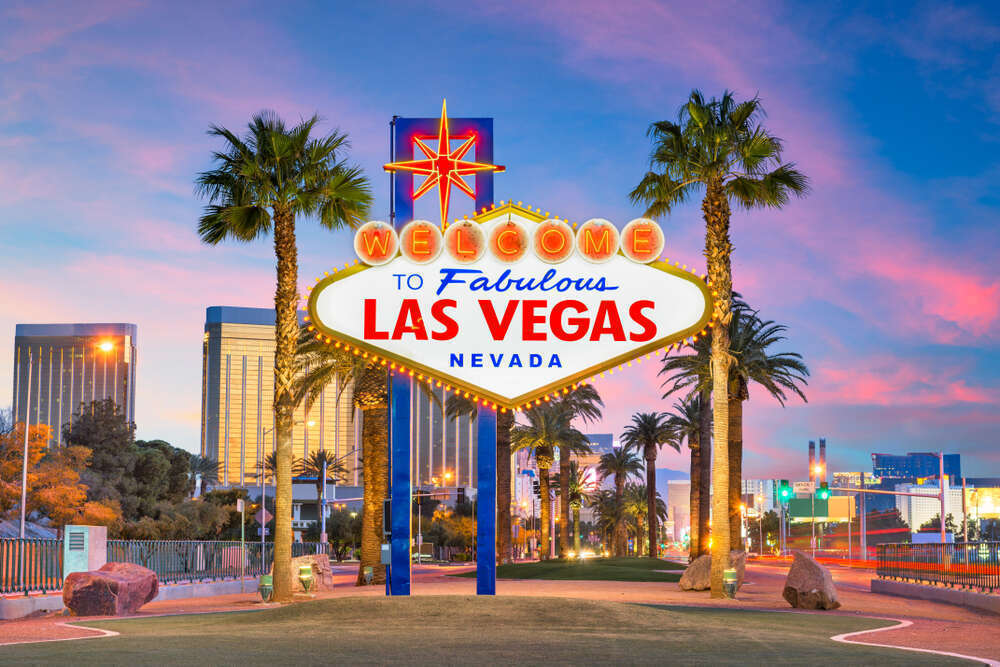 When you think of Las Vegas what springs to mind? Perhaps it's the city's world-class entertainment or glitzy casinos. But look beyond the nightlife and Sin City also boasts a vibrant food scene. While it no longer has its own Michelin Guide – the guide was discontinued back in 2010 due to poor economic conditions – Las Vegas is still home to some excellent restaurants that can hold their own among the very best.
True to its eclectic nature, Las Vegas offers an experience to remember at every turn. Whether it's dining on the traditional French fare of Joël Robuchon or an immersive Japanese experience at the spell-binding Mizumi, Las Vegas is guaranteed to satisfy even the most demanding culinary appetite.
Almost every restaurant on this list is located in one of the city's grand resorts, so make sure to plan your stay accordingly. Some resorts boast over a dozen restaurants, many perfectly capable of taking your breath away. Before you go any further, check out our guide to the top hotels in Las Vegas.
[See also: The Best Spas in Las Vegas]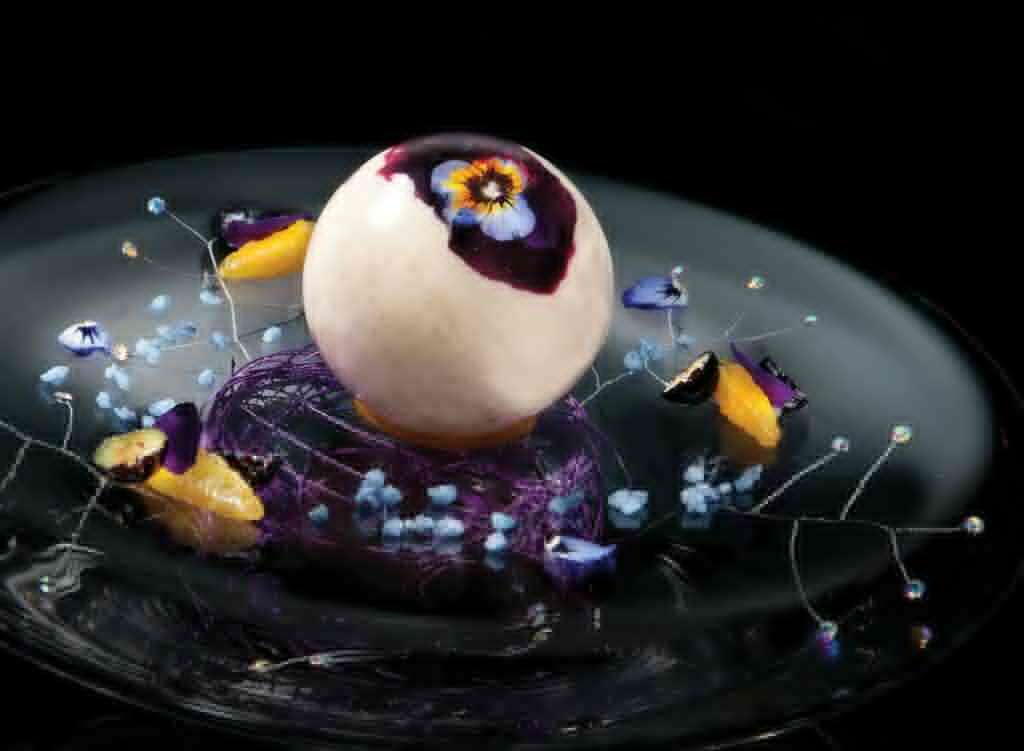 Joël Robuchon
Situated within the MGM Grand, this restaurant was the first site that Chef Joël Robuchon opened in the United States and helped to expand an empire that would eventually see him earn an extraordinary 30 Michelin stars across the globe. Robuchon sadly passed away in 2018, but his legacy is survived here in Las Vegas by executive chef Christophe De Lellis.
Featuring traditional French cuisine in a setting reminiscent of 1930s Paris, guests can taste the fare of a culinary icon who has won more Michelin stars than any other chef in the world. Choose from a variety of tasting menus or order à la carte while enjoying the elegant main or garden-designed dining room.
With photos of Robuchon and his celebrity diners adorning the restaurant walls, guests will be in excellent company at this Forbes Five Star venue. Robuchon's second Vegas venture, L'Atelier, is right next door and offers the chef's high standard of exquisite cuisine in a more informal environment.
[See also: A Guide to All Three-Michelin-Star Restaurants in the US]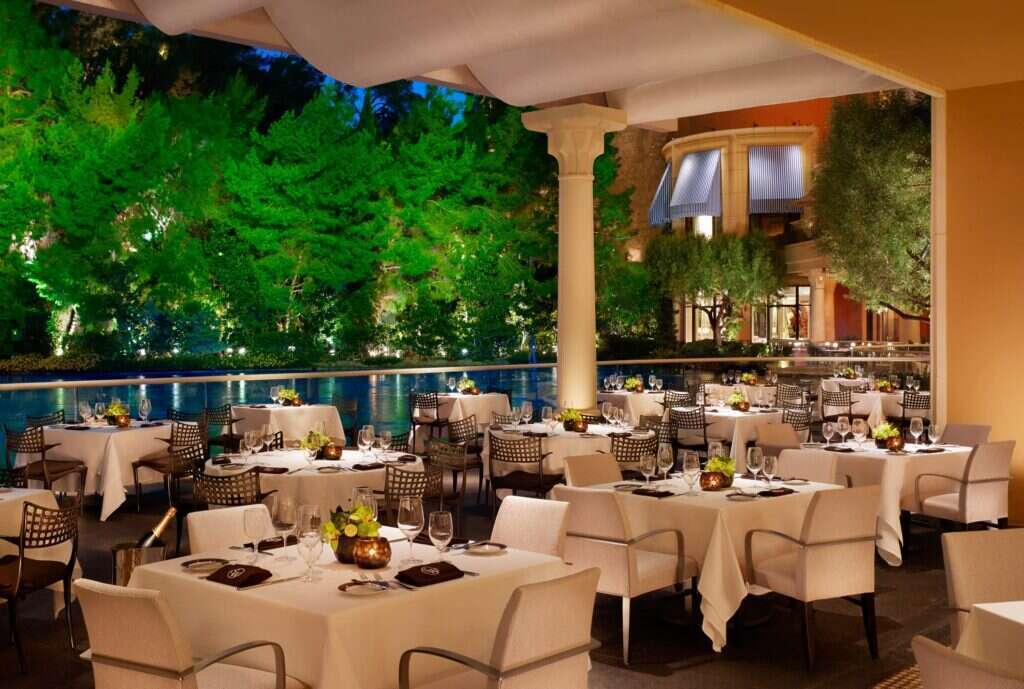 SW Steakhouse
Awarded four stars by the Forbes Travel Guide, SW Steakhouse is the perfect marriage of memorable food and dazzling entertainment. The brainchild of Chef David Walzog and situated within the iconic Wynn, this restaurant is widely regarded as the best place to eat steak in Las Vegas.
[See also: Top Suites in the World – Three-bedroom Duplex, Encore at Wynn Las Vegas]
Guests can enjoy entrees like A5 Japanese Wagyu, dry-aged tomahawk chops and a chile-rubbed double rib eye. All are skillfully paired with sides that allow Chef Walzog to show off his culinary chops with seasonal, exotic ingredients like black truffle creamed corn.
Thanks to its optimal position by the Lake of Dreams, guests will be treated to the dazzling nightly shows whilst dining, making SW Steakhouse a delight to all senses.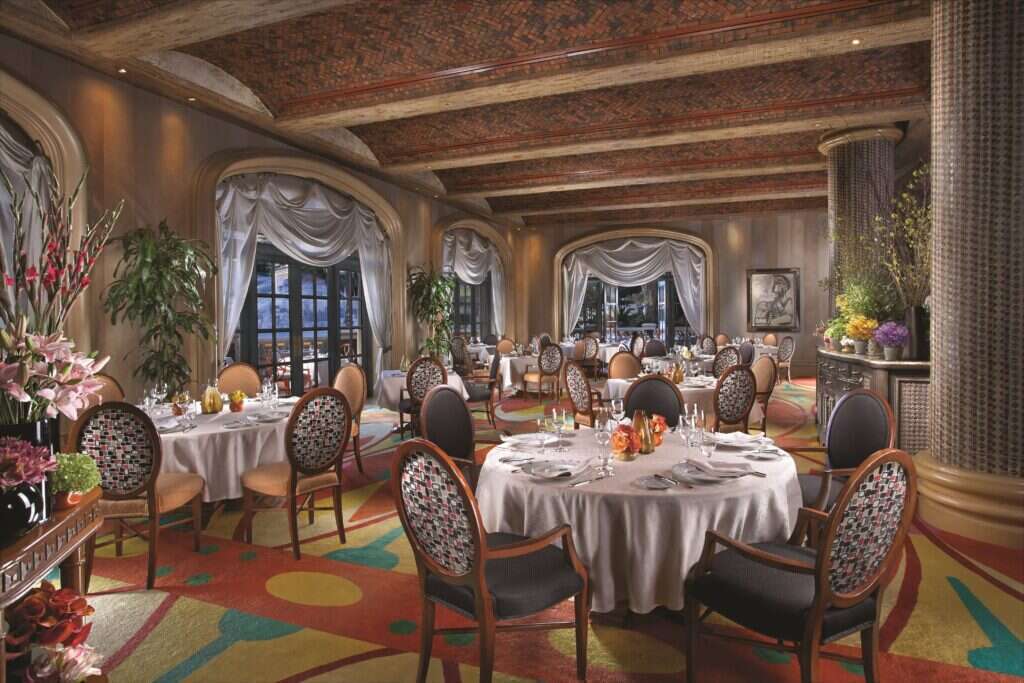 Picasso
Inspired by the regional cuisine of France and Spain where Pablo Picasso spent much of his life, Executive Chef Julian Serrano has produced a thoughtful, innovative menu for diners to enjoy. Guests can also choose from a vast private cellar boasting 1,500 wines from every major region in the world.
Surrounded by a collection of Picasso's original paintings and charming ceramics, the restaurant offers a truly one-of-a-kind dining experience. The added charm of an outdoor patio area, from which diners can watch the iconic Bellagio Fountain show adds another dimension to this stunning venue.
Awarded the AAA Five Diamond award, Picasso is a vibrant restaurant guaranteed to stimulate the senses.
[See also: A Guide to All Three-Michelin-Star Restaurants in the USA]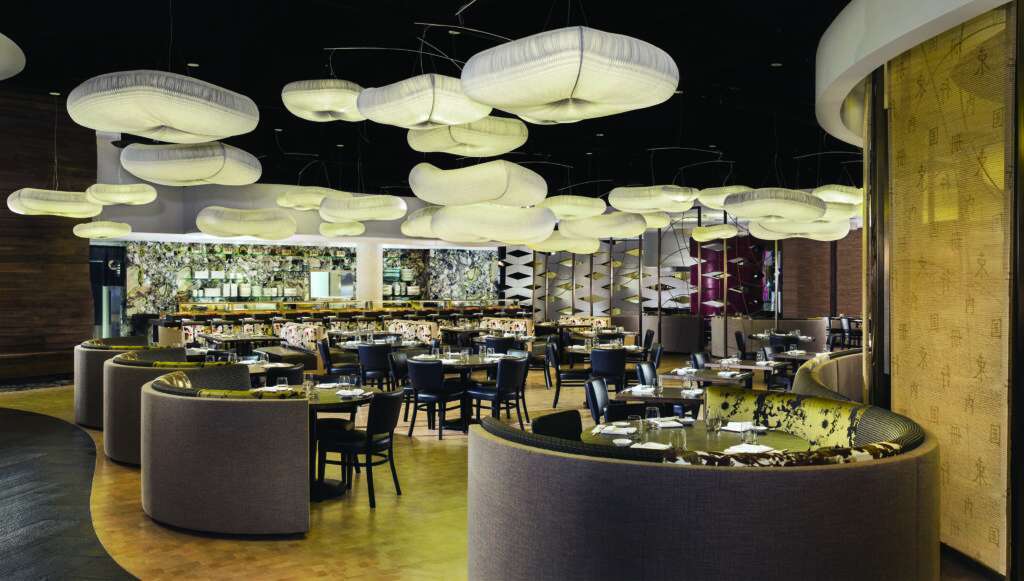 Nobu Ceasars Palace
The world-famous Nobu restaurant group needs little introduction, serving outstanding, Japanese cuisine in 47 restaurants across five continents – including two in Las Vegas alone – this is a dining experience guaranteed to impress.
Offering a mix of hot and cold dishes, sushi, and tempura, Chef Nobu Matsuhisa presents a traditional Japanese style of cooking infused with bold South American and Western flavors. Diners can also indulge in the restaurant's exclusive truffle tasting experience and imported A5 Japanese Wagyu Banquet prepared on Teppanyaki tables.
The David Rockwell designed décor blends bamboo and a hand-layered river rock wall with earthy, neutral tones to create a relaxed and natural environment. With the added bonus of offsite dining and catering options, you can enjoy Nobu's award-winning menu from the comfort and privacy of your hotel suite.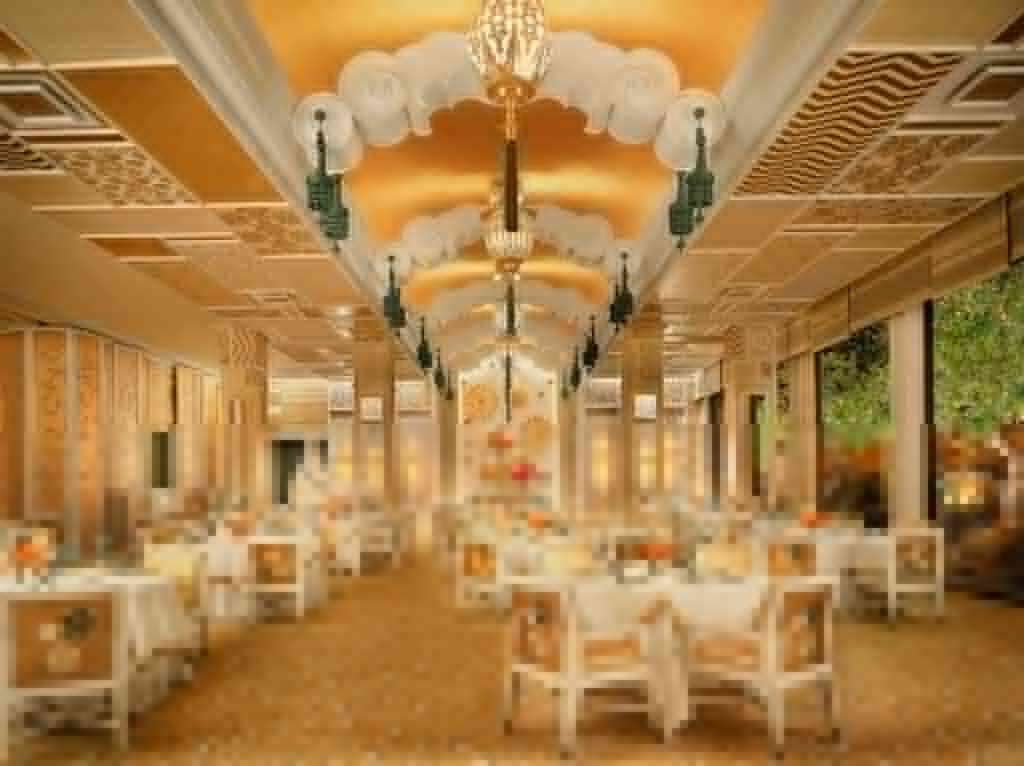 Wing Lei
As the first Chinese restaurant in North America to be awarded a Michelin Star, Wing Lei doesn't just bring a new flavor profile to Las Vegas but to the entirety of the US.
Situated inside the Wynn, the award-winning restaurant serves Cantonese, Shanghai and Szechuan dishes at the highest level. Those dining should beeline straight for the tableside -carved Imperial Peking duck, while the wok-fried Maine lobster brings an Asian twist to a classic American delicacy.
Executive chef Ming Yu suggests family-style sharing to allow everyone to sample a variety of what Wing Lei has to offer. The dining room itself is fit for glamourous Las Vegas, its white, jade and gold color scheme will immediately transport you to China's imperial palaces.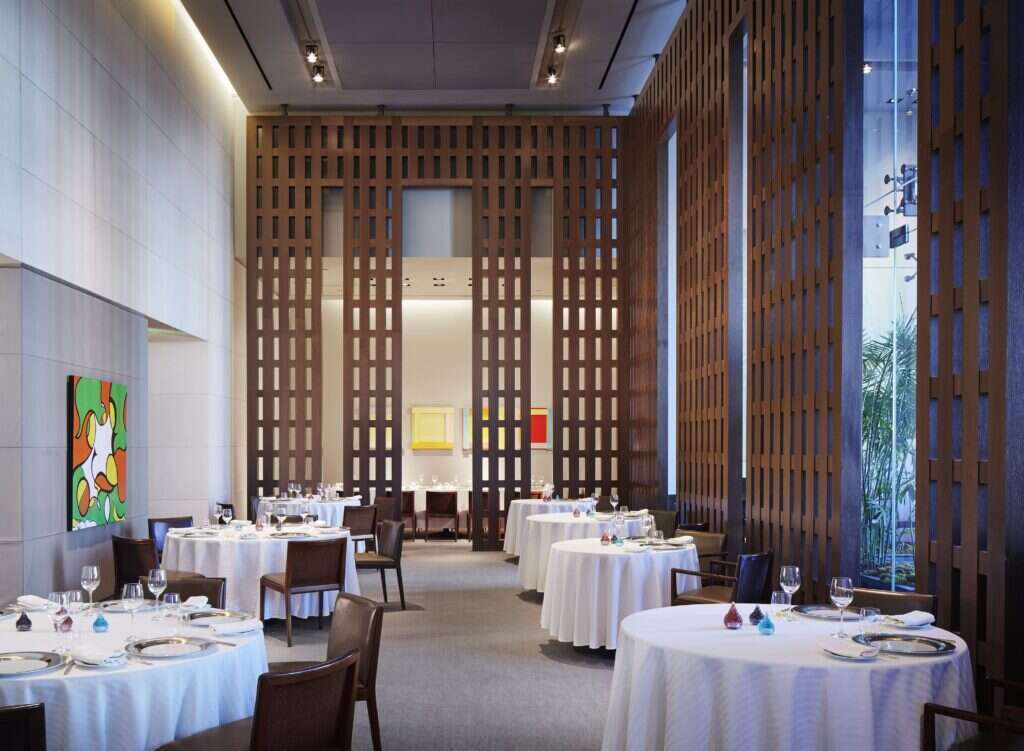 Restaurant Guy Savoy
Elegant and sophisticated, Restaurant Guy Savoy offers haute French cuisine in a venue naturally inspired by its Parisian sister property. Boasting sweeping views of Caesars Palace and, fittingly, Sin City's very own Eiffel Tower, the restaurant matches its grandeur with flawless service and dedication to detail.
From the personalized table settings to the Christofle silverware and Spiegelau glasses, Restaurant Guy Savoy is the very symbol of luxury. The à la carte menu , with its 'from the land' and 'from the sea' sections, features a range of Savoy's signature dishes, including silky Artichoke and Black Truffle Soup and the delicately spiced Crispy Sea Bass. Guests can also discover the wonder that is caviar in a dedicated Caviar Room or watch some of the finest chefs in the world at work from the exclusive Krug Chef's Table.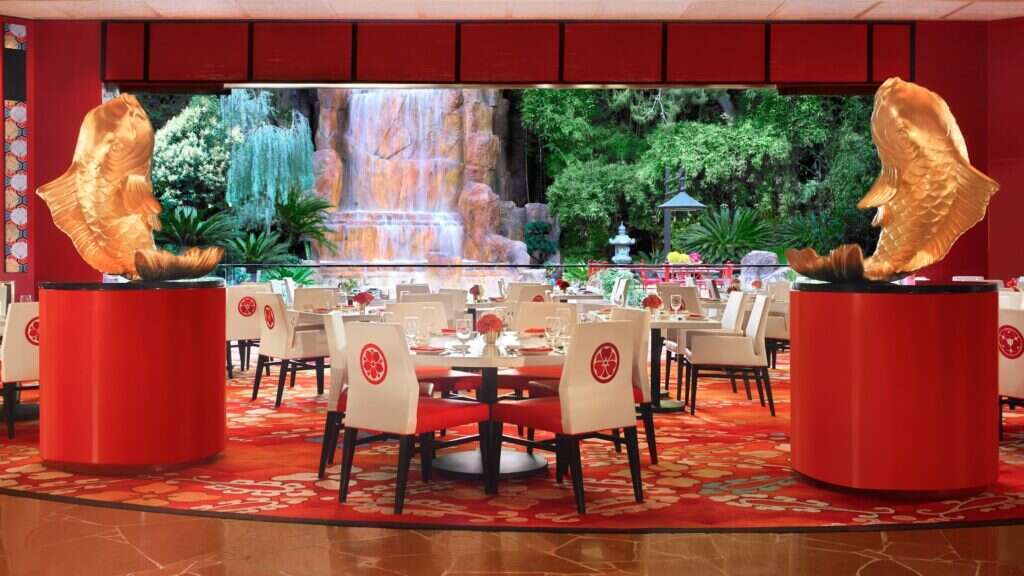 Mizumi
Take an immersive dive into the world of fine Japanese dining at Mizumi (reopening after renovations fall 2023). Occupying a quiet corner of Wynn, the restaurant feels like a sanctuary compared to the hustling streets of Las Vegas. Each table looks out onto a mystical Japanese garden and koi pond with a 90-foot waterfall behind it through floor-to-ceiling windows.
The ambiance is certainly there, but what about the food? Chef Min Kim serves some of the most prized cuisine in Las Vegas. The ocean-fresh sushi and sashimi certainly gives Nobu a run for its money, with the signature dishes including miso-glazed Peruvian toothfish and 48-hour grilled pork belly with pumpkin purée. The restaurant boasts a robatayaki bar and a teppanyaki room.
For the ultimate al fresco experience, reserve the floating pagoda table, which is only accessible by a private path through lush gardens.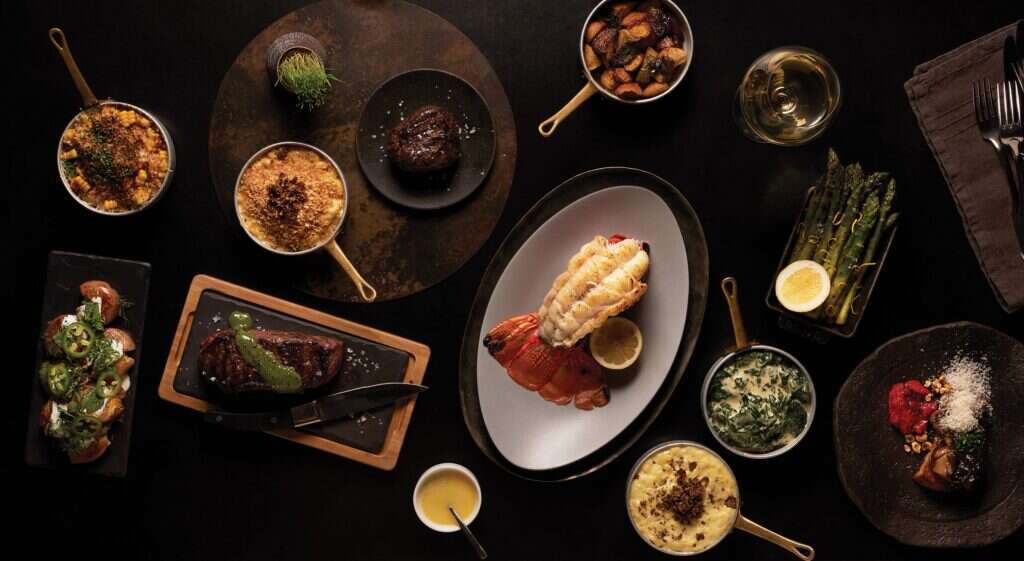 Jean-Georges Steakhouse
Steakhouses are a dime a dozen on the Las Vegas Strip, but this one from the world-class Chef Jean-Georges Vongerichten is worth its weight in gold. This modern dining room has a low-key yet elegant ambiance that proves popular with couples. The low-level lighting further enhances the romantic feel, but be in no doubt; this is as serious as a steakhouse as you can find in Sin City.
The staff are well versed in each and every cut of meat on the menu and confidently describe the intricate differences between them. They are likely to recommend the Wagyu brisket, which is delivered whole on one of the restaurant's carving carts and sliced in front of diners. The restaurant's signature dish is a 32 oz. Wagyu tomahawk, reserved only for those whose eyes deceive their stomachs. It is also one of only three restaurants in the city that to serve Kobe A5 beef.
As with all steakhouses worth their salt, the wine list is both extensive and full of quality. Diners can choose fine vintages from California, Bordeaux, Italy, and Spain among others. The restaurant also has an extensive cocktail menu.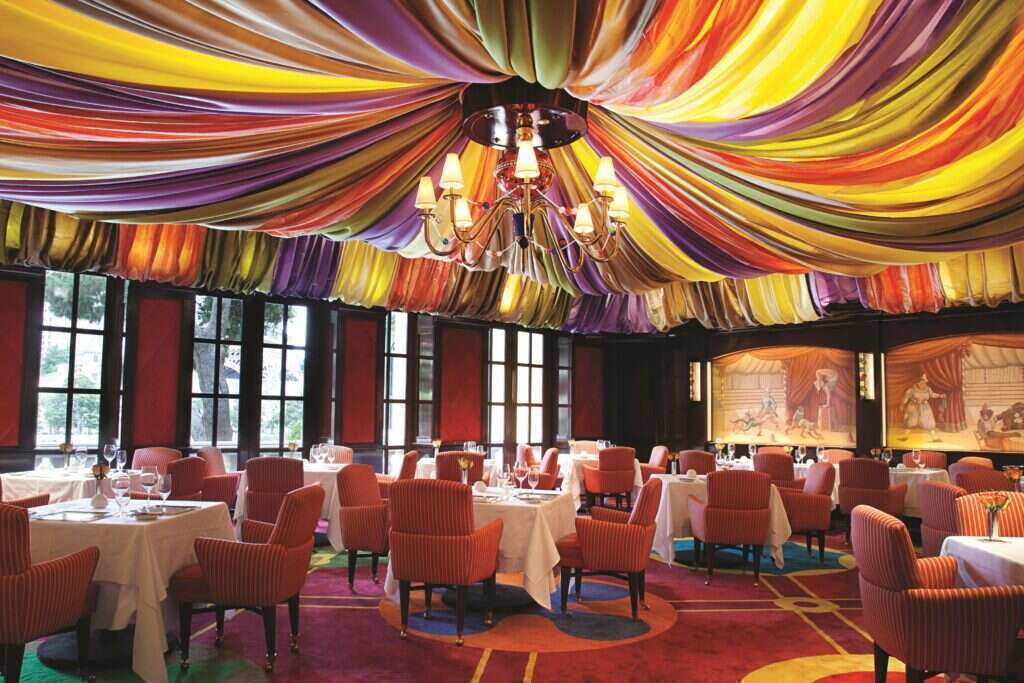 Le Cirque
This legendary French restaurant built its reputation in Manhattan over 40 years across several locations. While there is no longer a Le Cirque in New York, its legacy lives on in this delightful Las Vegas outpost. The restaurant prides itself on delivering old-school fine dining. Diners are expected to adhere to a formal dress code and in return, they receive service that has been drilled to within an inch of perfection.
There is substance to match the style as well. There are three menus to choose from, each offering quintessential classic French cookery with the highest quality ingredients. The Menu Dégustation ($425 per person) boasts some of the world's most coveted ingredients, including Osetra caviar, Alba white truffle and Japanese Wagyu beef loin. A vegetarian version of the menu is also available.
While the sommelier offers an astounding wine pairing, diners can choose their own tipple from the 900-label list.
[See also: A Guide to All Green Michelin Star Restaurants in the US]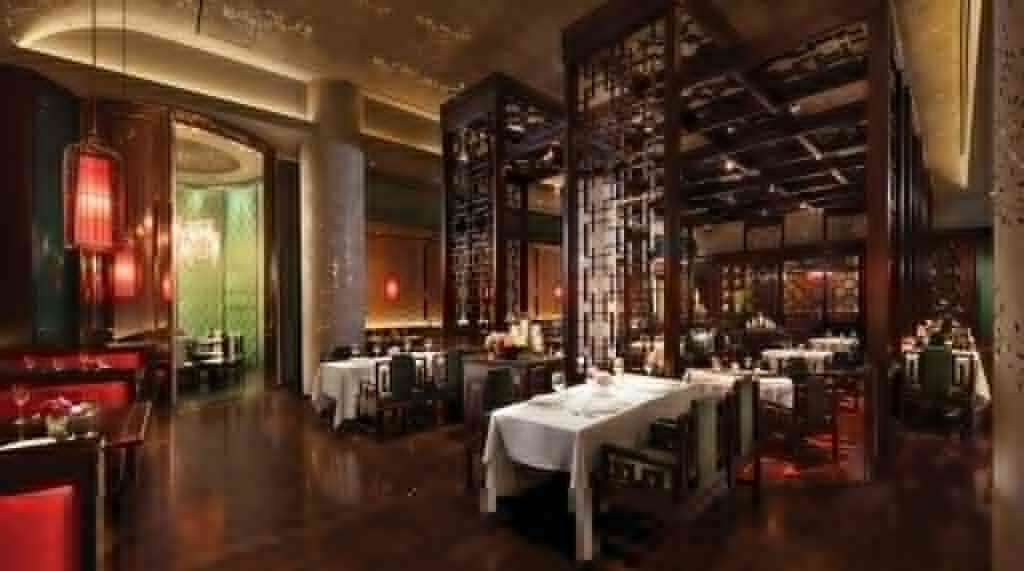 Blossom at Aria Resort & Casino
Experience the very best in Chinese cuisine with an extensive menu that boasts over 100 dishes. Chef Chi Kwun Choi has meticulously curated a menu that contains both authentic dishes from across East Asia as well as Western plates.
Diners come here to experience the show-stopping Peking duck, delivered whole and sliced, plated and presented at your table. The beautifully crisp duck is then served on a puffy bao bun or flat pancake and topped with cucumber and hoisin sauce. Regulars will tell you that the shrimp toast is a must. The Hong Kong style Maine lobster and ox tail hot pot are also highly recommended.
The décor is sleek and ornate, with concrete pillars adorned with leaf and branch mosaics that give them a tree-like quality. Birdcage chandeliers containing red lanterns hang low and fill the restaurant with romantic lighting. For those wishing to dine incognito, the restaurant also has two private dining rooms.
[See also: The Finest Epicurean Hotels Across the World]