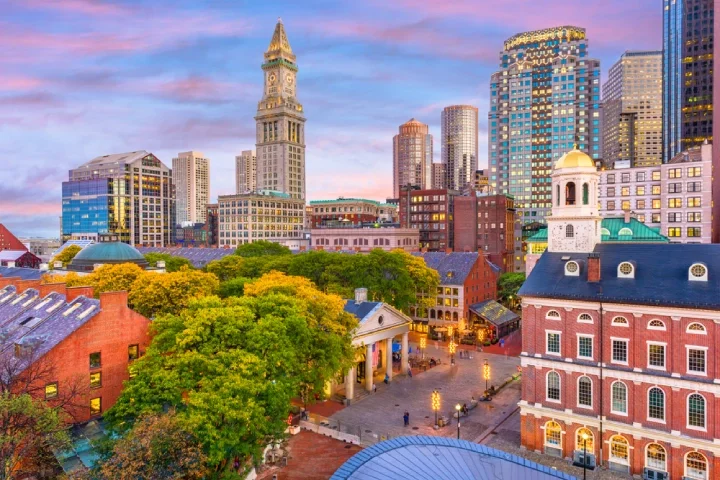 Boston, one of the oldest cities in the US, is a true culinary gem. Famous for its seafood, from clam chowder to lobster rolls, the city does not hold back when it comes to fine dining.
As an area rich in tradition, diners and tourists can enjoy uniquely historic views while tasting the unique and refined dishes that these restaurants offer. Perfectly cooked steaks, sushi to die for, and sophisticated French cuisine are only some of the offerings that Boston has.
Elite Traveler has collated a list of the five best restaurants in Boston.
Menton
Menton specializes in modern fine dining. Located in the Fort Point neighborhood of Boston, the restaurant is award-winning chef Barbara Lynch's studio, where she crafts fresh culinary concepts in a glamorous setting.
Fresh and high-quality ingredients are the basis for every single dish, which guests can savor either at the six-seat bar or at the ten-seat banquette, or at one of the many dining room tables. If you are looking for a more private experience, there is the Private Dining Room overlooking Congress Street, which seats 45 people, as well as the Chefs Table Room, with a view of the kitchen, which seats up to 12 people. 
Menton has won numerous awards, including a James Beard Foundation Award nomination in 2011 to Best Newcomer, Best French, and Best Service accolades in the Zagat Boston Restaurant Guide in 2012. In addition, Chef Lynch is the only woman in the US to hold the title of Grand Chef Relais & Chateaux. 
Mooo….
In Beacon Hill, the aptly named Mooo steakhouse combines classic and modern dishes in an elegant atmosphere.
The a la carte steak menu features everything from fresh East Coast oysters to Japanese Wagyu beef dumplings. While supreme steaks and beef-based dishes are the focus, seafood and special menus accommodate other tastes with dishes like broiled Maine lobster and gulf shrimp.
A private dining experience can be found in The Wine Cellar, where double-vaulted ceilings and an extensive wine list promise an intimate evening.
o ya
For sushi in Boston, nothing beats o ya. It is a contemporary Japanese-inspired establishment which was born from years of travelling around Japan. Owners Chef Tim and Nancy Cushman have always been fascinated with the hospitality at the heart of Japanese culture.
Every evening, o ya offers an omakase dinner experience. It consists of a 20-course menu exclusively chosen by the chef, containing unique and tasteful nigiri, sashimi and even an assortment of cooked dishes. If there are any dietary preferences, one must communicate them to the restaurant at least 48 hours in advance.
The starting price for this experience is $295 per guest, with an extra $160 for beverages. 
No 9 Park
Another dining destination from Chef Barbara Lynch, No 9 Park is set in a luxurious townhouse in the Beacon Hill area.
The cuisine here is a mix of French and Italian with regional influences. In addition, guests can also be delighted with the establishment's James Beard Award-winning wine list, only adding to the fine dining experience.
After the diners are welcomed in the bar room, they can take a seat and start to enjoy the six-course tasting menu, surrounded by dark wood floors and antique chandeliers. The menu's price starts at $165 per person, with an additional $95 for wine pairings. 
Uni
Uni is the result of the joint effort and collaboration between executive chef David Bazirgan and owner Ken Oringer. Initially, Uni was born as a sashimi bar in 2001, which quickly grew to be one of the most appreciated spots in the city, located in the lounge of Clio. 
In 2009, however, the chef made the decision to focus on other projects. That was until 2015, when renovations at Clio started and Uni began to take shape. Uni reopened officially in 2016, this time as an expansive fine-dining restaurant offering inventive Japanese cuisine and some of the freshest seafood in Boston.
The menu still revolves around sashimi, but it also includes broader dishes such as scallops and oysters, and guests can choose to add caviar for an extra $125 per person.