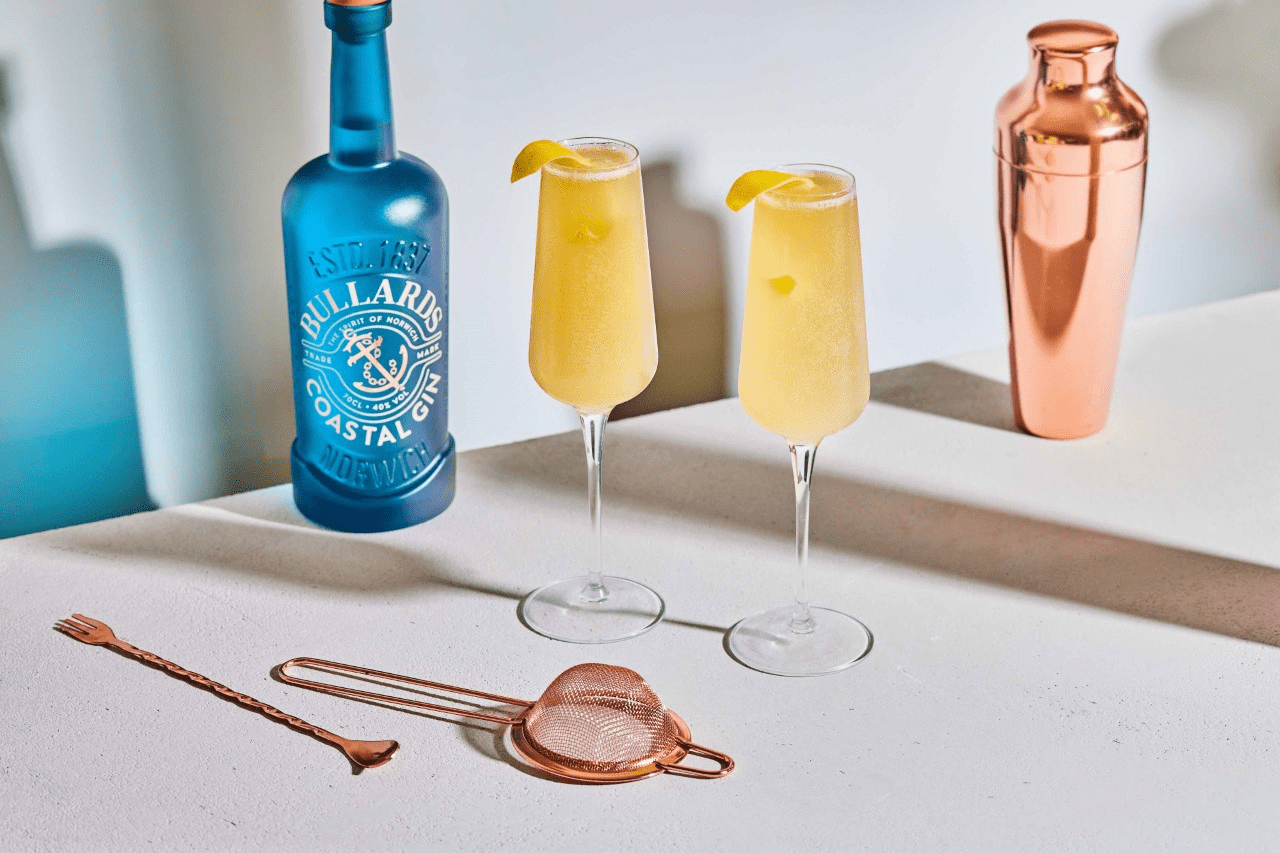 As the end of summer draws ever closer, we're toasting to the last of the long balmy evenings with the delicious French Harvest cocktail from Bullards Gin. Created with Bullards' Coastal Gin, the recipe stays true to a classic French Harvest cocktail that teams the dry fruity sweetness of cider with cutting citrus flavors.
Distilled in the seaside county of Norfolk in the east of the UK, Bullards Coastal Gin is inspired by the coastline and uses handpicked local sea purslane, marsh samphire and sea aster in its careful mix of botanicals. The result is a delicate yet distinctly salty palate, offering a seaside twist to this classic cocktail recipe. Your chosen cider is down to personal preference, but we recommend an apple cider, preferably from northern France or southern England – and don't forget, it must be sparkling.
[See also: Delicious Cocktail to Try on World Gin Day]
Beyond its Coastal Gin, Bullards' lineup of small-batch spirits also includes a London Dry and an Old Tom, as well as a Strawberry and Black Pepper number. Better yet, as Bullards is committed to operating as a distillery for good, the innovative team has come up with a way for gin lovers to enjoy its blends without the guilt through its award-winning Eco-Refill program.
Once you've had your fill of this unique British gin, instead of a new bottle, order an eco-friendly refill pouch that uses less energy to produce, transport and deliver (location dependent). When your refill is finished, send it back to Bullards where it will be responsibly recycled. Delicious and environmentally conscious? Bullards ticks all the boxes.
Ingredients:
1 ¾ oz Bullards Coastal Gin
¾ oz sugar syrup
¾ oz fresh lemon juice
dry sparkling cider
lemon peel
Method:
Add all the ingredients, except the cider into a cocktail shaker, add ice and shake vigorously until cold. Strain into a champagne flute. Top with sparkling cider and garnish with lemon peel.
See more of our Cocktail of the Week recipes here.