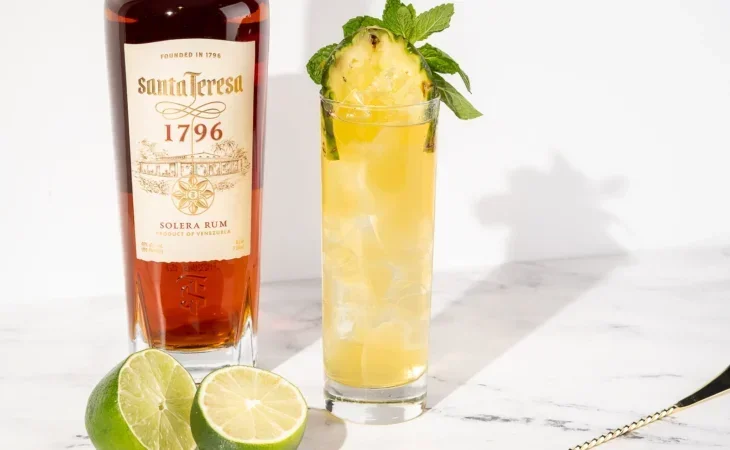 From pirates to royal dignitaries from the Middle Ages, rum has had quite a long and controversial history. 
The first distillation of rum in the Caribbean is thought to have taken place in the early 1600s on the island of Nevis. Then known as 'kill-devil' or 'rumbullion,' a document from the time describes this early distillation as a "hot, hellish, and terrible liquor".
Despite the less than glowing review, the drink's popularity spread through the Caribbean and North America. A number of distilleries were built to keep up with the demand; some distilleries produced an extra-strong rum solely to be used as 'slave currency'.
Rum was used to purchase captured slaves who were sent to the Caribbean's sugar plantation, thus creating the Triangular Trade, a shocking part of the history of rum. 
[See also: The Best Rum Brands in the World]
Hacienda Santa Teresa was founded in 1796 in north central Venezuela, a region known for its lush valleys. It is here that the single-estate rum, Santa Teresa 1796, was first created by the Vollmer family — and is still run by the fourth generation of the family. 
As the rum is created using the solera method, it means that each bottle of Santa Teresa 1796 rum has some of the liquid from the very first cask within. The original cask was never emptied as each time a bottle is drawn, it is topped up with a slightly younger rum. This method is passed down to every 'maestro' at Santa Teresa. 
Some of these maestros are not exactly what you'd expect. In 2003, a gang broke into the Hacienda. They were apprehended but instead of being reported to the police, they were offered a chance to work at the Hacienda. The men accepted and thus Santa Teresa's Project Alcatraz was born. It is a program that recruits criminal gangs to provide vocational training, education, and psychological assistance.
Santa Teresa 1796 is a smooth, balanced rum with tasting notes of vanilla, dark chocolate and leather with hints of pepper. It can be used for a number of cocktails, including a delicious rum-based Negroni. This week's recipe is best enjoyed on a hot summer's day as a thirst-quenching cocktail with a fiery kick.
Ingredients:
– 1 ½ oz. Santa Teresa 1796
– ½ oz. simple syrup
– 1 oz. lime juice
– 1 ½ oz ginger beer
– 2 chunks of pineapple, plus half pineapple for garnish 
– Pinch of granulated cinnamon
– Sprig of mint for garnish
Method: 
Muddle the pineapple chunks in a shaker. Then add the rest of the ingredients and shake with ice. Double strain over ice in a Collins glass. Top with ginger beer and garnish with a mint sprig and half a sliced pineapple.