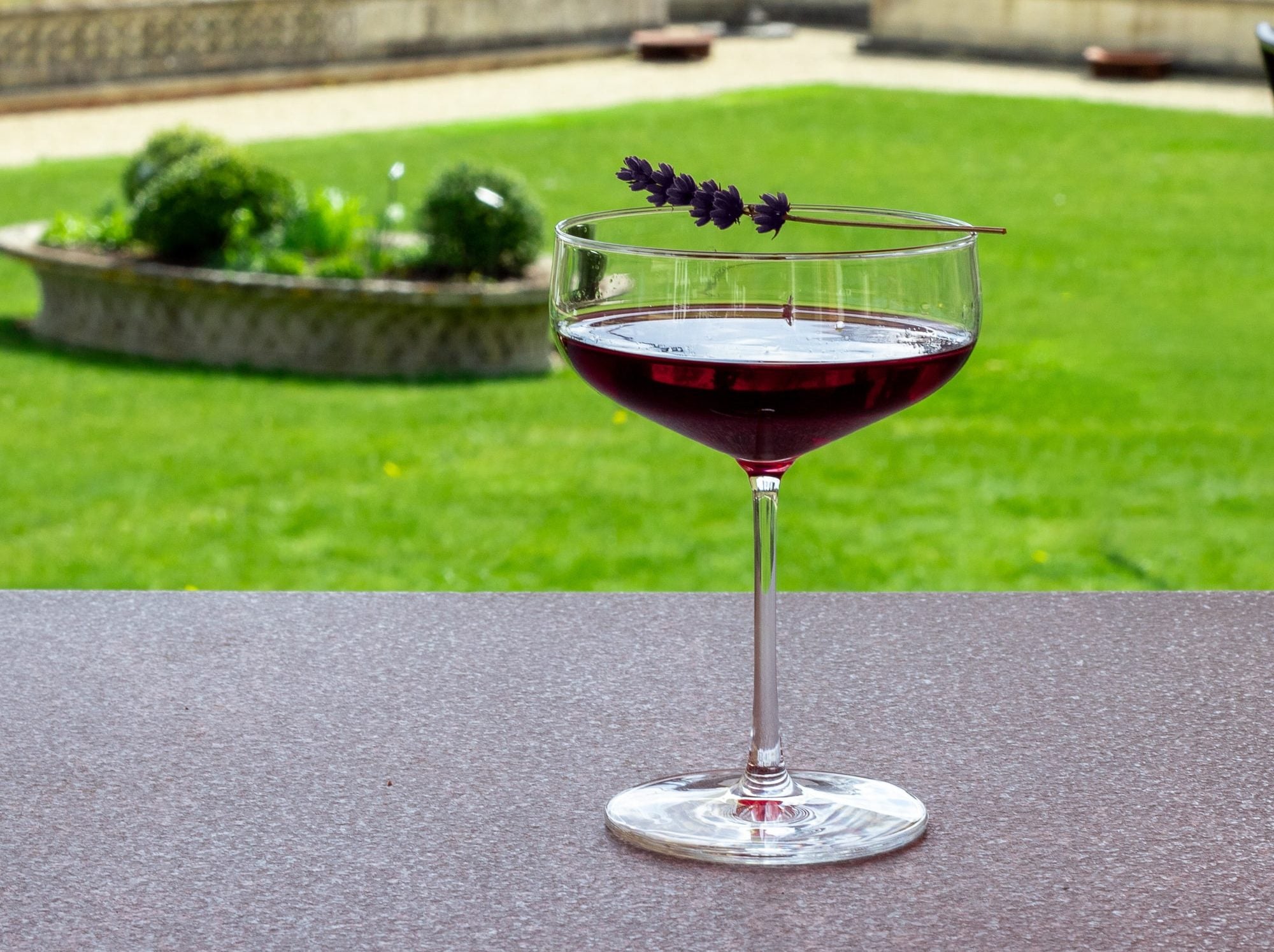 Hidden in a secluded corner of the English countryside in the county of Hampshire, Heckfield Place is an idyllic haven away from the busyness of city life – and the luxurious manor house hotel has impressive eco-credentials to boot. To celebrate the destination becoming the UK's first 100% biodynamic hotel earlier this year, we are sharing the recipe for its Sour Cherry and Lavender Martini cocktail.
The biodynamic accreditation was awarded at the beginning of 2021, following Heckfield Place's three-year conversion to biodynamic agriculture in its adjoining farm, which adopts a more holistic and organic approach to farming. This 'closed loop' approach mitigates the need for harmful chemicals and instead preserves the soil's natural nutrients, to both ensure its health for years to come and produce organic, nutrient-rich crops.
This pioneering process has allowed the bounty of the farm to provide for the hotel in a number of ways, from fresh bouquets of native flowers arranged by the in-house florist to the seasonal crops that influence the ever-changing restaurant menus.
[See also: The Leading Countries for Sustainable Fine Dining]
Last year Heckfield Home Farm also opened its own micro-dairy, which now produces milk, butter and cream for not only the hotel but also the surrounding community from the hotel's own herd of Guernsey cows. The herd is joined by a flock of sheep, as well as pigs, chickens and honeybees, who all call the working farm home.
In the interest of minimizing waste and sourcing in-house wherever possible, Heckfield Place also ensures that its extensive and unique cocktail menu – which can be sampled in the hotel's intimate Moon Bar – remains true to the farm-to-table ethos. Where possible, each recipe uses homemade tinctures, liqueurs and bitters – and the floral Sour Cherry and Lavender Martini is no exception. The delicate recipe is a more approachable take on the classic martini that evokes the distinctive flavors of the English summer.
To make the sour cherry element of the drink, the Heckfield Place team sources cherries from within the hotel's walled garden and soak them in a homemade 60% spirit, while the Lavender Lillet is made using fresh lavender heads picked from local plants. Although this may sound hard to make at home, Heckfield's Sour Cherry Spirit and Lavender Lillet can be easily replicated at home using store-bought vodka and Lillet.
[See also: Unusual Methods Making Wine and Spirits Sustainable]
Ingredients:
1⅓oz homemade Sour Cherry Spirit
¾oz homemade Lavender Lillet
Boozy cherry and lavender stalk to garnish
Sour Cherry Spirit: Macerate 11 pounds of sour cherries until they lose their color and add to 150oz of your chosen vodka. Instill for around three months.
Lavender Lillet: Put five fresh lavender heads in 24oz of Lillet and leave them for about a week to infuse, until the lavender loses its color.
Method:
Combine the Sour Cherry Spirit and Lavender Lillet and stir over ice. Strain into a chilled coupe and garnish with a boozy cherry and a stalk of lavender.