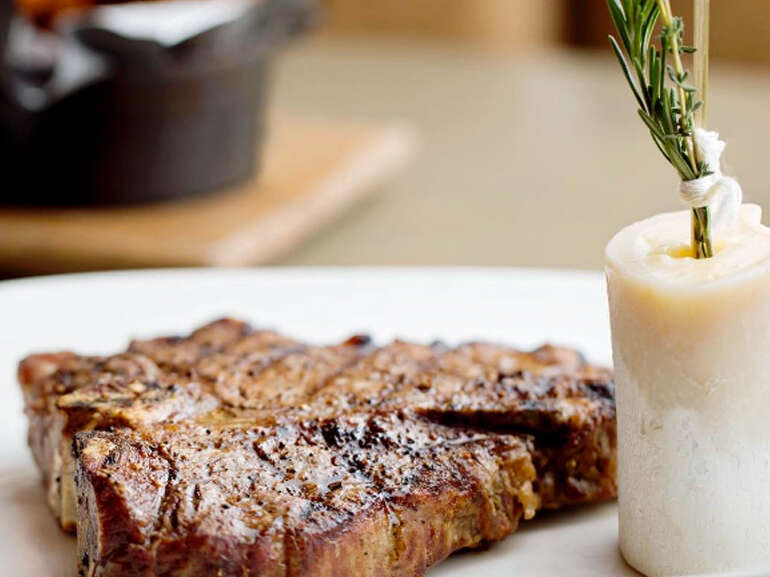 By Olivia Cuccaro
As one of the oldest cities in the US, Boston has had plenty of time to develop a stellar fine dining scene. The Massachusetts capital is steeped in colonial history, but the restaurants represent a modern city on the gastronomy front. Cuisines range from upscale steakhouses to sophisticated French fare. These are our picks for the top restaurants in Boston.
Menton
This award-winning restaurant draws gourmands to the Fort Point neighborhood of Boston, where acclaimed Chef Barbara Lynch crafts modern cuisine in a glamorous setting. For a special experience, book the Chef's Table to watch the expert team at work in the kitchen. Choose from the Four Course with Options menu or the Chef's Whim Tasting Menu, which can be six or eight courses and can include wine pairing.
Mooo
In Beacon Hill, this aptly named steakhouse combines classic and modern dishes in an elegant atmosphere. The a la carte steak menu features everything from a Bone-In Painted Hills Ribeye to a Japanese A5 Wagyu Sirloin. While supreme steaks are the focus, seafood and specials menus accommodate other tastes with dishes like broiled Maine lobster and rack of lamb. A private dining experience can be found in The Wine Cellar, where double-vaulted ceilings and an extensive wine list promise an intimate evening.
L'Espalier
Conveniently close for guests of the Mandarin Oriental, L'Espalier captures modern New England-French cuisine in a simple yet chic atmosphere. Chef McClelland's menus allow guests to mix and match from what's available for a custom dining experience. The seasonal Chef's Tasting Journey menu explores courses including caviar and truffles, enjoyed at the Chef's Table in the L'Espalier kitchen. The restaurant's exquisite wine and cheese programs are must-tries when visiting Boston.
O Ya
For sushi in Boston, nothing beats O Ya. The Grand Omakase tasting menu is spread over 20 courses, moving from kumamoto oyster to foie gras to wagyu. O Ya's contemporary Japanese cuisine is complemented by an extensive list of Japanese beverages to sip while taking in the mellow ambiance.
No 9 Park
Another dining destination from Chef Barbara Lynch, No 9 Park is set in a luxurious townhouse in the Beacon Hill area. The cuisine here is a mix of French and Italian with regional influences. The six-course Chef's Tasting Menu changes every other week and includes seafood, pasta and meat dishes to savor. Old world wines are on the list, or try something from the exciting cocktail program. On Sundays, you can even take a mixology class to learn the No 9 Park way.