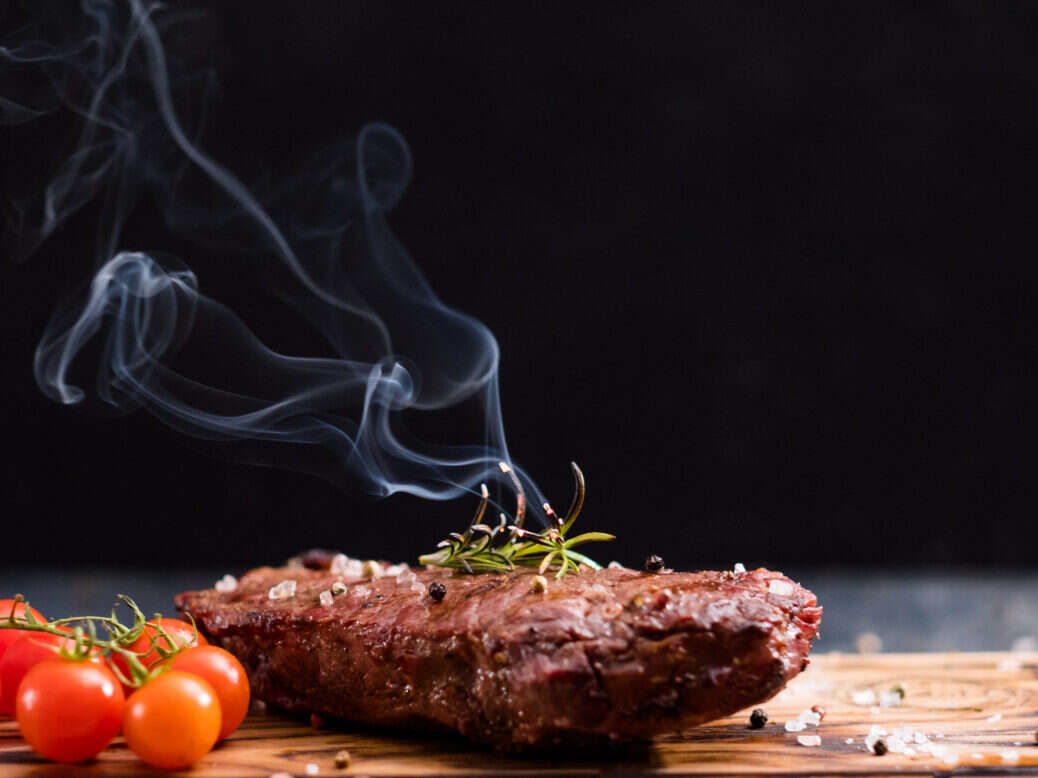 From the Upper East Side to downtown Manhattan, New York City is full of culinary surprises. But sometimes the classics are better. Steak has always been a staple of American cuisine, and the Big Apple has many choices on offer.
Some of these restaurants will wow their diners with complex and flavorsome dishes, while others like to respect the classic side of steak. But, whatever you desire, these eight steakhouses won't disappoint.
The Capital Grille
Located around the corner from the Rockefeller Center, The Capital Grille welcomes its diners with its African mahogany paneling and Art Deco chandeliers. In addition to the elegant and refined decor, the establishment's nationally renowned dry-aged steaks, fresh seafood and enjoyable world-class wines are all accompanied by gracious and attentive service.
The ingredients that The Capital Grille uses are masterfully cooked and prepared, creating a true sensory experience. The steaks' preparation involves dry ageing on premises that lasts for 18-24 days, as well as an expert carve done by in-house butchers.
The Capital Grille has multiple branches in Las Vegas, Scottsdale, Providence, Costa Mesa, Seattle and four in New York.
Club A Steakhouse
Club A Steakhouse was first established in 2008 as an idea of owner Bruno Selimaj. He was born and raised in a small village between Albania and Montenegro and, after growing up as a farmer, he decided to move to the US in search of a better life in the 70s.
After closing his homonymous restaurant after 30 years, he re-opened it one year later in 2008 as a club in the same location. The idea behind the establishment is legacy and family, as the 'A' in the name derives from Selimaj's sons: Arben, Agron and Alban.
While still encompassing traditional steakhouse values, Club A Steakhouse carries modernity and innovation in its name. Located between the Upper East Side and Midtown East, the restaurant showcases a fireplace, wine cellar and even a piano room that hosts jazz nights.
K Rico South American Steakhouse
Christian Tanno and Tommy Greco, two of the most experienced restaurateurs in the city, head up K Rico South American Steakhouse. Meeting on their first day of kindergarten at East Brook Elementary School, they carried on their friendship and business partnership later on in life.
The restaurant is located in Hell's Kitchen, minutes away from Times Square and Broadway. The dishes are directly inspired by Latin America's culture, as both of the owners fell in love with the area during their extensive travels.
Bar service, prime meat cuts and a contemporary atmosphere are all elements that K Rico offers its diners, as well as top-rated service.
[Read more: The 13 Best Restaurants in Dubai]
Quality Meats
Luxurious restaurant Quality Meats, inspired by old-style New York City butcher shops, opens its doors to diners by offering a modern interpretation of traditional cuts. With some unexpected combinations, such as slab bacon, peanut butter and jalapenos, Quality Meats is certainly one of the most interesting steakhouses in the Big Apple.
Craig Koketsu is the mind behind the menu, and designer AvroKO is the mind behind the industrial and rustic interior design, which enhances the authenticity of the experience offered to the clients.
Porter House
Renowned chef Michael Lomonaco is the owner of the award-winning establishment Porter House Bar and Grill, in New York City.
The restaurant offers a seasonal menu inspired by American classics, especially focusing on prime steaks, roasted chicken and duck and even seafood. Lomonaco's signature is visible in bold and vibrant flavours, accompanied by world-class wines.
The view of Central Park is not to be taken for granted either, which can be enjoyed while eating crab cakes and charred cowboy rib steak.
Wolfgang's
Wolfgang's is the fruit of Wolfgang Zwiener's craftsmanship and ideas. He is not only the owner of 21 successful steakhouses around the world, but he is also an experienced businessman with over forty years of experience on his shoulders.
Wolfgang's offers its diners the finest USDA prime black Angus beef, which is dry-aged and then carved into the signature porterhouse, prime New York sirloin, ribeye and filet mignon cuts.
In the center of Manhattan, Wolfgang's is the prime hotspot for after-work drinks and refined first dates.
Keens
Born as a chophouse in 1885, Keens was founded by owner Albert Keen. It soon became an important meeting point for the rich and famous, as Keen himself was very well known in the theatre environment. Nowadays, Keens is the only original building still standing in the Herald Square Theatre District.
Another fun fact about Keens is that it owns the biggest collection of churchwarden pipes in the world, as they were imported from The Netherlands and more than 50,000 were ordered every year.
Reminiscent of a Dickensian Gentleman's Club thanks to low ceilings and dark interiors, Keens is considered one of the best steakhouses in New York City. Choose from a Porterhouse cut, dry-aged steak or their iconic mutton chop.